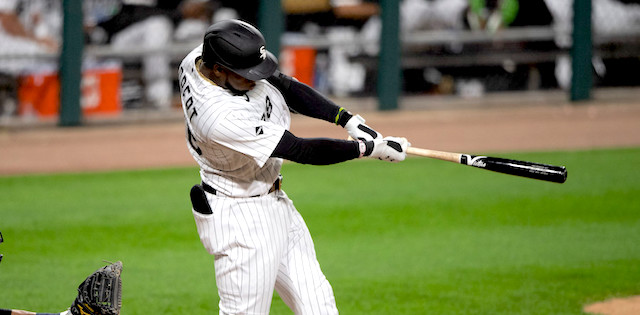 Can any prediction really be considered bold after 2020? We hope for a return to normalcy but we also have to remember that the very definition of normal is constantly changing.
I've never shied away from pushing the envelope when it comes to this bold predictions column, so this year will be no exception. I will finally back away from carrying the torch for one particular player, especially since Kyle has already dunked on me for that.
Although I may have finished as the third-most accurate draft ranker on FantasyPros last year, it wasn't thanks to my love for Hansel Robles or Robbie Ray. Making Marcell Ozuna a priority while avoiding Mitch Garver paid off pretty well, though. Humble brags aside, let's try to up the ante this year and increase the accuracy rate as well. Here goes...
Editor's Note: Our incredible team of writers received 13 award nominations by the Fantasy Sports Writers Association including Baseball Writer of the Year, Football Writers of the Year, Golf Writer of the Year and many more! Be sure to follow their analysis, rankings and advice all year long, and win big with RotoBaller!
Read More!
Trevor Story Isn't a Top-20 Fantasy Player
This has less to do with Story himself than the mess of a franchise he plays for. Having already dealt Nolan Arenado the year after signing him to a massive contract, they've already committed to NOT re-signing their remaining offensive star, Story.
The Rockies are said not to have the budget for any big signing at the moment, so barring some big change there won't be an extension coming anytime soon for superstar SS Trevor Story, as I just said in @MLBNetwork

— Jon Heyman (@JonHeyman) March 2, 2021

A pre-deadline trade away from Colorado's thin air seems very likely, which obviously hurts his value for the second half of the year. Let's not overlook the fact that this lineup is much less formidable without Arenado or David Dahl and the prospect of getting shipped off while playing for a dysfunctional franchise might affect his first-half stats. Story has the power-speed combo fantasy managers covet but we should brace for lesser numbers.
Luis Robert IS a Top-20 Fantasy Player
Many pundits are quick to exclaim that Robert as a top-40 pick could be a reach. His .233 batting average, .223 xBA, and 32.2% K% are all legitimate causes for concern. His lineup spot could be as low as sixth or seventh, which would hurt his R+RBI production. Plus, Tony La Russa might just have him bunting every time runners are on base. OK, that last example might not happen but any good TED Talk needs three talking points.
Now, there's good reason to believe that in his second season, one that isn't completely wonky, Robert also might, just might show improvement in his plate discipline and make more contact. It's easy to forget he was hitting .298 at the end of August before slumping over the final month. Recency bias is making drafters overly cautious when it's clear he has league-winning upside. There aren't too many hitters out there with elite speed and power batting in the heart of the best lineup in the majors (well, it was before Eloy went into hero mode in a spring training game).
Even the most conservative of the major projection systems, THE BAT, has Robert pegged for 25 HR and 20 SB while hitting .252. He doesn't need to smash expectations to hit north of .270 and reach the 30/30 mark. Stop being scared of Robert because of one bad month when he has the same ceiling as Ronald Acuna and should be drafted accordingly!
The lite version of Robert is Taveras, going 150 spots later in drafts, sometimes as late as 250 overall. He has 96th percentile sprint speed, which explains why was successful on all eight of his steal attempts last year in 33 games. If Taveras sticks in the lineup for a full season, 20 steals are a given with the potential for something closer to 40. He also popped four homers and while his minor-league numbers aren't inspiring power-wise, he has 50-grade raw power that could be unlocked with extended playing time.
Based on Nick Mariano's Expected Draft Values research, a player in the SB cohort with projections similar to Taveras should be drafted around pick 232. I'm grabbing him closer to 180 if I can with the hopes that he provides a late boost in speed to supplement my earlier second-round pick of Robert.
Myles Straw Finishes Top-Three in Steals
The departure of George Springer didn't devastate the Astros lineup but it does leave them suddenly thin in the outfield with Josh Reddick not returning. Straw will graduate from pinch-runner and utility man to everyday center fielder, which means upwards of 400 AB even if he bats at the bottom of the order. Saying he could be among the leaders in steals isn't too bold if you believe in projections. ATC has him pegged for 27 steals which would tie for fifth in the majors with Fernando Tatis Jr. Add three more and he's suddenly behind only Adalberto Mondesi and Trea Turner.
Detractors will point to his .207 average in 2020 (over a whopping 82 at-bats) but fail to mention that in a bigger sample of 108 at-bats in 2019, he hit .269. Batting ninth might even be a blessing for Straw, as he'll have some combination of Jose Altuve, Michael Brantley, and Carlos Correa up to bat when he's on base. I get that nobody wants this year's version of Mallex Smith after what Mallex Smith didn't do last year, which was anything, but we can't talk about the need for speed in the first three rounds and ignore it at the end of the draft, can we?
I would have said Nola takes number one and wins the Cy Young but we know that's going to Jacob deGrom again since the Mets are destined to win the pennant, right? Nola will have stiff competition and may not best deGrom but he can leapfrog everyone else. You can count me among those who truly believe we'll see a sharp drop in performance from Trevor Bauer and Gerrit Cole, among others, with the new crackdown on sudden spin-rate spikers. Shane Bieber was ridiculous in 2020 but we know things could have been different over a full season, especially considering he faced the Pirates, Reds, Royals, and Tigers in half his starts.
As far as Nola, the question has never been about his talent. Early on, it was his health. He's now gone without an IL stint since 2017 and been among the leaders in games started for three straight seasons. This in itself is more valuable than ever. He's also finished top-seven in strikeouts and top-20 in ERA each year in that span. It would take a mere baby step forward for him to achieve the value of overall SP2. His pitch mix is more balanced than ever as he's included his changeup more often with success and now has four pitches with at least 20% usage rates. He's a horse at a prime age (27) who has figured it all out.
The A's Have Five Fantasy-Relevant Starting Pitchers
The Marlins' staff has gotten plenty of love from our other bold predictors such as fellow fish fan KC Bubba, so I'm going to skirt the homerism, do like like Travis Scott and head out west. Oakland's staff is mostly unheralded outside of Jesus Luzardo, who I believe could break out to become a top-10 SP in fantasy. I'm also buying into Frankie Montas putting it all together, as I explained on a recent episode of the WPC+ pod.
There are some other sneaky values here too. The team's Opening Day starter, Chris Bassitt, won't light the world on fire but he was extremely helpful to fantasy teams in 2020 with a 2.29 ERA, 1.16 WHIP and can at least provide a league-average K-rate. He is good at limiting hard contact and his walk rate has dropped three straight years, down to 6.5% last season, so we can expect the WHIP gains to continue. Sean Manaea is cut from a similar cloth as a veteran who won't strike out a ton of batters but almost never puts anyone on base without earning it. He rarely has a blowup start and can be another mid-round ratio saver. Finally, Daulton Jefferies appears to have earned the fifth rotation spot with an excellent spring in which he posted a 1.38 ERA and 0.77 WHIP with 20-3 K-BB in 13 IP. We'll see what we get out of the 25-year-old but he has tremendous upside.
Folty Wins Comeback Player of the Year
It came to my attention that I was initially the only one of our expert panel of rankers to include Mike Foltynewicz in our preseason rankings. That made me question whether I was just imagining his return to the majors or having another sleep-deprivation-induced hallucination. But no, it seems Folty is slated to hold down a spot in the Rangers' rotation and prove that he can get back to his dominant form of 2018 when he posted a 2.85 ERA. 1.08 WHIP and struck out 202 batters over 183 innings.
Back then, his four-seamer and sinker both sat at 96 MPH regularly. They dropped a tick in 2019 but were down to 90 MPH in his lone 2020 start. Health clearly played a huge part in his struggles, as he may not have fully recovered from a bone spur in his right elbow the previous year. Either way, it resulted in a quick release from Atlanta last year. So far this spring, he's been clocking in at 95 again. I know I'm not alone in my optimism for the former first-rounder but I may be the one willing to go furthest on a limb for him right now.
Nobody Saves 30 Games This Season. Nobody.
I've been asked on a few occasions about which closers I trust most. The answer is simple.
There are six relievers projected to reach the 30-save mark but the highest total is a three-way tie at 32. I could make a reasonable case against each one as to why they might not achieve that threshold.
Astros RHP Ryan Pressly on potentially closing this year full-time: "For me, honestly, I just want to get back to the postseason and win a World Series. I don't really care who's closing games. In the postseason, you're going to have to get big outs either way."

— Brian McTaggart (@brianmctaggart) February 20, 2021

Some of these points may be nitpicky but let's just say with more committees than ever and question marks surrounding nearly every ninth-inning option (yes, that includes James Karinchak), I'll be waiting longer than ever on relievers and playing the waiver wire. Banking on any reliever to carry you in the saves department could be a mistake.
For a top-50 prospect who already made his debut, is guaranteed to make the Major League roster, and could be a regular starter, Chisholm doesn't seem to get much respect. His ADP is pretty much non-existent in redraft leagues, technically 519 according to FantasyPros' industry consensus.
Chisholm had a disappointing showing after getting the call last season, slashing .161/.242/.321 with a 30.6% K%, but that was over 56 at-bats. Chisholm has 55-grade power and 60-grade speed, both of which he's showing this spring with three HR and four SB. I won't go out and say he's going 20-20 for sure but it's easily within his grasp if he holds down the second-base job, which it appears he's doing.
Jazz Chisholm winning competition for starting job at 2B https://t.co/EPgtbvqJpc via @FilpiMatt #fantasybaseball

— FantasyPros (@FantasyProsMLB) March 22, 2021
Another player I discussed at length on Youtube recently, Tellez didn't quite meet my expectations last year so I'm choosing him as my one redux prediction. Here's what I said just eight months ago:
"He was in the top-10 percentile in Barrel rate last year (2019) even with a disappointing overall slash line of .227/.293/.449. Reportedly, he replaced 15 pounds of fat with muscle this offseason and also shortened his swing to generate more contact. If it all goes according to his plan, Tellez could be a fixture in the middle of a lineup that has a ton of young talent."
All of that still holds true but the lineup is even better with George Springer and Marcus Semien on board. Tellez might bat seventh now but I don't even care - this lineup is loaded.
If you know my work, you'll know I absolutely hate repeating myself on player predictions 😉 but Tellez is a guy I'll hang my hat on.
Download Our Free News & Alerts Mobile App
Like what you see? Download our updated fantasy baseball app for iPhone and Android with 24x7 player news, injury alerts, sleepers, prospects & more. All free!


More Fantasy Baseball Advice