While Thursday's basketball attention may get focused on college hoops, the NBA schedule rolls on and that means an opportunity to cash in on props at Monkey Knife Fight.
At this stage of the season, we've seen a lot of what the rookies can do, but that makes them more compelling characters when it comes to prop plays.
Dallas' Luca Doncic has been a star and has improved throughout his rookie campaign. Atlanta's Trae Young is getting comfortable as a consistent offensive threat and Sacramento's Marvin Bagley Jr. is cleaning the glass. All three have some value when it comes to Thursday's props.
Here are some angles to consider before the pros hit the floor tonight.
Editor's Note: Our friends at Monkey Knife Fight have released the best, most fun, fastest growing DFS props game! It's super simple to play and win real money. Just choose your NBA, NHL or PGA game, and make your picks! Get a 100% instant deposit bonus up to $50 using promo code: BALLER. That's $50 for free - don't miss out!
DENVER-WASHINGTON
OVER/UNDERS
Bradley Beal UNDER 27.5 POINTS – As good as Beal is, and he's had a pair of 40-point games this week, 28 is a big number to hit and he's managed to do it seven times in his past 20 home games. Couple that with a strong opponent and the under is the sensible play.
Jamal Murray OVER 4.5 ASSISTS – This is a much closer call, as Murray has recorded at least five assists in 11 of his past 20 road games. But the Nuggets should be able to score against the Wizards so that will give Murray the opportunity to get a handful of assists.
MINNESOTA-CHARLOTTE
RAPID FIRE
Karl-Anthony Towns +1.5 three-pointers vs. Kemba Walker – While Walker seems like the surer bet, he's averaging 3.25 threes per home game while Towns is making two per road game, but KAT has also gone a dozen straight games with at least two made three-pointers.
Jeremy Lamb +1.5 points vs. Andrew Wiggins – Lamb has been enjoying the best season of his career and is averaging 17.6 points per game in the past 10, good enough to take him with the points against Wiggins, who has put up 18.3 points per game on the road this season.
UTAH-ATLANTA
OVER/UNDERS
Trae Young OVER 20.5 POINTS – The Hawks rookie has been heating up, scoring at least 21 points in eight of the past nine home games. The Jazz are a quality opponent, but Young should be able to keep his good times going.
RAPID FIRE
John Collins +7.5 points vs. Donovan Mitchell – Collins is underrated and averaging 19.6 points per game at home. Mitchell has been scoring more since the All-Star break, but still scores more at home (24.4 ppg) than on the road (22.9 ppg) and unless Mitchell really goes off, Collins can keep it close.
DALLAS-SACRAMENTO
OVER/UNDERS
Luka Doncic OVER 23.5 POINTS – The Mavericks rookie sensation has been scoring a bunch, including at least 24 points in five of his past six road games. This is a close call, however, the last three of those fell right on 24.
Marvin Bagley Jr. OVER 6.5 REBOUNDS – The Kings rookie has been crashing the boards hard, grabbing at least seven in 12 straight home games.
RAPID FIRE
Buddy Hield -0.5 three-pointers vs. Luka Doncic – Maybe this is some hedging against Doncic's overall scoring numbers, but he's made exactly one three-pointer in each of his past five games, while Hield is making 3.4 threes per game at home.
DETROIT-PHOENIX
OVER/UNDERS
Devin Booker UNDER 29.5 POINTS – Of course Booker has the potential to put up big numbers – he has scored at least 30 points 17 times this season – but he's been held to 29 or fewer in six of his past seven home games.
Blake Griffin OVER 2.5 THREES – Blake's three-point game continues to improve and he's averaging a career-high 2.5 threes per game this season but has hit three or more in 18 of 31 road games. Combine that with a porous Suns defense and it's a good chance for Griffin to keep dialing it up from long range.
INDIANA-GOLDEN STATE
INDIANA-GOLDEN STATE
OVER/UNDERS
Kevin Durant UNDER 25.5 POINTS – KD's recent usage is down and he has scored more than 25 points once in his past five games and he landed on exactly 26. Unless he starts shooting more, the under makes sense.
RAPID FIRE
Draymond Green -0.5 rebounds vs. Thaddeus Young – For whatever amount Green's game has declined this season, he's still grabbing 7.6 rebounds per game at home, a healthy advantage over Young, who averages 6.1 rebounds per game on the road.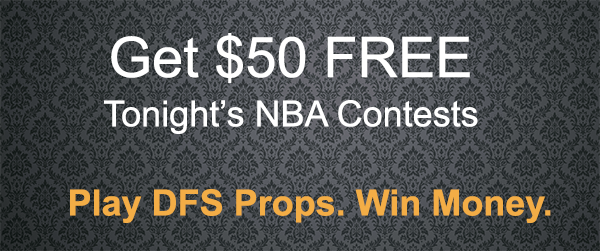 More Fantasy Basketball Analysis