A Major League Baseball season is long. After a month or two, it doesn't necessarily dictate where a player's season is going to end up.
As a result, there are guys who might have more value based on recent performance. A few examples are in play tonight.
Braves starting pitcher Dallas Keuchel got a late start to the season, waiting on a contract, and wasn't striking anyone out early in the season. Now, he's struck out 22 in his past three starts and seems to be finding his groove.
Royals starting pitcher Brad Keller has been decent this season, but has more effective at home, and has been stellar (1.27 ERA, 0.94 WHIP, 17 K in 21 1/3 IP) in three starts since the All-Star break.
Manny Machado did not get off to a great start with the San Diego Padres, with a .693 OPS in April, but he's gradually improved and in the past 32 game he has a .953 OPS. He'll get a shot at his former Baltimore team tonight.
Here are some angles to consider when it comes for Monday's MLB schedule.
Editor's Note: Our friends at Monkey Knife Fight have released the best, most fun, fastest growing DFS props game! It's super simple to play and win real money. Just choose your MLB, NBA, NHL or PGA game, and make your picks! Get a 100% instant deposit bonus up to $50 using promo code: BALLER. That's $50 for free - don't miss out!
ATLANTA-WASHINGTON
RAPID FIRE
Dallas Keuchel +3.5 strikeouts vs. Patrick Corbin – Corbin is an established high-strikeout pitcher, averaging 10.1 K/9 at home, which results in 7.8 strikeouts per home start, but Keuchel is coming on after a late start. He recorded 12 strikeouts in his last start and does seem to be catching up after not starting his season until June 21.
ARIZONA-MIAMI
OVER/UNDERS
Caleb Smith OVER 6.5 STRIKEOUTS – The Diamondbacks are a good contact team, but Smith is a stellar strikeout pitcher. He has recorded at least seven strikeouts in five of seven home starts (and finished with six in the other two.
PITTSBURGH-CINCINNATI
OVER/UNDERS
Sonny Gray OVER 5.5 STRIKEOUTS – The Pirates do have the lowest strikeout rate in the National League among road teams (21.5%), but Gray has at least six strikeouts in each of his past seven starts and is averaging 6.1 strikeouts per home start.
Jordan Lyles UNDER 5.5 STRIKEOUTS – It has been an up-and-down season for Lyles, and it has included some good moments, but he has at least six strikeouts in just two of his past eight starts.
TORONTO-KANSAS CITY
OVER/UNDERS
Brad Keller OVER 4.5 STRIKEOUTS – The Royals right-hander has averaged 5.1 strikeouts per home start and has at least five strikeouts in five of his past eight home starts. The Blue Jays are below average in terms of road strikeout rate (24.5%).
RAPID FIRE
Lourdes Gurriel Jr. +0.5 runs + RBI vs. Whit Merrifield – Both players are great but Gurriel has better road numbers (.310 runs + RBI per road plate appearance) than Merrifield (.263) at home.
L.A. DODGERS-COLORADO
OVER/UNDERS
Charlie Blackmon OVER 1.5 TOTAL BASES – Keep pounding Blackmon at home, where he's slugging an absurd .848, which is more than good enough to expect a couple of bases, even against the Dodgers.
RAPID FIRE
Jon Gray +0.5 strikeouts vs. Kenta Maeda – Maeda is better at home and is averaging 4.8 strikeouts per road start while Gray is averaging 5.9 strikeouts per home start.
DETROIT-L.A. ANGELS
OVER/UNDERS
Mike Trout OVER 1.5 TOTAL BASES – The best player on the planet is slugging .684 at home and the Tigers aren't going to keep him under wraps.
BALTIMORE-SAN DIEGO
RAPID FIRE
Manny Machado -0.5 total bases vs. Trey Mancini – The former Orioles star gets the benefit of having starting pitcher Chris Paddack on his side which gives him the edge even though his home numbers (slugging .736 vs. .950 on the road) aren't great.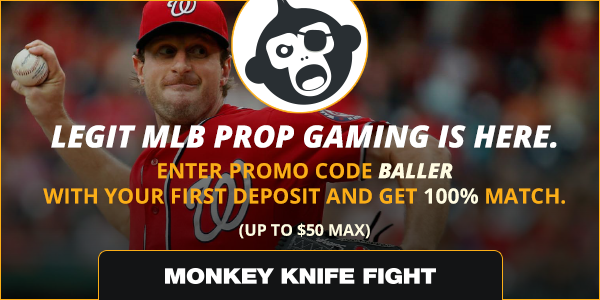 More 2019 Fantasy Baseball Advice