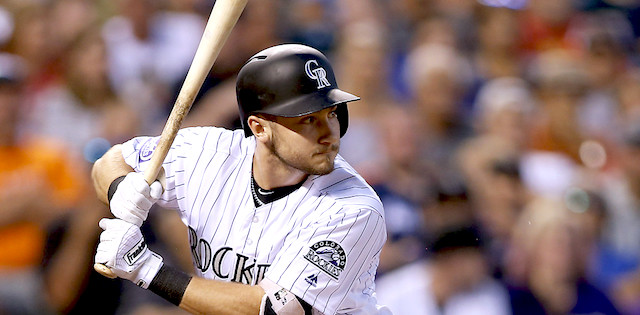 Welcome to the hitting streamers column for the week of 4/8 - 4/15. Whether you're looking to maximize the number of games played, exploit favorable matchups, or fill in for injured players, streaming hitters can be a fruitful strategy for those willing to put in a little work every week.
Keep in mind that this column highlights players owned in fewer than 50% of Yahoo leagues who could present nice streaming options for the upcoming week.
Let's get to it.
Editor's Note: Get any full-season MLB Premium Pass for 50% off. Exclusive access to our Draft Kit, premium rankings, projections, player outlooks, top prospects, dynasty rankings, 15 in-season lineup tools, and over 200 days of expert DFS research.
Sign Up Now!
Bats to Stream and Start in Week 2
Seven Game Weeks: Atlanta, Baltimore, Colorado, Kansas City, Los Angeles Dodgers, Oakland, San Diego, Seattle, San Francisco
The Rangers have a three-game series with the Astros, the Blue Jays have a four-game series with Cleveland, and the Athletics have a four-game series against the Red Sox, which means these teams will face mostly quality pitching in those games and make their hitters less desirable compared to those on the other teams.
Stream of the Week
Garrett Hampson (2B/SS, COL) – 39% Owned
Along with Mark Reynolds, Garrett Hampson has also received additional playing time due to the Daniel Murphy injury. Hampson would presumably get most of his playing time against left-handed starters, and the Rockies are facing four lefties next week. He did start in three straight games against Tampa Bay, including two against right-handed starters, however, the Rockies had a DH in that series. How aggressive we should be on Hampson (and Reynolds) depends on their usage over a weekend series with Los Angeles.
If you're making waiver claims on Sunday, pay attention to how the Rockies structure their lineup over the weekend. They are lined up to face two righties and one lefty, so we should have the opportunity to get a feel for their lineup. Hampson doesn't have much power, but should be a decent source of batting average and might throw in a steal or two over the week. He could be a good replacement for Trea Turner, whether it be in the short-term for one week, or for the duration of Turner's injury.
Behind the Plate
Chris Iannetta, (C, COL) – 2% Owned
There is one important reason to add Chris Iannetta for the upcoming week. It's his birthday on Monday! It's an accepted truth that players hit a home run (or at least get a hit) on their birthday. In all seriousness, Colorado has a seven-game week including three games at home, which makes their hitters enticing as streaming options. The problem, however, is that Rockies players are too highly owned in season-long leagues to stream them. The allure of Coors Field means everyone who might sniff regular playing time is gobbled up on draft day, except their catcher of course.
Iannetta isn't anything special with the bat, but he's done two things well throughout his career. One, and this one's obvious, he hits at Coors Field. Iannetta has a career .878 OPS in 1067 PA in Colorado. Second, he hits lefties. Iannetta has a career .836 OPS and .207 ISO against southpaws over 1281 PA. As of writing this, the Rockies are slated to face four left-handed starters next week. Iannetta probably won't start against all four because San Francisco is lined up to throw three straight lefties over the weekend, but he'll likely face three of them and play in 4-5 games this week. For a catcher owned in fewer than 5% of fantasy leagues, Iannetta is about as good as it gets for streaming options.
Also Consider: Omar Narvaez, SEA – 14% Owned, Brian McCann, ATL – 3% Owned
At the Corners
Kendrys Morales (1B/DH,OAK) – 4% Owned
A trade from Toronto to Oakland isn't great for Morales' long-term fantasy value, but he'll be happy to don the green-and-gold uniform next week. Oakland has seven games next week, four in Baltimore and three in Texas. Not only are these two of the best hitter's ballparks in baseball, Baltimore and Texas also have two of the weakest pitching staffs in the majors. Morales is Oakland's first baseman when facing right-handed pitching, and as of writing this the A's are only scheduled to face one lefty all week, Drew Smyly.
Morales has a reputation in the fantasy community as being a slow, old, boring veteran who blocks younger, more exciting players. While certain aspects of that may be true, Morales still smokes the ball even at age 35. Last season he had a 92.4 MPH average exit velocity and .526 xSLG, and even though it's been a small sample size, Morales has a 93.8 MPH average exit velocity thus far in 2019. This type of skillset will really benefit from seven games in hitter havens like Baltimore and Texas, and Morales is available in plenty of leagues.
Mark Reynolds (1B/3B, COL) – 1% Owned
With the injury to Daniel Murphy, Colorado has turned to an old favorite of theirs to fill in at first base in Mark Reynolds. Reynolds put up a monster 30 homer, 97 RBI season for Colorado back in 2017, and had an .803 OPS and .228 ISO in limited playing time last season with Washington. Clearly, there is something left in the tank for the 35-year-old, even if fantasy owners would rather see Garrett Hampson fill in for Murphy.
Reynolds will likely be in the lineup against lefties, which is good news for him since the Rockies are scheduled to face four next week. Reynolds has actually displayed reverse platoon splits over the last two seasons, posting an .843 OPS and .243 ISO against right-handed pitching and a .792 OPS and .171 ISO against left-handed pitching. Still, he's going to play, and play in Coors Field, which gives Reynolds decent upside for next week.
Also Consider: Ryon Healy (1B/3B, SEA) – 43% Owned, Renato Nunez (3B, BAL) – 1% Owned
Up the Middle
Ryan McMahon (1B/2B/3B, COL) – 48% Owned
McMahon is just under the 50% threshold for hitters to stream, and while he's probably owned in most deeper leagues, it's worth checking if he's out there in 10 and 12 team mixed leagues. McMahon was looking like Colorado's everyday second baseman until the Daniel Murphy injury, and now he appears to be in a three-way mix with Garrett Hampson and Mark Reynolds between first and second base for playing time.
McMahon should play against all right-handed starters and may see a game or two against lefties. Like with Hampson and Reynolds, it's important to watch Colorado's lineup over the weekend. That is going to be a big determining factor on who to add. Whoever gets playing time at second and first for Colorado is worth adding for a seven-game week, but we need to get an idea of who is playing and when.
Also Consider: Dansby Swanson (SS, ATL) – 9% Owned
In the Outfield
Jay Bruce (OF/1B, SEA) – 26% Owned
Bruce may be just 5-for-28 to start the season, but three of those five hits have left the yard and Bruce has a 40% hard hit in his first eight games. Yes, it's a very small sample size, but it's encouraging to see Bruce regain his power after a miserable, injury-riddled 2018 year. The lefty slugger is hitting in a premium lineup spot for Seattle, cleanup behind Mitch Haniger and Domingo Santana.
He'll also draw just one lefty starter this upcoming week, Wade Miley. Bruce hasn't been sitting against lefties so far but does have a career .712 OPS and .195 ISO against lefties compared to an .830 OPS and .230 ISO against right-handed pitching. Bruce could be a good source of run production with counting stats over a long week for Seattle.
Ramon Laureano (OF, OAK) – 36% Owned
Laureano has been making highlights with his arm, but this could be the week for his bat to come alive. Laureano has had kind of a rough start to the season, going 5-for-31 with zero walks and 14 strikeouts. The BB:K ratio is uncharacteristically bad for him based on minor league track record, and it's too early to be overly concerned about it.
Laureano does have two home runs already and has a solid power-speed combination that makes him interesting in standard 5x5 leagues. The biggest strike against Laureano is that he bats eighth, and that's not changing any time soon, but he could provide a little bit of everything with a great schedule next week.
Also Consider: Cedric Mullins (OF, BAL) – 4% Owned, Robbie Grossman (OF, OAK) – 1% Owned
More Waiver Wire Pickups and Streamers