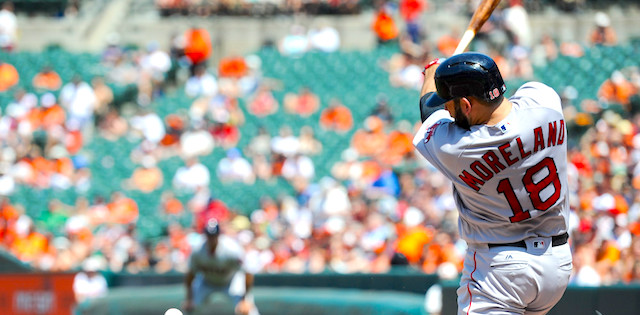 Welcome to the hitting streamers column for the week of 5/20 - 5/26. Whether you're looking to maximize the number of games played, exploit favorable matchups, or fill in for injured players, streaming hitters can be a fruitful strategy for those willing to put in a little work every week.
Keep in mind that this column highlights players owned in approximately 50% or fewer of Yahoo leagues who could present nice streaming options for the upcoming week. This applies to any league but specifically is geared toward head-to-head weekly leagues where matchups are more critical.
If the following names aren't available, don't hesitate to check our famous waiver wire pickups list to find some appealing alternatives. Let's get to it.
Editor's Note: Get any full-season MLB Premium Pass for 50% off. Exclusive access to our Draft Kit, premium rankings, projections, player outlooks, top prospects, dynasty rankings, 15 in-season lineup tools, and over 200 days of expert DFS research.
Sign Up Now!
Bats to Stream and Start in Week 8
Seven-Game Weeks: ATL, BAL, BOS, CHC, CHW, CLE, HOU, NYM, NYY, PHI, SF, TOR, WSH
Streamer of the Week
Mitch Moreland (1B, BOS): 36% Owned
Moreland has quietly been one of the game's best power hitters this season, putting up 12 homers and a .344 ISO in 141 PA. He's done basically all of his damage against right-handed pitching, which is good news since Boston faces just one left-handed starter next week. Justin Verlander is the only strong right-hander they go up against, and Moreland will get a smorgasbord of weak pitching with a four game series in Toronto. To top it all off, he hits cleanup behind the trio of Mookie Betts, Andrew Benintendi, and J.D. Martinez. He should probably be owned in more than 36% leagues permanently, but since Moreland is out there in nearly two-thirds of Yahoo leagues, he is the top streamer this week.
Behind the Plate
James McCann (C, CWS): 47% Owned
McCann has been one of the biggest surprises at catcher this season, hitting .366 with a .985 OPS and .215 ISO through 99 PA. Yes, his .455 BABIP is going to drop, and yes he had a career 75 wRC+ coming into this season, but one can't be too picky with waiver wire catchers. McCann has improved his average exit velocity to 90.7 MPH and upped his hard hit rate to 44.3%, both career highs. McCann has usurped underperforming veteran Welington Castillo and is getting the majority of playing time behind the plate for the White Sox right now. The seven-game schedule isn't exactly a cake walk; the White Sox have seven road games against quality pitching in Houston and Minnesota. Still, McCann's been good enough to be the top catcher target this week.
Christian Vazquez (C, BOS): 20% Owned
Much like James McCann, Christian Vazquez is one of those players no one ever thought could hit. He was miserable at the plate last season, posting a .540 OPS with three homers and 42 wRC+ in 269 PA. He's already exceeded that home run total this season, putting up five bombs in 112 PA, and has a .294 AVG and .838 OPS to go along with those homers. Vazquez too has increased his average exit velocity and hard hit rate, and he's increased his line drive rate to 25.3% as well. With seven games on the schedule, Vazquez should catch 4-5 of them for Boston and put up decent numbers at the position.
Also Consider: Steven Vogt (C/1B, SF): 1% Owned
At the Corners
Giovanny Urshela (3B/SS, NYY): 16% Owned
A former Cleveland washout, Urshela has thrived in his chance to play for the injury-plagued Yankees. He's hitting .330 with a .874 OPS and .160 ISO in 104 PA this season. His .377 BABIP suggests Urshela is overperforming, but he's upped his line drive rate to 27.8% and his average exit velocity to 90.5 MPH this season. That is the golden combination for batting average results, and with seven games against the weak pitching of Baltimore and Kansas City, Urshela should provide plenty of batting average help this week.
Chris Davis (1B, BAL): 2% Owned
Scoff if you want, but you'll be turning your nose up at player who's hit .279 with a .899 OPS and .265 ISO in 76 PA since April 13. What's so special about April 13? It's the day Davis busted out of his historically bad slump, and he's been a productive hitter ever since that game. His name is tainted in both the fantasy and real baseball realm, which is why his ownership remains at 2% despite a solid month of hitting. The Orioles have moved him up to fourth in the order and stopped platooning him, which is great since Baltimore gets four home games against the Yankees followed by three games in Coors Field. With his ownership, there's a chance Davis is out there in some AL-only leagues, which would make him a great option in such a deep format. He's even a fine option in mixed leagues depending on depth. He'll never be Crush Davis again, but at least he's not Crash (and burn) Davis anymore.
Also Consider: Yonder Alonso (1B, CWS): 16% Owned
Up the Middle
Howie Kendrick (1B/2B/3B/OF, WSH): 15% Owned
It's always nice to see a former top-15 prospect live up to their potential, even if it's 13 years later. In all seriousness, something fierce has gotten into Kendrick this season, and he's on pace for career highs in several metrics. His .244 ISO would be a career best by over 60 points, and his 12.5% strikeout rate would also be a career low. Kendrick has increased his average exit velocity to a monstrous 92.1 MPH, and his .441 xwOBA puts him in the 97th percentile of the league. Batted ball and Statcast metrics indicate that what he's doing is legitimate, plus he's quad-eligible, making Kendrick one of the best streaming options this week.
Aledmys Diaz (1B/2B/3B/SS, HOU): 15% Owned
Diaz is playing every day for Houston while Jose Altuve is on the IL, and he's been a solid source of power in a utility role this season. His .256 ISO is a career best, as is his 11.5% strikeout rate. Unlike Howie Kendrick, Diaz isn't lighting up the Statcast leaderboards, and his production probably isn't sustainable over the long term. But screw the long term, because we're playing for one week here, and sometimes that requires riding a hot hand, even if we know things will come to an end soon. Diaz has certainly been a hot hand play lately; he has a .959 OPS and .282 ISO in May along with a 1.25 BB/K. The Astros also take on at least three lefties this week, and Diaz has crushed southpaws to the tune of a .970 OPS and .375 ISO this year. Sure, one of the lefties is Chris Sale, but one of them is Manny Banuelos, so the universe tends to even out. Life's funny that way. Diaz is a great quad-eligible option where Kendrick isn't available, or great if you specifically need a shortstop.
Also Consider: Jason Kipnis (2B/OF, CLE): 4% Owned, Leury Garcia (MI/OF, CWS): 10% Owned, Addison Russell, (SS, CHC): 2% Owned
In the Outfield
Jason Heyward (OF, CHC): 40% Owned
Even though his production has taken a downturn, Heyward has been hitting leadoff for the Cubs over the past few games for Chicago. Heyward still has above-average plate discipline, and with chip-in power and speed, he could provide production in several of the traditional 5x5 categories this week. He's even better in points and OBP formats because of his excellent plate discipline. The Cubs have a seven-game workload next week, and only have one lefty on the schedule, rookie Cole Irvin. Heyward is a fine volume option this week, providing most of his help in batting average and runs scored.
Kyle Schwarber (OF, CHC): 42% Owned
Schwarber has been disappointing this season, hitting just .217 with a .158 ISO in 142 PA. That doesn't quite cut it for a defensively-limited platoon bat, but if Schwarber were to turn things around, it would be in a week like this one. As previously stated, the Cubs have a seven-game week upcoming, and six of those are against right-handed starters. Schwarber's 91.3 MPH average exit velocity and .479 xSLG both suggest he's capable of more power, so now could be the best time to buy into Schwarber, when he's at his lowest. He hit leadoff on Thursday, and that would be a nice boost to his value if that continues against right-handed pitchers. It's do or die for Schwarber this week, and those who believe in the talent should take a chance on him.
Also Consider: Clint Frazier (OF, NYY): 42% Owned, Brett Gardner (OF, NYY): 17% Owned, Charlie Tilson (OF, CWS): 2% Owned, Steve Wilkerson (2B/OF, BAL): 0% Owned
More Streamers and Head-to-Head League Columns