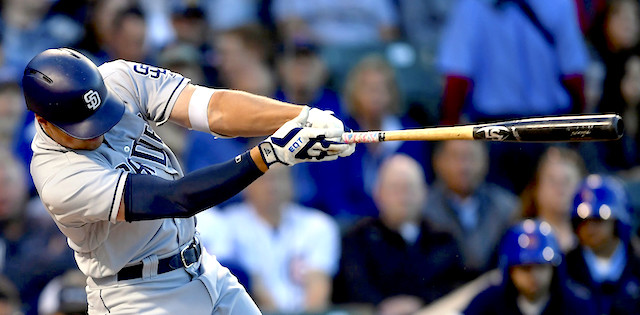 Welcome to the hitting streamers column for the week of 9/3 through 9/9. Whether you're looking to maximize the number of games played, exploit favorable matchups, or fill in for injured players, streaming hitters can be a fruitful strategy for those willing to put in a little work every week.
Keep in mind that this column highlights players owned in approximately 50% or fewer of Yahoo leagues who could present nice streaming options for the upcoming week. This applies to any league but specifically is geared toward head-to-head weekly leagues where matchups are more critical.
If the following names aren't available, don't hesitate to check our famous waiver wire pickups list to find some appealing alternatives. Let's get to it.
Editor's Note: Get any full-season MLB Premium Pass for 50% off, with exclusive access to our season-long articles, 15 in-season lineup tools and over 200 days of expert DFS research/tools.
Sign Up Now!
Bats to Stream and Start in Week 24
Seven-Game Weeks: ARI, ATL, CHC, HOU, MIA, MIL, NYM, NYY, OAK, PIT, SD, SF
Stream of the Week
Hunter Renfroe (OF, SD): 48% Owned
Renfroe is in a great spot this week, as the Padres have a seven-game slate facing three left-handed starters and play three games in Coors Field. Renfroe has destroyed left-handed pitching this season for a .952 OPS and monster .373 ISO. Renfroe's power numbers against lefties are among the best in the league, up there with sluggers such as J.D. Martinez, Nelson Cruz, and Tom Murphy. You won't find a better source of power under 50% ownership, so that makes Renfroe an easy choice for stream of the week.
Behind the Plate
Robinson Chirinos (C, HOU): 41% Owned
Chirinos is one of the best catchers under 50% owned, and it helps that he has a seven-game week of poor pitching ahead. The Astros start with four games at home against Oakland and finish their week with three games in Kansas City. There isn't a quality starting pitcher between the two teams (some people may consider Mike Fiers good, but I am not one of them). Chirinos also gets three games against questionable left-handed starters, which is great for Chirinos as he has a .976 OPS and .222 ISO against lefties this season. Chirinos is the top catching option where available.
Jorge Alfaro (C, MIA): 24% Owned
If Chirinos is unavailable, then Jorge Alfaro makes for a nice alternative. Alfaro is sort of profiles as a poor man's Chirinos anyway, as Alfaro also hits lefties well and has an even higher strikeout rate. He's also moved up in the order recently, hitting as high as fourth in the last week, and consistently hitting sixth or higher. With a seven-game week ahead Alfaro should have plenty of chances to provide decent volume.
Also Consider: Carson Kelly (C, ARI): 16% Owned
At the Corners
Eric Thames (1B/OF, MIL): 7% Owned
It's kind of curious why Thames isn't more owned. He has demolished right-handed pitching for a .916 OPS and .279 ISO, and has had a clear path to every day playing time since the Jesus Aguilar trade. The Brewers have a seven-game week ahead, and while they are all road games, there is only one left-handed starter on the slate for Milwaukee. Thames could certainly provide solid power for those in need at first base.
Christian Walker (1B, ARI): 37% Owned
Unfortunately, Walker didn't turn out to be the superstar he looked like in April, but Arizona's first baseman still has plenty of upside this week as a streamer. Walker has been hitting well as of late, with a .302 AVG and .860 OPS since the beginning of August. Walker isn't as interesting as Thames, since the Diamondbacks only face one left-handed starter, but Walker is still a viable corner infield streamer.
Also Consider: Evan Longoria (3B, SF): 22% Owned, Travis Shaw (2B/3B,  MIL): 15% Owned
Up the Middle
Jurickson Profar (1B/2B/3B/SS, OAK): 37% Owned
Profar has been one of the biggest busts in 2019, but the versatile infielder has picked up his game as of late. Profar has a .926 OPS and .318 ISO since August 1. The switch-hitter also performs much better against left-handed pitching, with a .304 AVG and .845 OPS on the year versus southpaws. The Athletics take on four questionable left-handed starters this week, and two of those games occur in hitter-friendly Globe Life Park. The ex-Ranger had a .874 OPS and .240 ISO in Texas last season, so Profar could certainly enjoy a nice trip to his old ballpark. His multi-positional eligibility makes him great for daily lineups leagues, and his recent performance makes him great for all formats.
Dansby Swanson (SS, ATL): 43% Owned
Swanson has an excellent situation this week, as the Braves have seven road games against divisional opponents in favorable ballparks. Swanson's road OPS is 41 points higher than his home OPS, and his road ISO is also 41 points higher than his home ISO. Swanson is hitting .310 with a .866 ISO against left-handed pitching as well, which is great since he gets two games against awful lefties in Jason Vargas and Drew Smyly. Swanson should give owners good volume with upside this week.
Also Consider: Adam Frazier (2B/OF, PIT): 29% Owned, Starlin Castro (2B, MIA): 17% Owned, Colin Moran (2B/3B, PIT): 13% Owned
In the Outfield
Mike Yastrzemski (OF, SF): 32% Owned
Yastrzemski was a favorite streamer of mine heading into last week, and I'm confident going back to this well again next week. The Giants have a seven-game week coming up, with just one left-handed pitcher on the slate. Yastrzemski has boasted good power against righties this season, with a .272 ISO and .833 OPS. Don't let seven home games scare you off Yastrzemski either, as he has a respectable .799 OPS and .257 ISO at home this season. Yastrzemski has also been crushing the ball lately, with a .949 OPS and .352 ISO since August 1. Yastrzemski gives us plenty of volume and power as the Giants' leadoff hitter in a seven-game week.
Brett Gardner (OF, NYY): 21% Owned
Gardner is one of those players that always looks to be free-falling towards the end of his career, but finds a way to bounce back with solid production just in the nick of time. He's done it again this year, and his production has come over the last few weeks, as Gardner has a .877 OPS and .282 ISO since August 1. The Yankees have a seven-game week thanks to a four-game wraparound series with Boston, and after that game on Monday, they play three in Detroit and three in Toronto. Both of those teams have underwhelming rotations, and outside of Matt Boyd, there isn't anyone to fear on the slate for the Yankees. Gardner provides both power and speed over these seven games and provides an added boost in OBP leagues thanks to his 10% walk rate.
Also Consider: Kevin Pillar (OF, SF): 46% Owned, Mike Tauchman (OF, NYY): 26% Owned, Manuel Margot (OF, SD): 15% Owned
More Streamers and Head-to-Head League Columns