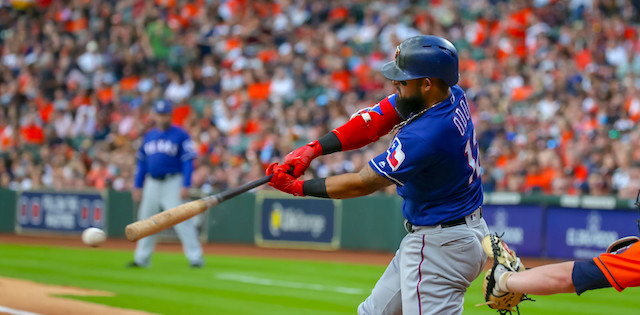 Traditionally, fantasy talent is evenly distributed between the keystone and shortstop positions, but shortstop looks considerably stronger heading into 2019. As such, you should probably plan to draft at least two SS-eligible players to cover your SS and MI slots.
That said, you still need at least one second baseman to fill out your roster. Rougned Odor's power/speed combo may make him look like a strong option, but his peripherals suggest that he'll be average or worse in every 5X5 category. You might be better off waiting for a less heralded name who figures to deliver superior production, such as Colorado's Garrett Hampson.
Keep in mind, our Champ / Chump conclusions are based on whether we think a player will outperform their current ADP. For example, a pitcher we view as "Tier 2" can be a Champ if they're being drafted as a Tier 3 pitcher, or they could be a Chump if they're being drafted as a Tier 1 pitcher. Let's take a closer look at Hampson and Odor, shall we?
Editor's Note: Get any full-season MLB Premium Pass for 50% off, with exclusive access to our season-long articles, 15 in-season lineup tools and over 200 days of expert DFS research/tools.
Sign Up Now!
Garrett Hampson (2B/SS, COL) - 198.94 ADP
Hampson slashed .275/.396/.400 in 48 big league PAs for the parent club in 2018, but that's not why he has become a must-know name in fantasy circles. We value steals much more than major league clubs do, and Hampson figures to be an elite contributor in the category from the word go.
The now 24-year old began his professional career in 2016, when he swiped 36 bases in 40 attempts in just 312 PAs. That's a stellar 90% success rate! He regressed slightly in 2017, going 51-for-65 for a 78% success rate. Of course, that's still nearly 10 percentage points higher than the minimum required to maintain a green light at the major league level, and 50 bags are nothing to sneeze at. Hampson went 38-for-43 between three levels last season, including a perfect two-for-two with the Rockies. That was good for an 88% success rate. In short, Hampson has clearly demonstrated the foot-speed and know-how to swipe bags.
Unlike other MiLB jackrabbits, Hampson has also hit on the farm. He made his Double-A debut last season, slashing .304/.391/.466 with four homers in 172 PAs. His plate discipline was elite (12.2% BB%, 9.9% K%), suggesting that he's ready for advanced pitching. He also flashed moderate power (9.3% HR/FB), though his 34.4% FB% wasn't quite high enough to project 20+ HR out of the box. He also hit way too many pop-ups (30.2% IFFB%, roughly 15% in MLB terms), but managed a .323 BABIP regardless.
The performance earned Hampson a shot at Triple-A Albuquerque. Albuquerque is a notoriously hitter-friendly environment, but his .314/.377/.459 line with six homers over 332 PAs was still a solid performance (121 wRC+). His plate discipline regressed substantially (9% BB%, 17.5% K%), but he was still far from overmatched. His FB% also slipped to 31.8%, though thankfully most of the lost fly balls appear to have been pop-ups (17.6% IFFB%, roughly 8.8% in MLB terms). Hampson's 8.1% HR/FB suggests that he has at least some power, putting him a step above the Billy Hamiltons of the world.
If there are any red flags in Hampson's MiLB profile, it's low LD% rates (18.4% at Double-A, 15% at Triple-A). While he has plus wheels and has Coors Field as a crutch, Hampson probably won't maintain his .372 BABIP from Triple-A without a 20% line drive rate. Still, he figures to hit enough to steal a bunch of bases, and that's what fantasy owners really want here.
Hampson also needs to earn a starting job. He's in a spring training competition with fellow Rockies farmhand Ryan McMahon for 2B duty, though part of me is concerned the team ends up looking at Ian Desmond's reanimated corpse there once it becomes clear he's not a major league outfielder. If Colorado wants to contend, they probably need Hampson in their everyday lineup.
With a draft price just inside the top-200, this is one prospect you might want to hold onto even if he isn't on the 25-man for Opening Day. The SB potential is that significant.
Verdict: Champ (based on ADP around 200)
Rougned Odor (2B, TEX) - ADP: 128.42
At 25 years of age, it only seems like Odor has been around forever. He had something of a bounce-back campaign in 2018, slashing a reasonable .253/.326/.424 with 18 HR and 12 SB after a 2017 spent flirting with the Mendoza line. Unfortunately, the underlying metrics suggest that his batting average was a fluke, his power average at best, and his steals a thing of the past.
Let's tackle those in reverse order for simplicity's sake. Odor had 12 CS to go with his 12 swipes last season, giving him a 50% success rate that simply won't cut it at the MLB level. This is not a new problem for Odor either, as he has gone 51-for-90 (57%) over his big league career. Quite frankly, he should come into the season with a red light, eliminating the steals from his fantasy profile.
You might think that the author of back-to-back 30 HR campaigns in 2016 and 2017 would have above-average power to fall back on, but last season's 13.7% HR/FB virtually matched his 13.9% career mark. Arlington is a great place for power hitters, so posting a nearly average HR/FB there isn't a great sign.
Odor pulls a ton of fly balls (34.4% last season, 32.2% career) and saw his average airborne exit velocity spike to 95 mph last year, but his 7.1% rate of Brls/BBE was just average. Baseball Savant pegged him for an xSLG of .393 based on his exit velocities and launch angles, suggesting that he's not a true slugger.
Odor's Statcast history also suggests that his power is overblown. In 2017, he averaged 94.2 mph of airborne exit velocity and a below-average 6% rate of Brls/BBE. In 2016, those numbers were 93.6 mph and 7.8%. In 2015, they were 93 mph and 5.4%. In short, Odor has never hit the ball in a special manner or optimized his launch angle for power production. As such, 25 HR is more of a ceiling than a floor, with another sub-20 mark well within the range of possible outcomes.
Sadly, even Odor's average power is a step above his batting average. He walked more last season (8% BB% vs. 5% career), but his 35.4% chase rate was still higher than you'd like to see from a guy without any standout skills. He also brought his SwStr% (10.4%) in line with his career mark (10.5%), but his elevated chase rate still contributed to a 23.7% K% (21.2% career).
While Odor's .305 BABIP seems reasonable at first glance, his .279 career mark suggests a good deal of fortune. Odor managed a .285 BABIP on ground balls against a career mark of .242 despite his lowest ground ball exit velocity (81.9 mph) of the Statcast Era. His 19.5% LD% was also substantially higher than his career rate of 16.6%, as well as more productive (.723 BABIP vs. .696 career). LD% is a notoriously unstable statistic, while lower exit velocities do not correlate well with increased BABIPs. Both trends figure to reverse themselves in 2019.
Meanwhile, Odor still has a batted-ball profile that dooms him to lower BABIPs. He hits a lot of fly balls (39.3% FB% last season, 40.2% career), a lot of which are classified as pop-ups (11.5% IFFB%, 13.8% last year). Furthermore, even last season's inflated 19.5% LD% was still shy of the league's 21.5% rate, capping Odor's BABIP potential. Baseball Savant pegged him for a .235 xBA last season, a figure that seems like a reasonable projection for 2019.
In short, Odor doesn't have the success rate to reliably steal bases, the raw power for 25+ HR, or the batting average potential to surpass .250. He also recorded at least one PA from all nine batting order positions last year, so you can't count on counting stats either. At this point in the draft, you're better off with a strikeout arm (Robbie Ray, ADP: 123.71), boring veteran (Robinson Cano, 124.52), or a catcher who might actually hit (Wilson Ramos 131, Yasmani Grandal 132.96). Let somebody else spend a mid-round pick on Odor.
Verdict: Chump (based on ADP of 128)
More 2019 Fantasy Baseball Advice