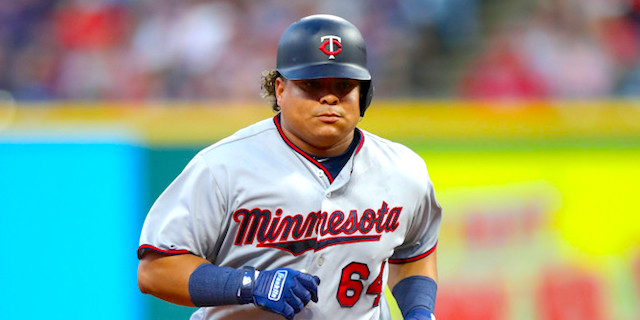 We continue our fantasy baseball tiered rankings analysis with everyone's favorite - the catcher position.
With the 2019 season beginning in a matter of days, RotoBaller writers Nick Mariano, JB Branson, Bill Dubiel, Pierre Camus, and Scott Engel have given their preseason rankings a final update. Check out our fantasy baseball rankings dashboard for a current list any time.
The catcher position is the most polarizing lineup slot in fantasy baseball. Many players wince when they see league rules that require two catchers, yet many standard formats still require the use of two starters. There are hordes of frustrated fantasy owners who want their commissioners to reduce the number of starters to one, because the position is ultra-thin and devoid of quality hitters even when one player is a required starter. This season's fantasy class lacks a true superstar, even though one guy clearly is above the rest of the field.
Featured Promo: Get any full-season MLB and DFS Premium Pass for 50% off. Exclusive access to our Team Sync platform, Premium articles, daily Matchup Rating projections, 15 lineup tools, DFS cheat sheets, Research Stations, Lineup Optimizers and much more!
Sign Up Now!
Catcher Tiered Ranks - 5x5 Mixed Leagues (March)
In case you missed it, our very own "Big Pick Nick" Mariano was recently named the #1 overall most accurate industry expert ranker for the 2018 season. You can see his secret sauce below! Additionally, industry legend Scott Engel recently joined the RotoBaller team and provides his insights as well. Scott is an FSWA Hall Of Famer and award winner.
Rankings Analysis – Top Tiers
Tier One
The top tier consists of just two players, although you could make a case that No. 1 catcher J.T. Realmuto belongs in a tier by himself. Last season, his 17 homers, 65 runs scored and 68 RBI were all career highs, and he should be able to set new personal standards in the latter two categories with the move to a better lineup and ballpark in Philadelphia. Of course, he is good for eight to a dozen steals every year, a nice bonus that further assures him of his place atop the position.
Injuries and a .197 BABIP were among the factors that made Gary Sanchez's 2018 season a big disappointment. Yet he still hit 18 homers in 323 at-bats and remains the ultimate source of power at the position. He should be closer to a .250 hitter this year and will approach 30 homers again. Realmuto is easily the better choice for all-around dependable production. Nick and Bill slightly prefer the power promise of Sanchez. For JB and myself, it's not even close in terms of Realmuto being the clear top player at catcher. He's not a health or batting average risk.
Tier Two
Wilson Ramos just has to stay healthy to keep his top-five status, but that has often been an issue for him. He had an ISO over .180 in each of the past two seasons and will be good for 15 to 20 homers if he is able to play most of the season. Almost in confusing fashion, Willson Contreras saw his average drop by 27 points and his HR total was halved. The HR/FB rate tumbled to an astonishing 9.3 percent. He should rebound in the homer department, but it is logical to remain skeptical if he can get back to a .275 BA.
Age is not deterring 36-year-old Yadier Molina from remaining elite. He has sacrificed some average for power over the last two seasons and has totaled 38 home runs. Nick and I prefer Molina the most in this tier.  Yasmani Grandal will always drag down a team BA a bit, but a move to Milwaukee could see him soar past the 25 HR mark again. I personally don't think Buster Posey belongs in this tier with lingering concerns about his hip likely leading to more declining production. Pierre has Ramos behind both Molina and Grandal while Bill has Grandal ranked the lowest in the grouping.
Rankings Analysis - Middle Tiers
Tier Three
The drop-off in quality immediately becomes apparent at the position once the tier two catchers go off the board. Toronto rookie Danny Jansen certainly is promising for a respectable average, double-digit homers and a respectable OBP for those who play in such formats. Padres prospect Francisco Mejia has the potential to contribute a lot offensively, but he looked overmatched in his first exposure to the majors last year and will have to battle for playing time.
Nick does not see it going well for Mejia. Wellington Castillo played under 50 games last year, but if he can steer clear of injury issues you can get 15 home runs from him. Yan Gomes has double figure pop but you never know just how much his BA can hurt you. No such worries on Mike Zunino, as you know you will get the HRs, but the batting average will always be ugly. Pierre still puts him inside his Top 200 overall. Jorge Alfaro will be the top regression candidate after fashioning a .405 BABIP last year, but you can still get a good amount of at-bats and double figures in homers as he starts regularly for Miami.
Francisco Cervelli can be more of an asset in OBP leagues, Willians Astudillo is a source of fantasy fascination to all but Nick Mariano, who has him over 170 total spots behind anyone else on our rankings team. He only struck out three times in 93 at-bats last year and was tough to whiff in the minors, too. There is not a clear path to playing time for him yet, but his plate discipline may demand he plays often enough to use him as a fantasy starter at some point this year. Robinson Chirinos is a power specialist who hurts your team elsewhere. Tucker Barnhardt has zero upside but will play regularly and is an adequate second starter at the position.
Tier Four
There are some respectable plays in this grouping for those in two-catcher leagues. Austin Barnes will try to rebound after a very disappointing 2018 campaign, and he will have to fight off Russell Martin to claim the starting job. He is Bill's favorite in this tier. Kurt Suzuki is a safe second catcher for a quality combination of power and average. Omar Narvaez appears set to be the starter in Seattle and is capable of providing a respectable batting average with double-figure pop. Utilityman Isiah Kiner-Falefa has a name that draws chuckles and bad jokes in the draft room, but more importantly, he has rare speed for a qualifier at the position.
The power is apparent for Austin Hedges, but he will have to hit for a decent average to hold Mejia off in San Diego. Pierre and JB believe he will maintain a healthy amount of at-bats. Some may believe Brian McCann may not have much left at this point, but Pierre still seems to have faith in him.  Grayson Greiner has shown decent plate discipline and pop in the minors and is ticketed for the starting job in Detroit. Teammate John Hicks played 21 games at catcher last year, enough to qualify there and provide an adequate BA with some power in two-catcher leagues.
Rankings Analysis – Lower Tiers
Tier Five
At this point, you are sifting through the clearance rack, hoping to find a decent discount. When you get here, you realize why so many fantasy players want to do away with two-catcher formats. Tyler Flowers will platoon with McCann in Atlanta, and he is always a threat to hurt your BA. Russell Martin already has a spring back problem and could lose out to Barnes in L.A. Chris Iannetta is better utilized in OBP leagues. Bill still has a glimmer of hope for Tom Murphy. Elias Diaz took advantage of limited playing time last year but will open the season on the DL with a virus. Mitch Garver could be the gem from this group, as he has promising on-base skills and the ability to hit for adequate power. JB prefers Flowers, Diaz and Iannetta more than the rest here.
Tier Six
Now you are simply looking for hope among the fantasy hopeless. If you still don't have a catcher by this point, then your personal breaking news bulletin is that you have waited way too long. Chance Sisco is the one guy that gets a better amount of respect from JB and also draw nods from Pierre and Nick. He may be able to emerge from a platoon situation to be a longer-term starter, but he has looked overmatched in the majors so far. Martin Maldonado will be worth a very late flier, and does get minor recognition from Nick, Pierre and JB. Don't completely forget about Jason Castro, who may get a lot of starts for Minnesota. Manny Pina could have some occasional quality outings as a backup to Grandal.
More Fantasy Baseball Rankings Analysis