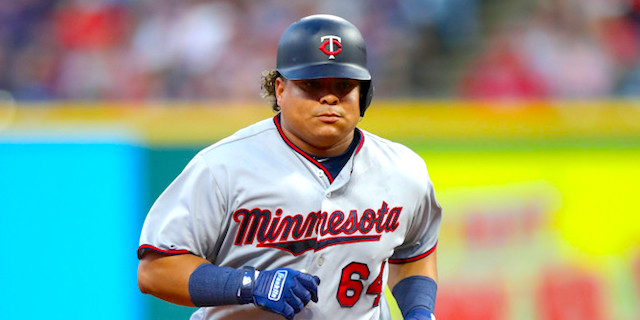 Although we still don't have baseball, we're starting to get a lot of proposals on how we COULD have baseball this summer. The plans may wind up just being a fantasy, but, hey, this is a fantasy site, so it makes sense for us to take a look at it.
One of the facets of the proposal Jeff Passan broke the news of is vastly expanded rosters. Since players won't have had the full lead-up of spring training and have been "getting ready" for the season under varying circumstances, it only makes sense for the league to expand rosters to help keep players healthy and safe. So, if the season were to begin this summer with expanded rosters, which players would that help the most fantasy-wise?
Before we dive into that, it's important to throw cold water on all those prospect hounds. Just because the league expands rosters, it doesn't mean teams will call up their best prospects. Many teams will still likely choose not to start service time clocks, and calling up rookies to sit on the bench behind guys who were going to be starters in April doesn't really make much sense. Instead, you're far more likely to see fringe guys who are already on the 40-man roster get the call for the expanded rosters. However, some of them could still be interesting in fantasy leagues of various sizes.
Editor's Note: Our incredible team of writers received five total writing awards and 13 award nominations by the Fantasy Sports Writers Association, tops in the industry! Congrats to all the award winners and nominees including Best MLB Series, NFL Series, NBA Writer, PGA Writer and Player Notes writer of the year. Be sure to follow their analysis, rankings and advice all year long, and win big with RotoBaller!
Read More!
Baltimore Orioles
Bruce Zimmerman, SP
I really wanted to put Ryan Mountcastle here, but the truth is, until the Orioles have an unquestioned starting spot for him, I don't think they're going to start his clock. Chris Davis looked rejuvenated in spring training and the late start could help Trey Mancini get back on the field, which takes away key opportunities for Mountcastle. So, instead, we'll talk about Bruce Zimmerman.
He wasn't projected to make the Opening Day roster, but expanded rosters would likely be used to add more pitchers since many guys will need to build their stamina back up. Zimmerman looked good in the spring (as David Laurila pointed out) and features a solid curveball/slider combo that could allow him to emerge as a "crafty lefty" stereotype. He likely won't be an exciting option, but we are talking about players who weren't going to make the Orioles' Opening Day roster, so you need to temper expectations.
Boston Red Sox
Collin McHugh, SP
Collin McHugh signed with the Red Sox in early March and is recovering from an arm injury, so the delayed start and expanded rosters would be doubly beneficial for him. Ideally, the Red Sox will slot McHugh into the rotation, but he will likely need some time to build-up, so the expanded roster could allow him to get stretched out in the bullpen, which he's done in the past. It's possible that McHugh fills a long-relief role until the team feels he's ready to move into the rotation, but that would allow him to have fantasy value as a reliever instead of ramping up in the minors.
(Runner-up: Yairo Munoz. The Red Sox signed Munoz to a minor league contract before the shutdown, and his ability to play multiple positions would make him a great bench bat for expanded rosters. With Jose Peraza a question mark at second base, it's possible Munoz plays well enough to push for regular at-bats). 
New York Yankees
Mike Tauchman, OF
Mike Tauchman may be a casualty of the delayed start. He was set to occupy a full-time position in the Yankees outfield, but the later start may enable Aaron Judge, Giancarlo Stanton, and Aaron Hicks to all get healthy. When you add Brett Gardner to the mix as well, the Yankees outfield gets awfully crowded. Tauchman could have found himself on the outside looking in, which would have been bad news since he's out of minor-league options and was facing the real possibility of being traded elsewhere.
However, the expanded rosters would allow the Yankees to keep him, even with a fully healthy roster, and enable him to get at-bats until he can occupy a full-time lineup spot when one of the oft-injured players in front of him inevitably gets hurt again.
(In other news, the delayed start all but crushes Clint Frazier's chance at a career revival, which is sad). 
Tampa Bay Rays
Nathaniel Lowe, 1B
Nate Lowe was potentially facing a demotion after the Rays signed Yoshimoto Tsutsugo, traded for Jose Martinez, and kept Ji-Man Choi, seemingly plugging up the 1B/DH spots. However, Lowe was also working at 3B during the spring, which would give him some more positional versatility to get his bat in the lineup. Adding more spots means the Rays could keep him around as a bench bat who could eventually prove more valuable than the guys signed to play in front of him.
Toronto Blue Jays
Anthony Kay, SP
As of now, Anthony Kay is not projected to make the Blue Jays rotation out of camp. Part of that is likely due to the 7.36 ERA he put up in spring training. However, as mentioned before, the larger rosters will mean larger rotations, and Kay proved his value with a 2.50 AAA ERA after coming to the Blue Jays in the Marcus Stroman trade with the Mets. As a LHP, he would add another dimension to a rotation that is all RHP except for Hyun-Jin Ryu.
Chicago White Sox
Carson Fulmer, RP
A former first-round pick, Carson Fulmer has struggled in his major league opportunities so far. However, he is out of minor-league options, so the White Sox would need to keep him or move him. After putting up a 1.86 ERA this spring, it's possible that the light has started to come on for Fulmer. He's still only 26-years-old and prospect growth isn't linear after all so it's possible he still has some untapped upside. If Fulmer is on the team and given innings then there's always a chance he starts to make good on the potential he showed years ago.
Cleveland Indians
Adam Plutko, SP
Adam Plutko is not an exciting fantasy option, but he did put up a 4.86 ERA in 20 starts last year, so there were stretches were he proved fantasy-relevant on a strong team. However, he's another arm who was not set to make the starting rotation, especially with Mike Clevinger now given time to heal. An expanded rotation means more starts for Plutko and the chance to prove that he's more worthy of a long-term spot than Aaron Civale or Zach Plesac.
Detroit Tigers
Willi Castro, 2B/SS
Willi Castro was always likely going to take over a starting spot in the Tigers lineup by midseason this year, so this isn't a case of service time being sped up. Neither Niko Goodrum or Jonathan Schoop can provide the defense he does, and Castro showed some added offensive value by hitting .301 with 11 HR and 17 SB in AAA last year. An expanded roster means he can make the team from the start, allowing the Tigers to use Goodrum as a versatile bench bat who can move around the field while Castro starts at SS.
Kansas City Royals
Jorge Lopez, SP
Jorge Lopez has flashed intriguing strikeout upside in the minors and saw an uptick last year, despite a ballooning ERA. However, 12 strikeouts in 10 spring innings this year showed that some of the changes Lopez made may have boosted his value. He was destined for a swing role come opening day, but he may now find himself in a weak starting rotation with a chance to carve out season-long value in deep leagues.
Minnesota Twins
Willians Astudillo, C/1B/3B
There are probably some pitchers who I could have put here (Devin Smetzler or Randy Dobank, for instance), but if I'm given a chance to talk about La Tortuga, I'm going to. Players like Willians Astudillo, who can play multiple positions, would be especially valuable to teams with an expanded roster. Guys needing to build up stamina and the health of their muscles means more off days, which means more time for Astudillo to find himself in a dynamic lineup. Maybe Mitch Garver was a flash in the pan? Maybe Josh Donaldson gets hurt? Maybe Miguel Sano can't play 1B?
If Astudillo is on the roster than he can find his way into the lineup if anything crazy happens. As a high-contact hitter (BB% and K% both below 4%), Astudillo puts pressure on defenses to make plays. He's never going to pop a crazy number of home runs but a .260 average with solid counting stats is feasible if he sneaks into a full-time role.
Los Angeles Angels
Jose Suarez, LHP
Jose Suarez is yet another player who would benefit from larger rotations. The 22-year-old lefty struggled during his time in the majors last year, but he's a young player with solid AAA numbers from 2018 and 2019, especially considering his age. He was also looking good in the spring with a 1.13 ERA and nine strikeouts in eight innings. He had around 8.5 K/9 during his time in AAA, so there's a chance that he levels out to that level at the majors and compiles a 4.00 ERA and can push Matt Andriese or Patrick Sandoval from one of the rotation spots.
Houston Astros
Josh James/Austin Pruitt, SP
James vs Pruitt was one of the major spring training battles, with some Houston beat writers suggesting that Pruitt may have had the inside track on the 5th spot in the Astros rotation given his consistency. If Major League Baseball expands the rosters then the Astros could allow both men to start the year in a six-man rotation. Both would then have value at the start of the season and fantasy owners could throw their support behind whichever arm they believe in (James for me) and hope the value continues all season.
Oakland Athletics
Tony Kemp/Franklin Barreto/Jorge Mateo, 2B
The other hotly contested spring training battle was for the Oakland starting second base job. To make the stakes even higher, all three players are out of minor league options, so the A's would have needed to keep all three or make some hard cuts/trades. Now, it's entirely possible that they could keep all three players. Jorge Mateo's blazing speed made him a likely candidate to be kept, and Tony Kemp has also played OF in the majors, which gives him positional versatility. If he can put up something close to the .268 average, six home runs and nine stolen bases in 97 games, he flashed in 2018 then there's optimism for 10-20 season that could be useful in deep leagues. With that all taken into account, the expanded roster may help Franklin Barreto the most, but now each guy could have more runway to stake his claim to a full-time job. In that lineup, whoever gets the job could hold real value, especially if it's Mateo with his speed.
Seattle Mariners
Tim Lopes, UTIL
Tim Lopes was one of my favorite fantasy sleepers in deep leagues for 2020 because of his Triple-A performance last year after coming over from the Blue Jays. Lopes hit .302 with 10 HR and 26 SB in 2019 and had a K% of just 17.1%. With his ability to play 2B and the outfield, Lopes would be a useful bench bat with expanded rosters. He could also threaten to take over the 2B job if Shed Long hits like he did in spring training (.129 in 34 plate appearances).
Texas Rangers
Scott Heineman, OF/1B
If I was going to mention another pitcher for a six-man rotation, I'd likely talk about Koby Allard, so he's certainly a name to keep in mind here, but I wanted to mention Scott Heineman, who is on the 40-man roster and really has nothing left to prove in AAA after hitting .347 last year and .306 in 2018. He could stand to add some power, but the 26-year-old can rake. He was hitting .355 during spring training this year and could even push for at-bats at first base considering how poorly Ronald Guzman and Greg Bird were performing in spring.
(All roster predictions are based on Roster Resource's projected lineups)
More 2020 Fantasy Baseball Advice