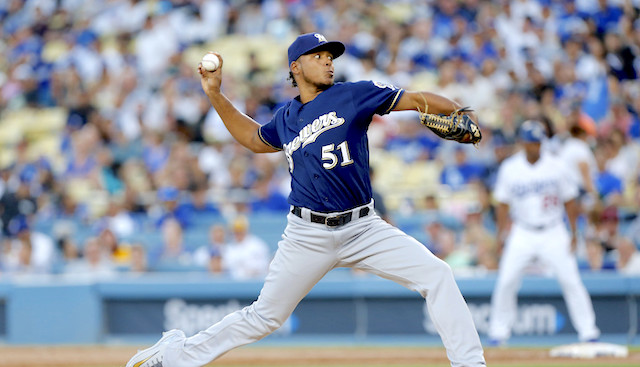 Many many years ago, I noticed the managers in my long-time keeper league were consistently making terrible keeper decisions year after year. Instead of taking their money every year, I thought I would help them out and find a good set of Keeper League Rankings to share with them. What I found was quite disturbing.
There appeared to be two types of Keeper Rankings available in the industry: Type A is just the site's normal rankings with younger players boosted. These types of rankings only benefit leagues where all Keepers carry the same cost or no cost, such as Rounds 1-4 for everyone's keepers. I also found a Type B that I have no explanation on how any human could ever perceive to be useful in any type of fantasy format. So instead of pulling a rankings list for them, I sat down on Excel for a good month and the Keeper Value Formula was born.
Keeper Value Rankings are intended for Keeper Leagues in which a fantasy owner must forfeit a designated draft pick in order to keep a player into the upcoming season. These rankings are based on Keeper "Values." In the marketing world, Value can be defined as "the extent to which a good or service (player) is perceived by its customer (fantasy owner) to meet his/her needs or wants." The Keeper Values are derived from my Keeper Valuation Formula which accounts for age, player cost (ADP), remaining player pool, past performance, future projections, missed playing time, and even position scarcity.
Featured Promo: Get your 2023 MLB Premium Pass for 50% off. Exclusive access to our preseason Draft Kit, #1 accuracy rankings, #1 ATC projections, Team Sync platform, Live Draft Assistant, 15 in-season lineup tools, customized rankings and much more!
Sign Up Now!
JB's Keeper Value System
The final product is a quantitative depiction of a player's ability to meet/exceed fantasy owners' needs based on the cost they paid for the player in the previous season (2021 ADP) and will subsequently pay for in the current season's draft (2021). The higher the score, the higher the return the fantasy owner will receive from the player keeping him at their associated cost. Approaching Keeper selections with this value-based attitude will greatly increase the effectiveness of a fantasy owner's draft in a keeper league.
Whereas the main purpose of the Keeper Value Formula is for customization based on specific leagues and keeper costs, I create these yearly rankings with standard 12 team league data, 2021 ADP, and 23rd Round cost for UDFA just as a baseline to help managers get an idea of their options. Feel free to reach out to me on Twitter @RowdyRotoJB to check out your specific league's values.
| | | |
| --- | --- | --- |
|  TIER  |  SCORE  |  DESCRIPTION |
| 1 | >100 | Finders Keepers! These are the Elite Keeper Values. MUST BE KEPT at all costs. |
| 2 | 75-99 | Great Keeper values. Unless you have a full load of Tier 1 players, these guys need to be kept. |
| 3 | 50-74 | You are gaining good value with these players. The majority of good keeper options tend to fall into this category. |
| 4 | 25-49 | Minimal value. The value exists, but not as much as your opponents are likely receiving with their selections. Consider if your options are limited. |
| 5 | 0-24 | Break-even point. Keeping these players will likely hurt your overall draft, as you are not adding enough value. The idea is if you don't use a keeper selection here you can likely still draft that player in the vicinity of their 2021 cost. |
| 6 | <0 | The associated costs make it impossible to return any value, these players will ruin your draft. Stay far away. |
2022 Starting Pitcher Keeper Value Rankings
Tier Two (Massive)
It's not hard to believe that the reigning AL Cy Young Award winner is at the top of the list. Especially when Robbie Ray was practically going undrafted in 2021 drafts. Ray drastically decreased the free passes in his first and only full season with the Blue Jays, and proceeded to post career-bests in ERA, xFIP, K-BB%, and LD%. He threw the fifth-most innings and owned the fourth-highest K% among qualified starters. He moves across the country in 2022 after signing a five-year deal with the Mariners. The home ballpark should do wonders for helping suppress the long balls, and if he continues to keep a firm grip on the BB%, he's going to be an incredible keeper value even with some expected regression.
Freddy Peralta also came out of seemingly nowhere in 2021, at least for the more casual fantasy players after working out of the Brewers bullpen in 2020. He earned a spot in the starting rotation and blew all the expectations out of the water. His xERA, K%, xwOBA, xSLG, and xBA were all in the top five percent of the league and he managed to throw 144.1 innings. He drastically increased his slider usage, and subsequently decreased his fastball and curveball. All three pitches held opponents under a .160 BA, but the slider boasted a 43.1 Whiff% and contributed to career-best EV and Barrel%. He's obviously not a candidate for 200 IP in 2022, but ~160 with massive strikeout upside carries his high keeper value score.
Back-to-back Brewers wayyy up in the second tier. Corbin Burnes wasn't quite the surprise that Peralta was, but no one was predicting Burnes to win the NL Cy Young when they selected him around the fifth round in 2021. (Maybe Smada did actually, but no one else). The guy won the Cy Young, he's on the same team, he's still just 27 years old, he's awesome, and if you get to keep him, congratulations.
I've been Julio Urias' biggest fan since day one. I don't like taking pitchers in the first 50 picks of redraft, but I'll gladly keep this kind of stud with an 11th-round price tag. Due to injury, bullpen relegation, and COVID seasons, it wasn't until last season that we finally got to see him spread his wings and leave the nest. 185 innings later, and he's leading the league with 20 wins, along with rocking a 2.96 ERA and 1.02 WHIP. I've always enjoyed the nice little blend of strikeout ability with a big serving of inducing soft contact. Urias owned the second-highest Soft% among starters behind only the one true strikeout/soft contact king Zack Wheeler. Is he going to win 20 games again? Probably not. Is 15 W a relatively safe projection for a young stud pitching 190 innings for the Dodgers? Why yes it is.
Speaking of blending strikeouts with soft contact, Logan Webb started the season without a spot in the Giants rotation and is now a top-75 pick in 2022 drafts. Two separate trips to the IL hampered his first half, but it was after the All-Star break that he got everyone's attention. Over his last 96.1 innings, Webb boasted a 2.48 FIP and 1.04 WHIP. The special blend produced a 62.2 GB% and a lowly 25.5 Hard% over the same span. For the season, his Launch Angle was second to only Framber Valdez among qualified starters. Pitching in San Fran seems to be a magical potion, and he should easily push 175+ innings with healthy ratios.
Okay, now we've finally made it to the OG of 'strike out or hit a weak grounder', Zack Wheeler. Aside from going to high school with me, I guess 2021 was the second-best part of Wheeler's career. He led all of baseball with 213.1 IP. If you filter pitchers by innings pitched, Wheeler's 2.79 xERA is the lowest among the top-31 names. That is the true definition of quantity AND quality. He also led all qualified pitchers with a measly 84.6 Average Exit Velocity and was second to only Corbin Burnes in Barrels/PA%. The pride of East Paulding High School has established one of the strongest floors in fantasy.
Not all keeper values are created equally. Chris Sale generates a second-tier score due to the fact that he had TJS before the 2020 season and was mostly off the draft radars in 2021. Even in my long-time 18-team keeper league, one of my league-mates gets to keep Chris Sale at a very late cost in 2022 due to him being dropped in 2020 and not drafted until very late last year. Value comes in many forms. For what it's worth, Sale did look pretty good in his nine starts after returning in 2021. The veteran southpaw went 5-1 with a 3.16 ERA and 28.4% strikeout rate.
Some people like myself don't like drafting many SP, which means the few we do have need to be strikeout monsters like Dylan Cease. The 26-year-old was one of just FIVE qualified starters with over a 30 K% and is by far the most affordable one from that group in 2022. He took a huge step forward by suppressing walks and limiting the long ball, and we should continue to see the ratios lower while the whiffs rise as he gains more experience.
Sandy Alcantara has been a polarizing name this draft season, it seems you are either really high on him or refuse to draft him at his ~40 ADP. Despite what you think about him, there is no denying the volume. He threw 197.1 innings in 2019 and followed that up with an impressive 205.2 in 2021. Since 2019, Alcantara owns the eighth-most innings, and of the top-10, he boasts the fourth-best ERA over the span. There's that Quantity and Quality. The K% is middle of the road but has risen for three straight seasons. Plus it's hard to complain about 200 K in this economic climate, no matter how many innings it takes to get them.
Tier Three
Alek Manoah got his first taste of the majors in 2021, and although things got bumpy at some points, you couldn't tell by the pretty final product. The 24-year-old finished 9-2 with a 3.22 ERA, 1.05 WHIP, and 127 K across 111.2 IP. He only totaled 130 innings between MLB and AAA after not pitching in 2020, so the volume might not be equal to others being drafted in his range, but the ceiling appears to be quite high.
After showing promise in a small taste of the big leagues in 2020, Trevor Rogers came out the gate swinging in 2021. Over the 101.1 innings pitched in the first half, Rogers boasted a 2.31 ERA, 1.07 WHIP, and a clean 30.0 K%. Going into the All-Star Break, he owned the eighth-lowest ERA among starters. Unfortunately, he only threw 32 more innings on the season but ended up with a 2.64 ERA, 1.15 WHIP, and 28.5 K%. Like Manoah, Rogers is still just 24-years-old and with another season of experience should provide great strikeout percentage and ratios despite lesser volume (~150 innings).
Three 24-year-olds in a row! Copy and paste most of the comments for Trevor Rogers and they pertain to Shane McClanahan as well. He has filthy stuff and prospect pedigree, but less than 150 MLB innings under his belt. Shane Baz same story, but only 13.1 MLB innings. They are going to be per-inning fantasy studs in 2022, and when played properly, a fantasy roster can thrive without the 175-200 inning monsters as long as you plan for it ahead of time.
Carlos Rodon is a very interesting name right now. Of course, he just signed a 2-year deal with the San Francisco Giants who seem to have pitching super-powers. But despite the new contract, the industry seems to still be split on his health. He pitched 132.2 innings in 2021, the most for him since 2016, and he was incredible. His 2.68 xERA and 34.6 K% were both top-five percent in the league. Even after IL stints for "shoulder fatigue/soreness", his numbers were still great. But he still only made nine starts in the second half and saw his FB velo drop pretty significantly. Then the White Sox decide not to offer him a qualifying offer this offseason and obviously that means there is something there they don't like. I am not a doctor, but I have shied away from him in all my redraft drafts this year. Luckily for us though, this is about keeper leagues and keeper value, and Carlos Rodon at a late-round cost is well worth any risk.
Following the Chris Sale route of keeper value by injury, Justin Verlander rocks a Tier Three score despite being 39 and having not pitched in 2021 due to TJS. Bottom line, the last time this man pitched a full season, he racked up 300(!) strikeouts over 223 innings with a 2.58 ERA and 0.80 WHIP. All reports are that he is without any restrictions this spring training, and Steamer projections even are as optimistic as projecting 175 innings. There is just something about gritty vets like Chris Sale and Justin Verlander that make the risk of post-injury performance at least "feel" less significant. I have been targeting JV everywhere this year and if you are in any situation outside of full tank-mode in your keeper league, he's worth it on the cheap.
2022 Keeper Value Rankings
Download Our Free News & Alerts Mobile App
Like what you see? Download our updated fantasy baseball app for iPhone and Android with 24x7 player news, injury alerts, sleepers, prospects & more. All free!


More Dynasty Baseball Strategy