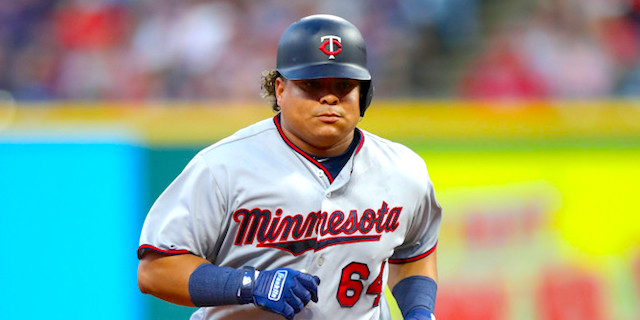 Sleepers. The most coveted search term during any sport's fantasy draft prep season. Which players are flying under the radar, presenting an opportunity for you to swoop in on draft day and pluck them from the player pool abyss, making you look like a genius at the end of the season when you post your Championship-winning roster picture on Twitter? Nothing grabs attention in the fantasy world like a good sleeper.
Here at RotoBaller, we love sleepers more than anyone else in the industry. If you don't believe me, just scroll on down to the bottom of this page and take a look for yourself.
Our focus today is on Minnesota Twins' super-utility man/Catcher Willians Astudillo, the man generating all the buzz on social media. Can he help your fantasy team in his first full MLB season?
Editor's Note: Get any full-season MLB Premium Pass for 50% off. Exclusive access to our Draft Kit, premium rankings, projections, player outlooks, top prospects, dynasty rankings, 15 in-season lineup tools, and over 200 days of expert DFS research.
Sign Up Now!
What's the Dealio with Astudillo?
Willians Astudillo just might be my favorite player in baseball. It's almost impossible to look at him, and his stats, and not immediately become a fan. First off, he's just 5'9" yet weighs 225 lbs. So seeing him field and run the bases is fun for the whole family. Secondly, the guy is almost incapable of striking out - or drawing a walk, which means you get to see him run the bases almost every time he steps up to the plate.
Astudillo has been in the Minor Leagues since he was 18 in 2009, and got his first taste of the bigs last year with the Twins. Through 30 games, the physical anomaly hit an absurd .355. He struck out three times. THREE TIMES. His 3.1 K% would have cut the MLB leader Andrelton Simmon's 7.3% in half. He boasted a 91.2 Contact% and 96.2 Z-Contact%. It's like the guy gets to use a bloated whiffle ball bat that covers half the strike zone. He even stole seven bases!
It's not like these impressive stats came out of nowhere though. Astudillo has hit the ball everywhere he's played. He hit .342 across 128 PA in AAA in 2017, .333 in 465 PA in 2014, and .361 in 220 PA in 2011. His 41.7% Cent% (hits up the center of the field) would have been best in baseball over a full season. The guy just knows how to work the BABIP. He's never owned a K% over 4.6, and even stole 11 bases back in 2011. In the Venezuelan Winter League this off-season, he struck out just twice in 261 PA.
Up to this point, I am sure you've noticed the lack of me mentioning the HR category. That's the one downside to this shoo-in Hall of Famer (in my mind). Astudillo has never hit more than four HR in a season in the minors, until 2018, and that's where the excitement begins. With the three bombs he smacked in his short MLB stint, he hit 15 combined HR in 2018 across 400 PA. Could the 27-year-old finally figure something out at the plate? Well, if you are a complete doubter, he continued 2018 by hitting 10 more HR in the Venezuelan Winter League. Can you imagine the fantasy fun we will have with Astudillo if he can hit double-digit dongs, never strike out, hit over .300, and play multiple positions in the field? Oh yeah, I guess I forgot to mention that part.
In just 30 games at the major league level last year, Astudillo made 14 starts at Catcher, five starts at 3B, one start at 2B, made two appearances in the OF, AND pitched one whole inning. I'm drooling on my keyboard. By the end of the 2019 season, we could be looking at a four-position eligible fantasy player.
All joking aside, Willians Astudillo could prove to be an extremely beneficial fantasy player this season. The path to playing time is extremely crowded in Minnesota after the acquisitions of Jonathan Schoop, Nelson Cruz, and C.J. Cron, with the expected "improvement" of Miguel Sano and Byron Buxton. But I believe the short stint in 2018 was a tryout, and a successful one at that. The Twins want Astudillo to get at-bats, and they are willing to stick the guy anywhere in the field to make it happen. He should split time behind the plate with Jason Castro and Mitch Garver, and can provide rest days for basically anyone else in the lineup. Also, expecting Buxton and Sano to remain healthy and/or remain in the bigs all season is an ill-advised bet at this point in their careers. Regardless of how it plays out, I expect Astudillo to get his fair share of PA this season. In fact, thanks to his versatility, I see him being top-10 in PA among all catchers. Outside of the top-seven fantasy catchers, you start hurting your team BA and getting zeroes from the position for a third of the games. So you can either take a guy whose team would rather rest him every third day than have in their lineup every day or the guy whose team is willing to put him anywhere in the field to see plate appearances.
Current NFBC ADP suggests that Astudillo isn't much of a sleeper at all. He is currently the #10 catcher off the board at 238.26 overall. But with the number of skilled players who use NFBC, plus the amount of two-catcher leagues on that site, I feel that ADP is severely skewed from what you will actually see in your home leagues. Our RotoBaller rankings have Astudillo ranked as the #17 catcher and 339 overall. This feels a lot more realistic to what you will see in draft rooms this season, and he represents a huge potential value. The baller move would be to wait out the top-two tiers of catchers, and then let the young-flair names like Francisco Mejia, Danny Jansen, and Jorge Alfaro (he still counts, right?) get scooped up before grabbing your starting catcher - Willians Astudillo.
More Fantasy Baseball Sleepers and Breakouts