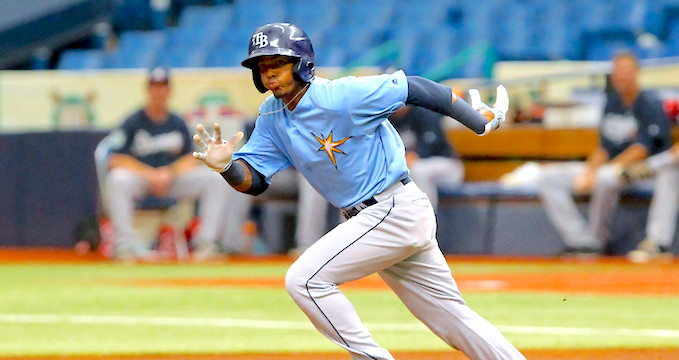 In just a few short days, the 2021 Major League Baseball season will get underway. Fans of Minor League Baseball will have to wait a little longer with clubs operating their alternate training sites for at least the first month of the 2021 season.
As we saw in 2020, prospects can develop and thrive at alternate training sites. They're able to work on specific parts of their games without having to worry about statistics or the outcomes of games. We saw solid prospects like Ryan Mountcastle of the Orioles and Ke'Bryan Hayes of the Pirates take their games to new heights after spending significant time at their respective sites last year. T.J. Zeuch of the Blue Jays, who added a few miles-per-hour on his sinker after spending most of 2020 at the alternate training site, spoke glowingly of his experiences in the unique environment.
But while these alternate training sites can benefit players with their developments, they can create havoc for prospect watchers and fantasy managers looking for the next impact rookie. However, even with no minor league games for at least a month, Rotoballer will keep you up to date on all the news leaking out of the clubs' alternate training sites. And once the top prospects in the game take to the field, we'll provide regular updates as those players' values rise and fall throughout the year. Today, we'll provide our last preseason update of the Top 250 dynasty prospects for 2021.
Featured Promo: Want a free RotoBaller Premium Pass? Check out these sports betting promo offers from the top sportsbooks! All new sign-ups get a free bonus offer on their first deposit, and a free year of RotoBaller's Premium Pass for all sports ($450 value)!
Sign Up Now!
Top 250 Fantasy Baseball Prospects
Pitchers with fewer than 50 MLB innings qualify for the list, while hitters with fewer than 130 at-bats are eligible — regardless of service time.
Prospect Notes: Player 1-10
Seattle Mariners outfield prospect Jarred Kelenic will open the year at the alternate training site. He's probably ready to be an impact player but the weather (and field conditions) can be unpredictable in the early parts of the year and Kelenic already missed time this spring with a knee injury. I have no doubt he'll reach the majors in time to be a strong contender for rookie of the year in 2021.  
Ranked fourth overall, Kelenic's teammate Julio Rodriguez has looked outstanding this spring. He's still working on tapping into the raw power but his hit tool is very advanced for his age (20).
Spencer Torkelson entered camp with a lot of hype surrounding him and the Tigers also challenged him with a new defensive assignment at the hot corner. The 2020 first-overall draft pick struggled mightily with the bat but it doesn't really change any long-term outlook. He should still be a source of massive power when he's ready -- likely in 2022.
Pitcher Nate Pearson slid down a tiny bit in the rankings because of the repeated injuries that he's suffered to date, including the groin injury that will keep him off the opening day roster. He's a big, strong pitcher but he's fallen prey to a handful of injuries already in his young career, which is worrisome.
Two young outfielders make up the backend of the Top 10: Alex Kirilloff and Dylan Carlson. Both players were handled very differently this spring. Kirilloff was left to fight it out for an opening-day role with a handful of lesser talents while the Cardinals very early on announced that Carlson was the favorite for a role in the majors. Kirilloff appeared to put a lot of pressure on himself while Carlson was more relaxed and, although he started slowly, was able to pull himself out of the tailspin. The Twins' prospect never recovered from his slow start and will open the year in the minors. Luckily, a little additional time at the alternate site won't hurt Kirilloff's long-term outlook and I'm hoping Brent Rooker gets a fair shot at regular playing time.
Prospect Notes: Players 11-30
Braves starter Ian Anderson is going to be a stud at the top of the rotation with Mike Soroka and Max Fried, hopefully for a very long time. I expect huge things from him -- if he can stay healthy -- given how good he looked this spring (and in six games last year at the MLB level).
Obviously, Bobby Witt Jr. is full of hype right now after an eye-opening spring. I had a hard time choosing between him and CJ Abrams back in 2019 when I was ranking the top talents in the amateur draft. I eventually settled on Witt Jr. at third and Abrams fourth overall but they both look like future studs and the Royals prospect has gotten more consistent with his contact since turning pro. I don't know that he'll be ready to play at the MLB level this year (And is there really any reason to rush him?) but Witt Jr. has definitely upped his ETA.
Trevor Larnach quietly had a very nice spring in limited opportunities. But with just 11 plate appearance, the Twins clearly had no intention of allowing him to play himself into the 26-man roster conversation. He's only beginning his fourth pro season so he has plenty of time to find a role with the club once the depth ahead of him (Alex Kirilloff, Brent Rooker) gets a longer look.
The news that Casey Mize made the Tigers' opening day roster took me by surprise. He was pretty bad during the spring and has struggled with his command and control in both 2020 and '21. With the Tigers still in rebuilding mode, I would have personally given him a month to sort things out without the everyday pressures of playing in the majors, but the club obviously thinks the big league staff is better suited to helping him work through it.
Nick Gonzales didn't get a long look during the spring with the Pirates (13 PAs in 11 games) but it's interesting to note that two of his three hits were for extra bases. The young second baseman is known for having outstanding contact skills but people seem split on how much power he'll produce. I've always felt he would have above-average pop due to his lightning-quick bat speed and success with wood bats in college summer leagues.
Nolan Jones didn't receive much playing time with Cleveland given the presence of Jose Ramirez at third base but he posted a .583 on-base average in eight games (four walks, three hits) to underscore why he should be a top target in on-base leagues like Ottoneu. Once he gets his opportunity (and starts hitting more balls in the air), Jones will really take off.
Prospect Notes: Players 31-50
Josh Jung suffered an unfortunate foot injury during the spring but it should have no long-term impact on his value. I'm one of his biggest supporters. 
Daniel Lynch had a rough spring and doesn't look as MLB-ready as teammate Jackson Kowar. They'll probably be pretty close in value in the long-run but I now have Kowar reaching the majors a little more quickly.
Luis Patino was used in just one-inning stints during the spring as the Rays kept the innings down likely with an eye to a larger MLB role later in the season. The club had the same approach with Shane McClahanan, who was downright dominant in the shorter stints with seven strikeouts in seven innings.
Joey Bart had an ugly MLB debut in 2020 that was doomed by a BB-K of 2-41 in 33 games. The 37% strikeout rate needs to come down significantly if he's going to have long-term success. The good news is that he did a better job of making contact this spring with a strikeout rate at 28% and he's still hitting the ball with authority.
The Mariners will open the season with a fairly deep, albeit unproven, rotation. While former first-rounder Logan Gilbert won't make the club out of the spring, he has the skillset to be a better long-term fantasy asset than Justin Dunn or Justus Sheffield. He throws strikes, misses bats, and keeps the ball in the park.
Daulton Varsho has a ton of value in fantasy baseball because he's catcher-eligible but will mostly play another position (outfield). And he has a far higher upside than other players with a similar defensive profile like Isiah Kiner-Falefa or Kyle Farmer. The Diamondbacks' prospect has 20-20 (HR-SB) upside.
Yes, I know that Jo Adell is lower than you think he should be. He made better contact this spring and still hit the ball with authority so, hopefully, the light bulb has finally come on for him. But we'll see. He's also lost some ground on Brandon Marsh, who is charging up behind Adell and has earned praises from the coaching staff.
Garrett Crochet would be higher on talent alone but his long-term role is in question. If he eventually shifts into a starting role — which I think he will — then he moves up the list a bit although we don't really know how well his repertoire or command will play as a starter.
Prospect Notes: Players 51-75
Ke'Bryan Hayes has the skills to be an impact third baseman at the MLB level. His future as a highly-sought-after fantasy commodity relies on his ability to get the ball off the ground more consistently. Hayes averaged a ground-ball rate well above 40% in the minors and it sat at 48% in the majors in 2020. The 25% HR/FB rate in the MLB was almost 20% above his MiLB rate.
Brandon Marsh doesn't have the same raw power potential that Jo Adell possesses but he offers an intriguing power-speed mix. He also has a little more feel for hitting and his willingness to take a walk makes him a solid target in on-base leagues.
J.J. Bleday has flashed some power but he doesn't appear to be as polished as some people think he is based on his spring performance. When he's made contact, he's hit the ball hard. But he also has 11 strikeouts in just 23 at-bats. He's a player that's probably suffered from the lack of traditional game action.
Alejandro Kirk could be an offensive beast in both standard fantasy formats and on-base leagues. He has a natural feel for making contact and the ball jumps off his bat. His conditioning has been the biggest concern but he lost a noticeable amount of weight in the offseason. 
Hunter Greene is another player that needs to get into some real game action this year after missing more than two years due to Tommy John surgery and the subsequent rehab. He can still hit 100 mph with ease but his secondary stuff needs polish.
Ryan Mountcastle has flashed some outstanding power this spring with nine of his 12 hits going for extra bases but he's slipped back into old habits with a BB-K or 1-9. The knock on Mountcastle has always been his over-aggressive approach which causes him to swing at and make contact with too many pitcher's pitches. His 8% walk rate at the MLB level in 35 games last year was a noticeable deviation from career norms in the 4-6% range.
Cristian Pache looked like his bat was starting to come around but it's taken a step back this spring. His plus defense in the outfield will make him a strong real-life baseball player but he needs to jumpstart the offensive side of his game to realize his full potential on the fantasy side.
Josiah Gray could probably be a No. 3 or 4 starter in some clubs' starting rotations right now but he's stuck behind an almost unbelievable amount of starting pitching depth with the likes of Julio Urias, Tony Gonsolin, and Dustin May all struggling to find a role in the Dodgers' rotation.
Prospect Notes: Players 76-100
Heliot Ramos had an eye-opening spring with the Giants as witnessed by a 1.164 OPS. However, his uninspired BB-K of 1-8 against modestly-skilled competition this spring shows that he still has some work to do in terms of his patience at the plate.
Bobby Dalbec has impressive power. Even with the deadened baseball coming to the major leagues in 2021, he's unlikely to miss a beat in the power department. And he also offers a strong on-base presence with his above-average walk rates. From a long-term perspective, though, there aren't many players that have long, illustrious careers with his type of approach although there are anomalies like Joey Gallo and Russell Branyan.
Jazz Chisholm looked lost for the first half of the spring but, to his credit, he's turned things around recently — perhaps just in time to win the starting second base role with the Marlins. Still, I'm worried about his long-term prospects given his grip-and-rip approach. If things click, though, his power-speed mix with middle-infield fantasy eligibility is intriguing. 
At the start of the spring it looked like both Clarke Schmidt and Deivi Garcia could play key roles for the Yankees from Day 1 of the spring. But then Schmidt got hurt and Garcia was out-pitched by the likes of Jordan Montgomery and Domingo German. However, I still like both of their chances to be solid MLB pitchers in the long run.
Luis Campusano has a chance to prove himself at the MLB level with Austin Nola on the sidelines with his finger injury. Campusano has surprising pop and a good handle on the strike zone for his age (22).
Alek Manoah saw his fantasy value enjoy a significant spike this spring by striking out 15 of the 24 batters that he faced (without a walk) and it was against some very tough competition — including the New York Yankees not once but twice. 
A.J. Puk sits this far down the list because I struggle to see a future where he pitches out of a big-league starting rotation for any significant amount of time. He's just one of those pitchers that breaks down easily and he's already had significant arm and shoulder injuries with just 11.1 innings of MLB experience under his belt.
Jonathan India showed up in the spring as a completely different player than we saw in 2019. The inconsistent, power-shy third baseman is now a line-drive machine playing a solid second base. His offensive approach fits far better at the keystone. 
Simeon Woods Richardson was another Blue Jays pitching prospect that had a strong spring — and he faced the same tough lineups that Alek Manoah faced. The difference is that instead of throwing 96-97 mph like his teammate, Woods Richardson is more 91-93 mph. But he's also fearless and will throw all four of his offerings in any count.
Prospects Notes: Players 101-150
Tanner Houck entered the spring with a good shot at being one of Boston's top-five starters. Last season, he posted a K-BB of 21-9 in 17 big-league innings. This spring, though, he's looked like a different pitcher and he allowed six runs in 6.1 innings with a K-BB of 4-10. He has the ceiling of a mid-rotation starter but he has a history of getting out of whack with his command for long stretches.
Michael Kopech is likely going to spend most of the 2021 season as a multi-inning reliever but with a lack of pitching depth in the minors, I could see the White Sox quickly turning to him if they end up needing a starter.
Taylor Trammell has gotten stronger as the spring went on which is what you want to see from a young, unproven player. He has a 1.016 OPS through 18 games but the BB-K of 6-16 shows that there will likely be some contact issues early in his big-league career. Still, his power-speed mix is tantalizing.
While Cristian Pache has been disappointing at the plate, fellow rookie outfielder Drew Waters has been invisible. While I've never been a huge fan of the toolsy player, it's somewhat shocking to see he's only gotten into four spring games with four total at-bats.
You can read more about Tejay Antone here but, in short, I'm a huge fan and think he has massive, untapped potential if he's given a shot at starting for the Reds. He has big velocity, high spin rates, and excellent underlying numbers.
Brent Rooker is a big-time sleeper for me. He was last year, too. And the Twins outfielder looked good in seven big-league games (161 wRC+) before his forearm was broken by an errant pitch. Now, his bat has looked a little slower this spring but I've only seen him play once so it could have been an anomaly. With Alex Kirilloff banished to the minors to begin the season, Rooker has a big opportunity to secure a permanent role with the club.
Daulton Jefferies has always been talented but injuries have slowed his ascent through the minors. This spring, he has a 20-3 K-BB in 13 innings. But like teammate A.J. Puk, it's hard to envision Jefferies sticking in the starting rotation. Draft in 2016, he's thrown just over 100 innings total in five years. He could thrive in a hybrid starter/reliever tandem role.
Garrett Mitchell opened some eyes this spring with his athletic play and clearly made some adjustments over the past year. Known as a toolsy-but-raw college player when he was selected in the first round of the 2020 draft, the outfielder now looks much more polished. He hit .379 in 29 at-bats this spring but he also had a so-so BB-K of 2-7 and was caught twice in five stolen base attempts.
Adrian Morejon has some impressive stuff but the inconsistent command has long been an issue for him. The Padres' starting pitching depth is also formidable but he's another pitcher that could perhaps thrive in a hybrid starter/reliever role.
Prospects Notes: Players 151-200
Bryan Abreu has looked like a different pitcher this year, which is good news for the pitching-starved Astros. I'm not ready to believe in the new-found control after he melted down last year but the K-BB of 9-2 in 10.1 innings is a great start. He'll likely never have better than fringe-average command but his stuff is electric so it could work.
Jarren Duran opened a lot of eyes this spring. He made adjustments at the alternate training site in 2020 to incorporate more power into his contact/speed game and it stuck. He's probably never going to be a power hitter but 15+ home runs would be a nice addition to his offensive (including base running) contributions. 
Prior to the 2019 season, I hyped sophomore catcher Mitch Garver. He went on to hit 31 home runs that year in just 93 games. This year, I'm calling on another Twins catcher for a big year — if he gets enough playing time. Ryan Jeffers has to contend with Garver but the veteran is coming off a poor 2020 showing so there could be an opportunity for the rookie to settle in and show off his strong hitting abilities.
Ryan Weathers is probably going to open the year as a reliever for the Padres. I've never been a huge fan of Weathers but his stuff has ticked up recently and after previously seeing him as more of a No. 4/5 starter, he graduates to more of a 3/4 guy.
Hedbert Perez is a million miles away from the majors and received only three at-bats this spring but he nonetheless made waves with his athleticism and defensive prowess. I'm slowly becoming a big fan and am eager to see how his bat plays against age-appropriate pitching.
After missing the 2020 season due to Tommy John surgery, Corbin Martin made it back to the mound this spring. He looked noticeably rusty with an 8.53 ERA in three appearances but he still has the stuff to develop into a No. 3/4 starter for the Diamondbacks.
Bobby Bradley outperformed Jake Bauers at the plate this spring by a wide margin but with the latter player out of options, the club decided to protect its assets at the risk of playing worse baseball. Bradley should power his way back to the majors soon. He lost a ton of weight in the offseason and seemed to rediscover some bat speed.
Prospect Notes: Players 201-250
Akil Baddoo surprised just about everyone by earning an opening day roster spot. We don't know how much he'll play but he showed an intriguing power-speed mix. And while he strikes out a lot, he also takes a healthy number of walks which makes him a sleeper in on-base leagues.
Colton Welker had a big spring by hitting .357 in 42 at-bats but C.J. Cron will get the first crack at the Rockies' first-base gig. Although he hit well, questions remain about the rookie's ability to hit for enough power after just three of his 15 hits went for extra bases.
Dean Kremer had a disappointing spring by allowing 17 hits and 11 runs in 15.2 innings. But he also showed off his ability to miss bats with his K-BB of 16-8. His command may never be better than average but I think he can be a solid No. 4 starter for the Orioles.
Peyton Burdick is a popular prospect among Marlins fans but he didn't look overly good this spring with six strikeouts in nine at-bats. I finally got a chance to see him during game action this spring and he's got decent bat speed but his bat takes a long, loopy path to the ball which is no doubt why he's had contact issues this spring.
Daniel Johnson had a nice spring with Cleveland and he has some intriguing tools. He's jumped onto my radar but I'm still not sure if he's going to be a nice fourth outfielder or if he has the chops to be an everyday guy. I'm hoping he gets lots of at-bats this year at triple-A (or the majors) to help answer that question.
Free from the Yankees' minor-league pitching depth, Roansy Contreras has looked good during his first spring with the Pirates. He only appeared in two games but he struck out five batters and should be an interesting pitcher to follow this year. He'll likely open the year in high-A ball after starting out at the alternate training site.
I watched Mickey Moniak a little bit this spring after hearing good things coming out of spring training about him. But I was left with more of a "meh" impression. He showed some power with five of his six hits going for extra bases but he didn't really hit at all after the middle of March and his power output came at the beginning of camp when pitchers were rusty.
Download Our Free News & Alerts Mobile App
Like what you see? Download our updated fantasy baseball app for iPhone and Android with 24x7 player news, injury alerts, sleepers, prospects & more. All free!


More Fantasy Baseball Advice