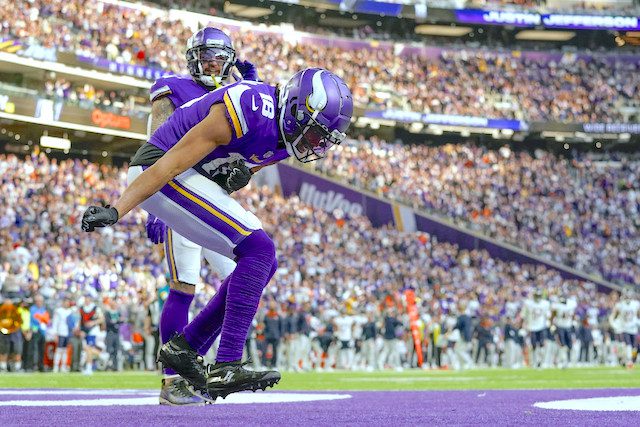 With the NFL draft behind us, and training camp rapidly approaching, it's a great time to put your rankings, player takes, and outlooks to the test. A mock draft is one of the most informative and enjoyable ways to familiarize yourself with the current landscape. 
With this in mind, the RotoBaller staff decided to complete one of our own. Here you will find a Link To The Draft On Sleeper with all of the picks.
The format was a single-quarterback redraft league with full-PPR scoring. Below you'll receive a breakdown of how each format option typically changes your draft strategy, with an overview of each team including their best draft pick. You'll also find a list of awards in the summary section including the best overall draft pick, the best stack, and the best team.
Featured Promo: Get any full-season NFL and DFS Premium Pass for 50% off. Exclusive access to our Team Sync platform, Premium articles, Matchup Rating projections, 15 lineup tools, DFS cheat sheets, Research Stations, Lineup Optimizers and much more!
Go Premium, Win More!
Format Options
As mentioned above each of the format variations impact your draft strategy in a different way.
Redraft (managed) - You have the ability to make transactions throughout the season such as trades or waiver wire acquisitions to improve your roster, increasing the importance of your starters with slightly less depth required.
Full-PPR - This creates a higher ceiling for wide receivers and pass-catching running backs, which tends to promote playing wide receivers in your flex spot, making it beneficial to roster more of them.
*Stacking - As an additional point, stacking, which is when you have a quarterback and receiving option (TE or WR) from the same team, is a strategy used in all formats that will optimize your maximum output of fantasy points when two players have a big week. It can also include a running back on high-powered offenses, to capitalize on the amount of points that team will score as a whole.
Here you'll find the draft board, showing every player selected.
Fantasy Football Draft Board
Next up is the team-by-team recap where you will find not only a list of the players each team drafted and at which pick, but also a chart showing the positional composition of each team (how many players at each position did they draft).
Something to mention is that many of us are competing in best ball formats currently as it's that time of year, which can be a mindset that affects drafts such as this one. It's also worth noting that a roster spot for defense and kickers was included in this draft, although not everyone elected to draft them. Lastly, the one major piece of news that broke after we completed the draft was the release of DeAndre Hopkins, which obviously affects his value along with the other members of that offense.
Team #1 - Adam Koffler
Team Composition
Composition By Position
Position
Amount
QB
1
TE
1
RB
5
WR
8
DEF + K
1
Overview -  Having the 1.01, Adam went with Jefferson, which is the ideal way to start in a full-PPR format. He prioritized the running back position next with Etienne Jr. and Jacobs before finding some younger wideouts with lots of potential to break out this year. He found good value on Waller as his tight end, which prompted a run at the position, and waited until the 14th round to grab his signal caller, Jones. 
Strengths -His receiving corps is deep and talented, full of players who could make a difference week in and week out.
Weaknesses -The area of most concern is his backfield. Aside from Jacobs, no one else profiles as a pass-catcher, which hurts them in a PPR league. Additionally, only three of them are starters, and that's including Mostert, who will be part of a committee.
Stacks - The Waller-Jones connection is a nice one. Jones showed a lot of growth in Year 1 under Brian Daboll, plus Waller is without question his No. 1 target.
Best Pick -Burks could end up being a steal at the end of the sixth round, but Waller one pick later is a great selection. He represents a reliable option with top-five upside, maybe even top-three if the touchdowns come. Adam also gets bonus points because he was ahead of the run and struck at the right time.
Team #2 - Dan Larocca
Team Composition
Composition By Position
Position
Amount
QB
2
TE
1
RB
5
WR
6
DEF + K
2
Overview - Dan elected to go with JT over Chase, which could come back to haunt him. He found two receivers after that though with Samuel and Waddle before returning to the RB well, adding Sanders and Kamara. He followed Adam in the seventh round grabbing Goedert as his tight and doubled up at the quarterback position, pairing the unknown upside of Richardson with the projected output of Prescott.
Strengths - If Richardson hits his ceiling then he'll have a great tandem to rotate between.
Weaknesses -There are a lot of question marks regarding the group of pass-catchers he's strung together. Waddle is elite, and Samuel is good, but beyond those two, Sutton, Davis, Robinson, and Flowers all possess flaws and risks. It'll be tough sledding unless one of those four exceeds expectations.
Stacks - There are no prototypical stacks. However, having JT and Richardson from the Colts could work out well if they end up being run-heavy, particularly at the goal line.
Best Pick - This one is a no-brainer. Waddle at the back of the second is fantastic, especially when you consider there were four consecutive backs taken ahead of him. I myself, would've taken him at the 2.08 if I didn't already have Hill.
Team #3 - Tommy Adamopoulos
Team Composition
Composition By Position
Position
Amount
QB
1
TE
2
RB
5
WR
6
DEF + K
2
Overview - Tommy was fortunate to grab Chase at the 1.03. He then dipped into all four skill positions during his next six picks, adding to the run at tight end with Kittle, bolstering his depth at receiver with Olave and Jeudy, grabbing Stevenson and Pierce, and finishing what most view to be the end of a tier at QB with Herbert. He was one of five teams to double down at tight end, and he placed an emphasis on youth in the second half of the draft, adding two rookies.
Strengths - In this case, the best attribute of his squad is a balanced attack. He has quality players in all four positions, which will make his team competitive.
Weaknesses - In the same vein, the downside of being well-balanced is usually that you don't excel relative to the field in any particular area, which is true about his roster.
Stacks - There are no conventional stacks here, and the only real possibility is if Mitchell is called to duty for McCaffrey, pairing him with Kittle.
Best Pick - If Herbert puts forth a better campaign than players like Burrow, Fields, or Jackson, which is entirely possible, then he'll take the cake here. Otherwise, getting Gibson, who continues to receive praise for his receiving skills, and could see the high-value touches, in the later part of the eighth round is really impressive.
Team #4 - Dan Fornek
Team Composition
Composition By Position
Position
Amount
QB
1
TE
1
RB
6
WR
7
DEF + K
1
Overview - Dan kicked things off with McCaffrey, who is in the conversation as the 1.01 given his exceptional pass-catching. He went extremely wide-receiver-heavy following that selection, including six of his next nine picks. Burrow, Chubb, and Pitts were the players taken at other positions. Having built a strong receiving corps, he then hammered the running back position before adding R. Moore as his second-to-last pick.
Strengths - As expected, the depth and quality of his wideouts are very good, starting with Higgins, Pittman Jr., and Kirk, before adding Smith-Njigba, Johnston, and Gallup.
Weaknesses - Starting with running back in the first two rounds helps make up for the lack of talent and depth beyond that, but it does leave him in a precarious spot should CMC or Jacobs miss time.
Stacks - Taking Higgins and Burrow back to back is a nice way to get an elite stack. It'll be in the running for the best one in the draft.
Best Pick - If we allow hindsight to impact our decision then R. Moore in the 15th round is an absolute steal. However, no one knew about Hopkins's release at the time, so we'll go with the next best option, which is Burrow to complete the stack.
Team #5 - Josh Constantinou
Team Composition
Composition By Position
Position
Amount
QB
2
TE
2
RB
4
WR
7
DEF + K
1
Overview - I started with Hill, then rotated RB and WR with Pollard, a favorite of mine, Metcalf, Gibbs, and Watson. I snagged Lawrence, who I believe is on the rise before adding more wideouts in Dotson and Boyd. I leave every draft with Mattison because I suspect Cook will be cut or traded. I doubled up on tight ends and quarterbacks with Dulcich, LaPorta, and Smith in the later rounds. Similar to Mattison, Perine is another consistent piece because I don't see Williams taking on a major role in Denver to begin the season, if, in fact, he's on the field in Week 1.   
Strengths - Much like other squads, taking seven wide receivers, five of whom came in the first eight rounds, leaves me with depth and high-end talent. There's also a chance I have four starting RBs come Week 1.
Weaknesses - No doubt it's my tight ends. Dulich and LaPorta are both fridge TE1 options, but playing the right one and getting week-winning performances will be tricky.
Stacks - I kept getting sniped when it came to Jacksonville pass-catchers, but I did manage to get Smith late to pair with Metcalf. It's a duo that could outperform expectations again this year given their current ADPs.
Best Pick - If Cook gets cut, Mattison will be the consensus choice here. Otherwise, a player I see as underrated for the second straight season is Dotson, who I snagged in the seventh round.
Team #6 - Robert Lorge
Team Composition
Composition By Position
Position
Amount
QB
2
TE
2
RB
4
WR
6
DEF + K
2
Overview - I left Kupp for Rob, and he made sure to scoop him up. He took a player at every position following that, grabbing Harris, K. Allen, Jackson, and Hockenson. He added one RB before trying to find value at receiver in the middle rounds. He took a shot on K. Murray playing at full strength sometime this season, added a second tight end in Schultz, and two more tailbacks.   
Strengths - Jackson and Murray could be overkill, especially if Jackson stays healthy, but insulating two often injured signal callers with one another does provide stability. They're also two top-five options at their peak.
Weaknesses - Harris is a solid starter, but beyond that, having to depend on Swift, Wilson Jr. and Evans is going to be a wild ride. Swift and Wilson Jr. could earn a significant role to open the season, but both possess injury risks and could be second on the depth chart of their NFL team as early as Week 1.
Stacks - We can confidently say Jackson received an upgrade at receiver this season. As for who the leader of the pack will be, there's a discussion to be had, but taking a shot on Bateman makes a lot of sense given his talent and big-play ability.
Best Pick - A player that seems to be left for dead this year is Lockett. Sure they added Smith-Njigba, but he's a rookie who projects to be their slot receiver. Plus, Lockett is a perennial top-15 wideout, so getting him in the seventh round as the WR35 is a massive bargain.
Team #7 - Ryan Larrison
Team Composition
Composition By Position
Position
Amount
QB
1
TE
1
RB
5
WR
7
DEF + K
2
Overview -   It's always fun to see who takes Kelce and when in the first round he goes. Ryan was the lucky winner in our draft at the 1.07 pick. He took three straight receivers, including Wilson and Smith, then went running back with four of his five picks, adding some potential starters such as Herbert and Penny to pair with Conner and White. He waited until round 13 to grab his QB, Watson. 
Strengths - When you get Kelce, that's your strength. He did well at wide receiver and running back as well, but Kelce has to be the answer here.
Weaknesses - The jury is still out on how good Watson is. We know what he was before the holdout and suspension, but his return to action during the second half of 2022 was downright ugly. If he plays closer to the way he did last year than in 2020, Ryan will be hunting for a new signal caller.
Stacks - He didn't pair anyone with Watson, but he did grab two players from the same team twice with Evans and White, and Conner and Hopkins, although they're no longer teammates now that Hopkins is a free agent.
Best Pick - Conner is on a bad NFL team, but he's the best player on that roster, at least on offense. His pass-catching, and nose for the end zone will sustain his value, making him a nice pick in the fifth round. Herbert could also prove to be a steal if he earns the bulk of the work in Chicago.
Team #8 - Brant Henson
Team Composition
Composition By Position
Position
Amount
QB
2
TE
2
RB
4
WR
6
DEF + K
2
Overview - Brant went with the dynasty 1.01 in Robinson as his first pick. It's a bit risky because we don't know how frequently Ridder will target the backfield, but he will have a solid workload. He continued to flirt with fire, grabbing D. Cook in the third round, who as mentioned earlier, cut be on a new team, and J. Williams, whose status for Week 1 is up in the air. He took Fields as the QB4 in the draft, which I don't mind, and then stockpiled receivers before picking Okonkwo as his tight end to pair with Kincaid a few rounds later. He also took Purdy as a second QB.
Strengths - Fields has the potential to join the elite three at the position, which is the bet Brant made. If that pans out, he'll be winning weeks for Brant's team.
Weaknesses - There's a world where the only starting running back he has in Week 1 is Robinson, which would be terrifying. McKinnon in a PPR league is good value, but he's best suited as a flex option you mix in from time to time.
Stacks - There really aren't any stacks to speak of. The only players from the same team are McKinnon and Toney, which is a good offense to hang your hat on.
Best Pick - Even at the time of the draft, the rumors around Hopkins were afloat, so Brown seemed like a nice selection then. It looks even better now, earning its spot here.
Team #9 - Dennis Clausen
Team Composition
Composition By Position
Position
Amount
QB
2
TE
1
RB
6
WR
5
DEF + K
2
Overview - Dennis came out firing with back-to-back-to-back RBs, including last year's RB1, Ekeler as the RB4 in the draft. He went for youth with Hall and Walker III before grabbing three intriguing wideouts, McLaurin, Williams, and Aiyuk. He focused on tight end and quarterback in the middle rounds, adding Kmet, Rodgers, and Tagovailoa, who when healthy was impressive in 2022. He then keyed on veterans such as Elliott, Robinson II, and Patterson to round out his crew.
Strengths - When you start with three consecutive backs, that'd better be your strength. Mission accomplished in this case. Plus, Montgomery provides great depth, forming a nice four-pack.
Weaknesses - Waiting on a receiver might prove costly. McLaurin is a stud, and although Williams and Aiyuk offer a high ceiling, they're both outside that upper echelon. Beyond them, he has Renfrow and Robinson II, which is not reassuring.
Stacks - Hall is more than capable as a pass-catcher, making him and Rodgers a nice duo. Additionally, taking Williams and Ekeler to double down on the Chargers' high-flying passing attack is a wise move, particularly with Kellen Moore as their new play-caller.
Best Pick - The 49ers' offense spreads the ball around to their array of weapons, making it harder to determine who will be the focal point on any given week. However, Samuel dealt with extreme touchdown regression last season, especially as a runner, creating the possibility that Aiyuk could emerge as the No. 1 receiver. In fact, Aiyuk finished ahead of Samuel both in total points scored and points per game on his way to a WR15 finish. He could be a steal in the sixth round as the WR30.
Team #10 - Phil Clark
Team Composition
Composition By Position
Position
Amount
QB
2
TE
2
RB
4
WR
7
DEF + K
1
Overview - The run of tailbacks in Round 1 continued when Phil went with Barkley. Unlike Dennis though, he quickly pivoted to receiver with Adams and Cooper. He completed the selection of the top three signal callers, getting Allen, who could very easily be viewed as the QB1. He took a very balanced approach after that adding four wide receivers and three running backs, highlighted by Jones, Johnson, Addison, and J. Cook. He went with two tights and quarterbacks, grabbing Cousins to backup Allen along with Freiermuth and Njoku to rotate between. He also tied Dan F. for the most rookies with four.   
Strengths -As mentioned, ranking Allen as the QB1 is reasonable, so having him anchor your team is a privilege. Cousins also insulates his team for the bye week or if there are difficult matchups, weather, or injuries.
Weaknesses - While Barkley and Jones are tremendous receivers, J. Cook and Achane both possess uncertainty as to what their role will look like. I'm a fan of both, so I lean towards it working out, but the risk is present nonetheless.
Stacks - It's impossible to grab Jefferson at the 10 spot, so he instead paired Cousins with Addison. He also paired Allen with Cook, who profiles as the better receiver out of the backfield.
Best Pick - The presumptive volume for Addison in a PPR format makes him a strong selection in the eighth round, especially considering he was able to complete that stack later in the draft.
Team #11 - Brad Camara
Team Composition
Composition By Position
Position
Amount
QB
1
TE
1
RB
6
WR
6
DEF + K
2
Overview - Henry in PPR scoring is interesting to assess. He set a career-high in receptions last year with 33, and it's fair to say Tennessee failed to add any meaningful receiving options. Brad dipped into all four skill positions, including another of the big three QBs in Hurts, the TE2, Andrews, and Hurts's No. 1 target, Brown. He bolstered his backfield with Akers, Pacheco, and Robinson Jr., while also stockpiling receivers like Smith-Schuster, Pickens, and Mooney.
Strengths - Having Hurts and Andrews at the onesie positions is a massive advantage over most other squads. Their weekly consistency and ceiling are extremely high.
Weaknesses - The collective volume for his backfield is quite good. He has four starters with two hopeful options. However, aside from perhaps Akers, none of them are involved in the passing attack, which impacts their upside in a PPR format.
Stacks - Hurts and Brown is right there as one of the most elite stacks in all of fantasy. Both are top-five options at their respective positions.
Best Pick - Andrews feels like the copout here given the gap between him and the remaining tight ends after Kelce. Getting him at the end of the third round is nice value. Second to him would be Mooney, who everyone projects to take a backseat to Moore in Chicago, but that doesn't mean he'll lose all his production. The Bears were dead last in passing attempts in 2022, so there is plenty of room for them to make a significant jump.
Team #12 - Ryan Ramsarran
Team Composition
Composition By Position
Position
Amount
QB
1
TE
1
RB
5
WR
7
DEF + K
2
Overview - It's often a surprise to see who makes it to the end of the first round.  Fortunately for Ryan, Diggs and Lamb were sitting there when his turn arrived. He stockpiled three more wideouts, two running backs, his quarterback, and a tight end before taking three consecutive RBs. The standouts from those selections were Mahomes, the first QB off the board, Engram, the tight end I was hoping fell to me, Godwin, Dobbins, and Mixon. 
Strengths - Mahomes deserves to be recognized here just as Allen and Hurts were. His combination of consistency and high-end production is second to none. However, the rushing output the other two offer tends to sway me in their direction. The other note here is that he had the chance to stack Diggs with Allen instead of selecting Mahomes, a move I would have preferred.
Weaknesses - Mixon is shaping up to be a workhorse back again in 2023. The potential for a suspension or the team to trade/cut him has diminished. Beyond him, Ryan has Dobbins, who is also primed for a lot of work, but then he'll rely on players vying for the second spot in their committee, including Singletary, Charbonnet, and Foreman. He'll either need Mixon and Dobbins to carry the load, or one of the other three to step up.
Stacks - There aren't any traditional stacks to bring up. He did select both Lamb and Cooks from the Dallas offense, which will require them to maintain a high-octane passing attack.
Best Pick - While we know Walker III will be the starter to open the season, it's unclear just how large a role Charbonnet will play. Acquiring him 59 picks after Walker is great value, especially if the split between them is closer than many expect.
Summary
It was another classic RotoBaller mock draft to add to the list. Everyone enjoyed assembling their team and competing with one another for their favorite players. I'll identify a handful of interesting takeaways here before we move to the three awards.
Eight of the twelve teams took a backup quarterback or tight end
Fifty percent of the QBs taken went in the double-digit rounds, despite seven of them being selected in Round 4
I was the final team to grab my tight end, getting Dulcich in Round 11
Dennis was the only team with more running backs than wide receivers
Adam was the only one not to take a defense while Phil, Dan F., and I chose not to grab a kicker
Awards
Best draft pick -There is a lot of time for things to change between now and Week 1, which will impact the way we view all of these picks. For now, the best we can do is make educated decisions on how things will shake out. How you view these situations could sway your decision here. For example, if you believe Dalvin Cook is cut then Mattison at 9.05 is a league-winning pick. Similarly, if Khalil Herbert is the starter, getting him at the 9.07 spot is a steal. Additionally, if we allow hindsight to impact our evaluation then Marquise Brown at 7.08 and Rondale Moore at 15.04 are awesome selections. Ultimately, one name must be chosen. I elected to forego those options and go with a player we know has a locked-in role as the No. 1 for their team and has the potential to finish as high as No. 3 at his position. The winner here is Adam, who selected Darren Waller at the 7.01 spot.
Best stack - Once again there are different ways to approach this. You can look purely at the two most talented players such as Hurts-Brown or Burrow-Higgins, or you can take into consideration the draft capital used to form the stack, making Cousins-Addison, Smith-Metcalf, and Jones-Waller solid options. I elected to go with a blend of the two, choosing Dan F. who paired Higgins at the 3.04 as the WR14 with Burrow at the 4.09 as the QB6, getting a nice combination of production and value.
Best team - Last but not least is the award for the best roster. There are also multiple trains of thought here. For instance, depth versus starters, consistency versus upside, and risk tolerance. Given that it's a redraft format allowing teams to make moves through the season, starters will receive a slight edge here. This one came down to a three-way tie, so I decided to use my bias towards my own team as the tiebreaker, giving myself the award. All kidding aside, other than Dulcich and LaPorta rotating at tight end, I am confident in both my starters and my depth.
This draft was a ton of fun and an excellent opportunity to experiment with different approaches. Mock drafts are a great way to test out strategies and evaluate the current landscape. This is something all fantasy football managers will benefit from and are encouraged to try out multiple times this offseason. Thanks for reading!
Download Our Free News & Alerts Mobile App
Like what you see? Download our updated fantasy football app for iPhone and Android with 24x7 player news, injury alerts, rankings, starts/sits & more. All free!


Win Big With RotoBaller
Be sure to also check out all of our other daily fantasy football articles and analysis to help you set those winning lineups, including this new RotoBaller YouTube video:


More Fantasy Football Analysis