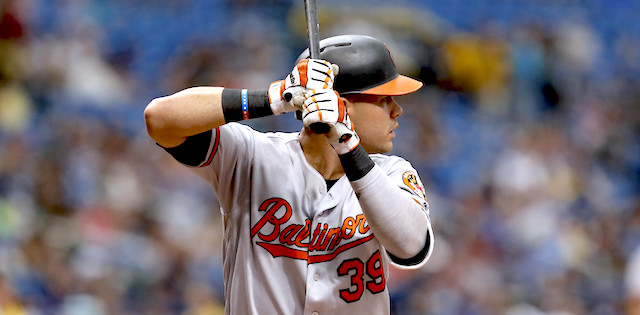 Welcome to this week's Power Hitting Risers & Fallers. All stats are full season through Monday, June 3 (unless otherwise noted). Last week's risers had somewhat of a pessimistic outlook, which is countered somewhat by the first three risers discussed this week. The fallers, as usual, can be kind of upsetting to see (in a very mild way, of course; nothing graphic here...well, except maybe JoRam's numbers), whether or not Statcast thinks they've deserved such a poor fate.
Some weekly reminders: EVAB (pronounced ee-vab or ev-ab) is simply exit velocity on "air balls" - meaning fly balls and line drives, as shown on Statcast. Isolated power -- ISO -- is slugging percentage minus batting average, and so xISO is xSLG minus xBA. And lastly, the Statcast Search feature is used to obtain partial season Statcast numbers.
Who's rising and falling this week? Read on to find out.
Editor's Note: Get any full-season MLB Premium Pass for 50% off, with exclusive access to our season-long articles, 15 in-season lineup tools and over 200 days of expert DFS research/tools.
Sign Up Now!
Power Risers
Dietrich has not homered since hitting three on May 28, but that performance nonetheless gave him 17 on the season, already a new career high. However, he will not be able to retain a .700 slugging percentage with an expected rate of .556. That's no dig, as .556 is still in the 93rd percentile. It's just really, really hard to hit for as much power as Dietrich has thus far this season. The 17 home runs have come on 17 barrels, a hard rate to maintain.
The 20 degree launch angle and 95.1 mph EVAB, as well as that expected slugging rate, prove that Dietrich is no fluke as a good power hitter. We can't know how the rest of the season will shake out, but there's little Dietrich can do from a Statcast perspective to improve his odds at hitting as many home runs as possible. At 20 degrees, it's hard to suggest hitting the ball even higher, and adding exit velocity isn't exactly an adjustment a player can make with ease. One thing that will help: he's bought himself more playing time, something he wasn't getting a ton of in April.
Dietrich's new power is for real; he just won't challenge 50 home runs, because that is very hard to do, even harder with a 95.1 EVAB. Forty is in range, but it's safest to project for the mid-30's and take the rest as gravy. Not bad for someone who had never hit more than 16 before.
Nunez is up to 15 home runs on the season after he had six through April 23 and still had six through May 14. His 23 barrels are tied for 14th in baseball with players like Anthony Rendon and Franmil Reyes. (Remember Dietrich has "only" 17.) A .525 xSLG and .256 xBA produce a .299 xISO. He has a .264 actual ISO, so maybe the power is a little high, but the number of barrels helps to suggest otherwise.
Nunez is taking full advantage of playing several games at hitter's parks: 10 of his home runs have come at home, two each at Yankee Stadium and Coors Field, and the last at Fenway Park. He won't get to visit Coors again, but that division plays for hitters, and good on Nunez for taking advantage. It should help him continue to produce.
Nunez is doing as well as you can expect, with a 96.9 mph EVAB and 19.4 degree launch angle that gets plenty of balls in the air to take advantage of hitting it that hard (see: the 23 barrels). Regression could come as pitchers adjust -- the book on Nunez, especially this version, isn't that huge -- but the home park will nullify some losses. This here is a legit power threat; even if pitchers catch up at some point, Nunez can reach the mid-30's. Not bad for someone who was a justifiable cut several weeks ago.
After hitting 38 homers in 2017, Moustakas managed 28 last season. He's back on a 2017-type pace in 2019, with 16 homers so far. He's done it on 20 barrels (8.7% on a per-PA basis), a 20.2 degree launch angle, and .514 xSLG. All of those marks are even better than in 2017 (his barrel rate was 6.6%), plus he is now taking advantage of Miller Park (something he didn't do after a trade from Kansas City last season).
Is there a downside here? Not much of one, even with a .565 SLG that Statcast sees as a little high. Like Dietrich, Statcast doesn't quite back up Moustakas' pace even if it likes how he's gotten there. But after 2018 made it seem 2017 was the blip for Moustakas' home run production, however, 2019 has made 2017 look more "real" Moustakas than it seemed. It's still safer to think mid- to upper-30's for Moustakas' home run production; the Statcast numbers just don't quite get there for a confidently aggressive prediction.
Of course, with the weather about to heat up, it's also possible that these guys do continue to go off and that the 40 home run player won't be that rare this season. The main point is that guys like Dietrich, Nunez, and Moustakas have proven themselves valuable power hitters, wherever they end up exactly.
Reynolds has burst onto the scene with five home runs in 38 rookie games so far as part of a .350/.409/.575 line. It's a ridiculous batting average, especially with a .425 BABIP and .305 xBA. The power is what we're here for, and a .225 ISO would do, but with a .465 xSLG you would only expect a .165 ISO from the xBA.
Even though Reynolds hit only seven home runs in 88 games at Double-A in 2018, he had five in just 57 Triple-A PA to start 2019, so perhaps the new power is real. (Or it's the ball, or both.) His 132 plate appearances aren't a ton to go on, so maybe his Statcast numbers will catch up to his performance, rather than vice versa.
More likely, this is one of those pre-adjustment runs a rookie can go on before the scouts have a chance to write up the book for pitchers to use. Given that Statcast is not very impressed with Reynolds' results to date, a combination of regression and pitcher adjustments could get ugly. In the meantime, while Reynolds isn't quite this good, try and squeeze what you can out of him.
Chirinos has homered in each of his last two games, June 1 and 3. That gives him eight on the year in 46 games, slightly above the 18-in-113 pace he set last season. Overall, he's got a quite productive .245/.368/.489 overall line.
But he's still a catcher, and Statcast doesn't like how he's gotten to that slash line: he has a .185 xBA and .360 xSLG, both way below his actual marks. That's also a .175 xISO, not his .244 mark. He's upped the walks and cut back on the strikeouts, which is helping, but the Statcast data show one of the least sustainable efforts of 2019 so far.
Chirinos does have a record of being home run capable, with 17 in just 88 games in 2017. But Statcast actually somewhat liked that performance (.506 SLG, .465 xSLG). That 2017 campaign helps suggest that Chirinos may not crater completely this season. However, there really isn't anything remotely close to his season-to-date to anticipate from Chirinos going forward.
Power Fallers
Four. Ramirez's fantasy shareholders must shudder any time they see that number in any context. It is the number of home runs that he has hit in 2019. He's been stuck there since May 14. Ramirez's 2019 campaign -- .206/.308/.313 with 14 steals -- has been a moderately better version of Billy Hamilton. Ouch.
While Ramirez has by no means been any good, his Statcast numbers show some bad luck. With 11 barrels, a 21.1 degree launch angle, and a .409 expected slugging rate, Ramirez could easily have a couple extra home runs with how he's hit the ball. Not enough to be good, but enough to be less depressing.
Perhaps he needs to tone down the launch angle? Someone like Dietrich has done extremely well at 20 degrees, but there is a point where if you don't hit the ball hard enough, a high launch angle just creates easy outs. Ramirez's most recent game through Monday is a good example: he hit the ball at 52, 39, and 71 degrees. The first and last of those are both doomed, and 39 can work at the highest exit velocities but not 79.9 mph.
There is such a thing as pressing, and while it's impossible for us bystanders to decipher when a player is doing that, perhaps a day like Ramirez's last Sunday is a sign of it. Ramirez won't be this bad, but he won't be great again until something drastic changes.
Aaron Hicks has not been himself since returning from a back injury incurred during spring training. After 27 home runs last season, he has just one this year. Pretty much every statistic is worse for him this season than last: exit velocity from 88.9 to 87.4; launch angle from 12.5 to 6.7; barrels/PA from 5.7% to 3.2%; xSLG from .466 to .291; and strikeout rate from 19.1% to 27.0%. Only his EVAB (93.3 mph last year and 93.4 this season) has held steady.
At 38 batted balls, Hicks' sample is still small, so it's hard to read too much into the dismal Statcast numbers. It's easy to attribute his slow start to the back injury, although injuries of some kind were always the biggest threat to Hicks' productivity in 2019. Assuming health issues don't crop back up, however, it's best to bank on Hicks finding his way eventually.
The first sign that he's turning it around, beyond any results themselves, is that launch angle. Hicks has always been in the double digits since 2015, and ticked up a couple degrees last season for a new career high. If he also starts striking out less, the power should be right around the corner.
Turner is another player for whom injuries may have taken a toll. He homered twice in his first four games before breaking his finger on a hit-by-pitch. Since returning from that injury on May 17, he has not gone deep and is hitting just .250/.289/.347. In that time he has a .399 expected slugging rate, which means it's one of those cases where the player has been unlucky but still not great.
Turner has never been a launch angle fiend. When he hit 13 home runs in 73 games, his launch angle was 10.5 degrees, and that is still a career high. His 19 home runs in 2018 came with an average 8.3 degree launch angle. In all of 2019 to date, he's at 8.4 degrees. With Turner's speed and overall competence wielding a bat, he's one player for whom more line drives could make sense.
In all, Turner fits the profile of a 20 home run hitter. He doesn't hit it high enough or barrel it up enough to do much more than that. Of course, given his stolen base ability, that makes him extremely valuable. We're just not looking at a 30-40 season any time soon, certainly not this year, despite that early-season two-homer day he had.
Time to check in on Machado again, despite his grand slam on Monday. And while that slam was well-struck (103.2 mph at 24 degrees), it barely cleared the fence at 388 feet to Petco Park's right-center field.
That counts all the same, but Machado has not been the Stat-caster we've come to expect this season. His xSLG was between .517 and .534 each year from 2016-18 and is just .435 in 2019 so far. And so his .423 slugging is mostly an accurate representation of how much power Machado's swings -- including misses -- have provided this season.
The bit about misses is important because the 21.9% K rate is an obvious part of Machado's struggles, given he has a 16.5% career rate that he had worked down to a career-best 14.7% for the 2018 season. Fortunately, his launch angle, which at 14.8 degrees is consistent with past seasons and would barely be a career high, is fine. The key for Machado to return to his usual standard of production is to make more contact, so watch out for that.
Albies was a riser in Week 5, which covered his performance through April 29, when he had six home runs. He hit another on May 4, but has none since then.
When Albies hit 24 homers and slugged .452 in 2018, Statcast was not a fan, seeing 25 barrels and a .403 xSLG. This year, it sees him getting less lucky, with 14 barrels to seven homers and a .441 xSLG that exceeds his .414 SLG. Almost all of the 38-point xSLG gain is contained in the 36-point xBA gain (.251 to .287), however, so Albies' long-term power remains a question.
During the cold streak/since May 5, has been extremely unlucky, with a .400 xSLG compared to just a .271 slugging rate. As far as cold runs go, Albies has seen some solid contact. He should start to hit home runs again eventually, but the 24 from last season looks a lot less likely than it did a little over a month ago.
Last Week's Risers
| | |
| --- | --- |
| Player | Last Week Update |
| Hunter Pence | No homers, and with Gallo/Calhoun out, hope he doesn't start getting overworked at his age |
| Hunter Renfroe | 3 HR in 15 PA as he continues to laugh at Statcast |
| Gleyber Torres | .429/.438/.643 with 1 HR; can't get O's all the time |
| Eduardo Escobar | 2 more HR; like Renfroe, finds Statcast's "lack of faith disturbing" (c)Disney |
| Rafael Devers | Just 3-for-18, but one was a homer |
Last Week's Fallers
| | |
| --- | --- |
| Player | Last Week Update |
| Paul Goldschmidt | Homered when last week's article came out, but not since; still should be fine, he's Paul Goldschmidt |
| Josh Reddick | .238 .227 .619 with 2 HR; sustainability still issue with BA/OBP like that |
| Adalberto Mondesi | Standard good week for him, .300/.364/.600 and 1 bomb |
| Maikel Franco | 1-for-13 but it was a home run; not exactly atypical for someone who has a 24 HR/76 wRC+ season under his belt |
| Nick Markakis | No homers; weeks he does will always be the surprise |
More 2019 Fantasy Baseball Advice