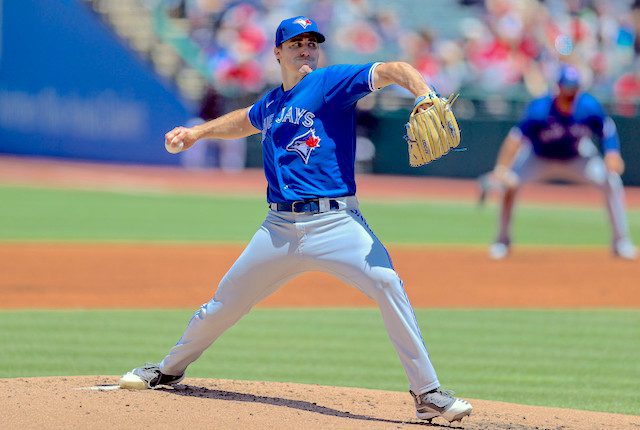 We'll be doing this roundup of points leagues every week here at RotoBaller, with waiver wire targets and streaming pitchers being evaluated in terms of the different scoring systems of ESPN, Yahoo!, CBS, and Fantrax.
Player values can vary wildly from platform to platform, so we'll make sure to highlight where players are the best and worst fits. We know points league players get neglected and we're here to help with all of the best streams for the week.
These fantasy baseball waiver wire pickups are for the week of July 25 – July 31, looking at players below ~50% rostered for ESPN, Yahoo!, or Fantrax. Rankings are calculated using games through Saturday, July 23.
Featured Promo: Get any full-season MLB and DFS Premium Pass for 50% off. Exclusive access to our Team Sync platform, Premium articles, daily Matchup Rating projections, 15 lineup tools, DFS cheat sheets, Research Stations, Lineup Optimizers and much more!
Sign Up Now!
Know Your Scoring System
You know what I'm going to say, right?  You must account for, as precisely as possible, how a player performs under your particular scoring system. Don't be fooled into believing you can just make rough adjustments in your head, bumping up guys with high on-base percentages and low strikeout rates. Every point, in every category, counts.
For example, ESPN and Fantrax are virtually identical in their scoring for hitters and roster size. The only difference is that stolen bases are worth one more point on Fantrax and ESPN subtracts one point per strikeout. That's the difference between Trea Turner being a top-five hitter versus a top-25 hitter.
If your league uses standard settings, then great! Turn to page 94 and you can skip ahead to the leaderboards. If you play with custom settings, it'll still be fine. Go back to page 43 and look below at the scoring systems of the four major platforms. I bet there's a chance that you'll find that your league's scoring is very similar to one of the four (well, not Yahoo!'s), even if it's not the platform you actually play on.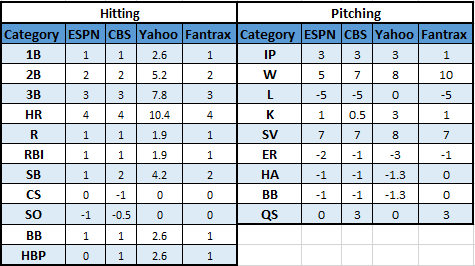 You'll likely find a suitable mirror to your own system if you look above. While every point counts, as long as they aren't seismic changes, you can get away with some "close enough" calls, i.e. If everything is the same except for HBP (or something similar), you're probably fine.
Week 16: Waiver Wire Leaderboards
All charts are updated before Sunday's games, on stats and ownerships, and clicking on a chart will open a new page with a magnified version. Players on overall leaderboards are ordered according to their current Roster% on Yahoo.
*APR = Average Platform Ranking - the average platform ranking between ESPN, CBS, Yahoo, and Fantrax (standard point settings)
The 21-Day Leaderboard, Presented by Hansel
Overall Leaderboards
Starting Pitcher Waiver Wire - Best Choices
Ross Stripling, TOR (vs DET) - I'm still not sure why Stripling is available in so many leagues but if he is in yours, please pick him up for this matchup against the woeful Tigers. Detroit is 29th in wOBA/xwOBA vs RHP for the year, with the fifth-highest strikeout rate.
Johnny Cueto, CHW (vs OAK) - The immortal one just keeps on trucking, churning out six and seven innings like it's his job - which, technically, it is. With a matchup against arguably baseball's worst offense (vs RHP: 29th in wOBA, 30th in xwOBA, 24th in K%, 29th in BB%) this is easily one of Week 16's best streams.
Alex Cobb, SF (vs CHC) - Since allowing 13 ER over two starts in mid-May, Cobb has dazzled, running a 2.33 ERA over 38.2 IP but the Cubs also are a little better vs RHP than you might expect. Since the start of June, Chicago is 7th in wOBA, 12th in xwOBA, 11th in K%, and 6th in BB%.
Keegan Thompson, CHC (vs PIT, @ SF) -Thompson struggled with his command in a loss to the Mets in his last start 10 days ago, walking four and giving up 5 ER in 4.1 IP. But this two-step is certainly playable, as the Giants continue to have issues with RHP since the summer rolled in, posting a bottom-10 wOBA and xwOBA against them since June 1, with the fifth-highest K%. And the Pirates, well, they're the Pirates.
Braxton Garrett, MIA (@ CIN) - My guy dominated the Pirates again in his last turn out, allowing just 1 ER on two hits over 6 IP last Friday, striking out seven in a Marlins victory. But going on the road to Cincinnati is a much stiffer test, as the Reds are fifth in wOBA vs LHP since the start of June, though, only 20th in xwOBA.
Nick Lodolo, CIN (vs MIA, vs BAL) - The rookie just got smacked by the Cardinals (2 IP - 5 ER - 5 K) but the strikeouts remain superlative and his opponents in this two-start week, well, aren't. Baltimore is 23rd in wOBA and 28th in K% vs LHP this season, while Miami is 30th in wOBA, 29th in xwOBA, and 30th in K%/BB%.
Dean Kremer, BAL (@ CIN) - Pitching in the Great American Bandbox is always dicey but the Reds are much worse vs RHP, as they are against lefties, with Cincinnati running the 6th-lowest xwOBA and 8th-highest K% since the start of June.
Spenser Watkins, BAL (vs TB, @ CIN) - In his four starts since returning from the minors, Watkins is 3-0, with a 1.19 ERA and 0.93 WHIP over 22.2 IP. Yes, Spenser Watkins. He'll get a chance to keep it up against two subpar offenses vs RHP, with Tampa Bay currently 26th in xwOBA against them and Cincinnati sitting 24th.
Jakob Junis, SF (@ ARI, vs CHC) - Junis returned from the IL in a relief appearance vs MIL, giving up 3 ER in 2 IP but has a solid two-step in Week 16, starting with an Arizona offense that is 27th in wOBA vs RHP since the start of June. But the Cubs are much tougher, with the 7th-best wOBA and 12th-highest xwOBa since June 1.
Steven Matz, STL (@ WSH) - Matz looked good picking up the win against the Reds in his return from the IL (5.1 IP - 2 ER - 7 K) but promptly suffered a knee sprain. Surprise! The matchup is fine but it remains to be known whether he'll actually be making it.
Starting Pitcher Waiver Wire - Next Choices
Jake Odorizzi, HOU (@ OAK, vs SEA) - The Mariners are one of baseball's hottest teams but we know about Oakland, right? Odorizzi's past two starts have come against them, allowing a total of 3 ER over 12.1 IP, with 12 K.
Adrian Sampson, CHC (vs PIT) - Sampson has been solid in 2022, posting a 3.34 ERA and 3.64 FIP over 32.1 IP, even if his 17% K% is bottom-tier. But what do we do against Pittsburgh? That's right, we stream. The Pirates are bottom-three vs RHP in wOBA, xwOBA, and K%.
Glenn Otto, TEX (@ SEA, @ LAA) - His ceilings tend to be low but seeing that the Angels are involved (vs RHP since June 1: 28th in wOBA, 27th in xwOBA, 30th in K%) this is a playable two-step. And while the Mariners are much better, Otto at least survived against them in his last start, allowing 3 ER over 6 IP, while striking out four.
Jordan Lyles, BAL (vs TB) - After getting rocked by Tampa Bay (2.2 IP - 6 ER - 5 K), Lyles bounced back (relatively speaking) against the Yankees juggernaut, allowing 3 ER over 5 IP, with two strikeouts. He gets a chance for revenge against a Rays team that has been a bottom-five offense vs RHP for most of the season, with a bottom-three K%.
Tyler Wells, BAL (vs TB) - Wells most recently got lit up by the Yankees, but who doesn't? He'll get a chance to bounce back against a Tampa Bay team that struggles against RHP but who has also had his number in 2022 - over three starts and 12 IP, Wells has a 7.50 ERA and 1.42 WHIP, with 12 K.
Brad Keller, KC (vs LAA) - Brad Keller, is not very good. Also, not very good? The Trout-less Angels, who have the highest K% in baseball vs RHP and are 28th in wOBA and 26th in xwOBA since the start of May.
Cole Irvin, OAK (vs HOU) - Irving has been excellent, as of late, with a 6 APR and 1.67 ERA over the past two weeks, and Houston isn't as good vs LHP (15th in wOBA, 8th in xwOBA). Plus, two of those recent good starts for Irvin came against Houston (12 IP - 3 ER - 6 K)! But it's still a hard pill for me to swallow.
Justin Steele, CHC (@ SF) - Steele has a 2.38 ERA over his last four starts and faces a Giants team that is 8th in wOBA for the season but is down to 16th since the start of June, with the 6th-highest K%.
Marco Gonzales, SEA (vs TEX) - The good news is that Texas loves to whiff vs LHP, with the second-highest K% against them since the start of June. The bad news is that Gonzales doesn't strike anyone out and that the Rangers are 4th in wOBA vs LHP since summer started.
Yusei Kikuchi, SEA (vs STL) - Kikuchi is expected to return from the IL for a start at home against the Cardinals, who have struggled against LHP since the start of June - St. Louis is 6th in wOBA and 8th in K% against them for the season but are (respectively) just 19th and 16th since the summer started.
Reid Detmers, LAA (vs TEX) - Detmers has looked sharp in his return to the majors, allowing a total of just 2 ER in two starts and 12 IP vs Baltimore and Houston. But Texas will be another tough test, as they've been a top-five offense vs LHP since the start of June, albeit with the 2nd-highest K%.
Hunter Greene, CIN (vs MIA) - The strikeouts are going to generally rain in Greene's starts but so might the earned runs - over his past six starts and 30.1 IP, he has 34 K and a 7.12 ERA. And Miami might be bad but they're much better vs RHP. Ok, that's relative, as they're only 17th in wOBA and 13th in xwOBA. But still - better!
JT Brubaker, PIT (@ CHC, vs PHI) - Brubaker is coming off of one of his best starts of the season, shutting out the Marlins for seven innings, while striking out nine. But this two-start week is a tough test - the Cubs are 7th in wOBA since the start of June, while the Phillies are 10th, with both teams posting strikeout rates over that period in the top-10.
Kyle Freeland, COL (@ MIL, vs LAD) - Starting Freeland at home vs LAD is a death wish but he's playable vs a Milwaukee offense that is 22nd in wOBA, 26th in xwOBA, and 25th in K% vs LHP since the start of June.
Starting Pitcher Waiver Wire - Desperate Choices
Kutter Crawford, BOS (vs CLE) - I can't tell you how disappointing it is that Crawford's best pitch isn't his cutter. Oh well, it's still really good. I like him for ROS but be careful here - the Guardians are 8th in wOBA vs RHP for the season and rock the league's lowest K% against them.
Aaron Ashby, MIL (vs COL, @ BOS) - Ashby hasn't looked right since suffering forearm irritation and I'm not starting him until he does. And if you didn't know, the Rockies are surprisingly tough on lefties, with the best wOBA in baseball against them in 2022, while Boston is fifth (and 1st since the start of May).
Dane Dunning, TEX (@ SEA, @ LAA) - It's hard to trust the infuriatingly inconsistent Dunning in what should be his return from the IL (ankle impingement) but a start against the Angels is almost always playable.
Zack Greinke, KC (vs LAA, @ NYY) - Even with Mike Trout (who is still on the IL) the Angels have been terrible vs RHP, with the highest K% in baseball against them and bottom-three rates in wOBA/xwOBA since the start of May. But if you run out Greinke against the Yankees, I won't be mad, I'll just wonder about who has hurt you so bad that you think that's a good idea.
George Kirby, SEA (vs TEX, @ HOU) - You don't want anything to do with a Houston offense that is top-five vs RHP but Texas is playable if you're in a pinch.
Chris Flexen, SEA (vs TEX, @ HOU) - See, above.
Zach Plesac, CLE (@ BOS, @ TB) - It seemed like Plesac had finally started to turn things around, putting together a great seven-start stretch after getting blown up by Houston (4.2 IP - 7 ER) on May 24th, posting a 2.14 ERA over 42 IP. But in what should've been some soft matchups vs Kansas City and Detroit, things have gone sour again, allowing 9 runs (6 ER) over 8.2 IP.
Dylan Bundy, MIN (@ SD) - Feeling lucky, punks? The Padres are 21st in wOBA and 25th in xwOBA vs RHP for the season but are respectively 7th and 11th since the start of June. Spin that chamber, baby.
Devin Smeltzer, MIN (@ MIL) - It looks like Smeltzer is going to get called back up for a start in Milwaukee but even though the Brewers are a bottom-five offense vs LHP, I'm not trusting Mr. Blowup Waiting to Happen.
Max Meyer, MIA (@ CIN) - After leaving Saturday's start with elbow discomfort, I wouldn't count on Meyer to make this start.
Relief Pitchers Waiver Wire
Unless you're in a very deep league and/or have a lot of dedicated RP-only slots, most of the relievers you're going to want are the ones who are closers, have a chance to close, or are elite setup guys. I do mean elite because most scoring structures are weighted in a way that relievers almost necessarily have to get saves to be valuable. Although, long relievers whose usage you can reliably predict, can be useful in leagues with daily moves. For a majority of leagues, sticking to closers is the way to go.
With that in mind, here are the best relievers on the wire for Week 16, ordered by Yahoo roster%:
Closers (and co-Closers) on the Wire
Kyle Finnegan, WSH - Finnegan has regained the closing job with Tanner Rainey being lost for the season to a UCL strain but this might not last long, as the Nationals have publically put him on the trading block. Once he's moved, Steve Cishek seems the obvious choice to take over.
Hector Neris/Rafael Montero, HOU - This is just an aberration until Ryan Pressly returns from the paternity list but Neris did pick up a Save on Friday after blowing one on Thursday, with Montero cleaning it up.
Jhoan Duran/Tyler Duffey, MIN - Duran is one of the nastiest relievers in baseball but plays on a team that loves to mix and match and don't seem interested in having a traditional closer role.
Lou Trivino/A.J. Puk, OAK - Trivino has been good since resecuring his job at the back of Oakland's bullpen but got it was Puk who got the call for a Save on Friday after Lou coughed up a home run while picking up a Hold. This could be a sign of things to come, as Trivino is likely to be traded by the deadline and Puk seems best positioned to step into the job by himself.
Seranthony Dominguez/Brad Hand, PHI - This remains a straight-up split situation, making either difficult to use on the regular.
Committees on the Wire
Tampa Bay Rays - We say it every week; this is a bullpen to avoid, as Colin Poche, Brooks Raley, Jason Adam, and who knows else, could get called on for the Save on any given day. Kevin Cash hates fantasy players. Fact.
More Fantasy Baseball Waiver Wire Advice