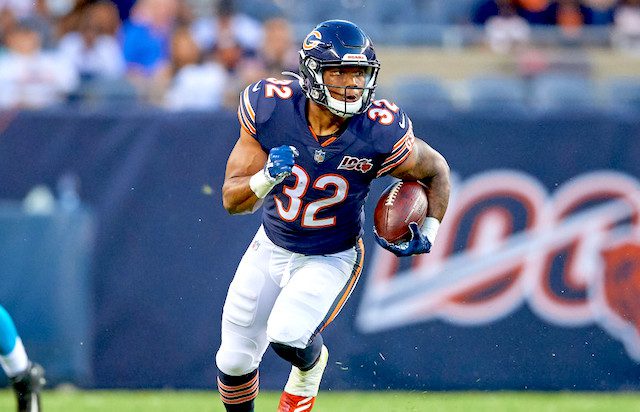 Week 3 of the NFL season has arrived! While many of the top running backs reasserted their dominance right out of the gates in Week One, many of them were pure duds for fantasy in Week Two. This was largely bad for DFS due to how expensive many of them were. Jonathan Taylor, Saquon Barkley, Najee Harris, and Dalvin Cook all disappointed us. Nonetheless, it is a new week and we can feel good about there being some solid value plays this week.
Several players are cementing themselves as top wide receivers for your teams in redraft leagues, but these players are becoming increasingly expensive in the DFS landscape. One such player is Amon-Ra St. Brown, who followed up his impressive Week One with another solid outing in Week Two. The Sun God is now the 8th most expensive player on DK this week and should be viewed as a WR1 in all formats going forward. He can still be played in DFS, but the bargain window that was there for him at a cheap price has now closed. One method I have found to be effective in picking DFS lineups is to divide a player's salary by the number of points you have them expected to score. The less salary per expected fantasy point the better.
This article will run every week throughout the regular season. It won't include what should be considered obvious picks, but rather the players who are being undervalued. If you missed my Week 1 article with DFS tips and tricks, it can be found here. As it currently stands, players fall into the value bucket if they are a quarterback in the 5k range, running backs who are 6k or less, wide receivers at 5.5k and under, and 4k or less for tight ends based on DraftKings salaries. When it comes to tournaments, stacking our quarterback with one of their pass catchers is a must, and we should be looking for players with higher guaranteed floors to get us over the 50/50 hump in cash games. No matter which one you decide to play this week, here are some bargain players with potential in Week 3. Let's get to those picks already!
Featured Promo: Our friends at Sharp App have created the ultimate tools for sports bettors. Download the FREE app to track bets, compare odds, get daily picks from the most accurate models in the industry, and identify the sharp side of any bet. Use promo code BALLER to get a month free of Sharp Pro access.
Get The App!
Quarterback NFL DFS Value Plays - Week 3
Justin Fields, CHI vs HOU | DK: $5,600, FD: $7,000
Now just hold the phones and hear me out before you file a complaint with my editor on this one. In Week One, the Bears and the 49ers basically played in Lake Michigan and neither team was able to do much since Soldier Field was looking like a backyard slip-n-slide in the middle of a typhoon. In Week Two, the Bears were just trying not to get blown out and ran the ball a bunch in an effort to keep chewing clock in a 27-10 loss to the Packers. While they are throwing at an alarmingly low passing rate this season on just 34 percent of plays, we should not expect that to continue this week.
While Fields has only thrown 27 passes so far this season, he has a juicy matchup against the Houston Texans this Sunday. Fields is a dual-threat to make plays with his legs and should be able to move the ball through the air against the Texans' defense. While the Texans are just 22nd in points allowed to QBs so far this season at 14.2, it is a small sample size against Matt Ryan and Russell Wilson, both of whom are getting acclimated to new offenses. As we can see below from a 2021 highlight, Fields is absolutely electric when he decides to take off and run with the ball.
The Texans have given up the 2nd-most yards by a defense in 2022 and are currently the 7th-worst passing defense. This feels like a game for Fields to shake off some of the early rust and have a big game on Sunday at home in Soldier Field. If you want to go big elsewhere and spend small at QB he has the kind of upside that we are looking for.
Jared Goff, DET at MIN | DK: $5,800, FD: $7,100
Always an underappreciated quarterback for fantasy, Jared Goff has been solid so far this season in what is shaping up to be an exciting Lions offense. They have one of the best offensive lines in the league and a bevy of skill players in D'Andre Swift, Amon-Ra St. Brown, D.J. Chark, and T.J. Hockenson. When this team gets first-round pick Jameson Williams back at wide receiver at some point this offense is going to be a weekly highlight reel.
So far this season the Vikings' defense is 28th in passing yards allowed per game at 275 yards and got absolutely torched by Jalen Hurts and the Eagles' offense in Week  Two. Goff has thrown for 6 touchdowns and only 1 INT and a total of 471 yards. The Lions - Vikings game on Sunday has the highest over-under on the FanDuel Sportsbook at 53.5, so we should expect a lot of points in a dome.
Right now the Lions have the second-highest scoring offense in the league. According to Kyle Meinke, a Lions beat reporter for MLive: in 7 healthy contests since Detroit made a change at offensive play-caller last season, Goff has thrown for 17 TDs with a 66% completion percentage, just 3 interceptions, and a total passer rating of 104.9
In 2020 and 2021, Goff was 29th and 32nd in average air yards per pass attempt, but this season that number has jumped to 8.5, which is good for 7th in the NFL currently. While the sample size is small, it's becoming clear to all that this Lions offense has the potential to be a high-flying one each and every week. We should take advantage of Goff's value until the rest of the market catches up.
Running Back NFL DFS Value Plays - Week 3
David Montgomery, CHI vs HOU | DK: $5,900, FD: $7,100
A player who fitted the bill for a dead-zone running back all offseason, Montgomery had an impressive Week Two against the Packers with 15 rushes for 122 yards. He added 2 receptions for 14 yards and finished as a top 10 RB on the week. While there are concerns for the Bears' offense this season, they have a very favorable matchup against the Houston Texans this Sunday.
Some have been worried that with the Bears' offense being more of a timeshare this season with sophomore Khalil Herbert stepping up to take more of a role in the running game. However, Herbert took a backseat to Montgomery in Week 2 where he was out-carried 15 to 4. The Texans' defense has also given up the 10th most points to running backs with 24.4 per game.
While he isn't overly flashy on the field, Monty is a good player in real life and has shown the ability to produce for fantasy. This week's matchup against the Texans feels like a get-right game for Justin Fields, David Montgomery, and the rest of the Bears offense. In 2021, Monty averaged 88.4 all-purpose yards per game. What he really needs to be great for fantasy is for the Bears offense to score some points and get him into the endzone. That feels like a very real possibility this week against a struggling Texans defense.
Leonard Fournette, TB vs GB | DK: $6,500, FD: $7,200
As long as his hamstring holds up, Uncle Lenny is a great value this week against a maligned Packers run defense. So far this season the Packers have only given up the 18th most points to backs, but they were gashed on the ground in Weeks 1 and 2 giving up 126 yards to the Vikings and 180 yards to the Bears.
Fournette is looking like a fantasy value so far and has seen the bulk of the carries in the Bucs' offense so far. While Brady and Co. have been slow getting out of the gates they are 2-0 and still look like the leaders of the NFC South. Wide Receiver Mike Evans is suspended for the upcoming matchup after his frustrations boiled over last week against the Saints and he decked Marshon Lattimore, who is arguably the best cornerback in the NFL. Evans being out could help to open things up for Fournette on the ground and underneath.
Uncle Lenny was slowed up quite a bit against the Saints in Week Two only rushing 24 times for 65 yards while hauling in 2 receptions for a total of 9 yards. Many have been expecting rookie Rachaad White to spell Fournette this year, but so far that hasn't happened. Fournette has played 76 and 87 percent of the offensive snaps so far this season. If White doesn't earn Brady's trust he simply won't be out there all that much, which is obviously good for Fournette going forward.
If his hamstring injury continues to get worse throughout the week then you should not play him. However, given all the ways things are pointing up for the Bucs right now, Uncle Lenny feels like a smashing value currently that we can play in our lineups with confidence.
Travis Etienne, JAX at LAC | DK: $5,400 FD: $5,600
A player who has disappointed in two games so far this season, Travis Etienne is still an explosive player capable of doing big things on Sundays. The Jaguars are 7-point underdogs against the Chargers in what should be a difficult matchup where the over-under is also 47.5 for the game. Due to the reality that this Jaguars offense may struggle to keep up with the high-powered Chargers offense (as long as Herbert is playing), the negative game scripts that may emerge for the Jaguars to pass the ball could open up things for Etienne, especially on DK where they use full PPR scoring.
Etienne is an incredible pass catcher out of the backfield and has the ability to go the distance with each touch. While we only have a two-game NFL sample size to go off of so far, we can look at some of his college production as a reference point for what he is capable of.
Rushing
Receiving
Scrimmage
Year
School
G
Att
Yds
Avg
TD
Rec
Yds
Avg
TD
Plays
Yds
Avg
TD
*2017
Clemson
13
107
766
7.2
13
5
57
11.4
0
112
823
7.3
13
*2018
Clemson
15
204
1658
8.1
24
12
78
6.5
2
216
1736
8
26
*2019
Clemson
15
207
1614
7.8
19
37
432
11.7
4
244
2046
8.4
23
*2020
Clemson
12
168
914
5.4
14
48
588
12.3
2
216
1502
7
16
Career
Clemson
55
686
4952
7.2
70
102
1155
11.3
8
788
6107
7.8
78
While many are frustrated with Etienne in the first two weeks of the season, it's important to remain patient. He's got the talent and will produce mightily for fantasy when the touches are there.
Wide Receiver NFL DFS Value Plays - Week 3
DeVonta Smith, PHI at WAS | DK: $5,200, FD: $6,000
Mr. Smith had some fantasy managers very concerned after putting up a goose egg in Week One, but he rebounded nicely on MNF with a solid performance against the Vikings in Week Two. While it has become apparent to all that AJ Brown is going to be the pure alpha in this offense, a solid role for fantasy can still exist for DeVonta in Philly.
So far starting quarterback Jalen Hurts has been lighting the league on fire and Smith had a solid Week Two catching all 7 of his targets for 80 yards. This Eagles offense is looking like it's going to be one of the better units for fantasy this season and is incredibly fun to watch. We need to be cognizant of the fact that Smith has competition for targets from Brown and tight end Dallas Goedert, but it also keeps him from seeing any double teams or any opposing team's best cornerback.
One mistake many in the fantasy community made before the season was looking at the Run/Pass ratios for teams in 2021 and expecting that same trend to continue in Philadelphia after they traded for AJ Brown on draft night. Smith had a solid rookie season in 2021 posting 64 receptions for 916 yards and 5 TDs in an offense that was dead-last in pass attempts. Some solid efficiency right there in what should continue to be a growing passing pie for the Eagles' offense.
"He's like Casper the Friendly Ghost," Dallas Goedert recently told the Philadelphia Media. "People be pressing him, he throws a shimmy and just disappears." In what should be another solid matchup this week against a Commanders' defense that has allowed 404 yards per game in each of the last two weeks, Smith feels like a value start.
Jakobi Meyers, NE vs BAL | DK: $5,000, FD: $6,200
One of the most underrated players in the NFL and across the fantasy landscape, all Meyers does is get open and produce. While there are some concerns with Matt Patricia and Joe Judge being the flies in the ointment as they are involved in the Patriots offense, Meyers has been solid for fantasy so far this season. He has been targeted a total of 19 times in two games with 13 total receptions for 150 yards and has established himself as the clear WR1 on the Patriots.
This week New England faces a Ravens defense that has been absolutely shredded the last two weeks. So far the Ravens secondary has given up 379 yards passing per game and is giving up the most points to wide receivers in fantasy so far this season at 55.6!
Meyers seems to have a relatively safe floor each and every week, but the touchdowns on a consistent basis haven't been there for him yet. He feels like a better play in cash games due to his higher floor / lower ceiling than many of the wide receivers who might have the kind of week to help you cash in a tournament format. In full PPR formats like DraftKings, Meyers is incredibly valuable due to his prowess are a pure target hog. Against a Ravens secondary who looks like it can't stop anybody right now, Meyers feels like a relatively safe play.
JuJu Smith-Schuster, KC at IND | DK: $5,500, FD: $6,100
While many were disappointed with JuJu's Week Two performance on TNF against the Chargers where he only posted 3 receptions for a total of 10 yards, he showed enough in Week One against the Cardinals with 6 receptions for 79 yards that gave the fantasy community a reason to be optimistic about him this season.
So far the Chiefs offense has looked very different in the absence of the roadrunner himself: Tyreek Hill, but the wind still seems to be blowing in the direction of JuJu being the number two target on the team this year behind Travis Kelce. Rookie Skyy Moore didn't play at all in Week Two and from a pure talent perspective, he appears to be the only one on the depth chart who could threaten JuJu for playing time.
The Colts' defense has been average in the first two games of the year and while we haven't seen a consistent performance from JuJu since 2020, he is in a great situation in Kansas City and has a lot to prove being he is only there on a one-year deal. There is an old saying that a rising tide raises all ships. Being that JuJu is now with Mahomes and has a quarterback who can get the ball downfield, it is reasonable to expect him to have a much larger ADOT than he did with the ailing Ben Roethlisberger in his Pittsburgh days. If Mahomes and JuJu can establish some chemistry, watch out.
As long as he can stay on the field and resist the urge to challenge Jackson Mahomes to a TikTok duel, there is still reason to feel optimistic about JuJu for Week Three and the rest of the season.
Tight End NFL DFS Value Plays - Week 3
Kyle Pitts, ATL at SEA | DK: $4,800, FD: $5,600
A player who so far is crushing my credibility as an analyst along with the hopes and dreams of all who drafted him, it is not yet time to push the panic button Kyle Pitts and we should be looking to take advantage of his discounted price in what is a great matchup for him and the Falcons this week.
So far this season the Seahawks' defense has allowed the eighth-most points to tight ends and All-Pro safety Jamal Adams is already injured for the rest of the season. While Pitts has underachieved with only four receptions for 38 yards through the first two weeks, his less than stellar performances on the stat sheet come down more to a problem with coaching than it does with his talent.
Pitts has been used more as a blocker so far in 2022 than he was in 2021. This could be partially due to the Falcons' addition of wide receiver Drake London with the eighth pick in the 2022 NFL Draft, but the good news going forward for Falcons fans is that it will be very difficult to stop both of them on Sundays.
While it does appear so far that the Falcons are using Pitts as more of a traditional tight end than as a wide receiver where he was lined up out wide or in the slot on 78% of pass plays (which was 1st among TEs per PFF) in 2021, his talent and skills are still far too good to ignore. He ranked second in air yards among tight ends with 1,188 last season and was first in ADOT with 11.2.
Delanie Walker had three straight seasons of 800+ yards with Mariota from 2014-16 including 2015 when he had 94 catches for 1,088 yards and 6 TDs, which was good for a TE2 finish in all of fantasy-land. If Pitts doesn't have a big week for fantasy against the Seahawks then you can personally malign me across all of Twitter. Until then, it's time to remain optimistic and ride the wave. Our patience will be rewarded.
Tyler Higbee, LAR at ARI | DK: $4,500, FD: $5,700
While it may feel gross putting his name in here as he has primarily been used too much as a blocker in years past to have consistent value for fantasy, Tyler Higbee has been tearing it up so far in the first two weeks of the season. Could this be due to Matthew Stafford's ailing elbow and the rebuilt Rams offensive line struggling without Andrew Whitworth and Austin Corbett leaving him unable to throw deep?
So far Higbee has been targeted on 30 percent of his routes run, which ranks fourth among all tight ends through Week Two. He also leads all tight ends in total targets with 20.
The Cardinals are also ranked last in points given up to tight ends so far this season at 24.4 points per game! No one can deny that the matchup for Higbee this week is absolutely fantastic.
If Stafford continues to look his way, he could end up being a solid value for fantasy if he can finish higher than Allen Robinson in targets this season. At his cheap price for DFS this week Higbee feels like an absolute bargain.
Thank you for reading my article. Feel free to send me a message if you have any questions or follow me on Twitter if you enjoyed this piece. Best of luck this week!
Download Our Free News & Alerts Mobile App
Like what you see? Download our updated fantasy football app for
iPhone
and
Android
with 24x7 player news, injury alerts, rankings, starts/sits & more. All free!
Win Big With RotoBaller
Be sure to also check out all of our other daily
fantasy football articles
and analysis to help you set those winning lineups, including this new RotoBaller YouTube video:
More Weekly DFS Analysis