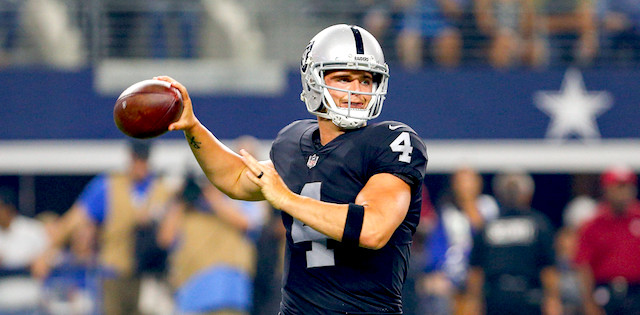 Week 1 of the NFL season is almost here. While many of you have been waiting all summer for some NFL action, the good news is your wait is almost over. It was an interesting offseason in the NFL as several star players were moved and there were 10 different head coaching changes, meaning more than one-third of the NFL turned over. Throughout the rest of the league brand-new coaches were brought in and new offensive systems were installed this summer.
With the preseason being reduced from four games to three, head coaches everywhere were beyond paranoid to play their starters much (and for good reason), teams with veteran players and continuity heading into Week 1 may be at an advantage. One of the most popular matchups this week has been the Chiefs at the Cardinals as both teams feature high-powered offenses from last season. However, the Chiefs will be trying to break in JuJu Smith-Schuster and rookie Skyy Moore while the Cardinals will be trying to feature their newest addition, Marquise Brown as well. Is it possible there could be some rust for teams with new head coaches, offensive coordinators, and systems, as well as skill players they will be trying to feature early on in the season? It's something worth factoring into your rankings.
This article will run every week this season and will feature some must-starts, as well as players who are a good value each week. Let's be honest, it's not as difficult to pick star players. Due to the salary cap format, it is more important to find the value plays and underpriced players instead. These weekly articles won't include the obvious picks but rather the less expensive players who are being undervalued and could be ripe for a breakout. We typically want to be chasing passing volume and looking for games that are likely to be shootouts. This week I did a brief DFS intro for any newcomers and some tips to help maximize your success in DFS this season. Feel free to bookmark it as a reference point to come back to when picking your lineups.
Featured Promo: Get any full-season NFL Premium Pass for 50% off and win big in 2023. Exclusive access to our Premium articles, 15 lineup tools, new Team Sync platform, Lineup Optimizer, Premium DFS tools and cheat sheets, and much more!
Sign Up Now!
Introduction to NFL DFS
If you are new and have never played DFS before, have no fear. There are some great benefits of playing DFS even for the first time:
DFS doesn't require the same grind and weekly commitment that a season-long league does, which is great if you travel a lot and are too busy to manage the same team each and every week.
The time and research that involves finding the right players and values will make you a better player in redraft leagues because you will have a larger understanding of what goes into predicting weekly performances as well as which players to start in your lineups in regular leagues.
Allows you to have exposure to players you weren't able to get in your regular league's draft.
Gives you a reason to still play fantasy all year long as well as something to root for if the team you drafted in your home league isn't doing so well.
Tips for Playing DFS
Playing DFS can be overwhelming and even a little confusing at first. The great thing about it is any player who is playing during the Sunday slate of games is eligible. The bad? There is a salary cap and you can't have a lineup that consists of Joe Burrow, Jonathan Taylor, Ja'Marr Chase, AJ Brown, Stefon Diggs, and Trevor Kelce as you would be over the cap. Since you only have a certain amount to spend, it's more important to look and see who the values are for each week and try to optimize the perfect build.
Here are a few important tips to remember going forward when constructing your DFS lineups:
1) Draft Kings uses full PPR scoring.
2) FanDuel uses half PPR scoring.
3) These different formats can mean a big difference in weekly strategy. Amon Ra St. Brown, Christian Kirk, Hunter Renfrow, and Nyheim Hines aren't as valuable in half PPR scoring, but full in full PPR leagues they can all be Dink-and-Dunk All-Stars.
4) Analyzing Las Vegas Sportsbook Player and Team Prop Lines for each game to get an idea of how individual players are expected to perform
5) Over/Under on total points for games that players are playing is important. Generally, we want to target players in games that will be high-scoring.
6) Local weather for the game.
7) Try to find a correlation among players on different teams in the same game. Think 2021 Playoffs: Buffalo @ Kansas City bonanza type of game where both teams went back and forth across the field like it was a track meet.
8) Picking starting RBs whose teams are larger favorites in that week's upcoming game. Backs like Jonathan Taylor, Nick Chubb, and Derrick Henry aren't as bulletproof in negative game scripts when their teams are trailing because they generally don't catch many passes and their teams aren't as likely to run the ball in the second half while training.
9) Always stack your quarterback. While there are mixed feelings on this in redraft leagues, stacking your quarterback increases your lineup's potential upside and stops your opponents from gaining additional points. There is nothing more frustrating than having a quarterback like Tom Brady in fantasy when he has a big game, but your opponent ended up outscoring you because he happened to have Mike Evans on his team. By stacking we increase our upside and create a synergy that increases our total weekly output.
Now let's get to my picks already!
Quarterback NFL DFS Value Plays - Week 1
Derek Carr, LV at LAC | DK: $5,900, FD: $7,400
The NFL's leading passer in 2021 with 4,804 through the air, Carr led the Raiders to a 10-7 record and a playoff appearance. Las Vegas also made some key upgrades this offseason bringing in Davante Adams from Green Bay along with offensive wizard Josh McDaniels from New England to be the next Head Coach. Where Carr has struggled is finding the end zone as he has only had one 30-plus passing touchdown season in his career.
Since Carr is not a relatively mobile quarterback his fantasy value this season is going to have to come from yardage and throwing touchdowns. Having Adams and McDaniels in tow is big for Carr in that regard. Sprinkle in the vastly underrated Hunter Renfrow and Darren Waller and suddenly it's a trio worth getting excited about this season if they are all healthy.
Last season the Chargers were 12th in the NFL in passing yardage allowed and made some defensive additions of their own. The Over/Under on Sunday's game is now at 52 which makes it the second-highest projected scoring game on the Sunday slate.
Carr is the eleventh most expensive quarterback on DK and tenth on FanDuel. If you are looking to address your salary elsewhere he is a solid option as a value this week in a game that is likely to feature plenty of scoring.
Justin Fields, CHI vs SF | DK: $5,600, FD: $6,900
Basically left for dead this offseason by the fantasy community and even by his own front office, Justin Fields will be doing his best impersonation of Bear Grylls this season while making do with limited provisions and trying to survive against the harsh elements to somehow make it back to the Bears facility in time for Week 1. Fields had better weapons at wide receiver at Ohio State than he has had so far in the NFL. Nonetheless, he still offers incredible upside for fantasy purposes.
Fields is now free from the disaster that was former Head Coach Matt Nagy's tenure where he was seemingly unwanted and wasn't put in a position to succeed during his rookie season. Darnell Mooney is emerging as a good player in Chicago and there is hope for Cole Kmet this season. Beyond that is where things get dicey, which has some in the fantasy community hesitant on Fields and the Bears, but it is also what is keeping his price down.
Fields ran a 4.51 at his pro day and has the ability to make some incredible plays with his legs. While he didn't run a ton in college, he did rush for 484 yards and 10 scores in his sophomore season at Ohio State. In 2021, he had 14 runs of 10+ yards during his rookie season. The hope is that new offensive coordinator Luke Getsy will let Fields make more plays with his legs and on the run where he excels. According to PFF, Fields had a 90.5 passer rating when outside the pocket in his final five starts. Per Sports Info Solutions,
Fields also had a 138.5 passer rating on designed rollouts. The sample size is small but it's an indicator of what skills Fields can bring on Sundays. Fields finished as a top-12 QB for fantasy in his final four starts where he averaged 21.7 fantasy points per game and averaged 56 yards rushing per game over his final six. Sure there are concerns about the Bears this season, but Fields offers as much upside as any late-round QB in 2022.
Running Back NFL DFS Value Plays - Week 1
Saquon Barkley, NYG at TEN | DK: $6,100, FD: $6,800
Without a doubt one of the most polarizing players in all of fantasy right now, Saquon Barkley is loved or hated depending on what managers drafted him in recent seasons. After having a monster rookie season that featured 2,000+ yards on the ground and the air with 91 receptions and 15 total touchdowns, injuries limited Barkley in 2020 and 2021 along with his fantasy production.
Offensive wizard Brian Daboll was brought in from Buffalo to right the Giants' ship and get them back to their typical winning ways. Due to the reality that Saquon hasn't produced much for fantasy in the last two seasons his price is down considerably from where it usually has been. Barkley is finally healthy and is still just 25 years old. He offers a rare kind of game-winning upside for running backs going this late and he can be game-script proof due to his versatility as a pass catcher.
The Giants running back depth chart behind Barkley is also relatively thin so we can expect him to receive a large snap share for the time being until someone else establishes themselves.
Last season the Tennessee Titans gave up the sixth-fewest points per game and featured the NFL's second-best rushing defense. While Mike Vrabel usually has his defensive units primed and ready to go each week, this is also why Barkley can be acquired rather cheaply for Week 1. The Giants made some upgrades on the offensive line this offseason and their offense features two pass catchers who are a threat to take it to the house every time in Kadarius Toney and Wan'Dale Robinson.
The Giants offense from a fantasy perspective has nowhere to go but up in 2022 and Saquon is simply too great of a discount to ignore. Time to put last season in the rearview mirror.
Elijah Mitchell, SF at CHI | DK: $5,400 FD: $6,700
A player who had a solid 2021 season despite some injuries, Eli Mitchell appears to be the RB1 in San Francisco for now. We know that head coach Kyle Shanahan loves to ride the hot hand and a 49ers player's fantasy fortunes can change at the drop of a hat, but the winds appear to be blowing Mitchell's way right now. The 49ers are 7-point road favorites against a Chicago Bears team that has mostly been stripped down to the studs and is at the beginning of a full rebuild.
Mitchell had five games of 100 yards plus rushing and was a viable option for fantasy. He wasn't featured much in the passing game last season but has shown to be a good enough receiver out of the backfield. The big question for Mitchell this year will be his touchdowns on the ground as he is in danger of being vultured by new quarterback Trey Lance, as well as Deebo Samuel in the red zone. Given the prowess of the 49ers' strong running game and a Bears defense that appears to be a bottom-third unit in the league, things appear ripe for Mitchell to be a great Week 1 value.
Dameon Pierce, HOU vs IND | DK: $4,800, FD: $5,400
A player who has seen a meteoric rise up the charts faster than Justin Bieber after YouTube, Pierce has gone from the 13th/14th Round of drafts up into the 4th Round (on average). The rookie running back from Florida showed some promising flashes this summer and looked spry in the Texans' preseason games. He is undoubtedly too good of a value in DFS as he is priced like a role player/backup while likely getting the bulk of the carries for Houston this week.
What remains to be seen from Pierce this season is how much work he will receive. Will Rex Burkhead be the third-down back with Pierce only seeing early-down opportunities? It is an unknown variable that we must consider going forward during the season. The spread in this game has the Colts by a touchdown and the Colts' defense has been one of the better units in the league, finishing in the top 10 in yards allowed for 2021. As we have seen in the past, running backs on bad teams who don't see passing work are typically a death sentence for fantasy purposes.
However, it is unknown what Pierce's full workload will look like and we must take advantage of his low price. If he is someone who can stay on the field he could be similar to a 2020 version of James Robinson even on a bad team. Despite the uncertainty, Pierce's value is simply too good to pass up. Just know if you are in a DFS type of tournament he is likely to be rostered everywhere.
Wide Receiver NFL DFS Value Plays - Week 1
Hunter Renfrow, LV at LAC | DK: $5,800, FD: $5,900
A player who looks more like your local tax accountant than a football player, Renfrow has triple moves that would make Patrick Swayze proud. With Darren Waller's injury status still questionable for Sunday's matchup, Renfrow could be an absolute steal in a shootout type of game where he is set to be featured and would be a solid value stack with Carr.
Renfrow had a fantastic 2021 season where he had 103 catches for 1,038 yards and 9 TDs. Due to the reality that he is more of a check-down and red zone player than a field stretcher, he is better in full PPR formats versus half. Nonetheless, he runs great routes and has hands made of glue. Last season Renfrow had 8 or more targets in 10 of the 17 games in which he played.
Wan'Dale Robinson, NYG at TEN | DK: $3,000, FD: $4,700
A second-round pick by the Giants in the 2022 NFL Draft, Robinson is a relatively unknown prospect who has been flying below the radar. Wan'Dale originally played at Nebraska for two seasons where he started at running back before transferring to Kentucky. In 2021, Robinson had 104 receptions for 1,334 yards and 7 TDs. This week, Giants Head Coach Brian Daboll named Robinson the team's starting slot receiver. Despite being smaller in stature at 5 foot 8 inches, Robinson has some the potential to be an elite game breaker on Sundays. Per Player Profiler,
Robinson featured a 98th percentile college target share and a 95th percentile breakout age. Given his bare minimum price on DraftKings, he is a bargain dart throw with upside that will allow you to beef up your lineups elsewhere.
Jahan Dotson, WAS vs JAX | DK: $3,400, FD: $4,900
A player who has been impressive all summer in Washington, Dotson appears to be settled in as the number two receiver on the team behind Terry McLaurin and yet no one has been talking about him. Dotson was the 16th overall pick in the 2022 NFL Draft after he finished up his senior season at Penn State with 91 receptions for 1182 yards (13.0 YPC) and 12 touchdowns while featuring a 30% target share. The Jaguars' defense was fifth-worst in the NFL last season in points allowed and was middle of the pack in passing yards allowed.
The Commanders are favored by 3 and the O/U for this game is at 44 points. While many prominent talking heads in the fantasy community have legitimate concerns about Washington's offense this year, Dotson is an electric player with the type of deep speed to go for a long touchdown at any given moment. He is worth a value pick this week due to his homerun ability.
Tight End NFL DFS Value Plays - Week 1
Zach Ertz, ARI vs. KC | DK: $4,400, FD: $5,600
The highest projected scoring game on the Sunday slate, the Cardinals and the Chiefs appear to be destined for a shootout according to the Vegas experts. Ertz was traded to Arizona halfway through the 2021 season but put up some impressive numbers with 56 catches for 574 yards and 3 scores over 11 games. De'Andre Hopkins will be suspended for the first six games of the season, which should open up things for Ertz in conjunction with newly-acquired Marquise Brown using his speed to stretch opposing defenses.
While Ertz is starting to get up there at age 31, he still has the type of profile that can put up elite performances in small doses. In six games without Hopkins in the lineup, Ertz had nearly a 24% target share and finished in the top 10 in 71.4% of his games. He is the type of player who can capitalize early in the season while he is fresh and Hopkins is out of the lineup.
Evan Engram, JAX vs WAS | DK: $3,500, FD: $4,900
A player who has seemingly been cast out by the fantasy community, Evan Engram suffered under some poor New York Giants' regimes while fighting off the injury bug. In 2020 he saw 109 targets and had the most fantasy points of any rookie TE during his inaugural season in 2017. Engram has an elite athletic profile and can stretch the field with the ability to make big plays, something that can be a great asset for our tight ends in DFS.
It is unknown how the pecking order will shake out in Jacksonville between Christian Kirk, Marvin Jones, Zay Jones, and Engram. Tight Ends have typically performed well under new Head Coach Doug Pederson and Engram could be a great value in 2022. If he isn't a player you are comfortable with having on your roster for an entire season in a redraft league, he has the ability to perform at an elite level at least in small doses, which is what we want in this format.
Washington's defense allowed the fourth most passing yards in 2021 and was eight in points allowed. Engram had a passing TD in the preseason and has flashed some chemistry with Lawrence over the summer. If you want to take a shot at TE while spending up elsewhere he's your guy.
Thank you for tuning into my article. Feel free to send me a message if you have any questions or follow me on Twitter if you enjoyed this piece and want to know when the next content piece drops. Best of luck this week!
Download Our Free News & Alerts Mobile App
Like what you see? Download our updated fantasy football app for
iPhone
and
Android
with 24x7 player news, injury alerts, rankings, starts/sits & more. All free!
Win Big With RotoBaller
Be sure to also check out all of our other daily
fantasy football articles
and analysis to help you set those winning lineups, including this new RotoBaller YouTube video:
More Weekly DFS Analysis