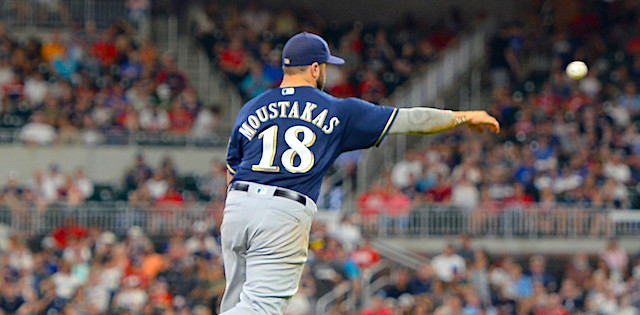 The rumor mill has been suggesting it for a while but on Sunday it became official that Mike Moustakas is back in Milwaukee. Moustakas returns to the Brew Crew on the back of a 54-game audition at the end of last season. While the numbers in that span looked somewhat disappointing compared to his 2017 numbers, they were clearly good enough for Milwaukee to bring him back in.
So what will we see from Moustakas this season? Will it be a repeat of 2018 or a return to the breakout of 2017? In addition, what does this signing mean for the other parts of the Brewers lineup? Which of Travis Shaw, Hernan Perez, and Cory Spangenberg are the big losers?
This signing clearly raises a lot of questions from a fantasy perspective, not just for Moustakas but for a lot of the Brewers roster. Let's take a look at what we might expect from everyone affected in 2019.
Featured Promo: Get any full-season MLB and DFS Premium Pass for 50% off. Exclusive access to our Team Sync platform, Premium articles, daily Matchup Rating projections, 15 lineup tools, DFS cheat sheets, Research Stations, Lineup Optimizers and much more!
Sign Up Now!
The Moose in Milwaukee
Moustakas' time in Milwaukee made for a relatively short sample size but there are definitely some interesting details to take away from both his time there and his 2018 season as a whole. Moustakas played 54 games and logged 218 plate appearances as a Brewer. During that time he hit just eight home runs, giving him his lowest HR/PA rate since 2015 (.037). However, in 98 plate appearances in Miller Park in 2018, Moustakas hit six home runs, a HR/PA rate of 0.061. A similar performance over 300 plate appearances at Miller Park next season would see him hit somewhere in the region of 18-20 home runs. That is a great grounding for him to threaten a total of 35 home runs, and potentially even get close matching the 38 from 2017 next season. Those power predictions are further reinforced by the fact that his batted ball profile was similar in 2017 and 2018. In fact, his hard hit percentage, exit velocity and launch angle were all slightly higher in 2018 than in 2017.
His batting average is a little harder to put a finger on this season. His BABIP was similar (.259 compared to .263), his K% was only slightly higher (16.2% compared to 15.7%) and his GB/FB rate was almost identical (0.74 compared to 0.76). The only real stand out indicator is that his infield fly ball rate jumped from 16% in 2017 to 19.2% in 2018. All of those numbers suggest to me that his batting average is going to be somewhere between the 2017 and 2018 numbers. If he keeps a similar batted-ball profile again in 2019, it may not get back to the height of .272 but it should be unlikely to sink below the .252 of last season.
In terms of runs and RBI, the combined numbers have every chance to be similar to what we have seen previously in his career, somewhere in the 160 region. Right now, Moustakas is predicted to hit sixth in the lineup so the lean should be towards him having about 90 RBI compared to 60ish runs. However, with Yasmani Grandal and Orlando Arcia behind him, there is the potential his runs could creep closer to 80. Of course, during the season there is always the chance of lineup flexibility, but the knowledge he will be in the 160 combined runs and RBI region is a good starting point.
Sacrificing Shaw
The one thing this signing does is that it forces Travis Shaw to play second base again. Or does it? According to recent reports, the Brewers may intend to have Moustakas try his hand at second base and keep Shaw at third, even though Moose has never played 2B in the majors. Shaw played 37 games last season at second base, most of which came after the acquisition of Moustakas, but apparently, they weren't thrilled with the results. Shaw's numbers while playing second base were interesting. While playing second base Shaw hit 10 home runs, an average of 0.072 HR/PA. In contrast, he hit 20 home runs in 419 PA (.048) while playing third base. So the power was better at second base, but his average was nearly .030 lower when playing that position than when playing at third base.
On one hand, that is great news as it means that Shaw and Moustakas will both have second base eligibility this season. Second base is an extremely shallow position, and Moustakas gains a huge amount of fantasy value just simply by being eligible there. On the other hand, as we saw with Shaw, it could lead to some early adjustments for Moustakas that could trickle down to the batter's box.
The bigger issue is that right now Moustakas is the most obvious platoon partner for Hernan Perez, which is what Roster Resource are currently predicting. Shaw should see the majority of AB at the third base position, but his value is hurt by the fact we could be looking at something closer to 450 PA than the 600 we have seen the last two years if Moustakas splits time with him at the hot corner instead. The question marks around playing time for both players mean they should drop a fair bit in ADP over the coming weeks, and perhaps even to the point of not being drafted in 10 or 12-team mixed leagues.
Effect on the other Brewers
We have already discussed the domino effect of this on Shaw. However, there have also been other Brewers affected. Cory Spangenberg now appears to have lost his place on the 25-man roster, and could easily end up on another team by the time the season opens. He did not have much fantasy value before this signing, and his loss of playing time will not concern too many fantasy players this season. As for Hernan Perez, his value actually changes very little initially. However, it does drastically decrease his chances of becoming an everyday player. Overcoming Spangenberg for the job would have been significantly easier than getting past Moustakas will be.
Moustakas looks likely to slot into the six slot in the lineup, pushing Grandal and Arcia down. Both of those will lose a little off their runs and RBI totals, based on the decrease in PA. However, the change should not be major. The same goes for the hitters just above Moustakas in the lineup, Aguilar and Braun. Moustakas might give them a little boost in runs scored, but he is not so much of a significant improvement over Grandal at the six spot that they see a real increase in value of any sorts.
Conclusion
As always with these signings, there are positives and negatives for fantasy. The main positives are that Moustakas had good power numbers in Miller Park last season, and he remains part of a very good lineup. The major negative appears to be the effect on Shaw if Moose doesn't take to second base, or if that plan falls apart. Not only does Moustakas have to change position defensively, but he is also now potentially in a platoon for second base. So while Moustakas has hypothetically gained fantasy value by staying in a potent lineup and hitter-friendly park, the loss of playing time may be even greater. If he is eligible at second base this season, possibly the weakest position in 2019, for that reason this signing is more than likely a lost opportunity for fantasy purposes.
More 2019 Fantasy Baseball Advice