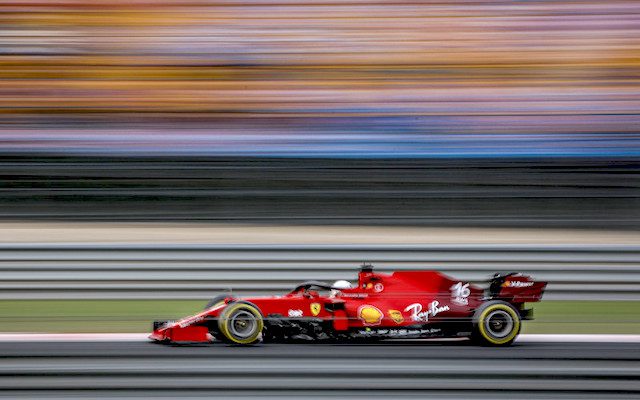 Who's ready for some Formula 1 DFS? That's right — DraftKings has added Formula 1, which means RotoBaller is responding by adding some Formula 1 pieces.
Last year was a fun year for F1, with the championship battle going down to the wire, with Max Verstappen winning the title.
Below are some drivers to consider for DFS purposes this week. If you have any questions or want to talk about Formula 1, you can find me on Twitter at @juscarts.
Featured Promo: Get our full-season NASCAR DFS Premium Pass for 50% off! Win big with RotoBaller in 2022 and join in on the fun with our other NASCAR DFS winners. Get exclusive access to our DFS Cheat Sheets, weekly rankings, Research Station, and Lineup Optimizer for NASCAR Cup, Xfinity and Trucks contests.
VIEW TOOLS
How Does Formula 1 Fantasy Work?
If you're familiar with using DraftKings for NASCAR, this Formula 1 format is going to feel really, really different from what you're used to. It's a lot closer to the NFL single-game showdown slates than it is to anything on the NASCAR side.
So, here's how the scoring and format work. You'll pick five drivers and a constructor. One of those drivers will be your captain, who earns you 1.5-times the points but also costs 1.5-times as much as they usually cost. For the constructor, you're choosing one of the F1 teams.
So, here's how the scoring works. Your driver only gets points if they finish in the top 10. Here's a chart for how that breaks down.
| Finishing Spot | DraftKings Points |
| --- | --- |
| 1 | 25 |
| 2 | 18 |
| 3 | 15 |
| 4 | 12 |
| 5 | 10 |
| 6 | 8 |
| 7 | 6 |
| 8 | 4 |
| 9 | 2 |
| 10 | 1 |
In addition, the driver with the fastest lap of the race gets three points. You get 0.1 points per lap led, five points for beating your teammate, one point for being classified at the finish (finished 90% of the race, essentially), and points for place differential. Finish three spots higher than your grid position and you get two points. Finish five better and you get three points. Finish 10 better to get five points. You also lose spots.
The constructor points work the same way, with some added points if both cars do well.
It's confusing, but for Formula 1 DFS to work, it probably had to be confusing.
Now that we've gone over that, let's talk drivers. And bare with me, as this whole F1 fantasy thing is new to all of us.
Captain Pick: Charles Leclerc ($16,200)
Starts 1st
Is Ferrari back??? Leclerc took the pole for Sunday's race with a 1:30.558. Leclerc ran well here last year, finishing sixth. But this is a track where passing is at a premium. Only Lewis Hamilton and Max Verstappen led laps here last year, and those two started on the front row. Obviously, defending champion Verstappen could get those laps led points, but I like going with Leclerc as a cheaper DFS option at the captain spot. Will I regret that? Maybe! But I imagine so many lineups will have either Verstappen or Hamilton in this spot, so be different.
Lewis Hamilton ($11,600)
Starts 5th
But don't be too different. You still want either Verstappen or Hamilton in your lineup. I lean Hamilton, who won this race last year. There's a little place differential upside for this car, plus there's the fact that Hamilton is one of two drivers who'll be considered the favorites to win every week. Will he find the speed on Sunday to get past Verstappen? We'll see. But Hamilton is a five-time Bahrain winner with an average finish of 3.4 here.
Daniel Ricciardo ($7,200)
Starts 18th
I wish the place differential points were structured differently, since the highest you can get are points for gaining five spots. But Ricciardo is someone who definitely should gain five spots, as his average finish last season was 8.6. He probably won't contend for a win, though he did have one victory in 2021. He's never had a podium here, but since 2014, he's been solid here, aside from two mechanical DNFs.
Esteban Ocon ($6,200)
Starts 11th
Another driver who offers decent upside in place differential, Ocon ended last season on a hot streak, finishing in the top 10 in the final four races of the year, with a fourth and a fifth in that span. In five Bahrain starts, he's finished 10th or better four times, including a second-place finish in 2020. He hasn't shown a ton of speed this weekend, but things picked up in qualifying. Will it be a sign of things to come on race day?
Valtteri Bottas ($4,600)
Starts 6th
This is the most interesting play of the race. Bottas finished third in points last year with one win and 11 podium finishes. He has four career podiums at Bahrain and was third here last year. So, why is he only $4,600? Because he left Mercedes for Alfa Romeo this season. And Alfa Romeo hasn't been good lately. Last year, the team's drivers were 16th and 18th in points. But look: I refuse to believe that Bottas went to this team without some guarantee that the team would be at least a little better, and qualifying showed that my gut might be right, as he'll start sixth. He was sixth in Practice 2 and eighth in Practice 3, which further supports this idea.
Constructor: Haas F1 Team ($3,600)
Okay, hear me out here. The constructor points are the most confusing part of this whole thing, but if we're looking for a value option at this spot, I lean toward a team that has run well this weekend, which is why I'm taking Haas. Kevin Magnussen starts seventh. Mick Schumacher starts 12th. I think there's more upside than there would be with a team like Williams. IDK. This team could also kill you with negative place differential points. We'll see. You definitely have better options, but I wanted to think about value here this week.
The Keys to Weekly NASCAR DFS Success
NASCAR is back, and it's time for you to win big with RotoBaller!
Our DFS NASCAR Premium Package
 features several heavy hitters and proven winners.
Sean Engel recently won his 7th career DFS tournament, and had the top lineup in seven contests and 10 top-two finishes. Be sure to use his weekly NASCAR DFS rankings and DFS lineup picks, updated regularly.
Three-time NASCAR Racing Writer of the Year finalist and fantasy industry legend Scott "The King" Engel is also in the crew, bringing you his weekly strategies and lineup picks. Set your winning DFS lineups with our award-winning team.