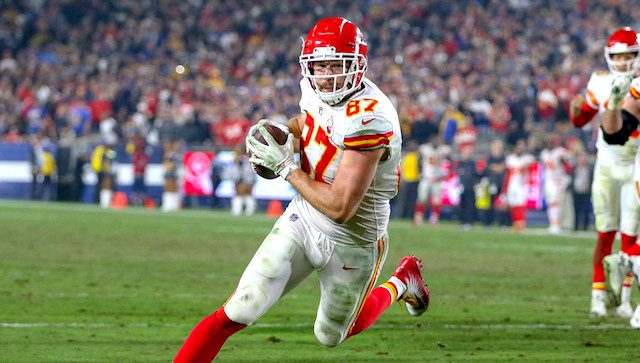 Don't blink, but we are officially in the final days of July with training camps beginning. The news stream has been modest, but you can bet that will change in a hurry. It's an interesting time for best ball because there is just enough information to start making more accurate decisions during your draft, yet not enough for the casual players to have an equal opportunity.
It makes rankings, such as the ones published by the excellent RotoBaller team, extremely beneficial, which is what we will be breaking down today. We're still awaiting the landing spots for several big-name free agents. However, none of them are tight ends, and there are only a few situations where if they sign, they'll impact the ranking for the tight end on that squad.
Tight ends are volatile and generally unreliable as a whole, so having a clear picture of the tiers, and which players are jam-packed with upside compared to those who are high-floor low-ceiling options, is crucial to the construction of your roster. Below you'll find all 42 players that landed inside our top 300 overall rankings with a breakdown of the nine tiers they fall into. Let's dive in!
Be sure to also check our other Week 14 fantasy football waiver wire pickups articles:
Tight End Best-Ball Rankings
Tier 1
Travis Kelce
There is lots of debate this season about who warrants the No. 1  spot at other positions, especially at wide receiver and quarterback, but having anyone other than Kelce as the overall TE1 would be absurd. He's finished in that spot six of the last seven seasons, ceding the crown to Andrews one time, finishing as the TE2. He's also surpassed 1,000 receiving yards in each of those campaigns and led the team in targets, receptions, yards, and touchdowns in 2022. He's in the debate for the greatest tight end of all time and is guaranteed to finish at or near the top again this year.
The only real question is how large is the gap between him and the rest of the field. In 2021, Andrews bested him, causing many of us to wonder if the decline was coming. However, last season he finished with 88.9 more fantasy points than the TE2, Hockenson, in half-PPR and 100.9 points higher in full-PPR. It was in part due to injuries to other elite players at the position, but that is a massive difference. It's unlikely he laps the field by that amount of points again, but he deserves his own tier given the lack of proven weapons the Chiefs possess, combined with his incredible rapport with Patrick Mahomes.
Tier 2
Mark Andrews, T.J. Hockenson
His primary competitors during the past two seasons have been the aforementioned Andrews in 2021, who dethroned him, and Hockenson, who, as referenced, finished in second place in 2022. They're both incredibly talented players with a history of success, particularly Andrews. That said, they each have their own reasons for concern, at least relative to Kelce.
Andrews entered the offseason wondering if his pal Lamar Jackson would still be tossing him the pigskin, which we now know will be the case, but he also had a lot less competition for targets at that time too. The team made a conscious effort to bolster their receiving corps, overpaying for Odell Beckham Jr. in hopes he still has some of that magic left in him, and drafting Zay Flowers 22nd overall to add more speed. Along with Rashod Bateman, they form the best trio of options Jackson has ever had, which simultaneously means the stiffest competition for Andrews. There is little to no doubt Andrews is still the alpha in the pecking order, but his target share could take a hit. The flip side of that argument is that the team brought in Todd Munken as their new offensive coordinator, signaling an intent to throw the ball. If that comes to fruition to the extent many around the organization believe it will, then there could be enough volume to support multiple pass-catchers. In any case, Andrews is the most probable pick to finish ahead of Kelce.
Hockenson has long been a talented receiver that struggled with volume and touchdowns, keeping him in that good but not great tier of tight ends. That was once again the case last season until he was traded to Minnesota midway through the season where he averaged 8.6 targets per game and about 52 yards per contest. The touchdowns were still lackluster, but that level of involvement is extremely valuable, especially in full-PPR formats. The Vikings did draft Jordan Addison 23rd overall, but they also lost Adam Thielen, who some may not realize commanded 107 targets in 2022. Furthermore, K.J. Osborn finished with 90 targets, so there are plenty of ways for Addison and Hockenson to both be successful, despite being clearly behind Justin Jefferson on the depth chart. Hockeson deserves a spot in this tier with a very high floor due to volume, but a lower ceiling than Andrews unless he produces an outlier season when it comes to his touchdown total.
Tier 3
George Kittle, Kyle Pitts, Darren Waller, Dallas Goedert
It's this group of players that are most captivating in drafts entering 2023. You have Kittle and Waller, who will enter the season at age 29 and age 31, respectively, both with proven success, finishing as the TE2 overall in separate years. They're each capable of scoring double-digit touchdowns and earning another top-three finish in 2023. On the opposite end of the spectrum is Pitts, who is just 22 years old, entering his third year in the league, and coming off a very disappointing campaign. Lastly, you have Goedert, whose age places him closer to the first two players, but his production is more in the range of Pitts.
Kittle finds himself atop this tier, which matches up with ADP. However, his volume may be the least secure given the propensity for spreading the ball around in San Francisco. Kittle went on a monster run of touchdowns to end the season, racking up seven in his final four games. He's also a big-play threat as a yards-after-catch (YAC) machine, posting over 20 yards per reception four times in 2022. The risk of him disappearing from week to week is easier to tolerate in best ball, but unlike the first three players, he's not someone you can rely on to carry your team, he's best selected for his upside and paired with later options.
Next up is Pitts, who destroyed many fantasy managers this past year, failing to build on an impressive rookie season, where he compiled over 1,000 yards. There are certainly reasons why he underperformed, such as 44% of his targets last year being uncatchable, Atlanta ranking 31st in passing volume, and missing seven games due to injury. The worry though, is that things may not improve drastically. The team is moving forward with Desmond Ridder as their starter, an unproven third-round draft pick that is essentially a rookie, and they added Bijan Robinson to maintain an emphasis on their rushing attack, indicating they'll remain a run-first offense. Pitts certainly has the upside as a talent to outperform his ADP, but he's also in the worst situation of this group.
We have Waller ahead of Goedert, and ahead of ADP, which is indicative of the value he offers. Of all the players in this tier, he's the best bet to finish with the most receptions in 2023. The Giants acquired him from the Raiders, recognizing they lacked a legitimate No. 1 pass-catcher. While they've taken the quantity-over-quality approach, adding a ton of mediocre, primarily slot receivers, Waller stands out as the clear-cut alpha. Despite an injury-riddled campaign, he still managed to haul in three touchdowns on only 28 receptions, caught 65.1% of his passes, averaged nearly 14 yards per reception, and posted a yards-per-route run of 1.58, comparable to names in this tier. The question for Waller is health. He's missed a combined 14 games the past two years but had over 1,100 yards the two seasons prior.
Similar to Kittle, Goedert finds himself battling with two talented receivers for targets. Philly is another team that prefers to run the ball, including 49% of their plays in 2022. Goedert earned a 19.4% target share during his 12 games played, participating in 90% of the offensive snaps. He also finished fifth in fantasy points per game, demonstrating his consistency. However, where he historically struggles is with touchdowns, an area he has never surpassed five in a season. Furthermore, he only had two top-five weekly finishes, which makes him more appealing in redraft because he's dependable but less so in best ball, where spike weeks are everything.
Tier 4
Evan Engram, David Njoku, Pat Freiermuth
Of all the tier breaks you'll see among the tight ends, this one is the largest. Every player in this tier and beyond lacks a clear path to a top-three season, reducing their overall ceiling. That said, the three players here all have a shot to be weekly contributors that provide an advantage over anyone listed after them.
Engram seemed headed for the previous group until the team elected to trade for Calvin Ridley. It was easy to get excited about his upside following four top-five finishes from Week 8 on, but the competition for targets is going to be stiff. Christian Kirk showed that he can be a No. 1 for a team, Zay Jones can blow up at any moment, and if Ridley returns to anywhere near the form he was in when he last played, he's an alpha receiver. Trevor Lawrence made a massive leap in Year 2, more than doubling his touchdown total from 12 to 25. That number will need to take another jump to the low 30's if he's going to support all these options. Engram perfectly depicts the theme outlined above of a higher floor with a lower ceiling.
Next up is Njoku, who has question marks at quarterback as well, but for a completely different reason. Deshaun Watson's off-field issues still linger, and rightfully so, but let's focus on what he did on the gridiron, or perhaps struggled to do. He was outright bad, finishing with a quarterback rating of 79.1, averaging fewer than 200 passing yards per game, and totaling only seven passing during his six starts. In many ways, it's to be expected given he hadn't played football in nearly two years, plus all the chaos surrounding him. Njoku was entirely boom-bust during Watson's outings, finishing as a top-five option twice along with three weeks outside the top 25. He's never caught more than four touchdowns in a season, making him a riskier version of Engram because of his quarterback.
Speaking of risky quarterbacks, Freiermuth will be banking on a Year 2 leap for Kenny Pickett to build on his own success. He gets overlooked because of his brutal touchdown total in 2022, scoring only twice. However, when you consider that Pickett only threw seven during his 12 starts, it's actually quite impressive. Furthermore, he increased his reception total from 60 to 63, and his yard total from 497 to 732. Plus, he finished seventh in yards per route run. He's a talented tight end with a chance to finish second on the team in targets and first in touchdowns. The issue is betting on him requires a bet on Pickett being a starting-caliber NFL signal-caller, which is yet to be determined.
Tier 5
Cole Kmet, Greg Dulcich, Chigoziem Okonkwo, Dalton Kincaid, Tyler Higbee, Dalton Schultz
This group consists of primarily young, intriguing options with a couple of veterans sprinkled in, all of whom have concerns.
Kmet leads the pack here, which puts him six spots ahead of ADP positionally, creating an opportunity for a nice discount. Obviously, that doesn't mean you reach in your draft but don't be afraid to grab him at a value a little ahead of where he goes. The Bears had a shot to use the No. 1 overall pick in this year's draft but decided instead to trade it to Carolina for a package that featured DJ Moore. While Darnell Mooney is a quality receiver, they desperately needed more weapons for Justin Fields. Chicago led the league with the highest percentage of run plays at 56% last season, but much of that was because there was no one other than Kmet to throw to after Mooney got injured in Week 11.  It's fair to wonder what kind of target share Kmet can earn, but one thing he excelled at in 2022 was finding the end zone, which he did seven times. Fields only threw 17 touchdowns, which could easily go up, and even though they added Moore, his career-high is seven touchdowns, creating an opportunity for spike weeks from Kmet.
The next two players, Dulich and Okonkwo, had similar rookie seasons in that they both showcased their talent in short spurts, evoking excitement from the fantasy community as a whole. Okonkwo led all qualified tight ends with a yards per route run of 2.61, topping all wide receivers not named Tyreek Hill. However, the sample size was only 32 receptions on 45 targets. Dulcich missed the first five games of the year, coupled with the final two, but managed to post four top-10 finishes as a rookie during his 10 games played, despite dealing with abysmal quarterback play. While both teams bolstered their receiving corps, Denver added a rookie in Denzel Mims, and Tennessee signed DeAndre Hopkins, who still has elite potential, and is why Dulcich is ranked ahead. Both offenses are led by aging quarterbacks that are seemingly on the decline but could put together a successful season that yields enough production for either of these two to make an impact. There's another ADP gap here as we have Dulcich three spots higher positionally.
Kincaid is the first rookie to crack the list. We know that rookie tight ends almost always struggle to produce, but there is more optimism for Kincaid because he landed with one of the league's best passers in Josh Allen, and enters a depth chart that lacks proven options beyond Stefon Diggs. Dawson Knox remains on the roster, and could vulture goal-line opportunities. The odds are that he finishes behind the two veterans in this tier, but it's also fair to be enamored by his upside.
The aforementioned veterans are Higbee and Schultz, each of whom has strung together at least one top-10 season, including a No. 3 overall finish in 2021 for Schultz. Schultz was let go by Dallas, landing with their Texas counterpart in Houston. The bad news is that he'll face a significant drop in quarterback play, going from Dak Prescott to rookie C.J. Stroud. The good news is that aside from Nico Collins, who would be second or third on most depth charts, there's no one else to speak of in terms of competition for volume. Higbee finds himself in a similar situation, firmly planted behind Cooper Kupp with several could-be pass-catchers. He also has a Super Bowl-winning quarterback in Matthew Stafford, which is what gives him the edge here. They both could finish second on their team in targets, maybe even first for Schultz. In terms of ADP, we are two spots lower positionally on Higbee and five spots lower for Schultz, meaning there are other players in this tier we'd prefer.
Tier 6
Michael Mayer, Juwan Johnson, Sam LaPorta, Trey McBride, Gerald Everett, Mike Gesicki
Two more rookies join the party here including Mayer and LaPorta. Mayer's draft capital was disappointing, much like his landing spot, at least for 2023. The Raiders currently have three quality receivers and two veteran tight ends for him to compete with. It's fair to project him to overtake O.J. Howard early as a rookie, and even Austin Hooper by season's end, but it'll be difficult for him to carve out significant playing time in Year 1. Despite our concerns, we're actually 11 spots higher than ADP, so you'll be able to take him later than we have him ranked. LaPorta on the other hand, enters a depth chart led by Amon-Ra St. Brown, Jameson Williams, once he completes his suspension, and then not much to speak of. The Lions did add Jahmyr Gibbs, an excellent receiving back, but the offense, quarterback, and opportunity are all there.
McBride rounds out the youth here, entering his sophomore campaign after a quiet outing capped off with one fabulous performance in Week 16. He too has a lot of considerations, including the timeline of Kyler Murray's return, the health and snap percentage for Ertz, and the overall quality of the offense. He was a second-round pick last season and a former John-Mackey Award Winner in 2021, his final year of college. The talent and upside are there, especially considering we are four spots higher than ADP.
Juwan Johnson is one of those players that's hard to assess. He was a touchdown machine from Weeks 7 to 14, hauling in seven of them, but struggled to hold off Taysom Hill, who frequently gets his number called in the red zone. Additionally, the team signed Foster Moreau, who after a brief health scare, is slated to take the field and steal snaps. Johnson remains an option in best ball because you don't need to know when to play him, but he's not someone to rely on for more than a handful of productive outings.
Everett and Gesicki once again represent the veterans rounding out a tier. Everett benefitted from Mike Williams and Keenan Allen missing time last season, hauling in five or more receptions in seven of his 14 games played. He enters the season with that duo currently healthy and the recent addition of Quentin Johnston, who is a big-bodied threat in the red zone. The team also brought back Donald Parham Jr., a once-promising tight end. Everett's always a streaming candidate because he plays for the Chargers, catches balls from Justin Herbert, and now has Kellen Moore as his OC, but it'll be a rocky ride unless there's an injury in the receiving corps yet again. Gesicki never fit into the Mike McDaniels system, resulting in minimal playing time, clearing 50% of the offensive snaps just five times in 2022. He now joins New England, who likes to deploy multiple tight ends and lacks a No. 1 wide receiver. Henry remains on the roster, but Gesicki has the higher athleticism and upside, especially if Bill O'Brien can get more out of Mac Jones and Co. this year. We're behind ADP on both players, including three spots for Gesicki and five spots for Everett.
Tier 7
Hayden Hurst, Dawson Knox, Luke Musgrave, Taysom Hill, Noah Fant
Here we find mostly backup tight ends or at least those competing for the starting role, although Hurst and Fant stand out here as the clear leader at their position for their club. Hurst leaves the Joe Burrow-led Bengals to catch passes from the No. 1 overall pick, Bryce Young. It's a significant downgrade, but the receiving options are much worse, which could open the door for more volume. Rookie quarterbacks tend to target their tight ends, so Hurst has some appeal. Fant is in a similar spot to Everett, watching his team add an exciting young receiver in Jaxon Smith-Njigba, but if Geno Smith can repeat close to what he produced last season, 4,000-plus yards and 30-plus touchdowns, he'll be an intriguing later round selection.
Musgrave is the lone rookie in this tier. He was selected ahead of fellow tight end teammate Tucker Kraft to help fill the void of pass-catchers in Green Bay along with another rookie, Jayden Reed. It's the first time Aaron Rodgers won't be at the helm since 2007, so projecting the outlook for this team is more difficult than usual. That said, if Jordan Love can keep the offense afloat, someone other than Christian Watson will be relevant, and it could be Musgrave, who we are seven spots higher than ADP on.
Knox is in the midst of being replaced by Kincaid, who we outlined earlier, but still has an opportunity to score you a touchdown from time to time. Meanwhile, Hill is a jack of all trades, lining up as a receiver, runner, and passer in 2022. His snaps as a signal-caller will take a hit with Derek Carr coming to town, but his versatility and goal-line role make him a great value.
Tier 8
Zach Ertz, Isaiah Likely, Cade Otton, Jelani Woods, Irv Smith Jr, Hunter Henry, Logan Thomas, Tyler Conklin
There's a mix bagged here of youth and experience. Likely is a unique player because if not for the fact that he's stuck behind Andrews, he would be multiple tiers higher. He's extremely talented and flashed at times without Andrews, including the final week of the season where he caught eight passes for 103 yards. He also managed to haul in three touchdowns, despite fewer than 50% of the offensive snaps in all but three contests. We wouldn't typically recommend drafting an insurance tight end, but the upside Likely possesses makes him worth the pick.
Other young bucks in this range are Otton, Woods, and Smith Jr. We have Woods six spots lower than ADP, primarily because there are two talented receivers ahead of him, other capable tight ends in the depth chart, and his quarterback, Anthony Richardson, is a rookie with questionable passing skills. However, Otton is someone we are five spots ahead on because there's a chance Baker Mayfield produces average quarterback play, plus he's the only tight end to speak of on the roster. Smith Jr. is someone we are far lower on, 12 spots to be exact. The excitement is understandable given he'll be catching passes from Burrow, filling the role left by Hurst. However, he's never been able to stay healthy and finds himself buried behind at least four other weapons.
The old guard consists of Ertz, Henry, Thomas, and Conklin. Conklin represents the youngest of these four but has a lot of competition in an offense that figures to prioritize running the ball and leaning on their elite defense. The addition of Rodgers is intriguing, but he showed signs of his play dropping off, which is likely why we are much lower than ADP. The player we're higher on than ADP is Ertz, who will need to recover from a significant knee injury and hold off McBride. He does possess a lengthy history of production though, which could enable him to maintain some value, especially if Murray is back sooner rather than later.
Tier 9
Luke Schoonmaker, Austin Hooper, Albert Okwuegbunam, Jake Ferguson, Foster Moreau, Daniel Bellinger, Darnell Washington
Two more rookies help us close out the top 300, including Schoonmaker, who is competing with Ferguson, who is also listed in this tier, to replace Schultz in Dallas, and Washington, who landed behind Freiermuth in Pittsburgh. Schoonmaker is the better bet here, both because there isn't another proven tight end on the roster, and because he has Prescott throwing him passes.
Hooper, Bellinger, Moreau, and Okwuegbunam have at least one other player that's definitively ahead of them but are intriguing dart throws at the end of your draft if you're still in need of a tight end. Hooper and Bellinger have the clearest paths to relevance because their offenses have shallower depth charts, making them the better players to select.
Download Our Free News & Alerts Mobile App
Like what you see? Download our updated fantasy football app for iPhone and Android with 24x7 player news, injury alerts, rankings, starts/sits & more. All free!


Win More With RotoBaller
Be sure to also check out all of our other daily fantasy football articles and analysis to help you set those winning lineups, including this new RotoBaller YouTube video:


More Best-Ball League Strategy
Check out all of RotoBaller's fantasy football rankings. Staff rankings are updated regularly for all positions and include standard formats, PPR scoring, tiered rankings and dynasty leagues.