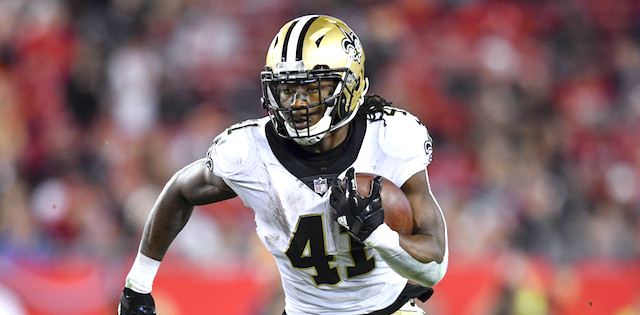 Welcome to our Wild Card Round matchups analysis and start/sit column for fantasy football. We'll be covering all of the AFC and NFC contests from the Saturday and Sunday slates, helping you make the best decisions for your playoff lineups and DFS contests this weekend. Be sure to check back regularly because this article will be updated as news comes in regarding injuries and other relevant information.
Chris O'Reilly will start off by covering the AFC Wild Card games that begin at 4:35 PM ET on Saturday, and Spencer Aguiar will take you home with his analysis of the NFC Wild Card games taking place on Sunday starting at 1:05 PM ET.
If you have any additional lineup questions, follow us on Twitter @Teeoffsports and @cjoreillyCLE and feel free to ask away! Without further ado, let's get started.
Editor's Note: Get any rest-of-season NFL Premium Pass for 50% off. Our exclusive DFS Tools, Lineup Optimizer and Premium DFS Research through the Super Bowl.
Sign Up Now!
Matchups Analysis - Saturday AFC Wild Card Round
Buffalo Bills at Houston Texans (4:35 PM ET)
Matchups We Love:
None
Matchups We Hate:
None
Other Matchups:
Devin Singletary (RB, BUF)
The Texans profiled as a tough run defense through their first nine games, but that trend has taken a turn since. Five of their last seven opponents have racked up at least 145 yards on the ground. Houston also allowed the fourth-most receptions, third-most receiving yards, and most (tied) receiving touchdowns allowed to running backs in the regular season. Having established himself as the Bills' workhorse, Devin Singletary is the guy in line to take advantage of a questionable Texans Defense.
Frank Gore / T.J. Yeldon (RB, BUF)
As susceptible as Houston has gotten to opposing ground attacks, I wouldn't bank on that translating into any predictable level of fantasy production from Frank Gore or T.J. Yeldon. Neither of Singletary's backups have seen consistent work in the running or receiving game of late, and even last week's game in which Singletary didn't play wasn't enough to elevate them to fantasy relevance.
Josh Allen (QB, BUF)
I expect Josh Allen will be a very popular play in all playoff fantasy/DFS formats, and for good reason. The Texans pressure the quarterback at the second-lowest rate in the league. While the return of J.J. Watt undoubtedly helps in that regard, their fearsome defensive end is not going to be on the field for every snap. Houston gave up the fifth-highest touchdown rate on opposing pass attempts, and the fourth-most passing yards per game. The Texans also gave up a touchdown on a league-worst 71.4% of opposing red zone possessions. Allen is as much of a rushing threat as any quarterback in the league regardless of field position, but his 30.9% share of Buffalo's rushing attempts in the red zone have yielded nine rushing touchdowns.
John Brown / Cole Beasley (WR, BUF)
Wide receivers have averaged 14 yards per catch against the Texans, setting John Brown up to potentially beat this secondary for a couple of big plays. Cole Beasley has reached "can't ignore him" levels, especially in a four-team slate. In his last five regular season games, Beasley saw 41 targets. The production bounced up and down in this span, but opportunity keeps him well above water as a low-salary DFS option.
Dawson Knox (TE, BUF)
As you're about to find out, it's slim pickings for tight ends in the AFC slate. I'd consider Dawson Knox at the lower end of what is already a dicey pool to choose from. He was targeted 13 total times in his final four regular season games, and caught just six of those--including three straight weeks with exactly one reception.
Carlos Hyde (RB, HOU)
Carlos Hyde put forth a pleasantly respectable 2019 regular season for fantasy owners. What worries me for his outlook in the first round of the playoffs is that he has no pass-catching role, and he's no stranger to having a relatively underwhelming stat line propped up by a rushing touchdown. The Bills only gave up nine rushing touchdowns to RBs all season. Furthermore, five of Hyde's six rushing touchdowns this season came inside the 10-yard line. The Bills aren't the most impossible team to score on in the red zone, but their 55.8% touchdown rate against there is 13th-best. I'm hoping volume keeps Hyde afloat against a Bills team much easier to run than to throw against.
Duke Johnson (RB, HOU)
Duke Johnson could find himself the beneficiary of a tough Buffalo secondary, as the Texans may elect to hit him with checkdowns often enough to give him some PPR appeal. The Bills have been a nightmare for opposing passing attacks all season, and while Houston will have to take at least a few shots downfield, they're likely going to settle for what works as opposed to forcing anything. I'd expect Johnson to be more involved than usual on Saturday.
Deshaun Watson (QB, HOU)
The Bills are one of the league's most respected pass defenses, but they don't create a suffocating level of pressure on quarterbacks. Against a guy who can already move around as well as Deshaun Watson, that puts more of the responsibility on Buffalo's secondary to stick tight longer in pass coverage. I'm not insinuating that this translates into some kind of Big 12 performance from Watson, but I'm partial to quarterbacks who can extend plays when the defense in question is as exceptional as Buffalo's.
Darren Fells / Jordan Akins (TE, HOU)
The Bills allowed the third-fewest catches and second-fewest yards to tight ends during the regular season. Neither Jordan Akins nor Darren Fells have gone off to any extent in recent weeks, though Akins at least appears to have taken hold of the primary role based on target share over the last four games. Either way, I have a hard time classifying this as anything better than a long shot duo in a difficult matchup.
DeAndre Hopkins (WR, HOU)
DeAndre Hopkins rises above the matchup more often than not, but I wonder if the thin slate doesn't offer us better ways to spend his salary. The Bills are a brutal opponent for fantasy purposes against wide receivers, and they're likely to treat shutting down Hopkins as a key to advancing past this weekend. A showdown with Tra'Davious White is on the docket, meaning we're hoping Hopkins is able to win a majority of the one-on-one battles this game is likely to provide us.
Will Fuller / Kenny Stills (WR, HOU)
If Will Fuller plays at full strength this weekend, he's not a bad option to see some opportunities with the Hopkins/White struggle being fought out elsewhere on the field. Fuller was not a full practice participant as of Wednesday, so this situation needs to trend positively in order for him to be trusted. The same goes for Kenny Stills, who is questionable with a knee injury. The matchup is extremely unfavorable to begin with, so any health questions at all on Saturday afternoon are detrimental to the point where I'd be hard-pressed to trust Fuller or Stills.
Tennessee Titans at New England Patriots (8:15 PM ET)
Matchups We Love:
None
Matchups We Hate:
A.J. Brown (WR, TEN)
Congratulations on a great rookie season, A.J. Brown! Your reward is a one-on-one matchup with Stephon Gilmore! As much fun as it's been to watch Brown explode onto the scene, it's hard to like what's in front of him on Saturday. The Patriots have allowed a whopping four receiving touchdowns to WRs all season long. Only the Chiefs have given up fewer yards, and only four teams have given up fewer overall receptions. There isn't anything in the form of a PPR safety net here, and Brown is already volatile from a PPR standpoint anyway. There's a wide range of outcomes here, as Brown is as "safe" a bet as anyone on this slate to go for 100 yards on two or three catches. But you have to be willing to accept the risk.
Other Matchups:
Derrick Henry (RB, TEN)
Considering the strength of New England's pass defense, I'm betting the Titans' game plan for a road win in Foxborough is not to play into the Patriots' hands by trying to force the aerial game. Tennessee should be prepared to live and die by what it's able to establish on the ground through workhorse Derrick Henry, attempting to control time of possession and minimize the Patriots' chances to get anything of their own going. The matchup isn't favorable by any stretch of the imagination, but the volume should be.
Ryan Tannehill (QB, TEN)
While I think there are ways for Tennessee to pull off this upset, I'm not sure asking Ryan Tannehill to throw the ball often is one of them. For their faults, the Patriots remain one of the league's toughest teams to pass against. The best-case scenario for the Titans in this game is a low-scoring contest, so look for a spirited defensive effort and a heavy emphasis on the ground game in an effort to control the clock. This is not a knock on Tannehill, who has played tremendously down the stretch. I just don't like my hopes riding on a quarterback with the worst matchup of the slate.
Corey Davis (WR, TEN)
Even with A.J. Brown commanding most of the Patriots' attention, things don't figure to be any easier for Corey Davis. This is just an awful matchup for wide receivers, in a hostile road environment against the most experienced playoff team in the field. I'm avoiding Davis unless I need some sort of low-tier or minimum-salary lottery ticket to round out my lineup.
Jonnu Smith (TE, TEN)
Being the starting tight end in Delanie Walker's absence hasn't resulted in a super-productive fantasy role for Jonnu Smith, which is unfortunate considering the Titans finally have a quarterback who raises the value of his pass-catchers. Smith has netted a couple of touchdowns in his last four outings to keep him from disappearing completely, but his target share isn't promising enough to give him a high floor. The matchup is anything but inviting against a Patriots Defense that the fifth-fewest receptions to tight ends.
Sony Michel (RB, NE)
Sony Michel has put together three straight encouraging games on the ground, but I wonder if it isn't James White who owns the Patriots backfield on Saturday. The Titans allowed the second-most receptions to running backs in the regular season, and Michel, as we know, has no part in that aspect of New England's offense. Tennesee isn't the most inviting matchup on the ground, holding RBs to just four yards per carry. If I'm rolling Michel out there this week, I hope he scores a touchdown against the second-worst red zone defense in the NFL.
James White (RB, NE)
I'm envisioning an old school Patriots offensive showing against the Titans on Saturday, which means a heavy dose of James White. White ranked in the top 10 among all NFL players in red zone targets during the regular season with 19. A usage rate like that in scoring position makes banking on touchdown potential a little less frightening, and it's worth noting that White has scored four of his five receiving TDs in the last five weeks. Tennessee is a bad red zone defense and a friendly PPR matchup for backs. White is your guy this Saturday.
Rex Burkhead (RB, NE)
In typical Patriots fashion, Rex Burkhead is probably going to do something like score three touchdowns this week and be the reason his team moves on to the next round. But there is nothing in his numbers that suggest banking on such a day is the safe play. Burkhead has seen just two red zone carries in the last two months, and his touch count on a weekly basis is still coming in under double digits.
Tom Brady (QB, NE)
Maybe Bill Belichick and Tom Brady got tired of being respected and given the benefit of the doubt. Maybe this year is just one long experiment in which they're trying something new out for fun, and they're about to unleash a reminder on the NFL in Saturday's prime time contest. If that's the case, I don't know what evidence there is to support it. Brady just barely completed 55% of his passes in Week 17--a game the Patriots actually had to win. The Patriots we're accustomed to usually, you know, win those games. If there's anything to like about Brady, it's that he gets to play at home against a team with little recent playoff experience under its belt. The Titans are also not an intimidating pass defense. Neither were the Dolphins, Brady's Week 17 opponent...
Matt LaCosse (TE, NE)
Matt LaCosse wouldn't even be listed here if this were the regular season, but in a limited slate, you have to pick someone at each position and LaCosse won't cost you a second mortgage on DFS sites. Only six teams gave up more receiving yards to TEs than the Titans, and we've already mentioned what a dreadful red zone defense they are. The Patriots don't look to LaCosse in scoring position, but never say never in the playoffs.
Julian Edelman (WR, NE)
The Patriots do look to Julian Edelman in the red zone--20 times, to be exact, which ranks third in the NFL and first on his team. What is starting to concern me is that Edelman has now gone three straight games with five or fewer catches and seven or fewer targets. After being a weekly threat to reach 100 receiving yards, he has totaled just 107 in these last three games. It's not as though the Patriots had nothing to play for, either. Perhaps the injuries that have slowed Edelman in practice all year are finally starting to keep him in check during games.

Other Patriots Wide Receivers (WR, NE)
The Titans aren't an intimidating defense for wide receivers, but nobody in New England's corps has done anything to warrant your undivided fantasy attention. Even with Edelman struggling of late, there hasn't been a next man up. In thin slates, you inevitably have to take some chances, but good luck deciding which secondary receiving option in New England is worth it.
Matchups Analysis - Sunday NFC Wild Card Round
Minnesota Vikings at New Orleans Saints (1:05 PM ET)
Matchups We Love:
Drew Brees (QB, NO)
There is no masking the issue that Drew Brees has seen a decrease over the past few years when it comes to his arm strength, but head coach Sean Payton has done a fabulous job with game planning to have the team ranked first in overall passing success rate. A lot of Brees' damage comes from short-to-intermediate routes, and it just so happens that the Vikings play a man-to-man defense that allows quick hitters to wideouts. Perhaps we see the Vikings try to give the Saints a different look on Sunday, but there is no getting around the fact that Minnesota's corners have been a significant liability all year.
Kirk Cousins (QB, MIN)
Kirk Cousins uses the highest rate of play-action passes in the NFL, helping to not only negate pressure but also give his wideouts a chance to stretch the field vertically. If we look at how the Vikings graded out in 2019, they rank fifth in passing success rate and sixth in explosive throws. The Saints enter the week ranked 14th defensively in preventing big plays, making Cousins an intriguing option to consider on DFS sites with his reduced price tag. It seems logical that the Vikings are going to be forced to play from behind, which could raise Cousins' ceiling in the potential shootout.
Dalvin Cook (RB, MIN)
Critical injuries to defensive tackle Sheldon Rankins and defensive end Marcus Davenport haven't hurt the New Orleans Saints and their run defense yet, but a lot of that can be attributed to a manageable schedule of opposing rushers in recent weeks. Yes, the unit has held steady in not allowing a single 100-yard rusher in 29 games, but there have been some explosive performances here and there. Raheem Mostert was able to muster 69 yards on 10 carries in Week 14, and a Titans team without Derrick Henry was able to schematically find a way to get Dion Lewis 68 yards on 15 rushing attempts. I guess the point I am trying to make here is that the Saints haven't been tested since losing Rankins and Davenport, and Cook's outside rushing ability might be enough to expose New Orleans on Sunday.
Alvin Kamara (RB, NO)
To me, Alvin Kamara is going to end up being the x-factor on Sunday. After disappointing fantasy owners with just six total touchdowns in 2019 - a steep decline from his average of 15.5 scores over his first two seasons - Kamara has quietly had one of his best seasons out of the backfield catching the football. Despite missing two games this year, the 24-year-old back put together his third straight season of exactly 81 catches and should be a problem for the Vikings and their defensive style that allows quick passers to grade successfully. Kamara has an upside to score multiple times on the day and should be one of the top players you consider playing on the slate.
Stefon Diggs (WR, MIN)
The Saints can't be thrilled to face Stefon Diggs, who torched them in 2018 for a 61-yard touchdown as time expired during their divisional playoff game. While that sort of an explosion might not happen this Sunday again, Diggs does have a decent chance to find success against a Saints secondary that does have multiple injuries. I do believe CB Eli Apple, FS Marcus Williams and SS Vonn Bell all play, but it is impossible to know how productive they will be. Diggs should have multiple deep shots thrown to him during the Wild Card round, and my money is on him being able to bring in a few of them for big plays.
Michael Thomas (WR, NO)
Michael Thomas was limited at practice on Wednesday, but there is nothing to suggest that the NFL's top pass catcher is in any danger of being out this weekend. If you are looking for a reason to fade Thomas, his expensive price tag on DraftKings makes him $1,600 more pricey than the second-highest option on the board, but Thomas is worth the price of admission and is an excellent cash-game play to consider.
Matchups We Hate:
None
Other Matchups:
Latavius Murray (RB, NO)
Before Week 17s enhanced workload of 18 total touches, Latavius Murray had failed to surpass 12 touches in seven straight games. There will be an opening for touchdown upside against a suspect Vikings Defense, but game script might dictate this to be a contest that features a heavy dosage of Alvin Kamara. Murray shouldn't be entirely faded, but you might find yourself disappointed if he fails to find the endzone.
Adam Thielen (WR, MIN)
Adam Thielen is the wildcard for the Vikings during the Wild Card round. Injuries tarnished Thielen's 2019 campaign, but he now gets a chance to reset and produce if he is healthy. It remains to be seen if he is fit enough to produce, but there are worse dart throws you can make on the board.
Tre'Quan Smith (WR, NO)
Tre'Quan Smith provided his best game of the season in Week 17, catching all five targets for 56 yards and a score. Consider Smith a risky proposition to repeat his production after catching only 18 passes all year, but his five touchdowns shouldn't be discredited. Brees clearly trusts him in the red zone.
Kyle Rudolph (TE, MIN)
As has been the case in prior weeks, Kyle Rudolph is a touchdown-dependent option for your DFS lineups. However, I am not opposed to the idea of trying to sneak him into your roster for cheap since the game is projected to be a potential shootout. There is some risk involved, but Rudolph has the potential to find the endzone on Sunday.
Jared Cook (TE, NO)
After getting off to a slow start to the season. Jared Cook closed the year with nine touchdowns - five of which coming in the final four weeks. Cook has quickly transformed into the third option on the team behind Michael Thomas and Alvin Kamara and should be one of the better producing TEs in action this week.
Seattle Seahawks at Philadelphia Eagles (4:40 PM ET)
Matchups We Love:
Miles Sanders / Boston Scott (RB, PHI)
Miles Sanders was listed as a non-participant during practice on Wednesday, but the session was only a walkthrough and shouldn't indicate if he will be ready to go for the first round of the playoffs. Assuming he is healthy enough to suit up and play, Jordan Howard would take a backseat after not playing since Week 9 of the NFL season. The Seahawks have struggled against rushers this year, ranking just 20th in defensive success rate against the rush and could have their hands full with Sanders on the day. As for Boston Scott, the Eagles have run out of pass-catchers and seem committed to finding a way to get their newfound gem the ball in space. Six or more targets through the air are not out of the question, making Scott a potential bargain at his price tag.
Dallas Goedert (TE, PHI)
With Zach Ertz heavily on the wrong side of questionable and still not cleared for contact because of rib/kidney injuries, Dallas Goedert will most likely continue his run as the teams' primary option through the air. The big-body TE was only able to bring in four of 10 targets during Week 17s crucial must-win game, but the increased workload has now given him 22 pass attempts thrown his direction over the past two weeks. Volume should be there again, making him perhaps the top TE on the board this week.
Matchups We Hate:
Jordan Howard (RB, PHI)
Getting Jordan Howard back for the Eagles has more of an impact on their actual performance than it will his fantasy upside. It is hard to imagine that the veteran will see much of a workload after not playing since Week 9, but it is crucial to see if Miles Sanders is able to play. If he were to be ruled out before Sunday, Howard would likely step into a more significant role than the team would care for him to have after not playing for over two months.
Other Matchups:
Russell Wilson (QB, SEA)
Russell Wilson might perhaps be the most valuable player to his team over any other NFL option, but there is no getting around the fact that he cost the Seahawks a chance of defeating the 49ers last Sunday night. After completing a pass down to the one-yard line, Wilson quickly spiked the ball, which probably wasn't necessary, and then proceeded to take a delay of game penalty to move the team back to the six-yard line. The matchup this week against the Eagles will be the second time these two teams have faced off this year, and if past showings are any indication of what is to come, Wilson was only able to put together 13 of 25 passes for 200 yards. The Seahawks were able to get the victory on the day, but the playoff atmosphere in Philadelphia this time around might be too much for the one-dimensional Seahawks to overcome.
Carson Wentz (QB, PHI)
If you can't tell, I am not overly ecstatic to start either QB on DFS sites this week. I'd much prefer to target one of the two options in the Saints/Vikings game, and I even think Tom Brady makes for an interesting contrarian route to take. Carson Wentz has done the most with what is available to him in 2019, but another game without Zach Ertz or any of his top wideouts doesn't make the Eagles QB someone that I am overly excited to play.
Marshawn Lynch / Travis Homer (RB, SEA)
I was moderately impressed with both Marshawn Lynch and Travis Homer during Week 17. Lynch led the way with 12 carries for 34 yards and a touchdown, while Homer added five receptions and 62 yards on the ground over his 10 carries. Despite the better than expected results, this is clearly not the position that the Seahawks were hoping to be in come playoff time. I find it challenging to get overly excited about either Lynch or Homer on Sunday and would prefer to look elsewhere for production.
Greg Ward (WR, PHI)
By default, Greg Ward is the only healthy body left in Philadelphia. His seven targets were second on the team to Dallas Goedert's 10 in Week 17, and his 40 targets during the last six games have made him Carson Wentz's go-to wideout. Ward's role isn't going away anytime soon, and he will have to step up and make plays if the Eagles want to advance out of round one. If you are looking for a cheaper option that can produce, look no further than the former AAF star.
Tyler Lockett / D.K. Metcalf (WR, SEA)
It has been a wild ride for both Tyler Lockett and DK Metcalf in 2019. The level of inconsistency that both have shown has about as much to do with Seattle's run-first nature as it does inconsistent volume. I realize Lockett has dealt with injuries that decimated a portion of his season, but a culmination of all the above has hurt if you are looking for a steady floor. I am not necessarily going to talk you out of playing either man this Sunday, but do be aware that their vast array of outcomes will make them better GPP plays than cash-game options.
Jacob Hollister (TE, SEA)
Jacob Hollister caught four of eight targets for 25 yards in Sunday's 26-21 loss to the San Francisco 49ers. Hollister was second on the team in targets behind DK Metcalf's 12, but the play he will be remembered for most was failing to get into the endzone on the Seahawks' final snap of the game. Hollister has now gone six straight games without a touchdown and has averaged four catches and nearly 35 yards per game during that period. I don't believe we see Seattle pushing the tempo on the road in Philadelphia and would downgrade Hollister slightly for their difficult Wild Card matchup.
More Start/Sit Advice