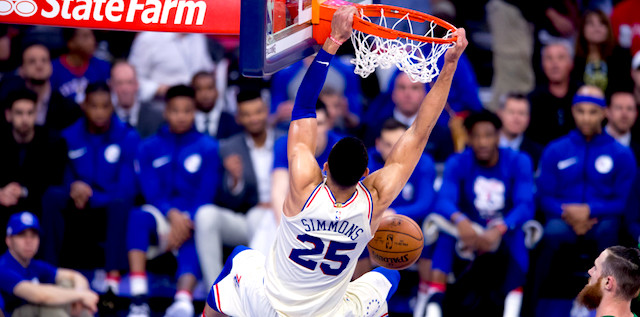 Welcome to the fantasy basketball risers and fallers column, a weekly look at a few players whose stock is rising and a few who've been struggling with some analysis of why that's been the case. As always, this doesn't mean you need to drop these players who are struggling, but this could be a useful piece for making some trade decisions or for making some tough lineup choices.
It's the week of the young player, as guys who should be blossoming into stars seem to be doing that. Luka Doncic, anyone? He's on an incredible tear right now, playing some historically great basketball and showing why he should have been the first overall pick. I have so many versions of that "I'm going to tell my kids this was" meme in my head involving the 2018 and the 1984 NBA Drafts.
If you have other questions, follow me on Twitter, where I'm always willing to respond to your tweeted questions: @juscarts
Editor's Note: Our friends at Monkey Knife Fight have the best, most fun, fastest growing DFS props game! It's super simple to play and to win real money. Just choose your NBA, NHL or PGA game, and make your picks! Get a 100% instant deposit bonus up to $50 using promo code: BALLER. That's $50 for free - don't miss out!
Play Now!
Fantasy Basketball Risers
Mohamed Bamba - C - Orlando Magic
If Bamba is ever going to shine in Orlando, this is his chance.
Nikola Vucevic and Aaron Gordon both have ankle injuries. Vucevic will be out the longest of the two, with Bamba expected to pick up some of the slack with Orlando's star big man out for likely a month or more.
Bamba's NBA career has been fairly pedestrian so far. In his second season, he's playing just 13.4 minutes per game, with 3.8 points and 4.2 rebounds per contest. He hasn't played more than 15 minutes in a game yet this year.
Not, uhh...not great.
But Bamba has some range plus the ability to crash the boards and get blocks, so there's upside during this tough stretch for Orlando. If Bamba is going to be a quality NBA big and not just best known for his name being used in that "Mo Bamba" song, the next month is crucial.
DeMar DeRozan - G - San Antonio Spurs
The Spurs look like they're finally going to miss the playoffs this year, but DeRozan is playing some good basketball lately from a statistical point of view.
Over the last week, the veteran guard has averaged 28 points per contest along with 6.5 rebounds and 4.0 assists. He's shot 54.9 percent from the floor over that time.
For fantasy owners who ignore threes, DeRozan has always been a valuable asset. He avoids the long ball, but by doing so is able to help tremendously in field goal percentage because he works the ball inside.
Brandon Ingram - F - New Orleans Pelicans
While I'm not sure I agree with this:
Brandon Ingram is now better than Ben Simmons. Far superior scorer—P&R, spot-up, iso. Good passer. Versatile defender. 26 PTS, 7 REB, 4 AST. No reason to celebrate after a made 3. He hits them all the time.

Listen to the NBA Show: https://t.co/J4HgpmT9iBhttps://t.co/3ylLEo4Scp pic.twitter.com/7IeqHWhsl7

— Kevin O'Connor (@KevinOConnorNBA) November 22, 2019
...I do think that Ingram is proving his worth in New Orleans this year and is on the upswing.
This week, Ingram averaged 24.5 points and 7.5 rebounds per game, as well as 5.0 assists, 1.5 steals, and 1.5 blocks. I do worry that Zion Williamson's eventual NBA debut cuts into some scoring chances for Ingram, but it should also serve as a way of making him more efficient due to easier defensive looks, so I'm not too worried about the whole Zion thing.
Ingram's passing skills are definitely underrated, and he gives New Orleans a strong playmaker at the forward spots. With Lonzo Ball not playing so well, I wouldn't be shocked to see more of Ingram as the primary initiator offensively at times.
Ben Simmons - G - Philadelphia 76ers
He made a three!
I don't have anything else to say about Simmons, but if you're a Simmons owner and you win the three-point category by one made three this week, you know who to thank.
Luka Doncic - G/F - Dallas Mavericks
Yeah, Luka's gone crazy.
This week, he averaged 33.3 points, 10.8 rebounds, and 11.0 assists per game. He's probably a top-five fantasy asset going forward, a guy who's putting himself in the MVP conversation in just his second season.
He's also the biggest trade asset in fantasy basketball right now. If you have Luka and then garbage around him, you could potentially turn him into a huge windfall to help your team out. You'd be losing an irreplaceable player, but sometimes you just gotta leverage things in certain ways to make certain outcomes happen.
Fantasy Basketball Fallers
Dario Saric - F - Phoenix Suns
Expected to be a big acquisition for a Suns team with vague playoff aspirations, Saric's last three games have not gone well. 5.3 points. 21.7 percent shooting. Just one made three per game. He's at least still grabbing some rebounds, but the struggles have to be concerning. Will Saric be in this rotation still once Deandre Ayton comes back and the team's got to figure out things with the frontcourt? Probably, but if he keeps playing like this, some doubt gets introduced to that topic.
Gary Harris - G - Denver Nuggets
Harris seems like he's never going to become the break out star that so many people thought he could in Denver. I remember when the idea of Harris being the second-best player on a contending Nuggets team made sense, but he's dropped down the list of that team's best players.
Harris isn't bad, but he has such a low fantasy ceiling. In 14 games this year, he's never hit 20 points. Never had double-digit rebounds. Never had more than four assists. He's made three or four (and never more than four) threes just twice. His minutes are fairly consistent, but Harris plays such a reduced part of what the Nuggets do when it comes to the counting stats. Maybe he never bottom outs and hurts you, but he doesn't have the upside to help carry your team if you're dealing with injuries or issues with your roster construction.
More Fantasy Basketball Analysis