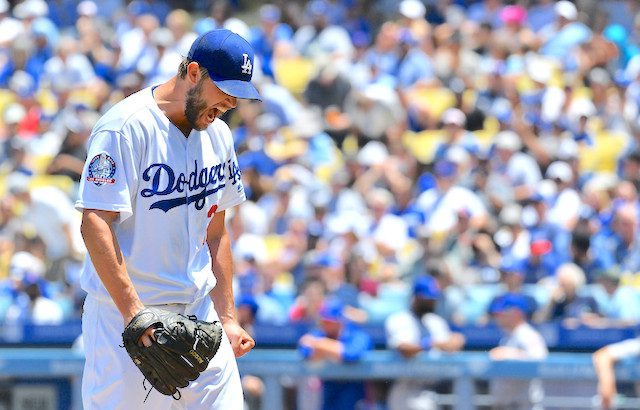 The month of May is now just about half over.  Fantasy teams are getting to the "desperation point" of falling too far behind in their respective leagues. The "Super Two" players will soon be brought up and they could save your team. One way of having room on your roster is to drop injured players. In trading leagues, trading injured players for your needs may be a way to salvage your season as well. Injuries, like every year, continue to be an issue for many Major League Baseball teams as well as your fantasy team. I will continue to highlight players on the IL with their hopeful return timeframe and the next man up.
A little about myself for new readers: My name is Reuven Guy and I am a practicing orthopedic/pain management Physician Assistant. I have been dealing with sports injuries for the past 15+ years and have a knowledge of orthopedic injuries and their recovery times based on my medical experience. I have also been playing fantasy baseball during that same time period, which has helped me get an advantage in this aspect of fantasy baseball, which I hope to share with you.
Make sure to stay up-to-date on the latest MLB breaking news with our award-winning news desk and our free fantasy baseball mobile app with 24x7 push notification alerts!
Featured Promo: Get your 2023 MLB Premium Pass for 50% off. Exclusive access to our preseason Draft Kit, #1 accuracy rankings, #1 ATC projections, Team Sync platform, Live Draft Assistant, 15 in-season lineup tools, customized rankings and much more!
Sign Up Now!
MLB Injury List Update
One thing to note for all the fantasy baseball injury news is what type of IL the players are being placed on. Besides the regular IL for injuries, there is also a COVID IL. There continues to a be an uptick of players placed on this list. COVID positive coaches even forced the postponement of a game between the Guardians and White Sox earlier this week.  Vaccinated players with close contacts have no minimum stay, which could frustrate fantasy owners everywhere. Non-vaccinated players still need to stay 7-10 days on the IL, at minimum.  The current MLB IL is now at 15 days.
One can learn a lot about the players' current injury based on which IL they get put on. Teams will be placing injured players on the 60-day IL to create for themselves more roster flexibility as those players do not count against the active 40-man rosters. More importantly, if a player is hurt and is placed on the 15-day IL, the team then believes that the player will be back sooner than the 60 days or mid-June.
Also of interest, MLB will allow rosters to have 14 pitchers on their active rosters through May 29, and then the limit of 13 pitchers will take effect. This will go into the thinking of Major League teams when calling up players for injured ones. When picking up and dropping players, keep that in mind.
Injured Hitters for Fantasy Baseball
Bryce Harper (OF, PHI)- Elbow- Harper was diagnosed with a "small tear" in his UCL in his throwing arm. He is unable to throw for the next few weeks but he continues to DH. Ultimately, he may require Tommy John surgery for his elbow, but Harper will continue to play through the injury as long as he can, thanks to the universal DH.
Ronald Acuna (OF, ATL)- Groin- Acuna is dealing with a sore groin and has missed the last few games due to this. The Braves, at first, did not seem especially concerned about the injury but Acuna was scheduled to have an MRI performed. The MRI did not show any structural damage and the Braves hope he could return on Monday. If he is not back by then, he could end up on the IL. This injury may be a result of Acuna coming back to his "normal self" (stealing bases and playing the outfield) a little too quickly and too often since his return from a knee injury. The MRI will give a better idea of what is going on.  Travis Demeritte or Marcell Ozuna will get more time in the outfield until Acuna returns.
George Springer (OF, TOR)- Ankle- Springer injured his ankle after crashing into the outfield wall while attempting to make a catch. He was not sent for testing after the game and his sprain is considered mild. He is day to day for the time being. The Blue Jays think he will not have to be placed on the IL. Ramiel Tapia may get more playing time with Springer out.
Jeremy Pena (SS, HOU)- Knee- Pena was taken out the Astros game on Thursday night due to right knee discomfort. He was not likely to play Friday's game. Severity is not yet known and it is unknown if he will require a stint on the IL. With Aledmys Diaz also out, Niko Goodrum could see more playing time.
Andrew Vaughn (OF, CHW)- Hand- Vaughn was placed on the IL with a bruised right hand. Vaughn was scheduled to start his rehab assignment this past Wednesday and hit two home runs in his last rehab game. He was activated off of the IL on Friday but was not in the starting lineup. Although the White Sox have said there is no fracture, there is still soreness and could even affect his power. 
Carlos Correa (SS, MIN)- Finger- Correa was initially believed to be dealing with a non-displaced fracture in his right middle finger after being hit by a pitch but the finger is ultimately just bruised and sore. A CT scan was performed and no fracture was seen. Correa was placed on the IL and hopes to return from the IL after a minimum-length stay. Royce Lewis has been filling in at  shortstop for the Twins
Edward Olivares (OF, KC)- Quad- Olivares was placed on the IL with a strained right quad. Severity is not yet known, however, the Royals anticipate Olivares will miss about six weeks.
Mitch Haniger (OF, SEA)- Ankle- Mariners manager Scott Servais said that Haniger is dealing with a Grade 2 high-ankle sprain. Haniger expects to miss 10-to-12 weeks due to the injury he sustained April 29 "From there, honestly, it's like a wait-and-see kind of thing," Haniger said, regarding his timeline for a return "As far as getting back in games, I think like a rough estimate would be from date of injury is 10-to-12 weeks, but at the same time, I've heard it can go on the earlier end and I've also heard on the longer end." Steven Souza and  Dylan Moore should split time in the outfield for the Mariners. With Haniger out for an extended time, Kyle Lewis, who could be activated from the IL soon, looks to be in line to have a role right when he comes back.
David Fletcher (2B, LAA)- Hip- Fletcher underwent surgery to repair the adductor muscles in both legs this past week and is expected to be sidelined for "a couple months." 
Kris Bryant (OF, COL)- Back- Bryant is on the IL with a back injury. There is no timeline for his return as Bryant has not begun hitting again. He was set to have a cortisone shot this past week. He took light batting practice on Friday and if all goes well, he could return to the Rockies lineup next week. Sam Hilliard and Garrett Hampson could see more playing time for the Rockies.
Jonathan India (2B, CIN)- Hamstring- India landed back on the IL this week with the same injury that landed him on the injured list earlier this year. India  will likely require a rehab assignment before rejoining the Reds. He has been participating in agility drills and he's taking part in glove work and tee work a day later. Manager David Bell said on Wednesday that a rehab assignment hasn't yet been planned, but it could begin near the end of next week. Brandon Drury and Matt Reynolds should get more playing time with India out.
Danny Jansen (C, TOR)- Oblique- Jansen is on the IL with an oblique injury. He began a rehab assignment earlier this week and could return with the next seven to ten days.
Nick Madrigal (2B, CHC)- Back- Madrigal was placed on the IL with lower-back tightness. Madrigal felt the tightness during Monday's game. Ildemaro Varga could see more playing time.
Roberto Perez (C, PIT)- Hamstring- Pirates GM Ben Cherington said last Sunday that Perez's strained left hamstring is on the "more severe side of things," suggesting that the catcher could be in store for a long-term stay on the IL. Andrew Knapp and Michael Perez should see more time behind the plate for the Pirates.
Mitch Garver (C,TEX)- Elbow- Garver was placed on the IL with a flexor sprain. Severity is not yet known. His expected return date is not yet clear. Jonah Heim and Sam Huff will see more time behind the plate for the Rangers.
Kevin Newman (2B, PIT)- Groin- Newman is expected to begin a rehab assignment "in the coming days.," Newman will test his injury by running the bases by the end of the week. Newman was expected to miss 3-to-5 weeks after landing on the IL on April 27, so he may have a long rehab assignment.
Ryan Mountcastle (OF, BAL)- Wrist- The Orioles placed Ryan Mountcastle on the with a left wrist forearm strain, retroactive to May 11. He had missed two games and then placed on the IL.  Severity is not yet known. Tyler Nevin could see more playing time in the outfield for the Orioles.
James McCann (C, NYM)- Wrist- McCann was diagnosed with a fractured hamate in his left wrist on Friday after having an X-ray performed. He was placed on the IL, will require surgery and be out for about six weeks. Patrick Mazeika was called up and Tomas Nido should see the most time behind the plate with McCann out.
Joey Wendle (3B, MIA)- Hamstring- Wendle was placed on the IL with a right hamstring strain, retroactive to May 12. Severity is not yet known. Brian Anderson was activated off of the COVID IL to replace him.
Tyler Stephenson (C, CIN)- Head- Stephenson left Saturdays game after taking a ball off of the mask. Stephenson had returned from having a concussion less than two weeks ago. There may be concern of him suffering another concussion. If this is the case, the Reds may end up trying to play him more at first base or at DH when Joey Votto comes back in order to keep his bat in the lineup.
Injured Starting Pitchers for Fantasy Baseball
Jacob deGrom (SP, NYM)- Shoulder- deGrom was placed on the IL with a stress reaction in his right scapula.  He has been cleared to begin strengthening his shoulder muscles and has begun throwing and playing catch at 60 feet. deGrom is expected to undergo another MRI soon to determine the next steps in his rehab.
Jack Flaherty (SP, STL)- Shoulder-  Flaherty is on the IL with a shoulder injury. He was supposed to have two bullpen sessions this past week, first two since resuming his throwing program in mid-April. Flaherty checked out fine after completing the bullpen session. Since Flaherty will at some point need at least two sim games or minor-league rehab outings to build up his pitch count, he may be trending toward an early June return.
Clayton Kershaw (SP, LAD)- Back- Kershaw was placed on the IL with right SI joint inflammation. This is the joint that connects the sacrum (part of the back below the lumbar region) and the ileus (pelvic bone). The Dodgers are hopeful that he will be able to return following a minimal stay on the IL. Initial reports indicate the team doesn't seem overly concerned about his injury. No word on who will take his spot in the rotation.
Chris Paddack (SP,MIN)- Elbow- Paddack was placed on the IL this week with an elbow injury. Paddack was seeking a second opinion on his elbow and could require surgery. The decision on his treatment plan has not yet been made. Jharel Cotton was recalled to take Paddack's place on the Twins roster.
Lance Lynn (SP, CHW)- Knee- Lynn is on the IL following knee surgery. His rehab is going well and Lynn is targeting a return in early June. He has been throwing off a mound and is close to throwing against live hitters.
Blake Snell (SP, SD)- Groin- Snell was placed on the IL with left adductor tightness. Snell has said this injury is "way more minor" than the issue he dealt with in 2021, but was still forced to the IL. Snell made his final rehab start this past Tuesday and could be activated as early as this weekend. 
Andrew Heaney (SP, LAD)- Shoulder- Heaney was placed on IL with shoulder soreness. Heaney has begun a throwing progression but there is no word on a return timeline. 
Matt Manning (SP, DET)- Shoulder- Manning was placed on the IL with shoulder inflammation. Manning was scheduled to make his second rehab start this weekend. 
Cole Irvin (SP, OAK)- Shoulder- Irvin is on the IL with left shoulder soreness. He was scheduled to throw a bullpen session this weekend and is scheduled for a rehab start on Tuesday. If all goes well, he could be activated by the end of next week.
Casey Mize (SP, DET)- Elbow- Mize is on the IL with a medial collateral sprain or golfers elbow. Mize had his first rehab game this past week and will need at least one more before he is activated.
Hyun Jin Ryu (SP, TOR)- Forearm- Ryu was placed on the IL with left forearm inflammation. Ryu has completed his rehab assignment and was activated from the IL to start Saturday's game.
Nick Lodolo (SP, CIN)- Back- Lodolo was placed on the IL with a lower-back strain. Lodolo was able to play catch this week but there is no timeline for his return at this time.  
Anthony DeSclafani (SP, SF)- Ankle- Desclafani was placed on the IL with right ankle inflammation. DeSclafani visited an ankle specialist and underwent an MRI, but the test didn't reveal anything more than the inflammation. He began playing catch this week and has no clear timeline for his return yet.
Stephen Strasburg (SP, WAS)- Neck/Shoulder- Strasburg is on the IL as he continues to rehab from thoracic outlet surgery. Strasburg has thrown one sim game already and threw a  second sim game on Friday, two innings. There is no clear timetable for his return yet.
Michael Pineda (SP, DET)- Finger- Pineda was hit in the right hand with a comebacker and ended up with a fractured middle finger. He was placed on the IL. Finger fractures take anywhere between three to five weeks to heal if surgery is not needed. No word as to who will take his spot in the rotation. Both Casey Mize and Matt Manning are close to returning from the IL for the Tigers.
Injured Relief Pitchers for Fantasy Baseball
Dylan Floro (RP, MIA)- Shoulder: Floro has been on the IL with shoulder tendinitis. He continues his rehab assignment and should be activated soon as most of this past weekend, he pitched on back-to-back days.
Jake McGee (RP, SF)- Back- McGee was placed on the IL with lower-back tightness. This may explain his recent ineffectiveness.  Camilo Doval should be the primary closer for the Giants going forward.
Lucas Sims (RP, CIN)- Back- Sims was placed on the IL today with low back spasms, retroactive to May 11. He was diagnosed with a bulging disc in his back. There is no timeline for his return.  Art Warren, Tony Santillan and Hunter Strickland are in the mix for the closer role for the Reds.
Aaron Bummer (RP, CHW)- Knee- Bummer is on the IL with a sore knee. He believes that he can return from the IL after only the minimum IL stay. Bummer has begun throwing but has not yet progressed to running.



Download Our Free News & Alerts Mobile App
Like what you see? Download our updated fantasy baseball app for iPhone and Android with 24x7 player news, injury alerts, sleepers, prospects & more. All free!


More Fantasy Baseball Advice