Once again, the streaming landscape may be in flux this coming week due to the trade deadline. There are still a wealth of streaming options, especially starters on non-contenders whose rotation spots should be safe for the remainder of the year. But who can you trust?
This fantasy baseball waiver wire pickups column aims to identify starting pitchers expected to make two starts in the upcoming fantasy baseball week, ahead of the Sunday night waiver wire runs for leagues with weekly transactions.
This list will be limited to players under 50% rostered in Yahoo leagues and divided into three sections based on recommendation levels: solid starters, risky streamers, and must-avoids.
Featured Promo: Want a free RotoBaller Premium Pass? Check out these sports betting promo offers from the top sportsbooks! All new sign-ups get a free bonus offer on their first deposit, and a free year of RotoBaller's Premium Pass for all sports ($450 value)!
Sign Up Now!
Solid Two-Start Pitcher Streamers
Keegan Thompson, Chicago Cubs - 43% rostered
Scheduled starts: @STL, vs MIA
Thompson came out of the gate firing with seven scoreless innings, seven K, and no walks on July 26. That was against the Pirates, though. He'll get to face division for St. Louis for only the second time this season and then an injury-ravaged Marlins team that no longer looks like a playoff contender.
Thompson has been mostly effective in his time as a starter albeit with bouts of inconsistency. Every so often, his command escapes him.
Those moments have mainly come against top contenders; the only games in which he walked more than two batters came against the Mets, Yankees, Dodgers, Red Sox, and Cardinals. Yes, the Cards are one of those teams. He came away without allowing too much damage in that outing, allowing three ER on five hits over five and one-third innings. If he can manage a quality start this time around, he could dominate later in the week in a matchup with Braxton Garrett. That outing alone should make him a solid option.
Braxton Garrett, Miami Marlins - 39% rostered
Scheduled starts: vs CIN, @CHC
Here's another chance to spotlight the young Marlins pitcher who has a chance to make a big impression through the second half. Garrett is a lefty with a five-pitch mix who doesn't boast impressive velocity but has found a true out pitch in his slider. He recently explained how that came to be the case.
On the Marlins TV broadcast, Braxton Garrett details why he adopted the slider as his primary breaking ball and what's making it so effective this year. Good content. pic.twitter.com/X4aL6huTZu

— Fish Stripes (@fishstripes) July 24, 2022

He's generating an astounding 42.3% Whiff% on the slider, which is his primary pitch. While we're looking at a 10-game sample size right now, Garrett boasts a 19.6 K-BB% on the season and has been very consistent. It may not look that way if you take his last start into account when he allowed five runs to the Reds. Even in that start, he only walked one while striking out eight.
He has a tendency to leave the ball over the plate a bit too much at times, so aggressive teams may take advantage. Turns out he gets that same Cincinnati team early this week before facing the Cubs, who may be without Willson Contreras and other pieces after the trade deadline. Garrett has flashed tremendous K upside, superb control, and has a cake schedule, at least on paper. Add wherever possible and consider holding long-term if all goes well.
Brady Singer, Kansas City Royals - 32% rostered
Scheduled starts: @CWS, vs BOS
Streamer? Why isn't Singer being added in all leagues at this point? He was already putting together a strong run of starts until a road matchup with the Yankees loomed. Then the unthinkable happened - he dominated them.
If you didn't think Brady Singer was the real deal before tonight, you are certainly sold on him now, right?

7 innings, one hit, one walk, 10 strikeouts vs. the YANKEES. #MLB

— "Thunder Dan" Palyo (@ThunderDanDFS) July 29, 2022

That gives him a 2.05 ERA, 1.24 WHIP, and 42 K in five July starts. Not too shabby.
I'm not even going to discuss the schedule for Singer - if he can conquer the Yanks, then both shades of Sox should be no problem. The lack of offense, which gets worse without Andrew Benintendi and potentially Whit Merrifield if he happens to be dealt, does hurt his chance to earn victories. Otherwise, there is no reason Singer doesn't belong on roto team rosters all over.
Risky Two-Start Pitcher Streamer Picks
Josiah Gray, Washington Nationals - 48% rostered
Scheduled starts: vs NYM, @PHI
Gray was over the 50% mark for a spell but has now dipped back down to streamer status. He was lights-out in June but July wasn't nearly as kind as he posted a 6.65 ERA in his last 21 2/3 IP. The problem remains the same - home runs in droves. He has given up eight HR in his last four starts, tying him for the Major League lead with Hunter Greene at 23 HR on the season.
The good news is that the strikeouts haven't gone away. He ranks 27th in total Ks and whiffed 30 in his last four starts all while he was getting taken deep. So how do we assess Gray? It seems logical that a matchup against less homer-prone teams would work in his favor. That's a complicated issue with the Mets and Phils.
On the year, Philly has the sixth-most home runs while the Mets are down at 19th. That's misleading, however, as the loss of Bryce Harper has made this a different team. Since the second half got underway, the Phillies have just eight homers. Unless Nick Castellanos suddenly wakes up, this isn't too dangerous of an offense. The Mets have two true power bats in their lineup, Pete Alonso and Francisco Lindor. Otherwise, Gray stands to get by without too much threat this week.
Kyle Gibson, Philadelphia Phillies - 33% rostered
Scheduled starts: @ATL, vs WAS
It seems as if Gibson is good for two or three starts before he gets ripped to shreds. He was surprisingly shelled by the Cubs for six runs and followed it up by limiting the Braves to two ER over six frames. Go figure.
The Braves will be waiting for him in Atlanta when he faces off with Spencer Strider. If he can get by that start, a cake matchup with the Nats is next. It's hard to know what to expect out of Gibson in any given start so he can't ever be considered more than a roll of the dice.
Domingo German, New York Yankees - 28% rostered
Scheduled starts: vs SEA, @STL
German has made two appearances since clearing the injured list on July 21st. Neither went especially well but they did come against the Astros and Mets. He was able to strike out seven batters in fewer than five innings the last time out and should continue to slowly stretch out to longer outings. His nemesis has been the long ball so far, allowing three HR already.
If you're looking for wins, German has a strong chance to help given his team context. The only thing is that he'll have to last at least five frames which he hasn't done yet. He also faces two playoff contenders in Seattle and St. Louis. German is one of the more talented arms on this list but the risk is clear given his recent activation from a shoulder injury.
Marco Gonzales, Seattle Mariners - 26% rostered
Scheduled starts: @NYY, vs LAA
The first start of the week for Gonzales comes against the aforementioned German, so pick your poison. Gonzales certainly has less strikeout potential. In fact, that's being too generous; his 12.4% K% is downright anemic. He's also prone to the homer ball, making this an extremely bad spot to trust him. The following matchup with the Angels is far more friendly. Unless you're desperate for a W and don't want to roll with German, try to find a better choice than Gonzales.
Kutter Crawford, Boston Red Sox - 12% rostered
Scheduled starts: @HOU, @KC
Crawford has been solid through his rookie campaign, posting a 4.15 ERA and 1.22 WHIP with a 25.1% K%. He's been better in the rotation, posting a 3.41 ERA and .217 BAA. The dilemma with adding him this week is that he starts off the week traveling to Houston, which is third in runs scored since the break. Crawford hasn't been hit hard since becoming a starter but that doesn't mean it won't happen at some point. He is almost a must-start when facing the Royals so weigh your confidence level in him over the Astros before clicking the "Add Player" button.
Spenser Watkins, Baltimore Orioles - 12% rostered
Scheduled starts: @TEX, vs PIT
How's he doing it? Watkins had gone four straight starts allowing one or no runs and no more than five hits until his most recent outing when the Rays hit him fairly hard. This despite a Statcast profile filled with blue.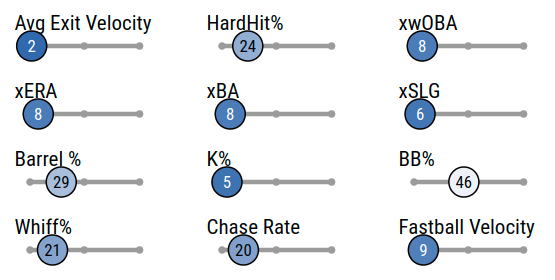 With a strikeout rate in the fifth percentile, he skates on thin ice for fantasy purposes. I don't want to suggest streaming him but the schedule almost begs it. He gets the Rangers again after recently holding them to one run and four hits over six innings and follows it up with the Pirates. Watkins can't be a high-priority add but he certainly looks safer than vets like Gibson, Gonzales, or Keller.
Bryse Wilson, Pittsburgh Pirates - 0% rostered
Scheduled starts: vs MIL, @BAL
After a successful stint at Triple-A Indy, Wilson came back to the bigs and did OK. He managed to spin a quality start his last time out and has lasted at least six innings in three of his four July starts since rejoining the rotation. That offers some hope that he can chew up innings for the Bucs down the stretch. It doesn't offer too much hope for fantasy leagues considering he will be hard-pressed to earn a win and still has a lowly 15.6% K%. He's got two fairly tough matchups this week, so only add him in lieu of any of the pitchers listed below this point.
Stay Away from these Two-Start Pitchers
Brad Keller, Kansas City Royals - 12% rostered
Scheduled starts: @CHW, vs BOS
Another roller coaster type - you don't know what to expect out of Keller in any given start. I always refer back to the crucial peripherals relating to command and he doesn't pass the test. In five July starts, he has a 22-14 K-BB rate. On the year, he has a 7.2 K-BB%. He's also playing for a team that is selling off pieces and won't offer him much of a chance to earn wins. Facing two potent offenses (yes, Boston still mostly counts), it's a good week to keep Keller shelved.
Chris Archer, Minnesota Twins - 9% rostered
Scheduled starts: vs DET, vs TOR
Enough virtual ink has been spilled on these web pages explaining why Archer doesn't have enough upside to warrant consideration as a streamer. Aside from low pitch counts and minimal K upside, he's now proven to be a liability to ratios with his last two outings, allowing four and six ER, respectively. Hard pass.
Patrick Corbin, Washington Nationals - 8% rostered
Scheduled starts: vs NYM, @PHI
If you were holding onto any hope of Corbin reviving his career, your optimism has not served you well. In his latest blowup, Corbin didn't make it out of the first inning against the Dodgers after giving up six straight hits. That brings his ERA back up to 6.49 and his WHIP to 1.77, which is about where it's been most of the year. Needless to say, he has no business on fantasy rosters.
Jose Urena, Colorado Rockies - 4% rostered
Scheduled starts: @SD, @ARI
I tried to warn you weeks ago. Urena has never been more than an innings-eater with a low strikeout rate that puts your ratios in imminent danger. He punished anyone who took a chance on him after the break, especially in his latest outing when the Dodgers pounded him for eight hits and scored 10 times (seven earned). That comes on the heels of allowing five ER to the Brewers. The fact he won't pitch in Coors this week doesn't even matter.
Spencer Howard, Texas Rangers - 1% rostered
Scheduled starts: vs BAL, vs CWS
Howard is coming off a strong showing where he blanked the Angels for five innings and earned his second win. It wasn't too impressive considering it was a lineup without Mike Trout that featured Luis Rengifo hitting third, Max Stassi hitting fifth, and guys like David Fletcher, Andrew Velasquez, and Magneuris Sierra filling out the bottom. It'll take more than one start to convince anyone that Howard is good.
He now faces a much-improved Orioles squad and then the White Sox, who are almost back to full strength and could get Luis Robert back by the end of the week. Despite registering a K-rate in the 30s throughout the minors, Howard is at 18.8% K% this year and 21% for his MLB career. Howard is still very much a risk and isn't striking out batters nearly enough to be enticing.
Tyler Alexander, Detroit Tigers - 1% rostered
Scheduled starts: @MIN, vs TB
This four-year MLB vet began the year in the rotation before doing the very Detroit thing for pitchers and landed on the injured list with an elbow strain. He returned to the bullpen in June but is now being asked to start once again. Given how he's been used, we're likely looking at a low pitch count and low strikeout rate with almost no hope of a win. In other words, he's the left-handed version of Chris Archer.
Antonio Senzatela, Colorado Rockies - 1% rostered
Scheduled starts: @SD, @ARI
He's given up exactly three earned runs and walked one batter in each of his last three starts, so that could be considered an improvement from earlier in the season. Except that he combined for 13 2/3 IP in those starts. Senzatela's 5.67 xERA is among the worst in the majors and his .324 xBA is dead last among all pitchers with at least 100 PA; it's even a full 33 points worse than qualified leader Patrick Corbin. So... don't stream him. Ever.
Download Our Free News & Alerts Mobile App
Like what you see? Download our updated fantasy baseball app for iPhone and Android with 24x7 player news, injury alerts, sleepers, prospects & more. All free!


More Fantasy Baseball Waiver Wire Advice