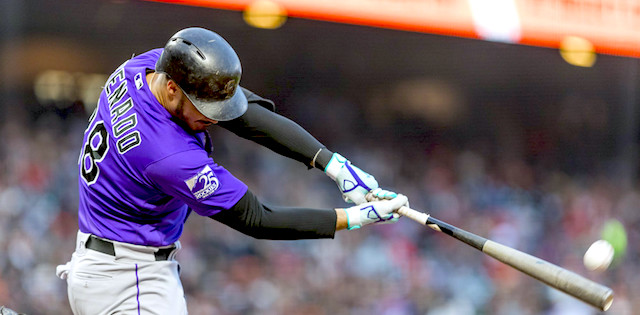 The All-Star break has come and gone, as we now find ourselves on the downward portion of this roller-coaster ride. As we race towards the finish line, we here at RotoBaller felt it best to equip you for the journey ahead with a second-half, Rest-of-Season update of our mixed rankings analysis. RotoBaller writers Nick Mariano, Pierre Camus, Bill Dubiel and Scott Engel want you to crush the competition and know that rankings can't end on draft day. Check out our fantasy baseball rankings dashboard for the latest and greatest ranks at any time.
There is plenty of pop at third base, as the position seems deeper than ever. With young bucks like Michael Chavis, Austin Riley, and Nick Senzel barely scratching the top-20, it's hard to want more at the hot corner. 
Now, it's time to break down the 2019 third base rest-of-season rankings for July.
Editor's Note: Get our 2020 MLB Premium Pass for 50% off, with exclusive access to our draft kit, premium rankings, player projections and outlooks, our top sleepers, dynasty and prospect rankings, 20 preseason and in-season lineup tools, and over 200 days of expert DFS research and tools.
Sign Up Now!
Third Base Tiered Ranks - 5x5 Mixed Leagues (July)
In case you missed it, our very own "Big Pick Nick" Mariano was recently named the #1 overall most accurate industry expert ranker for the 2018 season. You can see his secret sauce below! Additionally, industry legend Scott Engel recently joined the RotoBaller team and provides his insights as well. Scott is an FSWA Hall Of Famer and award winner.
Rankings Analysis - Top Tiers
Tier One
Pierre is the most aggressive on Javier Baez, and while Baez is a bona fide fantasy stud, I can't bring myself to put him above guys at other positions like Freddie Freeman, Gerrit Cole or Charlie Blackmon. It's that simple--Baez is one of the top stars in the game, but if we're talking pure counting stats he's simply not up there with the guys in the top 10-15. Hitting .285 with 22 homers and 60+ RBI is terrific, but with guys going off like the aforementioned Freeman and Blackmon, Baez simply doesn't rank above them for me. They're just as likely to keep it going as he is.
Tier Two
Pierre is also much higher on Manny Machado and Jose Ramirez, and while I recognize that Machado has had an above-average season and Ramirez is starting to turn it around, a lot of the damage is already done for me. I don't see either doing a hard 180 in the second half and putting up MVP-type numbers, so it's truly difficult for me to rank them any higher than I have them. To be fair, it's not like I think they're going to be bums--Machado's at 33 and JoRam is at 60, so they're still up among the best fantasy players even despite their lackluster first halves.
Tier Three
Far be it from me to question last year's number one overall ranker, but I think Nick is sleeping on Eugenio Suarez here. The Reds third baseman was having a fine season before the All-Star Break, and with three homers in the five games since he's trending in the right direction. The big knock there is his contact--his batting average is unimpressive (currently below .250) and his strikeout percentage is a career-worst 27.5%. I'll take that trade-off for power--he's on pace to shatter his career-high homer total (34 in 2018).
Max Muncy's breakout 2018 appears to have been the real deal, as he's improved upon his stellar numbers from last season. Muncy is on-pace for 44 homers and over 100 RBI AND runs scored, and he's shaved four points of his strikeout percentage while also seeing a decrease in his walk percentage. With more contact and an OBP climbing towards .400 (.367 currently), I think Muncy is one of baseball's more legitimate power threats and should be moving forward.
Rankings Analysis - Middle Tiers
Tier Four
We may all be a little low on Devers given his incredible first half, but I am typically overly cautious with a player whose track record is as dodgy as Devers'. He's certainly making much better contact in 2019 (15.5 K% vs. 24.7%) and the power increase has been a by-product of that. I'm simply skeptical of how significant the jumps have been. I fully recognize that Devers has the pedigree for this to be 100% legitimate, and I'll happily eat crow if he maintains this pace in the second half.
At what point do people recognize that baseball is really hard and it isn't a disappointment that Vladito isn't the next Mike Trout at age 20? Drafted in the third (and some places second, if you can believe it) round this year, the expectations were far too high for a 20-year-old kid to live up to, and that's played out somewhat predictably. Guerrero's hype is mostly predicated on his prodigious power, and with just eight homers in 2019 that certainly LOOKS like he's underperforming. Nick and I agree that he likely isn't a top-100 hitter at this point in his career, but that does NOT mean he won't be in the very near future.
Tier Five
Austin Riley is a somewhat similar case. He lit up the first half with an incredible 16 homers in just 54 games, and was on plenty of Rookie of the Year midseason lists. But along with that power has come a 33.3% strikeout rate--Riley is literally striking out every third at-bat. If and when the power well runs dry, Riley all of a sudden has very little value when you factor in the strikeouts that could nuke your ratios and point totals.
Nick Senzel hasn't disappointed since his call-up, so not sure where Pierre's lower ranking comes from. With eight homers, nine steals and a serviceable .269 average, Senzel has an outside chance at a 20/20 season. Good enough to make him a top-150 hitter for me.
Tier Six
It's tough to get a read on Scott Kingery right now. He started off the season red-hot, and his overall numbers are great--he's hitting .288 with 13 homers and six steals, which is really useful for a guy who's primarily a middle infielder. However, he fell off a cliff in July, and while it's still early in the month I don't love that he's been striking out in more than a third of his at-bats. The sustained production in the first half has me cautiously optimistic though, hence my ranking.
Rankings Analysis - Lower Tiers
Tier Seven
Speaking of splits, how about that Maikel Franco? March/April--.271 with a respectable seven homers and 22 RBI. May--.170 with one homer and eight RBI. June--.267 with four homers and 10 RBI. He's hitting even better in July, so hopefully we're seeing a continuing upward trend here and not an on-going Jekyll and Hyde scenario. Franco has always been streaky, so it's hard to really rank him any higher than this. As good as his hot streaks are, the cold streaks are Arctic in nature.
Tier Eight
I so badly want to see David Bote get regular playing time somewhere. He's the Cubs' super-utility man at the moment, and he's performed admirably in that role with a .775 OPS, nine homers and four steals to go along with 36 RBI and 33 runs scored. It is certainly difficult to get into a rhythm when you aren't sure if you're playing or not every day, but Bote has legitimate 20/15 potential if he gets the opportunity. It looks like that will only come with an injury in 2019.
More Fantasy Baseball Rankings Analysis