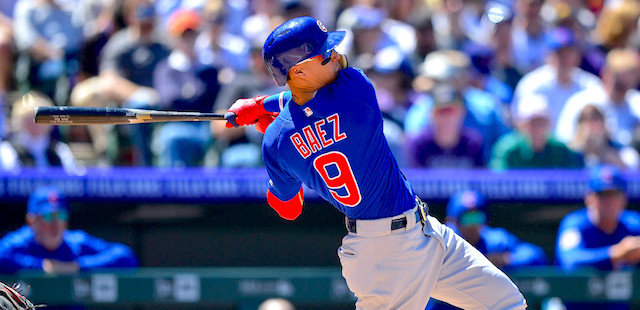 The second half of the fantasy baseball season is here and the playoff push is on. RotoBaller's expert staff has updated our fantasy baseball rankings for the remainder of the year in order to give you the most up-to-date advice. Rankers Nick Mariano, Pierre Camus, Bill Dubiel and Scott Engel want you to crush the competition and win that title!
The second base position is deep thanks to an infusion of young talent this year, including rookies Brandon Lowe, Jeff McNeil, Keston Hiura, Nick Senzel, and Cavan Biggio. If you whiffed on draft day or had the misfortune of drafting Scooter Gennett before his injury, you should have no problem filling that void. There are still questions as to which young star will shine brightest in the second half and whether vets like Gennett, Cesar Hernandez, or Daniel Murphy can turn things around.
By this point, you know those preseason ADPs are worthless. Our rankers have taken into account injuries, team context, Statcast metrics, and gameplay observations in order to provide you with the most current rankings possible. Check out our fantasy baseball rankings dashboard for the very latest rankings which are continually updated. Without any more delay, let's break down the 2019 second base rest-of-season rankings for July.
Editor's Note: Get any full-season MLB Premium Pass for 50% off. Exclusive access to our Draft Kit, premium rankings, projections, player outlooks, top prospects, dynasty rankings, 15 in-season lineup tools, and over 200 days of expert DFS research.
Sign Up Now!
Second Base Tiered Ranks - 5x5 Mixed Leagues (July)
In case you missed it, our very own "Big Pick Nick" Mariano was recently named the #1 overall most accurate industry expert ranker for the 2018 season. You can see his secret sauce below! Additionally, industry legend Scott Engel recently joined the RotoBaller team and provides his insights as well. Scott is an FSWA Hall Of Famer and award winner.
Rankings Analysis - Top Tiers
Tier One
Maybe I screwed up the tiers by putting Javy Baez as the only second baseman inside the top 10 overall but I believe he is an elite player regardless of what position he plays. He's maintaining last year's pace in every category other than steals, where he has just five after last year's 21 SB total. In fact, his 14.7% barrel rate and .480 xwoBACON are higher than last year. If the Cubs can get it together and Kris Bryant can have that MVP-caliber season I predicted, maybe Baez elevates his value even further.
Tier Two
We know Mondesi and Merrifield will maintain their value despite being in a rebuild situation. Mondesi leads the majors in steals and Merrifield has proven he doesn't need to steal a ton of bases to still be a top option.
There's quite the discrepancy between Altuve and Ramirez in a certain's rankers column - intentionally so. As much as I love Altuve, if he's not stealing bases at all (he's not) then doesn't a .274 average make him just another guy? His xBA is .270 so it's not as if he's getting unlucky. Fantasy owners should be aware that since 2016, Altuve's xBA has dropped each year while his strikeout rate has climbed each year. Breaking balls in particular are giving him a hard time this season. He may still be an elite talent but that doesn't mean he's going to be an elite fantasy performer in 2019.
Some people were all over Jose Ramirez for his inability to hit breaking stuff last year but he corrected that problem. He should be a strong rebound candidate in the second half as someone who is underachieving based on expected stats. Contrary to Altuve, I expect last year's version of J-Ram to return.
Tier Three
If Gleyber Torres were on another team, his statline might be very different. On the one hand, take out those 12 games against the Orioles and his HR total is cut in half. On the other hand, he might be a mid-order bat anywhere else as opposed to hitting seventh or eighth for the Yankees like he's been doing lately. It's a mixed bag but one worth betting on based on his talent. We haven't seen the best of Torres yet and may not see it in the second half but I would take him over most other options at the keystone. Although their 5x5 stat lines are nearly identical, Albies gets the slight edge in my rankings because of the dearth of steals available, so every SB helps. Plus, his position in the Braves lineup will lead to more runs scored on a consistent basis.
Rankings Analysis - Middle Tiers
Tier Four
Rookie Brandon Lowe had an exceptional first half and exceeded expectations with his All-Star invitation. His hard-hit rate ranks in the 81st percentile and his position as the regular second baseman is cemented. Two small problems: he's currently on the IL with a bone bruise and his .236 xBA could decline at some point when he returns. These aren't major concerns but they are enough for me to keep him below veteran DJ Lemahieu, who is a consistent performer with great team context.
Jeff McNeil leads the majors with a .349 average, buoyed by an xBA in the 97th percentile. Why isn't he higher? The power has yet to fully bloom but it's in there. He hit 18 HR across 339 minor league at-bats last year. As a late-bloomer, his age-27 breakout could be accompanied by at least adequate power in the 18-20 HR range by season's end. McNeil and LeMahieu both play in the Big Apple but the only difference in their fantasy value hinges on team context.
I've dissed Daniel Murphy enough this year in my weekly Statcast analysis, so I'll simply direct you to my rendition of Biggest First-Half Overachievers.
Tier Five
I was consistently one of the lowest rankers on Villar in the preseason and he's done little to change my mind so far. He's got 17 steals and his run total of 55 is decent since the O's have been slightly better than expected.  The power numbers (10 HR, 37 RBI) are meh and his .262 average should be far worse based on expected stats. In fact, his xwOBA is down in the 20th percentile. Enjoy the speed but don't expect more than that throughout the second half.
Keston Hiura is the type of player that can deliver in every category. That's assuming he stays up for the duration of the year, which seems a safe bet since Travis Shaw is off to Neverland. Shaw is still toiling to get right at Triple-A but should be back at some point. It could be too late to earn his job back, however, and Hiura could stick as long as his strikeout rate of 32.3% doesn't keep spiking to Shaw-like levels.
For my thoughts on Cesar Hernandez, see Altuve, Jose (above). If he isn't stealing bases, which none of the Phillies seem to be doing, then he's not particularly interesting or valuable. Thoughts that he might reach the 20-20 mark have been dashed by now, as he has just seven HR and six SB at the midway point. The Phillies are 19th in steal attempts per game and losing Jean Segura for a while might make them even more conservative. Move on from Hernandez.
Tier Six
I love Cavan Biggio as a prospect but let's not pretend there isn't risk here. Biggio has flexed power with six bombs and has swiped six bags too but his average sits at .227. For a 24-year-old who just tasted Triple-A for less than half a season, a prolonged slump could get him sent down again for a spell. Keep him around even if that happens, as he'll be in the lineup regularly throughout September most likely. Still, I prefer more seasoned Jays infielder Lourdes Gurriel Jr.
I'm also quite pessimistic about Derek Dietrich maintaining his 27.1% HR/FB rate or his career-high 46.4% FB%. He's only gone deep once over the past month, so the predictable regression is already happening.
I love Niko Goodrum's versatility and own him in several leagues for that reason. He's left me wanting in the power categories, though, and that lineup isn't doing him any favors. He should serve as a utility player if needed on fantasy teams, not necessarily a starter.
Rankings Analysis - Lower Tiers
Tier Seven
Tired of waiting for Rougned Odor to turn it on? Same. He sits dead last among qualified second basemen with a .194 average. The power is still there but considering you could have gotten better production from Tommy La Stella or Derek Dietrich, there's no reason to hang on. I feel similarly about Brian Dozier. While his .230 average is less putrid, at least Odor has a handful of steals and 17 more RBI.
I'm still waiting for the light bulb to turn on for Ryan McMahon. He's got the tools and the opportunity, he just needs to make the most of it. It may not happen this year but I'm holding on just in case.
It seems as if Kike Hernandez's playing time isn't in question unless a Gavin Lux call-up happens and he steals the second base job away. Hernandez might be better suited to his normal utility role anyway. After a scorching start to the year, he's cooled considerably and is no more than an injury fill-in for fantasy teams.
Tier Eight and lower
It appears I'm the only one who hasn't given up on Robinson Cano. It hasn't been the best season, I'll admit. His hard-hit rate is still promising and he's going to stay in the lineup, so I'm hopeful he's got a little left in the tank. That said, maybe 161 is a little overly optimistic...
Luis Urias has the potential to be an impact bat but may leave fantasy owners wanting more. He has never been a speed guy and power will be limited too, especially in Petco. It's unclear when he'll get recalled and he's been overmatched in both previous Major League stints. All told, I'm waiting for next year rather than holding out hope he will help a contender.
Don't ask why I have Jose Peraza ranked so much higher than the others because I have no explanation. It must be misguided optimism leftover from draft season.
Normally, I'd recommend a few players to watch in the lower tiers that could ascend to relevance but this position has little to offer past the top 40. Stashing a minor league option such as Isan Diaz might be your best bet. Or maybe Mike Brosseau will keep it up (he won't).
More Fantasy Baseball Rankings Analysis