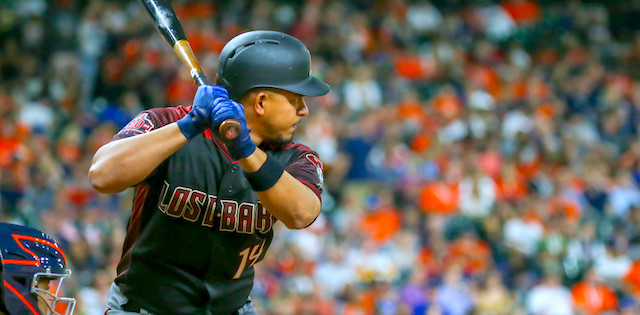 The second half of the 2019 fantasy baseball season is upon us. Before we get too deep into pennant races, let's take this opportunity to reflect on some first-half performances that could be telling of future fortune, or in this case, misfortune.
Last week, we looked at Expected Statistic Underachievers to try to find buy-low candidates. This time, it's the other side of the coin.
Once again, I will pick out three fantasy-relevant players from each major category to determine whether their discrepancies should be cause for concern or not.
Editor's Note: Get any full-season MLB Premium Pass for 50% off. Exclusive access to our Draft Kit, premium rankings, projections, player outlooks, top prospects, dynasty rankings, 15 in-season lineup tools, and over 200 days of expert DFS research.
Sign Up Now!
xBA Overachievers
All stats current as of July 14, 2019 and highlights players with at least 50 plate appearances.
+.086 BA-xBA in 244 PA
Don't shoot the messenger. We all agree that Tatis is a phenomenal talent, evidenced by his slick glove, elite sprint speed and blooming power. The hit tool is there too but not to the point that he's going to be hitting .329 every season. In fact, he should be hitting closer to .243, which is his xBA over the first half. Faster runners do tend to outperform expected stats more often because of the ability to leg out infield hits or force mistakes by the defense.
Still, we should expect a drop in average through the second half, especially once the end of the season approaches and the rookie potentially tires out. He did see as many as 575 plate appearances in his 2017 minor league year so maybe that shouldn't be a major concern so much as natural regression.
+.059 BA-xBA in 251 PA
Murph has been living in this zone all season - outperforming his xStats while still vastly underwhelming fantasy owners. The combination of Ryan McMahon and Garrett Hampson have cut into his playing time at first and second base. Honestly, if McMahon were close to living up to his potential, Murphy would be riding the pine more often.
He's gotten his average to .294, right in line with the previous few seasons. His exit velocity continues to go down, however, to a career-low of 86.8, accompanied by a 27.5% hard-hit rate that is in the bottom 10% of the league. While never a true slugger, Murphy used to regularly be among the leaders in doubles. Despite the Coors effect, he's got 18 this season and on pace for his lowest mark over a season where he registers at least 500 PA. Add in a worsening strikeout rate and all of this points to a measly .300 xwoBACON. Don't let the average fool you - he's becoming closer to replacement level, even when healthy.
+.046 BA-xBA in 340 PA
Another Rockies batter. Could this be a coincidence? Well, Coors Field is tops in the majors as far as Run Factor for left-handed batters, second for Single Factor (Coors for RHB is first) and 11th for Home Run Factor. That said, Dahl is a former first-round pick with a short swing who has long been thought of as a natural hitter, who would just so happen to benefit from Coors. He is doing just that but despite the overachievement factor, he should actually get more credit than I've given him in the past.
Dahl's xBA of .265 isn't great but it is still above league average. He also hits in the top half of the lineup for one of the better offensive teams around. Over a slightly bigger sample size, so far he's hitting like he did in 2016 (.315) but he could just as likely finish like he did in 2018 (.273). Hold tight regardless.
xSLG Overachievers
All stats current as of July 14, 2019 and highlights players with at least 50 plate appearances.
+.162 SLG-xSLG in 96 PA
I'll begin by saying I don't give a damn what Statcast says - Alvarez WILL be AL Rookie of the Year. Now, onto the filthy lies.
Alvarez is slashing .344/.422/.733 but his expected slash line is .290/.402/.594. He's not getting any favors from his sprint speed so it's pure hitting ability that drives his success. Alvarez has a 93.1 MPH exit velocity that ranks 10th in the majors. He's also tied for 13th in Barrels per plate appearance. Even if he performs closer to expectations, he's a .300 hitter in a top offense. Buy-high and if you're in a dynasty league, sell the farm for him.
+.124 SLG-xSLG in 180 PA
The Twins' catching duo of Garver and Jason Castro ranks in the top three of nearly every offensive category at the position. Garver is the main reason, with a .288/.370/.607 slash, 14 HR nad 36 RBI in 163 at-bats. His exceptional 49.6% hard-hit rate seems to support this but he has been somewhat lucky on batted balls. If he can sustain his .330 BABIP for a second straight year and maintain increases in exit velo and pull rate, then maybe it will make for an equally strong second half. Given the way the Twins have performed, it would be hard to sell on anyone in that lineup.
+.123 SLG-xSLG in 246 PA
In last week's column, Jesus Aguilar was shown to be an underachiever, which goes without saying. Interestingly, Thames has been outperforming expected stats much to the same extent. What if things shift on both sides?
Speaking strictly of Thames, he is obviously used as a righty-masher; 184 of his 206 at-bats have come against RHP. He's faring well but he shouldn't be. His .211 xBA is in the bottom 6% of the league. This should be no surprise, as his xBA was .208 last year and .226 the year before. His strikeout rate is also in the bottom 7% of the league. The platoon may stick for now but if Aguilar can get on a roll, he could easily wrestle the full-time job away like he did last year.
xwOBA Overachievers
All stats current as of July 14, 2019 and highlights players with at least 50 plate appearances.
+.053 wOBA-xwOBA in 97 PA
Dickerson has also been mentioned in this space before. Between an extended IL stint and the emergence of Bryan Reynolds, Dickerson's playing time might be in question if not for Gregory Polanco's own injury.
Since coming back on June 8, Dickerson has only homered once and walked three times in 76 AB. A .270 average is respectable but a .270 xwOBA is not. That's where he sits, tied for 375th in that metric. If the Bucs hadn't traded away Austin Meadows and Jordan Luplow last year, Dickerson might already be trade bait. The fact that he is slugging better than expected means that Dickerson doesn't need to be owned in mixed leagues right now.
+.050 wOBA-xwOBA in 396 PA
Fantasy owners love Escobar and there's little I can say that will change that opinion, even if I wanted to. He's a major contributor in every category except for steals and his 68 RBI are tied with Freddie Freeman and Christian Yelich for seventh in the bigs. Yet, his expected stats are all below league average and his hard-hit rate is all the way down at 13th percentile. Does this mean he's due to plummet?
We know that certain players are good at overachieving. They consistently have a higher BABIP than others and succeed in spite of Statcast metrics that predict otherwise. Escobar just seems to be one of those guys. Besides the fact he was awful in 2016, you may notice he never was a high wOBA player until last year.
His xBA has lived between .240-.265 for five straight seasons. It wasn't until 2019 that his actual average even broke .275.
While some small gains may be lost in the second half, Escobar has proven his worth and doesn't seem due for a huge drop even if he is vastly overachieving.
+.047 wOBA-xwOBA in 172 PA
That's right, Miguel Sano is doing better than he should be. Hard to believe. While I'll never be a Sano truther like Bobby Sylvester, I know he has immense power and was once the top prospect in all of baseball. I'd like to think he can solve his issues but it may too late for that.
Sano has never kept a strikeout rate under 35% and his ridiculous 52.8% hard-hit rate means little when he's making contact just 64.7% of the time, 72% inside the zone - something that is also consistent over his career. He's crushed a few long balls but the tradeoff isn't, and likely never will be, worth it for fantasy owners.
More Sabermetrics & Statcast for Fantasy Baseball