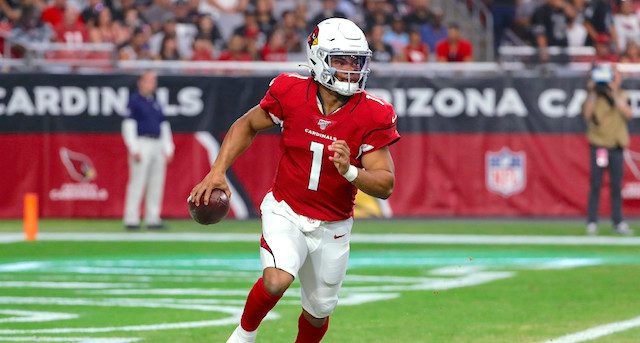 In dynasty leagues, hitching your wagon to the right gunslinger is crucial. Unlike the turbulence at running back and unpredictability at wide receiver or tight end, quarterbacks can be consistent point-getters for years to come without the need for turnover. The biggest question is how to weigh youth versus experience. That's what we aim to do with our preseason tiered rankings.
Below you'll find RotoBaller's consensus dynasty QB rankings for fantasy football along with analysis on key risers, fallers, and rookies. These will be updated throughout the preseason so bookmark our NFL rankings page for the latest moves.
When you're done here, check out our tiered RB Rankings Analysis and WR Rankings Analysis as well.
Featured Promo: Our friends at RIVAL Fantasy have created fun and unique DFS games including over/under contests and Fantasy Bingo. Use promo code BALLER to get a free year of RotoBaller Premium access ($199 value), and a $50 risk-free deposit.
Play Now!
Dynasty QB Rankings
Tier One
The names found in tier one are to be expected. The order is a bit unconventional, however, due to the presence of Dak Prescott at the third spot. This is partially thanks to a certain Cowboys fan among our rankers, although it's hard to argue too hard against Prescott's placement. Then again, he's on the verge of turning 28 years old, which is a full four more than Murray and Jackson and three more than Allen. That's a big deal in dynasty.
The counter to that is Prescott's experience and five years worth of production. Allen has done it once. Jackson had an elite 2019 but saw his league-high 83.0 QBR drop to 73.7 last year. Murray didn't improve on his INT rate in year two, throwing 12 picks again, and tied for 12th in passing touchdowns. These are nitpicky details but when projecting long-term value, everything must be accounted for. It is possible Allen regresses to 2019 form or Murray never takes another step forward.
The difference between Prescott and these other three QBs is rushing stats. The other three bring a lot of fantasy juice with their legs. This means higher highs but could also result in a shorter shelf life of elite production once enough hits are taken, a la Cam Newton. Prescott is an efficient scrambler who will find the end zone a few times but his rushing yards per game average had dropped each season until last year was cut short. Coming off a broken ankle, he might be running even less. Prescott is tied to a potent offense and may have the highest floor of all tier one quarterbacks, other than Mahomes. Personally, I understand the preference for security relative to Jackson but I wouldn't put him over Murray or Allen.
Quarterbacks Who Are Trending Down
Despite coming off a season where he threw for 4,299 yards and a career-high 48 touchdowns, it's obvious we have to knock Aaron Rodgers down a peg. Although, compared to this time last year his dynasty ranking is actually higher so is he really trending down? Remember the whole thing about Jordan Love being drafted in round one, Rodgers being pissed off and not seeming to love new head coach Matt LaFleur? Now it's the front office he doesn't like but we've forgotten the concerns about his age and fit in this offense.
Count me as one who has zero doubt he'll be playing for the Packers in 2021. That said, I have about a 20% confidence level that he'll be with them or in the NFL at all in 2022. This makes him even riskier than Tom Brady in dynasty, yet he's being valued far higher because of his birthdate. Rodgers is a firm hold right now until the season actually gets underway but should be traded away before season's end by any team that isn't championship bound with him as the starting QB.
I get that Jared Goff went from the Rams to the Lions, which is the equivalent of being downgraded from first class to the baggage stow, but it's not as if his arm has fallen off. He finished 10th in the league in passing yards per game. Much of that was due to volume of attempts but that won't change much. The Lions attempted only eight fewer passes than the Rams last year and it's not as if they've magically fixed their leaky defense. Goff will have more value in leagues that reward three or four points per passing touchdown rather than six but he'll be a serviceable backup fantasy QB or Superflex option for a couple more years at least.
Matt Ryan isn't low enough in these rankings and not just because of age either. He lost his main target in Julio Jones and replaced him with 20-year-old tight end Kyle Pitts. Don't try to convince yourself that is a lateral move or that he'll be fine without Jones. Just last year, Ryan averaged a full 53 more yards per game when Jones was on the field.
Atlanta didn't take a quarterback in the NFL Draft despite their high draft slot, instead opting to add a weapon for Ryan. That's mainly because they're contractually obligated to him for another two years. In that span, he'll be on the field and serve well as a fantasy QB2 but not any higher. Advanced age and lack of rushing floor make him less desirable than the current batch of unproven rookies.
Where The Top Rookies Rank
Trevor Lawrence, Jacksonville Jaguars - QB9
We can't rightfully put Lawrence in the top two tiers before he's taken an NFL snap but he could very well be a top-five player at the position. As humans, we always fear the unknown and Urban Meyer's opportunity to become a pro coach does instill a little fear in me. Lawrence is the type of talent that should thrive regardless of circumstance, though.
Trey Lance, San Francisco 49ers - QB15
It won't be long before Lance is starting in San Fran. The ceiling based on physical attributes is tremendous but we have no idea how starting all of 17 games at North Dakota State and sitting out nearly all of his junior year will play into his transition to pro ball as a 21-year-old. For that reason, we placed him square in the middle of the pack as far as starting QBs go. It will probably take at least a year, if not two, before he becomes a dependable fantasy asset.
Justin Fields, Chicago Bears - QB16
Immediately after Lance comes Fields, who is definitely not going to be the starter in Week 1 and quite possibly could sit out much of the year if the Bears can stay in playoff contention. They have the luxury of playing the Bengals and Lions within the first four weeks but run into a midseason buzzsaw with the Packers, Bucs, 49ers, and Steelers between Week 6-9 before hitting the bye. I'd point to a Week 11 debut against Baltimore as a logical starting point for Fields, which limits his short-term outlook but could provide a springboard for the future.
Zach Wilson, New York Jets - QB21
The Jets offense has nowhere to go but up. It should do just that now that Adam Gase is gone the team has a new direction and a roster full of shiny new weapons. Chief among those is the second overall pick, Zach Wilson out of BYU. Despite being selected ahead of Lance and Fields, he's well below both in our dynasty ranks. Many fantasy football managers still have PTSD from the Sam Darnold era so it's understandable that we want to see that the Jets are not still a train wreck before investing in that offense.
Mac Jones, New England Patriots - QB28
Is Michael McCorkle Jones being unrightfully disrespected? Jones led the NCAA in passing yards (4,500), completion percentage (77.4%), completions (311), passing efficiency rating (203.1), and led his team to a national championship. The Patriots spent a first-round pick on a quarterback for the first time since Drew Bledsoe in 1993 and the team is not invested in Cam Newton as anything more than a stopgap, assuming he's still on the roster when the season begins. The Pats will be all in on Jones sooner than later, so why aren't dynasty managers doing the same? I'd be willing to wager that Jones is ahead of Ryan, Cousins, and Wentz by season's end. Then again, Bill Belichick has never really had success with a quarterback other than Tom Brady, so there's going to be skepticism for the better part of this season.
Davis Mills, Houston Texans - QB35
Will we ever see Deshaun Watson in a Texans uniform again? I won't begin to speculate on that front but it's wise to assume he won't be around as of now. Tyrod Taylor will begin the year as the starter most likely but the team will give Mills a shot eventually.
Kellen Mond, Minnesota Vikings - QB38
The accurate-armed Mond is my favorite late QB pick in rookie drafts. He won't see the field much if at all unless injury strikes but Kirk Cousins will be a free agent after 2022. If things go south for the team then they could start taking a look at his replacement late in the season, much like the Eagles did with Jalen Hurts.
Kyle Trask, Tampa Bay Buccaneers - QB 39
We've heard Bruce Arians do his usual gushing about a young player who absolutely will not play all season, so ignore the sound bites and comparison to Andrew Luck. Tom Brady is playing until he's 50 just because he can so it's best to avoid wasting a roster spot on Trask.
Value Alert
I'll never be the one to create a Ryan Tannehill stan account but the guy continues to be undervalued in fantasy and the dynasty realm is no exception.
Ryan Tannehill finished as the QB7 last year and he got Julio Jones..why is he being drafted QB10??

— Connor. (@ConbonNFL) July 9, 2021

Tannehill has been one of the better passers in the league since moving to Tennessee and now he gets one of the better wide receivers to target. This intuitively seems like a no-brainer that he'll improve statistically.
You may have seen the ridiculous comparison between Tannehill and Mahomes on social media. Here's another:
| | | | |
| --- | --- | --- | --- |
| | TD% | INT% | Yards per game |
| Ryan Tannehill | 7.2% | 1.7% | 234.3 |
| Pat Mahomes | 6.0% | 1.0% | 302.4 |
| | | | |
| --- | --- | --- | --- |
| | TD | INT | Total Yards |
| Ryan Tannehill | 31 | 7 | 3749 |
| Pat Mahomes | 35 | 6 | 4839 |
Over the 2019-2020 seasons, Mahomes has generated much more yardage, which is why he's the QB1 in fantasy. However, Tannehill has been more efficient and nearly as productive on the TD front with just as few mistakes. I'm not saying I would put Tanny in the same class as Mahomes but I'd definitely have him in the top-15 at the very least.
This is a good time to reiterate what was said earlier about Brady vs. Rodgers, which seems to be ongoing social media feud and has become a rivalry in the most unexciting way:
Tom Brady is out here busting Aaron Rodgers chops ?
pic.twitter.com/sxVsktgPcp

— Action Network NFL (@ActionNetNFL) July 6, 2021
Tom Brady isn't retiring any time soon, ranked as a top-10 fantasy QB after throwing for 4,633 yards and 40 TD in 2020, and has one of the best receiving corps in the league. The risks are a lot greater with Rodgers.
Speaking of risk, Jameis Winston at QB26 could be a bit optimistic. We have no idea if he's the starter in New Orleans yet he's ranked ahead of younger players like Mac Jones and Sam Darnold. His career 3.4% INT% matches what Drew Lock and Carson Wentz did last year. He now goes to a team whose starter the past bazillion years, Drew Brees, didn't post an INT% over 2% since 2016. Let's see how much of it was Sean Payton's influence.
Obligatory mention that Sam Darnold is away from Adam Gase and the New York media and in the comforting hands of QB Whisperer Joe Brady in Carolina. He could reclaim his untapped potential and leap back into prominence but I think I speak for everyone who has ever watched him play in saying that I need to see it before I believe it.
Download Our Free News & Alerts Mobile App
Like what you see? Download our updated fantasy football app for
iPhone
and
Android
with 24x7 player news, injury alerts, rankings, starts/sits & more. All free!
Win Big With RotoBaller
Be sure to also check out all of our other daily
fantasy football articles
and analysis to help you set those winning lineups, including this new RotoBaller YouTube video:
Check out all of RotoBaller's fantasy football rankings. Staff rankings are updated regularly for all positions and include standard formats, PPR scoring, tiered rankings and dynasty leagues.