For an event that has generated beauty and star-studded fields over the years, it was hard to watch last week's AT&T Pebble Beach Pro-Am play as a ghost of its past self. Sure, the Monday finish added to that frustration that fans felt, but when you have most players bypassing the tournament before it even began, plus the added removal of names that decided to leave early to make their way to the Waste Management Open, it turned into the nightmare result for golf buffs around the globe.
It is worth mentioning that it is not all doom and gloom for Pebble Beach since it will get its crack on the elevated platform moving forward. Events will rotate to keep sponsors happy and fans engaged, but I couldn't help but feel the same emotion as when you watch one of your favorite boxers still out there late in their career. The nostalgia and potential would randomly seep through the cracks, although the performance and devastating nature of the outcome would inevitably make you wish you hadn't tuned in to watch.
That could be an extreme comparison since it only takes a minor deviation that involves intrigue again from the field to turn Pebble back into what has made it one of the longest-running events on tour. Still, until that can happen yearly, it will transform one of the most picturesque venues in the world into a hit-and-giggle celebrity Pro-am. I can promise that is not what any of us want as fans of the sport.
Featured Promo: New for 2023, we've added A LOT of new exclusive PGA articles, picks, and tools to our PGA Premium Packages! Spencer Aguiar, one of the most successful PGA bettors in the industry, now features 10+ weekly articles with his exclusive picks, rankings and models in the TeeOffSports VIP subscription. Win big in 2023!
Sign Up Now!
Be sure to follow me on Twitter @TeeOffSports to get more answers this week, and if you aren't doing so already, I'd love for you to consider signing up for my RotoBaller premium subscription. There are numerous tools available, including my heralded 'PGA Rankings Wizard Model.'
PGA DFS Rankings Wizard - Waste Management Open
We have some exciting changes that we are implementing this year over at RotoBaller. There will be multiple subscription-based tiers for our readers to enjoy, including my very own TeeOffSports VIP Package that will include the following items:
PGA Rankings Wizard Model (Pre-Tournament)
A powerful and interactive data spreadsheet that allows user inputs to create custom rankings and models for golf. If you are considering signing up, take a look at this how-to guide of everything you can find weekly inside my pre-tournament model. The sheet is loaded with sortable and weighable information to help you in all sectors of the market. 
Vegas Report (All Pre-Tournament Bets)

Top Pre-Tournament H2H Pick: (104-60-9) 63.41%
All Pre-Tournament H2Hs: (234-174-23) 57.35%
Total H2Hs Since 2017: (434-301-59) 59.05%
Outright Winners Since 2017: 36
Units: +311.229 Units
All Totals Are Entering 2023
In-Tournament Model (Updated Stats + User Configuration Ability)
Here you will find updated stats for the particular tournament – all sortable and weighable when you make a copy of your own under the file tab. The purpose of this is to provide an area where you can research the daily proceedings for DFS strategy or find outright or daily head-to-head wagers. There are over 25 weighable categories by the time round four comes around, including the ability to add back in your pre-tournament research for every day.
In-Tournament Head-To-Head Bets For Rounds 1,2,3 and 4
Lifetime Record: (200-127-36) 61.16%
First-Round Leader Article
Eight first-round leader wins in 2022.
One & Done (Deep-Dive Into Potential Options To Consider)
10+ million in earnings during two of the past three seasons while providing information for contests. We will take a comprehensive look into a handful of options to consider.
Late DraftKings Article (Condensed Player Pool)
We will build off the Monday article throughout the week and consolidate selections toward a more concrete player pool for everyone to consider by Wednesday.
Premium Discord Access
Join the community! There you will be able to talk to fellow subscribers and have real-time weekly chats with me.
Field
Field Size: 132 Players
Cut: Top 65 and Ties
Top 25 Entrants: 22
Last Five Winners Of TPC Scottsdale
| | | |
| --- | --- | --- |
| 2022 | Scottie Scheffler | -16 |
| 2021 | Brooks Koepka | -19 |
| 2020 | Webb Simpson | -17 |
| 2019 | Rickie  Fowler | -17 |
| 2018 | Gary Woodland | -18 |
Expected Cut-Line
| | |
| --- | --- |
| 2022 | -1 |
| 2021 | -2 |
| 2020 | -0 |
| 2019 | -0 |
| 2018 | -0 |
TPC Scottsdale
7,266 Yards - Par 71 - Greens Bermuda (Overseeded) - Not True Bermuda
It is hard to explain how wild the Waste Management Open will become for anyone new to the sport and experiencing the tournament for the first time. If you know, you know. But for those that might be stumbling into the week as a new fan of the sport and not understanding what I am babbling on about to start this piece, imagine a costume-themed frat party that has gone horribly wrong and ended up drunkenly finding its way to the 16th green at TPC Scottsdale.
I realize that might sound like a lousy storyline to a movie, but I promise it gets more menacing once everyone has made their way inside the manufactured arena to participate in a giant spectacle that places the golfers on display as gladiators inside a Roman Colosseum. Failure to produce will get you jeered. Mediocrity booed. And excellence, well, excellence is maniacally celebrated as if you are in the movie Gladiator when Russell Crowe's character asks the audience, "Are you not entertained?" The people are there for a show. And anything less than a standing-ovation performance will cause them to become uncivilized. You don't need to look any further than the image below of beer cans being thrown like javelins after a hole-in-one was hit at the 16th hole last season to realize the sheer chaos of the week.
And while the circus-like atmosphere will take center stage and make most of the headlines, it is essential to remember that actual golf is still getting played this weekend. No amount of beer-soaked greens will prevent the surface from speeding up as the week prolongs to enhance the difficulty, turning this track into a quick test both on and off the putting surface since elevation and rollout will help provide a 12-yard increase in driving distance compared to an average tour stop. The three par-fives have been critical to finding success in the past and feature a birdie or better percentage over 40 percent, resulting in over a 2.5% percent eagle rate. That is about as high as you will see on tour yearly and makes aggression something that can be looked at when building a model.
Even though we could go on and on about the statistical nature of the grounds, it is crucial to realize that all TPC properties have some similarities when we extract the data for the event. Total driving will be a massive benefit for those in the field who can take advantage of their distance and accuracy, and a heightened GIR rate should continue to add to that ball-striking return that we often want out of our players. There is something to be said about mental fortitude and accepting the upside-down nature of the week, meaning golfers that don't take themselves as seriously are typically the ones that find success. Unfortunately, that isn't a quantifiable metric, but let's run into some of the data points I did highlight this week in my model to try and uncover where the value might be sitting.
Let's Look At The Stats
| | | |
| --- | --- | --- |
| Stat | TPC Scottsdale | PGA Average |
| Driving Distance | 295 | 282 |
| Driving Accuracy | 59% | 62% |
| GIR Percentage | 67% | 65% |
| Scrambling Percentage | 59% | 57% |
| Average Three-Putts Per Round | 0.55 | 0.55 |
Key Stats 
Let's quickly run through how I built my model.
Weighted Tee-To-Green (22.5%)
Because the greens are large and quick, putting has become neutralized over the years at this track. Many metrics this week will point in the direction of tee-to-green being a measurable statistic worth considering, but I never love the generic blueprint of those numbers because it doesn't identify course-specific needs. Instead, I went through the pertinent data at this venue over the past 10 years and looked at how strokes gained in areas such as off-the-tee, approach and around-the-green have impacted this tournament over the inundated tee-to-green averages.
Strokes Gained Total TPC Properties (7.5%)
It is tricky to decide what to do with the array of TPC venues this week. Typically, we can add this weight onto any TPC track because they all emulate one another, but Scottsdale only partially falls into that category because of its unique structure. We have seen the rollover of course history consistently rank as high as anywhere that isn't Augusta, which generally means there are underlying qualities that players can use to their advantage. It doesn't hurt that my model picked up parallels between how golfers have performed at TPC properties and Scottsdale to solidify the mathematical value of this being attached to a weight, even if my eye test is pushing me to think otherwise.
Weighted Fast Greens (10%)
I wanted to avoid getting caught up with adding too much of this into the fray since putting can sometimes be offset. Eighty percent of my weight went into strokes gained total on fast/firm greens. The final 20 percent incorporated putting on a quicker surface, making it a recalculated ball-striking statistic that added an extra semblance to the flat stick.
Weighted Par-Four (12.5%)
We get 3.1% more second shots between 125-200 yards than an average tour stop. Those proximity buckets can be challenging to measure because some of the data needs to be fixed when you try to condense numbers to fit a generic range. Still, there are always ways to get unique in quantifying the information. The most arduous scoring holes come at your four par-fours that stretch over 450 yards. That should tell us that mid-to-long iron play will be needed to protect your total when you get to those stops.
Par-Five Birdie or Better (17.5%)
We lose one par-five over a standard Par 72 layout, but scoring at these three chances should be nearly as impactful as combining the other 15 holes into one range. All three have over a 40% birdie or better percentage and will need to be taken advantage of if you want to find your name on the first page of the leaderboard.
Going For the Green (10%)
 I love measuring aggression this week for two main reasons. For starters, all the par-fives have over a two percent eagle rate. That is about as high as you will see for a PGA Tour course. And second, the risk-reward par-four 17th amplifies the notion that we need an all-out attack mindset. Golfers will need to traverse water on the left side of the green, although eagle and bogey are in play for those who take on the risk.
Total Driving (20%)
We are looking at a 60/40 split between distance and accuracy. The length will help create easier scoring chances, and the accuracy avoids the desert, where cactuses and other pitfalls loom for those that miss the fairway. Total driving has been one of the top corollary statistics for me over the past four years of running a model for this event.
Total Number Of Top 10's Out Of The Seven Categories:


I will dive deeper into what went into these totals later in the week on my podcast. If you aren't doing so already, you can follow Bettor Golf Podcast on Twitter.
Fantasy Golf Lineup Picks for DraftKings (PGA DFS)
We have tons of great weekly PGA articles, DFS analysis, tools and DFS advice. Be sure to read our other fantastic articles regarding this week's event.
High-Priced DraftKings DFS Players 
***There are five players priced above $10,000. Please remember that my DFS article is always a first look at the field. Opinions might shift as the week goes on, and I am more than happy to discuss anyone further on Twitter.
Early thoughts on the group: It is hard to go wrong when four of the top five options from my model are in this range. 
Jon Rahm ($11,000) - Unless Jon Rahm and Rory McIlroy end up pilfering ownership away from one another, it is unlikely to imagine one of them doesn't creep up the board and into the 20% range before all has concluded for the week. Rahm has finished inside the top 16 during all seven starts at TPC Scottsdale throughout his career, and the first-place grade for ball striking gives us a pristine birdie-maker that can take advantage of the quirks of this property.
Rory McIlroy ($10,800) - It feels like it should come down to ownership for how we want to separate Jon Rahm, Rory McIlroy, and Scottie Scheffler on DFS boards. My early lean would be to take the similar ownership totals of Rahm and McIlroy over any other choice in this range. However, Scheffler's playability as the defending champion will make for challenging choices by Wednesday night. The fact that McIlroy has yet to finish worse than fourth during his past seven events is a massive perk for a golfer who can use his aggression to continue his scorching-hot run.
Did you know RotoBaller has a Premium DFS PGA subscription? Like what you read today? You can show your support for Spencer by using the discount code TEEOFF when purchasing a PGA Premium Pass. You get 10% off and full access to all of our Premium PGA articles, DFS tools, and Lineup Optimizer! You also get access to weekly betting picks from Spencer Aguiar, one of the top betting minds in the industry.
End of the Season Totals: @rotoballer @BettorGolfPod

2017 +54.26 Units
2018 +55.88 Units
2019 +27.743 Units
2020 + 37.015 Units
2021 + 68.846 Units
2022 +67.485 Units

Total Winnings: +311.229 Units

Total Outright Wins Since 2017: 36

H2H Totals Inside Thread… https://t.co/pNQrSK1rFE

— Spencer Aguiar (@TeeOffSports) December 12, 2022
Mid-Priced DraftKings DFS Players
$9,000 Range
Early thoughts on the group: 
Justin Thomas ($9,800) - The course history for Justin Thomas is pristine after producing five consecutive top-17 finishes at TPC Scottsdale. The 15-time PGA Tour winner hasn't been able to add to that tally since the PGA Championship in May, but the upside he receives at TPC tracks has been noteworthy in the past -- ranking first in this field. 

Patrick Cantlay ($9,500) - I wasn't expecting Patrick Cantlay's recent form to mimic his long-term metrics as well as they did in my model after a slow start to begin 2023. Cantlay's expected tee-to-green production jumped for this course throughout a two-year and past 24-round sample size, and the par-five scoring ability placed him at the top of the totem pole in Arizona.
Hideki Matsuyama ($9,400) - The unquestioned king of Phoenix hasn't been able to regain his crown after his withdrawal from this event in 2018, but who could forget the run he put together from 2014 to 2017? Matsuyama didn't finish worse than fourth place during those four years, and the back-to-back victories in 2016 and 2017 just as quickly could have been a three-peat if he didn't come up just short in 2015.  

Sungjae Im ($9,200) - We keep finding ourselves in this position where DFS sites want to post Sungjae Im's price tag beneath the proper going rate, inflating his popularity across the board weekly. Im's recent surge in par-five scoring places him first in this field over the past 24 rounds in birdie or better percentage, and the high-end marks for aggression hold him nice and steady inside the top 15 names. Ownership could become a problem, although I am okay with where everything currently stands.
Mid-Priced DraftKings DFS Players
$8,000 Range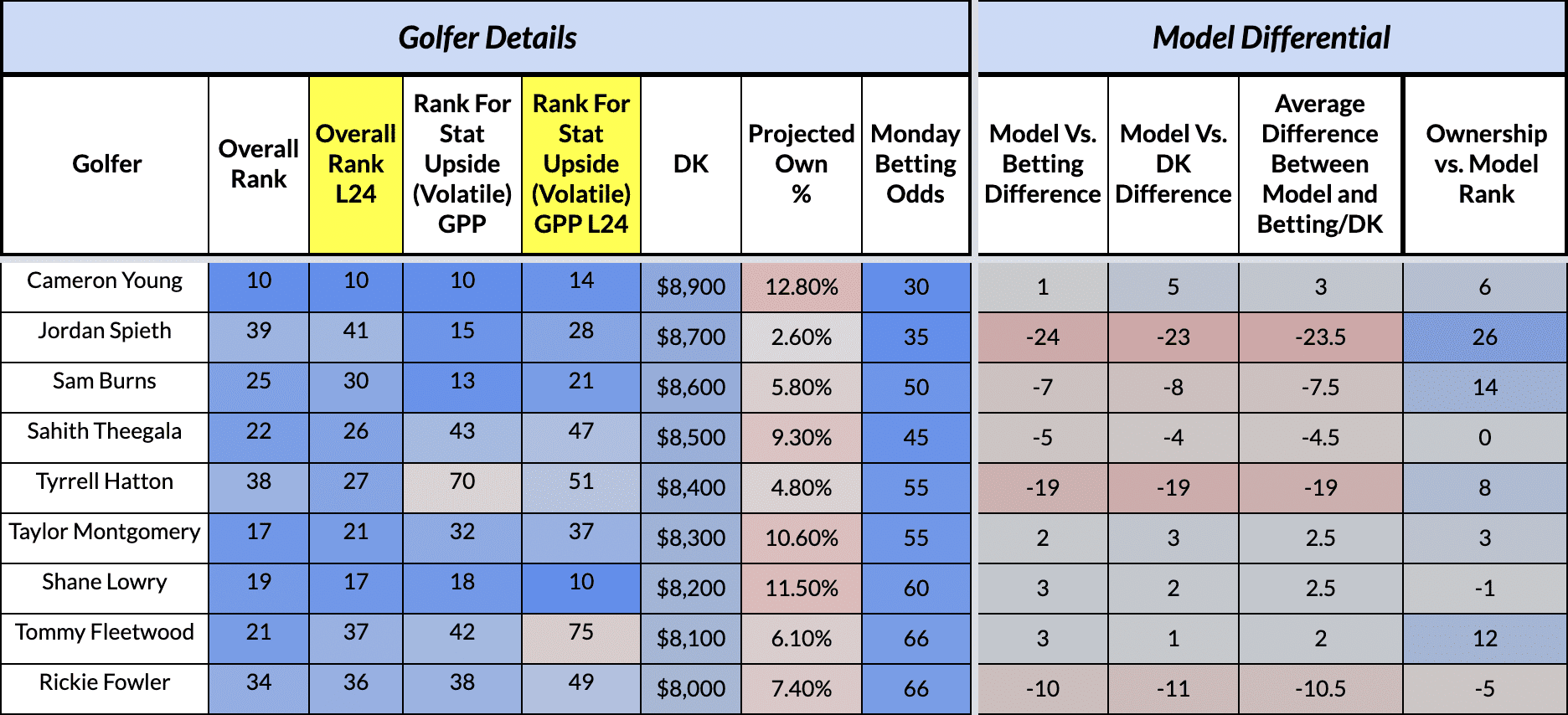 Early thoughts on the group: 
Cameron Young ($8,900) - There is a ton to like about Cameron Young's profile for a volatile event like the Waste Management Open. The stoic demeanor would make you think this property can turn into his first PGA Tour title, and the statistics bear fruit to that when we look at his three top 10 returns in seven categories. That retrieval of data places him as the sixth-best option on the board and 10th overall from a long-term perspective.

Tyrrell Hatton ($8,400) - If you are looking for an increased win equity mark, Tyrrell Hatton isn't going to provide that with his helter-skelter statistical profile. Nonetheless, I love the early game theory potential he provides for mass-field contests. I can't imagine this number surpassing five percent before Thursday, and his 15th here in 2018 highlights a player who can find a lovely floor at this property. Will Hatton be able to refrain from flipping off screaming fans at 16? That has yet to be determined. But let's bet on the safety increases we have seen from him inside my model over the past 24 rounds and ignore the implosion potential if someone throws a beer at him -- although it might help if he decides to drink the beverage if he finds himself in that situation. You do you, Tyrrell. 

Taylor Montgomery ($8,300) - I usually don't love backing players that generate putter-heavy outputs. Yet, the 17th-place rank from Taylor Montgomery shows there is enough of a floor in other areas to overlook the enormous short-game totals he has provided these past few months. The former UNLV product has been a rather stout golfer across the board when we ignore iron play, and the reduction of production needed here in that area can only be beneficial.
Low-Priced DraftKings DFS Players To Consider ($7,000+)
The list removes all players outside the top 60 in overall or upside rank + negative totals against their DraftKings price, upside, and ownership. We will break this list down more as ownership continues to trickle in over the next few days.
Early thoughts on the group: 
Jason Day ($7,900) - You don't have to look any further than all the increased totals on my model when running the data over the past 24 rounds versus a longer duration to realize Jason Day is back! The Aussie has propelled himself into being a top 20 commodity over the past few months, and the sky is the limit for him as he continues his progression up the board.

Keegan Bradley ($7,700) - You might notice the same trends I just mentioned for Jason Day occur for Keegan Bradley, making him an under-the-radar option with nice increases for win equity this week.

Alex Noren ($7,600) - Alex Noren's second-place rank on fast greens and 13th-place tally for TPC courses helps to mix the data into a steady output rank that continues to propel when we shorten the timeframe.

Brian Harman ($7,400) - Despite the missed cut at the American Express, Brian Harman leads this field with 34 consecutive rounds of shooting par or better -- a number that is 12 better than Xander Schauffele and 14 ahead of Patrick Cantlay.

Russell Henley ($7,400) - Three top 33 finishes for Russell Henley playing this course over the last four years will show that he might have figured out the property, and when we remove aggression from the equation, Henley grades as one of the better values to target this week.

J.T. Poston ($7,300) - J.T. Poston hasn't finished worse than 21st in his past four starts on tour. The incorrect price tag will cause an increased ownership number heading straight in his direction, but none of that was enough to remove him from my player pool through the first 24 hours of making my sheet.

Davis Thompson ($7,100) - Young, aggressive and a superb ball striker. What is there not to love about Davis Thompson? The 23-year-old is one of my favorite golfers this season regarding his trajectory growth, and I don't think anyone should be shocked if we see him post another top-25 finish in this quality field.
Sub-$6,000 Options To Consider
All the players below were inside the top 60 in one of the two iterations of my sheet and positive during either the differential against DraftKings price or ownership. You can use my model to get a complete field breakdown, but this condensed things nicely as a first run.
We will condense this list further as the week progresses, but we have a handful of interesting dart throws from those 10+ names.
Early thoughts on the group: 
Luke List ($6,900) - Two top-25 results to begin the season pushed Luke List into fringe top-30 territory when I removed the timeframe I ran my numbers. If he finds a made cut, it will be because of that trajectory in the data. 

Scott Stallings ($6,900) - We talked last week about Scott Stallings being underpriced because of his slow start to 2023, and his 15th-place finish at Pebble Beach ended up being as poor as it could have been for his production. I'll continue riding Stallings until we get a correction in ownership or salary.


Martin Laird ($6,700) - The one thing that needs to be added to the ranking totals for Martin Laird would be his upside during west coast events. We see some of that when looking into fast greens over the last two years, but this is the time of the season when he has his best shot to make money for himself and us.

Jhonattan Vegas ($6,700) - Go figure. Vegas has found success in the desert. While the lights might be as bright as you would find in Sin City, the Venezuelan's 10th in 2019 and TPC pedigree will leave reasons to be optimistic.
James Hahn ($6,300) - The recent form is troubling, but James Hahn's three top-25 finishes at TPC Scottsdale in the past five years will render an incredible upside target at $6,300. Hahn's ninth-place grade on fast greens is a huge indicator of why he has loved the property in the past.
Win Big With RotoBaller
Golf is back, and it's time for you to win big with RotoBaller!
Our PGA DFS Premium Package
 features several savvy analysts and proven DFS winners.
Our very own Joe Nicely recently took down a big DraftKings DFS tournament for the Travelers Championship. And as an encore, RotoBaller subscriber @tenndolly2 won $100K on FanDuel with the help of Joe and the rest of our Premium PGA team:
If you read my articles @RotoBaller or listen to @TheTurnGolfPod I've been telling y'all it was #WinningSeason when golf came back! Shoutout to the entire @RotoBallerPGA squad and all you guys that support my work for all the ❤️ pic.twitter.com/07a4ynvbSU

— Joe Nicely (@JoeNicely) June 28, 2020
Congrats @tenndolly2 ???

Thanks for being a @RotoBaller PGA DFS Premium subscriber & checking out all the amazing golf content that @JoeNicely produces every week! https://t.co/tHKZVsPbbt

— RotoBaller PGA (@RotoBallerPGA) August 10, 2020
Between all the incredible
Premium PGA DFS
content and tools we put out each week, and our Premium Slack Community where we chat with our subscribers before lineups lock, RotoBaller PGA subscribers are armed with the tools, analysis, and advice to win big.
Golf DFS News and Player Outlooks
More PGA Analysis and DFS Lineup Picks