Be sure to follow me on Twitter @TeeOffSports to get more answers this week, and if you aren't doing so already, I'd love for you to consider signing up for my RotoBaller premium subscription. There are numerous tools available, including my heralded 'PGA Rankings Wizard Model.'
PGA DFS Rankings Wizard - The RBC Canadian Open
We have some exciting changes that we are implementing this year over at RotoBaller. There will be multiple subscription-based tiers for our readers to enjoy, including my very own TeeOffSports VIP Package that will include the following items:
PGA Rankings Wizard Model (Pre-Tournament)
A powerful and interactive data spreadsheet that allows user inputs to create custom rankings and models for golf. If you are considering signing up, take a look at this how-to guide of everything you can find weekly inside my pre-tournament model. The sheet is loaded with sortable and weighable information to help you in all sectors of the market. 
Vegas Report (All Pre-Tournament Bets)

Top Pre-Tournament H2H Pick: (104-60-9) 63.41%
All Pre-Tournament H2Hs: (234-174-23) 57.35%
Total H2Hs Since 2017: (434-301-59) 59.05%
Outright Winners Since 2017: 36
Units: +311.229 Units
All Totals Are Entering 2023
In-Tournament Model (Updated Stats + User Configuration Ability)
Here you will find updated stats for the particular tournament – all sortable and weighable when you make a copy of your own under the file tab. The purpose of this is to provide an area where you can research the daily proceedings for DFS strategy or find outright or daily head-to-head wagers. There are over 25 weighable categories by the time round four comes around, including the ability to add back in your pre-tournament research for every day.
In-Tournament Head-To-Head Bets For Rounds 1,2,3 and 4
Lifetime Record: (200-127-36) 61.16%
First-Round Leader Article
Eight first-round leader wins in 2022.
One & Done (Deep-Dive Into Potential Options To Consider)
10+ million in earnings during two of the past three seasons while providing information for contests. We will take a comprehensive look into a handful of options to consider.
Late DraftKings Article (Condensed Player Pool)
We will build off the Monday article throughout the week and consolidate selections toward a more concrete player pool for everyone to consider by Wednesday.
Premium Discord Access
Join the community! There you will be able to talk to fellow subscribers and have real-time weekly chats with me.
Field
Field Size: 156
Cut: Top 65 & Ties
Top 20 Entrants: 5
Last Five Winners Of The RBC Canadian Open

| | | |
| --- | --- | --- |
| 2022 | Rory McIlroy | -19 |
| 2021 | | |
| 2020 | | |
| 2019 | Rory McIlroy | -22 |
| 2018 | Dustin Johnson | -23 |
Expected Cut-Line
Oakdale Golf & Country Club
7,264 Yards - Par 72 - Greens Bentgrass/Poa
Inconsistent yardage expectations are pronounced for a venue that measures 7,264 yards but can play between varying ranges, including up to 200 yards more than this total on any given day. Those unknown commodities are troubling from a betting perspective since they can vastly alter price points and create a substandard output. However, it is worth mentioning that these are the weeks where you can take advantage of some of that "groupthink" mentality in DFS contests since the ability to formulate projections and compare them to how other users think will start generating a game theory optimal route that you can consider.
Unfortunately, I do believe most gamers are correct that the track will play marginally similar to how it looks on paper. Eight par-four holes between 354 to 432 yards begin to tell this picture of short iron play and the need to make putts. Still, I think the one difference I took inside my model over what I have seen from others was the recalculations I ran to mimic a property with some strong corollaries to specific game types.
The forecasts for thick rough might be a little too overbearing for some in their models since I do not believe that accuracy golfers see a substantial boost over those with distance. When getting technical, I ran a 60/40 split in favor of accuracy over length. Still, this is all about creating opportunities and realizing those chances when combining weighted proximity and projected make percentages between 5-15 feet.
Essentially, find me the golfer that best creates opportunities to make birdie and then add the likelihood that they make that putt from the critical distances. For me, that will be the player that walks out of the week victorious.
Let's Look At The Stats
| | | |
| --- | --- | --- |
| Stat | Oakdale | PGA Average |
| Driving Distance | | 283 |
| Driving Accuracy | | 61% |
| GIR Percentage | | 65% |
| Scrambling Percentage | | 57% |
| Average Three-Putts Per Round | | 0.55 |
Key Stats 
Let's quickly run through how I built my model.
Weighted Strokes Gained Total (35%)
Strokes Gained Total Long Rough (10%)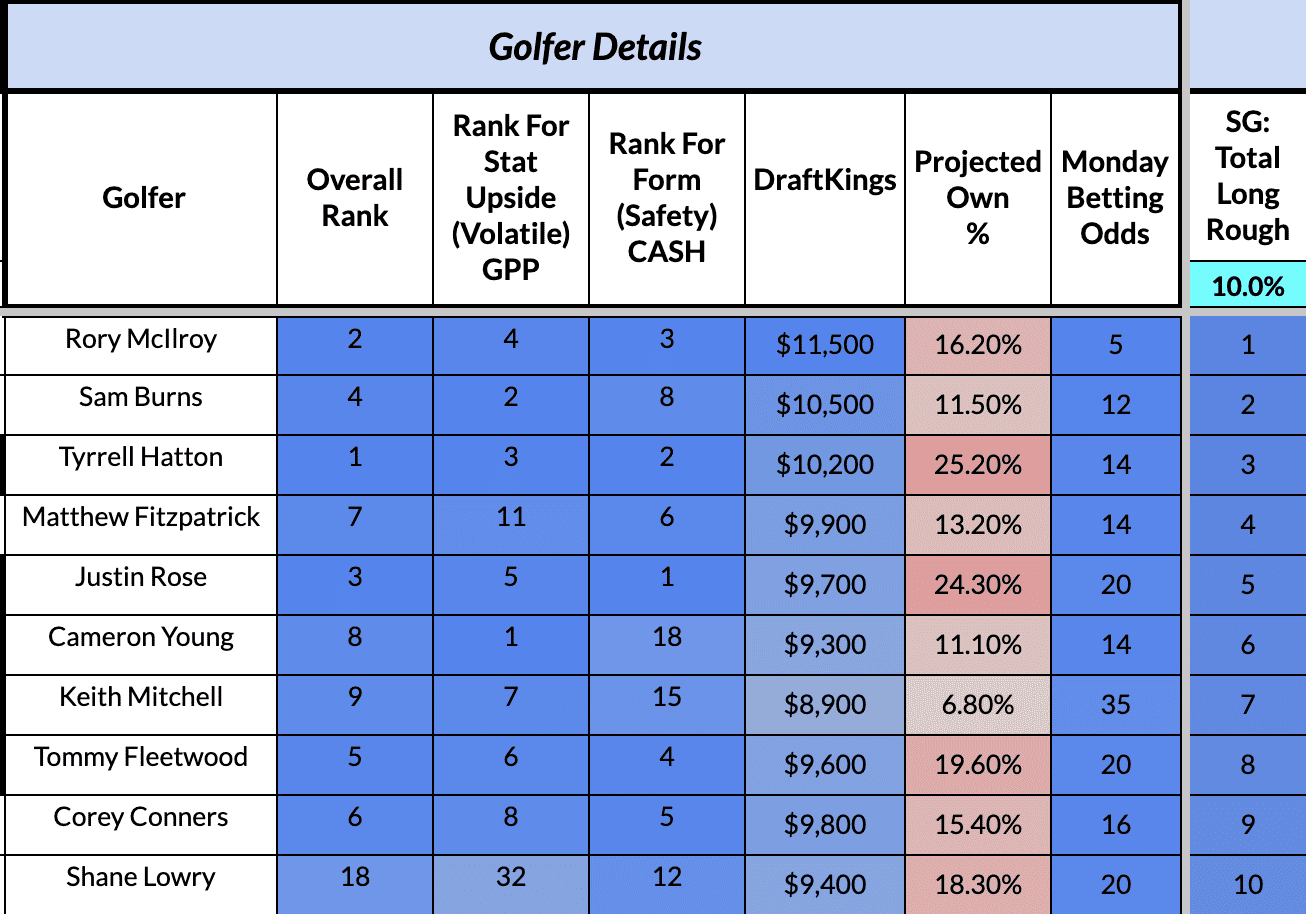 Weighted Scoring (25%)
Birdie or Better (10%)
Expected Realization Of Opportunities (10%)
OTT + Approach (10%)
Total Number Of Top 10's Out Of The Six Categories: Two-Year Running Model


I will dive deeper into what went into these totals later in the week on my podcast. If you aren't doing so already, you can follow Bettor Golf Podcast on Twitter.
Top 50 In All Six Categories:
Last week was the first time I included this answer. All 13 qualifying names made the cut. 
*** Collin Morikawa withdrew Sunday
This Week:
| | |
| --- | --- |
| Tyrrell Hatton | 1 |
| Rory McIlroy | 2 |
| Justin Rose | 3 |
| Sam Burns | 4 |
| Tommy Fleetwood | 5 |
| Corey Conners | 6 |
| Matthew Fitzpatrick | 7 |
| Cameron Young | 8 |
| Keith Mitchell | 9 |
| Ludvig Aberg | 10 |
| Adam Svensson | 14 |
| Brendon Todd | 16 |
| Adam Hadwin | 19 |
I will start updating these weekly on my model.
Fantasy Golf Lineup Picks for DraftKings (PGA DFS)
We have tons of great weekly PGA articles, DFS analysis, tools and DFS advice. Be sure to read our other fantastic articles regarding this week's event.
High-Priced DraftKings DFS Players 
***There are five players priced above $10,000. Please remember that my DFS article is always a first look at the field. Opinions might shift as the week goes on, and I am more than happy to discuss anyone further on Twitter.
I am going to change the article this week and highlight one player in each section. You can dive deeper into the field inside of my 'Final DraftKings' article here at RotoBaller.
All three of Rory McIlroy/Sam Burns/Tyrrell Hatton are under consideration and should be viewed as incredibly playable for all the obvious reasons. Each graded inside the top 10 of at least five categories out of the six I ran and also featured as this week's 13 names to rank in the top 50 for all sections. That is a firm answer that keeps everyone under consideration, but let's highlight Sam Burns because of his early under-the-radar ownership.
Burns has been trending with back-to-back top-16 finishes over the previous two weeks and was one of two golfers (Cameron Young) to rank inside the top 10 of all metrics I ran this week. That consistency is getting overlooked by gamers clicking more frequently on other options, making Burns one of the savvier plays to consider near the top of the board. 
Did you know RotoBaller has a Premium DFS PGA subscription? Like what you read today? You can show your support for Spencer by using the discount code TEEOFF when purchasing a PGA Premium Pass. You get 10% off and full access to all of our Premium PGA articles, DFS tools, and Lineup Optimizer! You also get access to weekly betting picks from Spencer Aguiar, one of the top betting minds in the industry.
End of the Season Totals: @rotoballer @BettorGolfPod

2017 +54.26 Units
2018 +55.88 Units
2019 +27.743 Units
2020 + 37.015 Units
2021 + 68.846 Units
2022 +67.485 Units

Total Winnings: +311.229 Units

Total Outright Wins Since 2017: 36

H2H Totals Inside Thread… https://t.co/pNQrSK1rFE

— Spencer Aguiar (@TeeOffSports) December 12, 2022
Mid-Priced DraftKings DFS Players
$9,000 Range
I already alluded to my intrigue for Cameron Young in the section above, but things have gotten carried away when looking at his weekly performances.
The ball striking has remained intact throughout the recent poor stretch, and I believe that Oakdale might be the ideal venue that accentuates his strengths and diminishes his inferior qualities.
Young ranks an impressive first for weighted proximity at this week's anticipated venue, and the key to the puzzle might be his 23rd-place rank for putting between 5-15 feet. That was the same answer that made him nearly crash my model at the 'Match Play,' creating a seventh-place grade for expected realization from opportunities created.
Add that to a first-place rank for birdie or better percentage, and I legitimately think Young incorrectly goes massively under-owned at a course that plays into his strengths. I would not be surprised if he finds his first victory at this track.
Mid-Priced DraftKings DFS Players
$8,000 Range 
It looks like a strong $8,000 group. Four of these names cracked the top 50 in all six categories. We had a handful more on top of that list who should be considered in various builds, but my early favorite is Keith Mitchell.
Mitchell continues not to produce when looking at only his results, but many of these finishes have been stunted by a poor round that has seen him free-fall down the leaderboard.
The American was amongst the nine players this week to rank in the top 10 for both weighted scoring and weighted strokes gained total. In fairness, that is an output expectation that mainly featured the same weights, but he joined a list of McIlroy, Young, Fitzpatrick, Fleetwood, Rose, Burns, Conners and Hatton as the only players to land under that answer.
Low-Priced DraftKings DFS Players To Consider ($7,000+)
Check out my model for everything in this section. There, you will get individual rankings on all players and create the possibility to weigh the data to create your own model when you make a copy. Please consider signing up for this tool that I am very proud to share with the public!
Here are the top players from the $7,000s
I always seem to be the one that jumps back in on "injuries," but I am not convinced Brendon Todd removing himself from the event is the same as when Collin Morikawa did it last week. 
Todd had shot a Thursday 79 and was already doing the same on Friday before removing himself from the field. If that causes a decrease in ownership from the only player inside my model to crack the top 50 of all six categories in the $7,000s, I am fine taking a shot on that sub-10 percent going rate. 
We will dive into these other names more as the week goes on for those wondering where I stand in different spots. Names like Ben Griffn are strongly leaning toward being in the player pool. 
Sub-$6,000 Options To Consider
I'll condense this list down more when we get better ownership. Overall, I am not in love with the $6,000s.
Win Big With RotoBaller
Golf is back, and it's time for you to win big with RotoBaller!
Our PGA DFS Premium Package
 features several savvy analysts and proven DFS winners.
Our very own Joe Nicely recently took down a big DraftKings DFS tournament for the Travelers Championship. And as an encore, RotoBaller subscriber @tenndolly2 won $100K on FanDuel with the help of Joe and the rest of our Premium PGA team:
If you read my articles @RotoBaller or listen to @TheTurnGolfPod I've been telling y'all it was #WinningSeason when golf came back! Shoutout to the entire @RotoBallerPGA squad and all you guys that support my work for all the ❤️ pic.twitter.com/07a4ynvbSU

— Joe Nicely (@JoeNicely) June 28, 2020
Congrats @tenndolly2 ???

Thanks for being a @RotoBaller PGA DFS Premium subscriber & checking out all the amazing golf content that @JoeNicely produces every week! https://t.co/tHKZVsPbbt

— RotoBaller PGA (@RotoBallerPGA) August 10, 2020
Between all the incredible
Premium PGA DFS
content and tools we put out each week, and our Premium Slack Community where we chat with our subscribers before lineups lock, RotoBaller PGA subscribers are armed with the tools, analysis, and advice to win big.
Golf DFS News and Player Outlooks
More PGA Analysis and DFS Lineup Picks