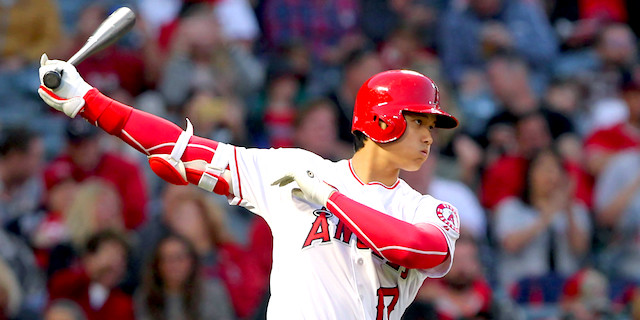 Welcome to Contact Rate Risers and Fallers! Our premium tools allow us to get out ahead of trends in player performance, including contact rate. Every Wednesday, we'll be looking at some players that have seen an increase in contact rate and some that have seen it decline.
Contact rate can foretell a player's batting average and general hitting statistics, and any drastic change could signal a shift in performance. Contact rate shifts often act as a precursor to hot streaks and slumps.
Here is a breakdown of some of the biggest fantasy relevant risers and fallers in contact rate over the last seven days.
Editor's Note: Get any full-season MLB Premium Pass for 50% off, with exclusive access to our season-long articles, 15 in-season lineup tools and over 200 days of expert DFS research/tools.
Sign Up Now!
Contact Rate Risers and Fallers - Premium Tool
Identifying top batting average surgers for each week can help you spot the best pickups before your competition. RotoBaller's Premium Contact Rate Risers and Fallers tool has you covered every day. As thoughtful fantasy baseball players, we won't lead you astray.
This type of data is available as part of our Premium MLB Subscription. Don't settle for basic stats and surface-level advice from other sites. RotoBaller brings you advanced statistics and professional analysis that you need to win your fantasy leagues and DFS games, because we're ballers just like you. We are your secret weapon!
Contact Rate Risers
Colin Moran (3B, PIT)
100% contact rate last seven days (+17%)
Moran did not swing and miss last week, and all it got him was a .130 AVG and .341 OPS in 24 PA. Certainly some of his poor performance can be attributed to bad luck and small sample size, but managing such poor hitting numbers without striking out is quite bizarre. Looking at his hit distribution during this stretch, two things jump out. Moran had a 54.5% ground ball rate and 65.2% medium contact rate. Sounds like he hit a lot of routine ground balls in the range of defenders. Moran doesn't normally hit this many ground balls; his ground ball rate is 43.3% on the season, which is almost perfectly league average (43.4%). While this week is an extreme example, Moran's results haven't aligned with how well he's hit all year. He is a good contact hitter at 82% and only strikes out 15% of the time yet only has a .258 AVG with a .279 BABIP. Statcast gives him a .283 xBA and .478 xSLG, meaning Moran could have some ground to make up in both batting average and power. Moran probably won't be relevant in standard mixed leagues this season, but he's just 4% owned in Yahoo leagues as of writing this. In deeper leagues he's a decent player to add as better results should come.
Ian Desmond (1B/OF, COL)
87% contact rate last seven days (+16%)
Ian Desmond has been one of the weirdest players in baseball this season. His 63.2% groundball rate is the highest among qualified batters, yet he has 17 home runs and a .210 ISO. Here's a Statcast graph measuring launch angle (x axis) compared to ISO (y axis).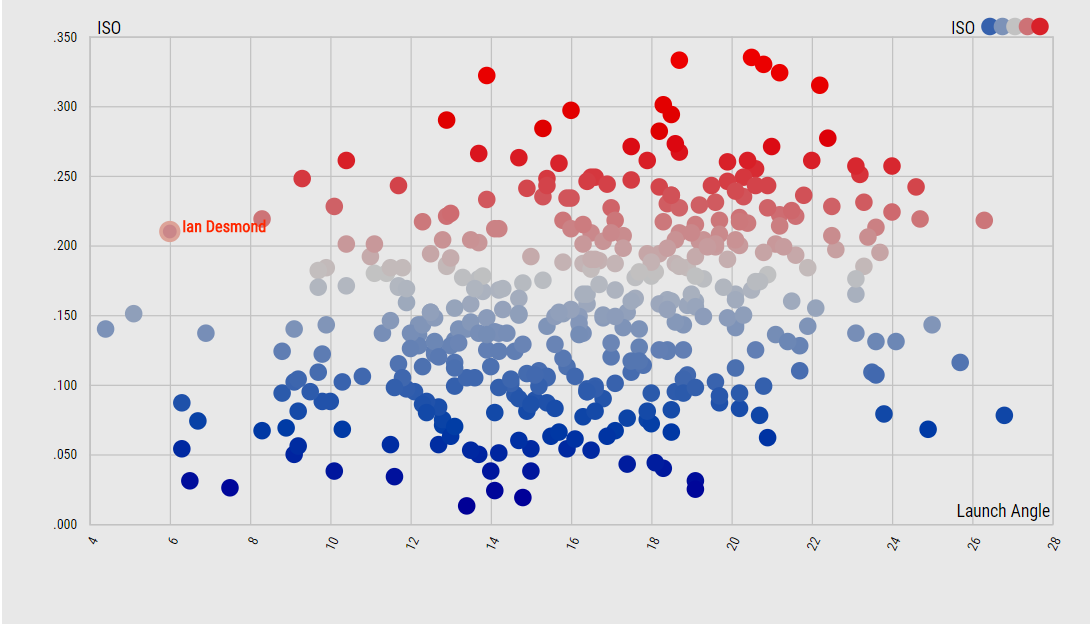 Desmond is on an island out there, as the only player in the lowest 1/6th of the graph with an ISO above .200. His production might make sense if we attribute it to a Coors Field inflation, but Desmond is hitting .184 with a .613 OPS at home. He's also hit 13 of his 17 home runs on the road while riding a 39.5% HR/FB ratio. If his HR/FB ratio stuck it would be the highest since Ryan Howard in 2006, who had a 39.5% HR/FB ratio and hit 58 home runs with a .346 ISO in an MVP season. 247 qualified hitters have had a HR/FB ratio of 20% or higher since 1950, and only 2018 Ian Desmond and 2018 Eric Hosmer have had a FB rate under 20%, and obviously those two haven't done it over a full season. Basically what Desmond is doing is wholly unsustainable, and we can't even write it off as the magic of Coors Field.
Desmond's past week doesn't do much to foster hope for long term sustainability. Yes he only struck out three times in 25 PA, but he also hit .174 with a .457 OPS. Desmond had a 75% groundball rate and 5% line drive over that stretch. With Desmond there aren't just red flags in his profile, there are alarm bells signalling an impending meltdown. Sharper owners will understand Desmond is going to regress, but the allure of Colorado and the production he's banked should give Desmond some value as a trade candidate.
C.J. Cron (1B, TB)
85% contact rate last seven days (+15%)
This was an uncharacteristic week for Cron, who is coming off an atrocious June where he hit .130 with a 36.7% strikeout rate. In June he also had the worst week I've ever seen and ever expect to see while writing this weekly article. That week Cron had an 18% contact rate while going 0-for-22 with 18 strikeouts. This past week was a complete inversion for Cron, who hit .500 with a 1.445 OPS and three strikeouts in 22 PA. Cron has been an incredibly streaky player all season, and we're starting to see why the Angels were so reluctant to give him every day playing time. While Cron has already set a career high with 17 home runs, he has just a 72% contact rate this season, a continuation of a four-year downward trend. He's also considerably better against left-handed pitching, with an .878 OPS and .226 ISO versus southpaws this season. His .752 OPS and .210 ISO against righties are better than an all-out platoon player like Brandon Guyer, but Cron can certainly be defined as a lefty-masher. With a career low 72% contact rate, career low .247 xBA, and career high strikeout rate (27%) we can't expect Cron to hit much better than .250. He is selling out for power, which is fine from a fantasy perspective, but he will be a batting average liability.
Contact Rate Fallers
Nelson Cruz (OF/DH, SEA)
53% contact rate last seven days (-25%)
It was a rough week for Cruz, who hit just .176 with a .770 OPS and eight strikeouts in 24 PA. Cruz also took seven walks and had a .417 OBP over this week, so in points and OBP leagues this week wasn't nearly as bad. Cruz is one of those players that has been so good and so consistent for the last few years that we hardly think about him when it comes to player evaluation, but at age 38 there's always the concern that Cruz could succumb to age related regression. That doesn't appear to be the case quite yet. Cruz's 71.5% contact rate is right around his career 72.4% rate and his 19.1% strikeout rate is his lowest since 2010. His .282 ISO and 94.6 MPH average exit velocity would both be career highs. Cruz actually has a .304 xBA, which is his highest since the statistic has been measured. His .267 BABIP is 40 points lower than his career average and he could see some gains in batting average down the line. That being said, one bad week hasn't changed his value and Cruz isn't being sold at a discount on the trade market. If you own Cruz there is no reason to be worried about him.
Mike Moustakas (3B, KC)
65% contact rate last seven days (-18%)
Moustakas has seen his batting average tumble as the season has progressed. After hitting .302 with eight home runs in April he hit .255 with four homers in May and .217 with four home runs in June. It hasn't been a good start to July for him either, as Moustakas hit .150 with a .577 OPS and seven strikeouts in 22 PA over the last seven days. These strikeouts are uncharacteristic for Moustakas, and he still only struck out 13.7% of the time during a rough June. As a big, burly power hitter it would seem like Moustakas strikes out a lot, but he has a 15.5% strikeout rate and 82% contact rate for his career, which are significantly above average in today's game. His contact rate has gone down to around 80% over the past two seasons, but that coincided with a huge power surge from Moustakas without affecting his batting average. With a .289 xBA and .535 xSLG it looks like there is some positive regression coming from Moustakas. He's also a likely trade candidate, and most places he'd go would be a ballpark upgrade, and any lineup would be an upgrade over the Royals. Moustakas has been scuffling for over a month, and he's someone to target as a buy-low aggressively before he gets traded.
Shohei Ohtani (DH, LAA)
53% contact rate last seven days (-16%)
Ohtani returned from the disabled list on July 3 and will serve as a hitter only while he recovers from a UCL sprain. That means he will get nearly every day playing time as a batter, and his first week did not go well. Ohtani hit .176 with a .634 OPS and eight strikeouts in 19 PA. Before going on the disabled list Ohtani had some success at the plate with a .907 OPS and .246 ISO, but he was riding a .360 BABIP and 27.3% HR/FB ratio despite a 50.6% groundball rate. This isn't quite Ian Desmond level, but still pretty fishy. There is reason to be optimistic about his power, chiefly Ohtani's 93.3 MPH average exit velocity. Ohtani has a .499 xSLG, which is right in line with his .519 SLG. The power seems legitimate, but his batting average could be a problem. Ohtani has just a 70% contact rate this season along with a 27.7% strikeout rate. That along with his 50% groundball rate is too many automatic outs. He won't a huge liability in batting average but Ohtani might struggle to hit above .260 over an extended period of time. That coupled with questions of health make trading for him a risky proposition. The batter-only version of Ohtani is 41% owned in Yahoo leagues as of writing this, and he's a good player to add speculatively, but he's not someone to go out of your way to acquire.
More 2018 MLB Advice and Analysis