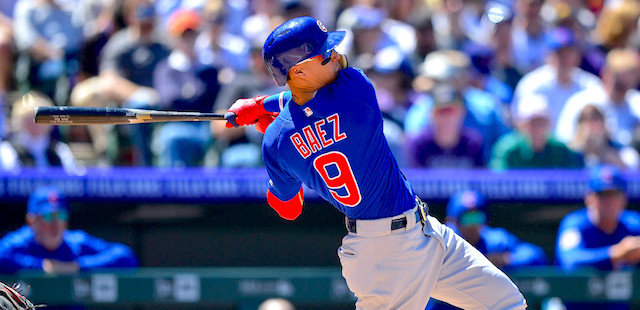 As the season draws near, we realize suddenly that it's draft season. There is a large portion of fantasy baseball busy with mock drafts, rankings, sleepers, and more mock drafts. The Dynasty community, on the other hand, is looking to continue their dominance, rebuild, or in a worst-case scenario, stick their hands up in frustration. Regardless of the team's competitive situation, everyone wants to add value to their roster.
Shortstop is the deepest position in fantasy baseball and ensures nearly every team in your league will have the spot comfortably filled. This presents an issue and opportunity when managing your leagues. It is an issue as it could limit trading if you have multiple shortstops on your roster. It presents an opportunity as there are many potential investments for profit available. Make sure you have a stud, even in the likes of Bo Bichette or Xander Bogaerts. After that, you have 50 other players that you can use to speculate on to test your Buy-Low/Sell-High strategy.
All preseason long, RotoBaller has you covered with the latest rankings for all fantasy baseball league types. Here we present our dynasty rankings for the second base position, put together by analysts Nicklaus Gaut, Pierre Camus, and Ellis Canady. Check out our analysis of all other positions as well, coming soon!
Featured Promo: Get any full-season MLB and DFS Premium Pass for 50% off. Exclusive access to our Team Sync platform, Premium articles, daily Matchup Rating projections, 15 lineup tools, DFS cheat sheets, Research Stations, Lineup Optimizers and much more!
Sign Up Now!
Shortstop Rankings - Dynasty Leagues (March)
In case you missed it, our very own "Big Pick Nick" Mariano was named the #1 overall most accurate industry expert ranker for the 2018 season!
Tier One
There are seven players in this tier. If you're lucky to have any one of these guys, you're set at the position. Lindor, Bregman, Story, and Turner are all excellent options and provide similar elite stats.
Fernando Tatis Jr. is the latest hot stuff in baseball. His stat line glistens with possibilities. We didn't get to see the extent of his rising start as unfortunate hamstring and back issues disrupted and ultimately ended his 2019 season. Tatis did ooze power (22HR) and speed (16SB) in only 334 at-bats. However, he demonstrated concerning aggressiveness at the plate and had a 15.6% Swinging Strike rate. Tatis should be off the market in your league. You should be ecstatic if you can acquire him for anything less than an elite player. Another perspective, considering he will have some regression, is to consider trading the undefinable helium into an uber elite player.
Javier Baez defies the odds and gives you comfort despite some unsettling metrics. In 2019, he had a 44.1% Chase rate with an equally unbelievable 18.3% Swinging Strike rate. Though he is a chase monster, Baez still finds success at the plate. It might be considered a disappointing season, but he still hit 29 homers with 11 steals and a .281 batting average. He is worth acquiring as his 2019 gives an opportunity to acquire his services.
Tier Two
Xander Bogaerts doesn't carry the same excitement as some other premium shortstops. However, he is an outstanding four-category contributor that gets glossed over because of the tremendous depth at the position.
Adalberto Mondesi has had repeated injuries that have slowed his glide path. He won't be a major producer in 2020. However, he is a premium speed option in the game for the foreseeable future. It is concerning that he lacks plate discipline in addition to a 29.8 percent strikeout rate. Thankfully he's only 24 years old and can still develop these skills. The shoulder concern and strikeout rate might present a buying opportunity. Take advantage if you have a backup plan.
Wander Franco is not too far from reinforcing the mistaken expectation that all prospects should be superstars once promoted. That mentality shouldn't be the norm, but the difference is that 19-year-old Franco actually is a star. Everyone knows about his super-fast bat speed and the power/speed combo he brings to the table. Franco's elite plate discipline enabled him to walk (56) more than he struck out (35) across Single- and High-A levels in 2019. He will likely start 2020 at Double-A with the potential to own a starting job in Tampa in 2021. He's a known commodity, but it never hurts to see if you can lure him away from his owner.
Tier Three
Bo Bichette falls into the third tier but is likely to move up by the end of this year. Bichette brings five categories to your front door. After returning from a wrist injury, he quickly adjusted to the Major Leagues in 2019. Bichette smacked 11 long balls and stole four bases while adding a .311 batting average across 196 at-bats. You've got to give up something to get something. If you want Bichette on your dynasty team — and, you should — you'll need to offer something of serious value.
Manny Machado's profile isn't unique and he might be overrated in fantasy baseball. He thumps 30 homers annually, but that is where reality stops and fantasyland begins. The fantasy community wants him to have a great batting average, but we'd be lucky to get .260. We yearn for more stolen bases but would be overjoyed to see five. If you're looking for a source of profit, Machado could be an option though. His value is currently deflated, but he still has the potential to have a great season.
What type of player is Carlos Correa? He's a guy with above-average power and a solid batting average. However, that isn't the extent of his potential. His 95.7 mph exit velocity on LD/FB gives reassurance that the power is sustainable. Even his above-average sprint speed (27.6 ft/sec) would indicate he can do better than the six bags he stole the last three seasons combined. The primary limiting factor has been health. Correa is likely treated as an afterthought in most leagues. There is profit to be made from him this season.
On top of the world, ma! Tim Anderson wins a batting title and there aren't many that support him in part to a .399 BABIP. The batting average will not reach .335 again (right?) but a 20 HR/20 SB player with a .270 AVG is still quite sexy.
Tier Four
Jorge Polanco is constantly overlooked. He doesn't have an elite category so he is often relegated to an MI spot of a lineup. There is value in boringly reliable stats. Admittedly, he isn't too boring as he offers a premium plate approach resulting in an 8.5% BB, 16.5% strikeout, and 7.3% Swinging Strike rates. He has the sprint speed (28.2 ft/sec) to accrue more bags but team philosophy prevents him. The philosophy is simple: Get on base, the big bats will do the rest. It works; expect Polanco to tally triple-digit runs annually.
Marcus Semien has often been underrated but it's possible the pendulum has swung the opposite direction. He had a career year in 2019 with a .373 wOBA. He continued to improve his approach at the plate, lowering his strikeout rate (13.7%) and raising his walk rate (11.6%). Speed will always be in demand and he's reached the double-digit mark in each of the last five seasons. The 30-homer power will be tough to replicate, however. Semien is a great asset to own but do not pay too much for his services. Remember, he's already creeping up on 30 years old.
Corey Seager should be the target in all your leagues. I don't care if you already own a premium shortstop. Admittedly, he misses time every year due to health issues, but he still profiles as an elite hitter. Don't fret over the slight dip in exit velocity (88.8 mph) and walk rate (8.1%) or even the increase in strikeout rate (18.1%). Let's give the 25-year-old a pass as he returned from hip and elbow surgeries. Seager finished 2019 with a bang, hitting seven homers, 26 RBI, and a .291 batting average in his final 90 plate appearances. His value is tremendously deflated. Buy back in now and watch his value soar in the explosive Dodgers lineup.
Tier Five
Amed Rosario continued his developmental process in 2019, both on the basepaths and with the bat. In his third season, he increased his contact rate to 77.6 percent and finished the year with a .287 AVG. This can be attributed to a .340wOBA in the second half. Rosario's sprint speed (29.2 ft/sec) is his calling card. However, he'll need to improve upon his 66 percent success rate to optimize his skills. He's currently a 15 HR/20 SB guy with the potential to even become a 20/30 player if his power and basepath efficiency continues to progress.
Jean Segura will be 30 years old when the 2020 season begins. His age and a disappointing performance in 2019 has caused his value to unnecessarily plummet. He dealt with numerous injuries that it is no surprise he didn't steal many bases. He did, however, maintain an impressive 86.6 percent contact rate. With a new regime in Philly, and the possibility of increased positional eligibility (2B), there is value having Segura on your roster.
How often can you get 30 homers from an infielder? Paul DeJong hears your struggles and he grants your wishes. But, be careful what you wish for as it has baggage in the form of a .233 batting average. Batting cleanup, you'd prefer that he did better than a .193 average with men in scoring position. Beggars can't be choosers I guess. Hopefully, offseason adjustments will improve this area of his game. It wouldn't be wildly abnormal to expect a .250 AVG with 30 homers.
Tier Six and Lower
Willy Adames is one of the few permanent fixtures in the Rays lineup. He reached the 20-homer mark thanks in part to a 42.1% hard hit rate. If he can improve his 10-degree launch angle, Adames could chip in a few more. Despite a 28.3 ft/sec sprint speed, he has yet to eclipse double-digit steals, but they should be coming soon enough. Adames will need to improve versus left-handers (career .205 AVG) if he is to reach his full potential. He's young enough to make all the adjustments necessary to jump a few tiers by next season. He's dirt cheap right now if you've got a roster deep enough to wait for him to develop.
Dansby Swanson has already gone back to pre-2019 popularity which was non-existent. Many have already forgotten his stellar first-half performance. He hit 17 long balls, stole seven bags, and a had a .341 wOBA. However, a foot injury derailed that fantasy with zero homers and only three steals in the second half. His exceptional stats shouldn't be prorated, but they should still give an idea of his potential. Also, Swanson isn't even stealing as many bases as he could as his 28.7 ft/sec sprint speed seems to be overshadowed with all the other news. Injuries aside, Swanson could be a 20/20 player and it would take a few quarters to find out.
More Dynasty Baseball Strategy