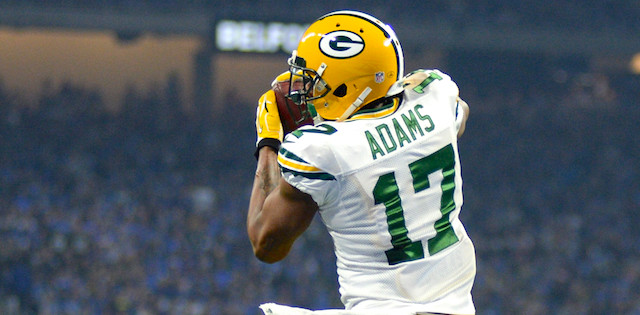 If you're familiar with the best-ball scene of fantasy football, you can skip ahead. For those of you who are new to one of the most exciting and fastest-growing forms of fantasy sports, welcome! Best-ball leagues for fantasy football are gaining a lot of popularity recently but they require a different approach on draft day.
One of the most appealing parts of best-ball is that you never have to worry about who to start. There is no roster management after you finish your draft. There are no trades, waivers, or player swaps allowed. Your highest-scoring players are automatically started each week and your totals are automatically added up week to week. These season-long leagues can be from three-team leagues up to your typical 12-team leagues.
For those reasons, you have to go into each draft with a gameplan and then adjust accordingly. Below, I'll lay out some of my favorite strategies that have been tried and tested.
Editor's Note: Get any rest-of-season NFL Premium Pass for 50% off. Our exclusive DFS Tools, Lineup Optimizer and Premium DFS Research through the Super Bowl.
Sign Up Now!
Roster Construction
The scoring is 0.5 points per reception. Six points for passing touchdowns and four points for rushing, receiving, and return touchdowns. Each week, your team's highest scores at each of the following positions:
1 QB
2 RB
3 WR
1 TE
1 FLEX (RB/WR/TE)
When it comes to DRAFT best ball leagues, your roster will have 18 total players. Roster construction can make or break you in this format, and it's important to cover yourself on your bye weeks and have enough depth at the quarterback and tight end positions.
There are many different ways to approach best-ball drafts. If you have a top-five pick, I recommend taking a stud running back. Any of the stud running backs, Saquon Barkley, Ezekiel Elliott, Christian McCaffrey, or Alvin Kamara offer tremendous weekly upside and are a huge advantage to have in this format. Once you get past the top running backs, you will be looking at a slightly lower-end running back, an elite wide receiver, or Travis Kelce. It's important to look back and realize that last year Kelce outscored most all of the elite wide receivers in this format, and offers the same elite upside in 2019.
Grabbing an elite tight end early is a great advantage to have in this format, especially in 10 or 12-team leagues. If you don't grab one of the top three tight ends, you might be better off waiting and grabbing two or three late-round guys with upside like Vance McDonald or Jared Cook. If you grab one of the top-three tight ends in Kelce, Zach Ertz, or George Kittle, you can get away with just two tight ends on your roster for the season. If you wait, I'd recommend going with three.
Typically, my roster construction will look something like this:
2-3 QB
4-6 RB
6-8 WR
2-3 TE
Bye Weeks
As you construct your team, it is important to watch the bye weeks as they can really hurt you in this format. It can be pretty easy to get caught up in ADP and taking the best available players, but when you get to rounds seven or eight, you should start caring more about the bye weeks. The most notable of the bye weeks this season is Week 10, where six teams are on bye.
It is important to cover yourself at the quarterback and tight end positions regarding the bye weeks. Botching your draft and ending up without a quarterback or tight end for a week can end up costing you. Running backs and wide receivers you'll want to stockpile those, and it is a little easier to avoid the bye weeks, but it is still worth watching as you build your roster.
Tight End First
One strategy that you can use in this format is going with a tight end in your first pick. I recommend taking advantage of this strategy when you're in 12-team leagues and have a draft spot in the 8-12 range. This is where you'll want to draft Travis Kelce and build around your stud tight end. You can use this strategy in the third or fourth round and take Kittle or Ertz, but neither have an ADP that will require you to use your first round pick.
After you take Kelce with your first pick, you'll be looking at either a stud wide receiver like DeAndre Hopkins or Davante Adams or a borderline stud running back in someone like Le'Veon Bell or Joe Mixon. Personally, I'm going with the potential workhorse running back and hoping to pair Kelce with Mixon, Dalvin Cook, or James Conner.
Nailing your first three picks is crucial in best-ball leagues. I like to go with three guys that I believe are safe options, before targetting the high-upside players with later picks. You can't go wrong with Kelce if you have a late-first round draft position, and it's a solid strategy to use this year.
Zero RB
While many fantasy owners believe that Zero RB is dead, there is definitely a scenario where you could use it as a viable strategy this year. Similar to going Tight End First, you will only want to use this strategy if you have a late first round draft spot.
In this scenario, I'm likely going with a stud wide receiver like Hopkins or Adams to start. You can go with Kittle (22.6 ADP) or Ertz (23.8 ADP) with your second pick if you're interested in targeting a tight end. Ideally, for Zero RB I'd be hoping to snag Julio Jones or Odell Beckham with my second pick and hoping for one of the previously mentioned tight ends to fall to my third pick. This isn't highly likely, but would definitely be ideal. With this strategy, you could potentially end up with Hopkins, Ertz, and another receiver like AJ Green or Stefon Diggs.
Depending on how true to the Zero RB strategy you want to go, if you look at a running back with your fourth pick, you'd be looking at someone like Mark Ingram or Kenyan Drake. If you're feeling bold, you can wait until the sixth round or so and grab a guy like Lamar Miller as your RB1, which would be a fine way to use this strategy.
One thing to realize with best ball leagues is that it is important to mix up your ownership numbers. Going all in on a few players can end up killing you if all of your teams have similar players and some don't pan out. Zero RB is a legitimate way to attack best ball leagues and a good way to mix your ownership numbers up.
Some of my favorite late-round running backs to target with this strategy include Lamar Miller (68.2 ADP), Latavius Murray (77.2 ADP), Jordan Howard (97.7 ADP), and Ito Smith (122.9 ADP).
Waiting on Quarterbacks
Waiting on your quarterback in best-ball leagues isn't necessarily a strategy, but something that I recommend doing in general. There will always be someone that takes Patrick Mahomes with a fairly early pick, as his ADP is currently 38.0 on DRAFT. The next quarterback is Andrew Luck and his ADP is currently 63.6, next is Aaron Rodgers has an ADP of 70. There is no denying the upside that Mahomes brings, but someone like Luck or Rodgers has similar weekly upside and is going almost three rounds later.
I won't recommend drafting Mahomes at his current ADP, but you could use a seventh or eighth-round pick on a guy like Luck, Rodgers, or Deshaun Watson. If any of these four quarterbacks fall, I'll take them after this range, but really will be just looking for one of them to fall to the point where I can't pass them up. If you draft one of these top four guys, you can pair them with a late-round quarterback to cover your bye week and bring your team some upside.
Some of the players I'm most interested in owning this year are being drafted in the 12th round or later. I recommend waiting on your quarterback and grabbing two or three of these late-round players like Philip Rivers (137.1 ADP) or Jimmy Garoppolo (148.2 ADP). It's a good strategy to paid a high-upside guy like Rivers or Ben Roethlisberger with a more consistent week to week option like Dak Prescott (127.1 ADP). Take advantage of the earlier rounds and stock up on running backs and wide receivers, then grab a couple of quarterbacks in the late rounds.
More Best-Ball League Strategy