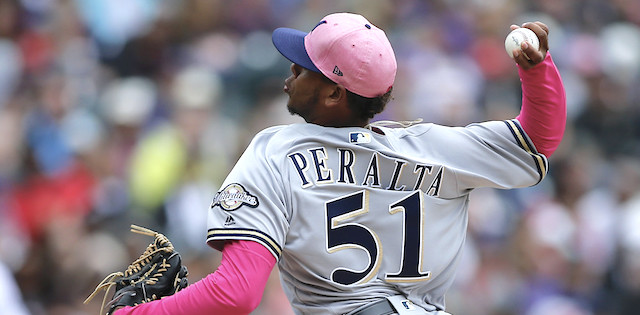 Welcome to this week's dive into the starting pitcher waiver wire waters! Before we begin, I'd just like everyone to know that I'm trying to craft a better system for teasing out players that are more likely to be available (beyond raw ownership rate) as the season wears on. The further into the season we get, the more dead teams and inactive owners there are. A guy who sees a jump from 3% owned to 27% owned may very well encompass 90% of this audience! But for now, I've got a job to do and that's to get most of these pitchers over the 30% hump and out of my life!
If you want to chat more about additional arms/bats/whatever, you can find me on Twitter @NMariano53 and ask any follow-up questions.
We're using Yahoo ownership levels and cutting things off around 30% this week. Here are my starting pitcher waiver wire targets for Week 12.
Editor's Note: Get any full-season MLB Premium Pass for 50% off, with exclusive access to our season-long articles, 15 in-season lineup tools and over 200 days of expert DFS research/tools.
Sign Up Now!
Starting Pitcher Waiver Wire Targets
Anibal Sanchez (ATL - SP/RP): 30% owned
Sanchez plays on the one truly above-average team in the worst-hitting division in baseball, and for as long as he has a rotation slot, he should have a place on your roster in 12-teamers. Before getting hurt during pregame warmups in mid-April, he had tossed six shutout innings against the Cubbies. I'll write off his first start back after missing more than a month on May 29 since he's gone on to post a 16-to-3 strikeout-to-walk ratio with just two earned runs allowed over his last three outings (19 ⅓ IP). The peripherals agree he's more of a mid-to-high threes ERA pitcher (3.67 xFIP in June), but a 3.67 ERA can play for many of you! Though I expect his ownership to spike a bit due to a Wednesday start.
Clayton Richard (SD - SP): 28% owned
Some folks are wary of teams seeing a guy more than once, but Richard's last four starts have seen him go 3-0 with four quality starts against Miami, Atlanta, Miami and Atlanta. Talk about your opposite ends of the spectrum, am I right? The groundball artist struck out at least five in those four outings and won't be a total zero in Ks, but you will need to compensate elsewhere to win a league. But I'll happily take the 5-2 record with a 63.1% groundball rate and 3.23 SIERA over his last eight starts (back to May 8) and move forward.
Kyle Gibson (MIN - SP): 27% owned
Gibson has shown us an intriguing ceiling ever since the end of August 2017, but some command issues and inconsistencies have held him out of the circle of trust in '18. But the bottom line is that he's floating a 0.95 WHIP despite iffy walk rates thanks to some smarter locating and a 17.6% pop-up rate. I can stomach the 13.2% K-BB% if he can continue to sharpen his command, but the .198 BABIP/90.6% strand rate over his last five starts is connected to a 27% fly-ball rate (16.7% pop-up rate). Very few damaging balls are flying through the air, and his last three outings have come against the Indians, Angels and the Indians again. Not bad, Mr. Gibson.
Domingo German (NYY - SP/RP): 26% owned
If you're going to pick up just one guy, then this is it. German entered Tuesday's start with an incredible 15.6% swinging-strike rate that ranked within the top five out of arms with >50 IP, and a mission to shut down the surging Mariners. He did that and more, yielding just one earned run on two hits and zero walks while striking out nine over seven beautiful innings with 17 swinging strikes on 96 pitches. He's now struck out 28 over his last three starts (19 innings) and really just needs consistency in order to blossom. He'll look to make it three victories in a row on Sunday against the Rays and you better tune in. Watching him trust in his changeup against right-handed hitters almost made me shed a tear.
Jeremy Hellickson (PHI - SP): 26% owned
Hellickson may not be on the Braves and he might be on the DL, but he still pitches in the NL East and has already shown a form capable of an ERA in the low threes and a WHIP that can sniff 1.00. Like Sanchez, he isn't dealing big strikeouts but his ratios should be useful in an age where you can find strikeouts more readily. No one's buying him as a 2.28 ERA guy, but over nine starts he'd compiled a 3.28 FIP/3.32 xFIP/3.56 SIERA before getting hurt and he supposedly threw a simulated game on Tuesday. Reports say he could be back as soon as this weekend, so I'd hop on now before a return date is formally announced.
Mike Montgomery (CHC - SP/RP): 24% owned
It's unfortunate for Montgomery that Tyler Chatwood once again skirted huge damage despite walking everyone on the planet because I'm really counting on the Cubbies handing Montgomery that rotation spot once Yu Darvish returns. Regardless, Darvish is still a ways away and Montgomery did his part on Tuesday night by tossing six innings of one-run ball, though he had some Chatwooditis with four walks. The good news is that he mustered five strikeouts and continues to trend upward with whiffs -- he entered the start with a 12.3% SwStr% over the last 30 days, good for 22nd out of 127 qualified starters. I believe there's more here to be unlocked and even if that day doesn't come, he's still worth rostering in 12-team formats.
Jonathan Loaisiga (NYY - SP): 23% owned
Hopefully, you were in on Loaisiga before he delivered five scoreless frames for the win in his MLB debut. The double-edged sword of a Yankee pitcher is that he'll have tremendous offensive support around him but the media/buzz isn't going to suppress any sneaky adds. Still, this ownership rate is too low for an arm with Loaisiga's blend of control and putaway stuff. He had 17 swinging strikes on just 91 pitches (with at least five whiffs on each of his three offerings -- a fastball, slider and change) and while he walked four, that tally matches his walks total from 45 innings between High- and Double-A this year. Don't worry about his long-term rotation slot with Masahiro Tanaka likely still weeks away and see where this road leads.
Freddy Peralta (MIL - SP): 22% owned
Peralta got the call for a spot start on Tuesday night against the Pirates and here's all you really need to know: He'll be starting again on Sunday against the Cardinals. Yes, the electric 21-year-old continued his MLB career the same way he started it, with a freakin' gem. He would throw 78 fastballs out of 99 pitches over six shutout frames, allowing just two Pirates to reach base. The zero walks is eye-catching given his eight walks in 9 ⅔ MLB innings before this, as well as the 11% walk rate at Triple-A. He'll live and die by the fastball, but it's clearly a gamble worth taking.
Marco Estrada (TOR - SP): 18% owned
I realize that watching Estrada suck through April and May could have given some owners a sense of vindication after years of defying his sabermetrics, but I'm here to say that Estrada is (sort of) back! There's no denying how bad he's been and I was left wondering whether he picked up poor sleeping habits again, but three starts in June have seen him trample the Yankees, Orioles and Nationals with just three earned runs and three walks in 18 ⅔ innings. His 19 strikeouts match his total from May despite having 13 fewer frames under his belt in June. With a 3.72 xFIP and 27.1% strikeout rate behind the strong stretch, I'll be very intrigued to see if he can keep it going against the Mike Trouts, err, the Angels on Friday.
Shane Bieber (CLE - SP): 9% owned
Bieber should get some extended looks in Cleveland's rotation for as long as Carlos Carrasco is out, and may very well push for playing time down the line. While neither of his first two starts (both against the Twins) will inspire any romance novels, he does have a 3.20 xFIP and SIERA behind the 3.97 ERA. This is due in large part to the ungodly .471 BABIP that Minnesota has saddled him with -- more than double his .212 mark from Triple-A. Some of that was Bieber's fault, throwing pitches that were just begging to be smashed, but he's walked just one per start after issuing five free passes in 45 ⅔ Triple-A frames. Once again, I'm buying the control and strong team environment for a top prospect.
Jose Urena (MIA - SP): 9% owned
I really did not think my life would intersect with Urena's here, but the man has a 3.48 ERA and 1.03 WHIP over the last month of play and heads into pitcher-friendly AT&T Park for a Wednesday start, so what can I do? Beyond the month, his last 10 starts have seen the 26-year-old Marlin ride a 54.7% groundball rate and modest 19.9% strikeout rate to a 3.47 ERA, 3.45 FIP and xFIP. The 43.2% hard-hit rate scares me, but a 4.1% walk rate over this 10-start span has helped him limit damage and pitch six or more innings in eight of those outings. It appears as though he's leaning on his fastball and being more selective with his slider, which jives with better control. Don't look to Miami for wins, but a QS or three? Urena could be your guy.
Matt Strahm (SD - SP/RP): 1% owned
While San Diego deals with myriad arm injuries, Strahm has gotten the chance to act as their "opener" in three bullpen games now. Here's what he's done with that: 8 IP, 3 H, 1 ER, 11 K. He hasn't walked a batter in any of his last five appearances now -- a stretch that includes three against the Braves! Joey Lucchesi is returning and I don't think the Padres will really have a chance to give Strahm a true starting look in 2018, but it's not impossible. I was one of many who hoped Strahm would get Kansas City's No. 5 starter job in 2017 before they signed Jason Hammel, and I remain optimistic on him.
More Waiver Wire Pickups and Streamers