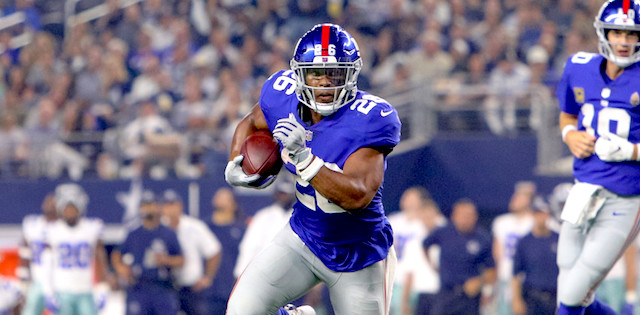 Welcome to our Week 2 matchup analysis and start/sit column for fantasy football. We'll be covering every contest from the Sunday slate, helping you make the best decisions for your fantasy lineups. Be sure to check back regularly because this article will be updated as news comes in regarding injuries and other important information.
I will take on the monstrous slate of 10 early games this week that begin at 1:00 PM EST Sunday and Chris O'Reilly will take you home with his late-game analysis in Part Two.
If you have any specific lineup questions, follow me on Twitter @Roto_Chef and feel free to ask away! Now, as Mills Lane and/or Smif N' Wessun would say, "Let's git it on!"
Editor's Note: Get any rest-of-season NFL Premium Pass for 50% off. Our exclusive DFS Tools, Lineup Optimizer and Premium DFS Research through the Super Bowl.
Sign Up Now!
Matchups Analysis - 1:00 PM ET Games
Jaguars at Texans
Matchups We Love:
DeAndre Hopkins (WR, HOU) - Look, I know what I said about Jacksonville against receivers (see below) and being shadowed by Jalen Ramsey isn't a good thing, but this is Nuk. He is the best receiver in the league (please @ me) and doesn't suffer at all against this divisional foe. Check out his game splits vs. Jacksonville, courtesy of RotoViz. Then make sure you didn't do anything foolish like take him out of your lineup.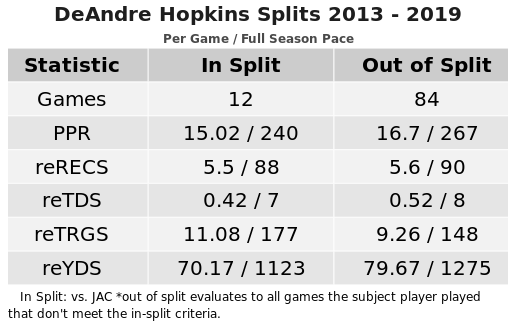 Dede Westbrook (WR, JAX) - While Chark and Conley were the headliners in Week 1, the Jags WR everyone expected to breakout was relatively quiet with five catches for 30 yards. A short TD grab saved his fantasy day but he is now being largely overlooked thanks to the other receivers and a new QB. Westbrook will still wind up leading the team in targets and that begins this week. He has the best WR/CB matchup against slot corner Phillip Gaines and is the safest bet to see high target volume.
Matchups We Hate:
Deshaun Watson (QB, HOU) - Watson proved why he's an elite quarterback in last week's thrilling near-victory at the last minute, before it was spoiled by Drew Brees. That said, he isn't infallible and the Jags have proved too much for him in recent times. In three career contests against them, he has thrown for a total of 475 yards and two TD. That's an average of 158.3 yards and less than one score per game. You can find a better streamer this week before re-inserting him in Week 3.
Will Fuller / Kenny Stills / Keke Coutee (WR, HOU) - Don't read too much into Week 1 - the Chiefs are an entirely different beast than every other offense in the NFL. The Jags were by far the best at shutting down receivers last year, allowing seven TD all year to the position. Opposing WR groups averaged 26.4 fantasy points per game from Weeks 1-16 and you know Nuk will have at least half that production to himself. It's best to bench all these players unless you want to take a chance on another home run play by Fuller.
Jordan Akins (TE, HOU) - Deshaun Watson doesn't fancy targeting the tight end in general and Akins is the only the starter by default because of injuries to Jordan Thomas and Kahale Warring. You can do far better.
Geoff Swaim (TE, JAX) - The former Cowboy did catch four balls last week and is a name to remember down the line if you stream tight end. This week, the matchup isn't favorable enough to make such a reach.
Other Matchups:
Gardner Minshew (QB, JAX) - Minshew was razor-sharp in his unexpected NFL debut last week. He is embedded as the starter in Jacksonville for several weeks as Nick Foles recovers from a broken collarbone. Don't expect him to complete 88% of his passes every week though. He had the benefit of facing a Chiefs Defense that allowed the most passing yards in the league last season and was integrating several new players. Houston didn't exactly limit Drew Brees last week through the air, but Minshew is far from Brees. Expect middling numbers that are only worthwhile in deep two-QB leagues.
Carlos Hyde / Duke Johnson (RB, HOU) - This two-man timeshare will pretty much be a constant all year in terms of what they bring to the table. Hyde will see 10-15 carries and most of the red zone work, while Johnson gets a handful of carries and 5-10 targets, depending on game flow. The floor will be there in PPR for Johnson and the ceiling is there in standard for Hyde. Consider both to be iffy flex plays against a tough defense.
Leonard Fournette (RB, JAX) - The Texans were very stout against the run last year, allowing the second-fewest rushing yards of any team (1000 over 16 games). They stifled Latavius Murray other than his one long TD run and Alvin Kamara didn't get it going until the fourth quarter. Facing a much less dynamic offense with a rookie QB, expect Fournette to face more stacked boxes and have a tough time getting going. He isn't a must-sit because he will be trusted in the red zone and could be involved in the passing game enough to retain low-end RB2 value.
Chris Conley / D.J. Chark (WR, JAX) - Just as we can't make too much of Minshew's performance against the Chiefs while digging their way out of a hole, we can't put too much into the breakout game by Chark or the solid work of Conley. Chark's 35-yard TD strike did come from Foles but he still caught two balls for 104 yards from Minshew. Likewise, Conley caught his touchdown and 74 of his yards from Minshew. The connections are there but the opportunity might not always be. Chark will be a boom/bust play until further notice, so flex him out only if you feel really good about your matchup. Conley is also a risk but seems the safer bet in PPR.
Colts at Titans
Matchups We Love:
Marlon Mack (RB, IND) - The Titans are a formidable foe and ranked highly on defense but their strength lies more in preventing pass plays. They were middle of the pack in total run defense (15th - 1,863 yards allowed) but bottom 10 in rushing yards allowed to RBs (1,558 yards allowed). Mack makes his living by plowing through the O-line, not pass-catching, so he should be just fine based on volume in what should be a slugfest.
Delanie Walker (TE, TEN) - He's going to re-establish himself as a weekly top-10 and must-start tight end, if he hasn't already. Walker saw the most targets (6), completions (5), and touchdowns (2) on the Titans in Week 1. That trend should continue, making him the only Titan outside of Derrick Henry worth consideration regardless of opponent. The Colts allowed the fourth-most fantasy points per game to the TE last year, so Walker is a must-start.
Matchups We Hate:
Jacoby Brissett (QB, IND) - Brissett is the vanilla ice cream of quarterbacks. Not too exciting but gets the job done in a pinch. He carries a low 1.3% career interception rate into his second start of the 2019 season but faces a Titans team that just picked off Baker Mayfield three times. Brissett's ceiling is already limited by his ability. This defense limits it even more and makes him a must-sit nearly everywhere.
Marcus Mariota (QB, TEN) - The former #2 overall pick hadn't enjoyed a three-touchdown performance in the past two years. He now has one after his first contest of 2019. Before we break out the cake and declare this his long-awaited breakout season, let's look at the sobering facts. He enjoyed a short field most of the day because of the Browns' inability to move the ball and Mayfield's three picks. He also got his stats padded thanks to a short catch and 75-yard scamper by Derrick Henry. This game should be low-scoring and dominated by the run on both sides. Don't get carried away and insert Mariota into your lineup outside of Superflex or two-QB leagues.
Nyheim Hines (RB, IND) - Not that Hines should be a start consideration in most leagues but it's good to know heading into this weekend that the Titans allowed the fewest receiving yards (404 or 25 per game) and zero touchdowns to running backs last year.
Dion Lewis (RB, TEN) - Despite the fact Lewis was on the field quite a bit in Week 1, the touches favored Henry 20-6. He will get a couple of catches here and there but the upside isn't tangible enough to make him appealing. The Colts no longer have the kind of offense to put Tennessee in a hole early, so game flow won't go his way.
Chester Rogers / Zach Pascal / Deon Cain / Parris Campbell (WR, IND) - The hard truth is that we may not see a Colts receiver other than Hilton with consistent fantasy value this season. Devin Funchess was the only wideout other than Hilton to see more than 50% of the offensive snaps last week. He's now on IR, which leaves an opening for someone else to step up. However, the most likely scenario is that it becomes a WRBC much like last year. This isn't the game to take a chance on any of these guys.
Corey Davis / A.J. Brown / Adam Humphries (WR, TEN) - Does anyone still have faith in Corey Davis at this point? He'll flash on occasion but it's safe to say the former #5 overall pick has been a disappointment, especially to fantasy owners. It took Brown all of one career game to breakout to the tune of 100 yards and a touchdown against Cleveland. Meanwhile, Davis didn't register a catch. The truth is that this entire pass offense is unreliable and will have a hard time against the Colts. They were fourth-toughest on wide receivers last year, giving up just 128 yards per game to the position. Take risks elsewhere. Davis particularly should be faded as he faces Pierre Desir, one of the most-improved cornerbacks of last year.
Eric Ebron / Jack Doyle (TE, IND) - Each Indy tight end finished with one catch in Week 1 and now faces a defense that was top-three against tight ends. Feel free to keep fading them until further notice.
Other Matchups:
Derrick Henry (RB, TEN) - I can't go so far as to love this matchup but Henry must be in your starting lineup if you own him. Tennessee finally has shown a commitment to do the right thing and feed Henry the ball while limited Dion Lewis to three carries. While the snap share was only 59%-43% in Henry's favor, Lewis is mainly in on passing downs and won't threaten his workload. The Colts gave up a combined 115 rushing yards to the duo of Austin Ekeler and Justin Jackson, so Henry should have no problem imposing his will even if it isn't another monster outing.
T.Y. Hilton (WR, IND) - Hilton isn't benchable regardless of quarterback, as he showed with eight catches, 87 yards, and two touchdowns in Week 1. He remains a fantasy WR2 even against a tough divisional foe.
Patriots at Dolphins
Matchups We Love:
Tom Brady (QB, NE) - Let's bring up the concern that this game gets out of hand early and the Patriots decide to take the ball out of Brady's hands, limiting his production. Now, let's remember that this is a team run by Bill Belichick and they don't have mercy on anyone's soul. That said, just because Lamar Jackson tossed a career-high (by far) five touchdowns doesn't mean that Brady will have 10. In fact, the Pats often letdown on the road against big underdogs. Miami also has a way of upsetting the Patriots on occasion. That won't happen this week and regardless of what you think the final score will be or if AB plays, Brady is a surefire top-five fantasy QB.
Sony Michel / Rex Burkhead / James White (RB, NE) - Stop overreacting to Week 1. Michel didn't get it going, Burkhead did. Michel still got 15 carries and should be fed plenty this game. Bet on a bounce back from him as well as some deep-league and DFS value for Burkhead. As far as White, he might seem to be a trap play in a game where the Pats won't need to pass. That's not actually true. In games where the Patriots are favored by 10 or more points, White has higher averages in every offensive category.
Julian Edelman / Josh Gordon (WR, NE) - Edelman will continue to do what he does. Start him and move on. Gordon is quite possibly going to feast like nobody else in this game as he faces Eric Rowe, the defender who was torched by first-time NFL receiver Marquise Brown last week. Yeah, start them.
Matchups We Hate:
Every Dolphins Player - Let's not beat around the bush. The Dolphins got completely embarrassed by the Ravens and now they play the team that has owned them for the better part of two decades. The Pats' secondary will shut out the underwhelming receiver group, neither Ryan Fitzpatrick nor Josh Rosen can be trusted, and Kenyan Drake is a dice roll.
Other Matchups:
Antonio Brown (WR, NE) - If he does play on Sunday, you must start him. Simple as that. You might hate yourself for it, but you have no choice, do you? If you do own him, I suggest trading him now while you can though.
Phillip Dorsett (WR, NE) - As tempting as it is to advocate for Dorsett after last week, he's not in a good spot, believe it or not. If AB plays, he's the fourth receiver on the depth chart. If AB doesn't go, Dorsett will be opposite Pro Bowl CB (and possibly the only NFL-caliber player on Miami's defense) Xavien Howard. He's one to flex only if desperate.
Chargers at Lions
Matchups We Love:
Austin Ekeler (RB, LAC) - Melvin who? Ekeler looked every bit the part of a fantasy stud, totaling 154 scrimmage yards with three TDs. He will be heavily involved in each game regardless of game flow and must be considered a top-15 RB.
Marvin Jones (WR, DET) - My love for Jones last week didn't get justified but it could this week. While Kenny Golladay gets Casey Hayward, Jones has an easier assignment against Michael Davis. Plus, it's easy to forget that Jones has the highest adjusted yards per attempt of any WR with at least 50 targets from Stafford at 10.0 AY/A, higher than Golladay's 9.71.
T.J. Hockenson (TE, DET) - They didn't draft him to block, they brought him in to be a receiver. That's what he did in Week 1 with six catches for 131 yards and a score. Hockenson was deployed on routes 37 times (90.2%), which was fifth-most among all tight ends. He should get plenty of opportunities against a team missing top safety Derwin James. Besides, if you used a waiver priority to pick him up, why wouldn't you start him?
Keenan Allen (WR, LAC) - He's an auto-start anyway. No Hunter Henry and possibly no Mike Williams could mean a huge target volume for Allen this week, so pump him up in 50/50 DFS games too.
Matchups We Hate:
Philip Rivers (QB, LAC) - He's already without tight end Hunter Henry, who suffered yet another serious injury that will keep him out for an extended period of time. Mike Williams is questionable now as well, so Rivers could be without two key weapons. Detroit's defense isn't the most fearsome, but it's decent enough to keep Rivers out of the streaming conversation under adverse conditions on the road.
Danny Amendola (WR, DET) - Here comes the cold water. Amendola was a revelation for all 0% of the fantasy owners who started him last week. His first game with Matt Stafford resulted in 104 yards on seven receptions. More importantly, he saw a whopping 13 targets. But that came against a banged-up Cardinals secondary without its top two corners. This week, he gets to face one of PFF's top-rated CBs in Desmond King. He could grab a few passes but expecting a repeat of last week would be a mistake.
Virgil Green (TE, LAC) - Once upon a time, Green was a promising sleeper at tight end. Yet, even on the roster of the record-setting 2015 Denver Broncos offense, he registered just 173 yards and one TD and has never reached 250 yards in a season. Don't even go here.
Other Matchups:
Kerryon Johnson / C.J. Anderson (RB, DET) - It's what we feared - this is a timeshare and Johnson isn't getting 20+ touches per game any time soon. He still has big-play ability that makes him worth flexing but he isn't the fantasy RB2 that those who drafted him had envisioned. Anderson has just as good a chance to score as Johnson, so he remains relevant in standard leagues. It's worth noting that he got two red zone carries to Johnson's one and only five fewer rush attempts overall.
Justin Jackson (RB, LAC) - He looked explosive in limited touches last week but that's also the problem - limited touches. He earned six carries and one reception in a game that was close throughout. He could get more action based on his effectiveness and the fact the Chargers' WR corps is banged-up but he's still a risky flex play.
Kenny Golladay (WR, DET) - He saved his day with a touchdown in Week 1 but only caught four of his nine targets. He gets a tough task with a shadow assignment by All-Pro CB Casey Hayward so this could be tougher than expected. He can be played in re-draft leagues but should be faded in DFS.
Mike Williams (WR, LAC) - His current status is questionable based on a knee injury suffered late against the Colts. The team was concerned enough to sign free agent Anthony Johnson just in case. Keep him benched for now and hope for the best.
Bills at Giants
Matchups We Love:
Saquon Barkley (RB, NYG) - If the phrase, "the offense runs through ___" ever applied to anyone, it would be Barkley. The shoulders of the Giants' entire offense rely on him, perhaps more than ever. With a shaky receiver corps missing its top three (maybe three) members and ever-growing question as to who the quarterback will be by midseason, Barkley should continue to rack up points. He's off to a good start in 2019 with 139 scrimmage yards in Week 1 on just 15 touches. The Bills probably won't light up the scoreboard like Dallas did, so Barkley should get more carries and break a few long gains. As tough as Buffalo can be against passers, their run defense was barely better than the Giants last year. Barkley should be the overall fantasy RB1 this week based on receiving stats alone.
John Brown (WR, BUF) - I'll admit to being a Brown-lover, as I was last year when exploded early in the season for Baltimore. The fact he saw 10 targets and 133 Air Yards (14th-highest among WRs) makes me confident that he'll do just fine against Janoris Jenkins, who has not been able to repeat the success he had in 2016 and is a mediocre NFL CB at age 30.
Matchups We Hate:
Eli Manning (QB, NYG) - Here's an easy one - bench Manning if you have him on your roster for some reason. The Bills were the toughest pass defense against QBs last year. Eli hasn't performed any better at home than on the road over the past three years either, so he doesn't even have that going for him. Without Sterling Shepard, there is practically no hope.
Cody Latimer / Bennie Fowler / Russell Shepard (WR, NYG) - The Bills sport a pair of tough corners on the outside, including underrated Tre'Davious White. Neither of these receivers inspires confidence on their own, so an unfavorable matchup cements the fact they don't belong on rosters, much less in lineups. Oh, and Latimer has a calf injury that held him out of practice Thursday too and might not play.
Dawson Knox / Lee Smith (TE, BUF) - Just in case you really wanted to start a tight end in Buffalo, know that Knox suffered a hamstring injury and has been ruled out. There's a chance Smith catches a five-yard touchdown. There's always a chance...
Other Matchups:
Josh Allen (QB, BUF) - I'm sure he'll be super motivated by the bulletin board material that Pat Shurmur didn't think he was good enough to be an NFL starter. That said, I'm personally not sure Allen is good enough to be an NFL starter. His accuracy improved in the second half of Week 1's comeback victory over the Jets but he did turn the ball over four times. The Giants secondary got much better this offseason with the addition of Antoine Bethea and Jabrill Peppers, so this could be a misleading matchup to stream Allen.
Devin Singletary / Frank Gore (RB, BUF) - The joys of a running back timeshare. Neither one is especially appealing in fantasy because we don't know how many carries to expect. In Week 1, Gore got more opportunities but was ineffective. Singletary looked great but hardly touched the ball. We'd like to assume Singletary gets more work but you know what happens when you assume...
Cole Beasley / Robert Foster / Zay Jones (WR, BUF) - This passing game doesn't have enough juice to support multiple receivers consistently. Beasley did see nine targets last week but the Bills likely won't be in come-from-behind mode this game.
Evan Engram (TE, NYG) - Engram is an auto-start at such a thin position and could see about half of the target share this week due to injuries at receiver. Be warned that Buffalo allowed the fewest fantasy points to tight ends last year at 4.7 FPPG. They might also suspect that Engram will get targeted quite a bit. Start but temper expectations.
Vikings at Packers
Matchups We Love:
Aaron Rodgers (QB, GB) - Much of what should be said about Rodgers has been stated eloquently by our Rich King in his recent analysis of the future HOFer and his 2019 prospects. Unless this game turns into something resembling last week's slogfest, Rodgers should be just fine.
Kirk Cousins (QB, MIN) - In checking Cousins' career splits versus the Pack, I did a double-take when I saw that he averages 380 yards per game with 10 TD in three regular-season contests. One of those came when he was with Washington a couple years ago, but last year alone he totaled 767 yards with a 7/1 TD/INT rate. This can't just be ignored. Forget last week's low passing totals - consider him a strong starting option and top-12 QB this week.
Davante Adams (WR, GB) - Don't worry about Xavier Rhodes following Adams around on Sunday. The Rhodes we saw last year was a far cry from his Pro Bowl form of 2016-2017. Plus, Adams hasn't struggled any against the Vikings the last couple of years. He's still a top-10 receiver this week.
Adam Thielen / Stefon Diggs (WR, MIN) - If we love the QB, it stands to reason we've got to love the receivers too. There's no reason to fade either Minnesota wideout as both have had strong success against the Pack recently and Diggs seems to be healthy enough to go in full.
Jimmy Graham (TE, GB) - I want to love Graham but his opportunities are so limited these days that it's hard to trust him. He caught three of six targets last week, one for a touchdown. However, he only ran 22 routes and turned those catches into 30 yards, so without the short score he would have been worthless. Looking deeper, the fact he turned in the second-most Air Yards (117) among all tight ends and had success against the Vikes in Week 2 last year is enough to put him into the mix as a TE1.
Matchups We Hate:
Kyle Rudolph / Irv Smith Jr. (TE, MIN) - The dreaded TE timeshare. Rudolph was signed to stay on for another four years but Smith was drafted in the second round to complement him. As a result, neither is a major factor in the passing game and can be ignored for fantasy.
Other Matchups:
Aaron Jones (RB, GB) - You can't love what you saw from Jones last week but the Bears are a whole different beast than other defenses. Minnesota is tough but not impossible to run against and Jones did go for 72 yards and a score in their last meeting. He is a decent RB2 play in Week 2.
Dalvin Cook (RB, MIN) - I love Cook this season, as I boldly stated here weeks ago. I don't love him this week though. Green Bay has a much-improved front line which was on display last Thursday when they kept Chicago's run game in check. Cousins is the one who has success against the Pack, so expect a step back from Cook this week.
Geronimo Allison / Marquez Valdes-Scantling (WR, GB) - He was one of the popular sleepers who didn't wake up in Week 1. Allison didn't just go without a catch, he went without a target and was on the field for only half the snaps. There is the chance he rebounds but I'm still more intrigued by MVS this week and this season in general. Valdes-Scantling caught four of six targets and was clearly the No. 2 option behind Adams. If I'm taking a chance on a secondary Packers receiver, it's him.
49ers at Bengals
Matchups We Love:
Giovani Bernard (RB, CIN) - It goes without saying that this prediction is predicated upon the fact Mixon may not play. Even if he does, Gio will get more work than usual and has a good matchup against a Niners defense that wasn't great against the run last year and allowed the 11th-most rushing and receiving yards to running backs. Keep him plugged in as a flex.
Matt Breida (RB, SF) - If you pay close attention to matchups (why else would you be here?) then you know Cincy's defense was a sieve against opposing runners in 2018. They allowed the most fantasy points to RBs last year. Breida has the starting job to himself while Tevin Coleman is out, so expect another boom as he occasionally had last season when healthy.
Tyler Boyd / John Ross (WR, CIN) - This could go badly but I'm going to love Ross this week because he is fully capable of repeating what he did last week. Richard Sherman will challenge him physically but Ross has the speed to blow by him and make plays like he did against Seattle. Ross finished with 172 Air Yards in Week 1, second only to DeAndre Hopkins. He should get enough chances that he produces WR3 value at the very least. Anyway, if you spent a waiver priority on him, you want to test out your new toy don't you?
Boyd is always a solid WR2 consideration but especially so in this matchup; deploy him as usual.
George Kittle (TE, SF) - To reinforce the fact that Kittle should not be on your bench this week, Cincinnati was a bottom-five defense vs the tight end in 2018. He promises to have a monster game here to make up for last week's 54-yard output.
Matchups We Hate:
Dante Pettis (WR, SF) - But the matchup could be so good! That's if he actually played. There is still debate about whether his two-snap season debut was about the calf injury or Kyle Shanahan's opinion of his work ethic. Either way, Pettis just can't be played in fantasy until we see him play in real life. Keep him stashed on your bench if possible though.
Other Matchups:
Andy Dalton (QB, CIN) - You already know Dalton won't throw for 400 yards again. With Mixon potentially out, it doesn't help the offensive situation as a whole. You may also know that Dalton traditionally plays worse at home, sometimes far worse. He's a risky QB2.
Jimmy Garoppolo (QB, SF) - The jury is still out on Garoppolo as a fantasy asset. For all the time we've been talking about him, he only has 11 career NFL starts. Of those starts, he's only thrown three touchdowns in a game once and gone over 300 yards twice. This pillow-soft defense provides an opportunity to excel but the running game could be enough to get the job done. Consider him a starter in two-QB or Superflex but that's it.
Joe Mixon (RB, CIN) - He remains questionable after an ankle injury forced him out of last week's game. He did practice Friday, which is encouraging, but this could be a game-time decision so be prepared to pivot, preferably with Bernard if you added him.
Raheem Mostert (RB, SF) - What was said about Breida above mostly applies to Mostert as the backup, except we can't be sure how involved he will be. He can be considered a flex play in 14-team leagues but in a week where there are no byes, you should have a better option.
Deebo Samuel / Kendrick Bourne / Marquise Goodwin / Richie James (WR, SF) - A lot of names on there, none particularly relevant. I believed Goodwin had a chance to assert himself last week but it didn't happen. Instead, we are seeing a rotation of young receivers eat into each other's targets. Samuel, Bourne, and Goodwin each saw three targets while James saw two. If Pettis actually plays, that renders all the others even more irrelevant. One of these players could pop or come away with a touchdown based on the easy matchup -- good luck guessing who.
Cowboys at Redskins
Matchups We Love:
Dak Prescott (QB, DAL) - The perennially underrated Prescott was a fantasy revelation in Week 1. 405 yards and four TDs aren't a common occurrence for Prescott and it won't happen again this week. As bad as Washington has been for the past few years, Prescott averages 216 yards and one touchdown per game in six games against this division opponent. This is a better offense though, so we still love Prescott as a low-end QB1 because of his floor.
Ezekiel Elliott (RB, DAL) - The Boys limited his touches in Week 1 and Tony Pollard saw just as many carries (13), which is causing some stomachs to churn for those who used a first-round pick on Zeke. The good news is that Pollard was ineffective, averaging less than two yards per carry, and the team didn't really need to run the ball with the way the passing game was working. He'll be just fine rolling over the Redskins.
Chris Thompson (RB, WAS) - He won't be the official starter at RB but Thompson should have the most value in the backfield. He will benefit if the team falls behind by seeing copious targets and turning them into chunk plays. Thompson caught seven of 10 targets for 68 yards against the Eagles and could put up similar numbers, making him a strong RB3 in PPR.
Amari Cooper / Michael Gallup / Randall Cobb (WR, DAL) - Cooper is proving to be an elite receiver in Dallas, Gallup is about to break out, and Cobb is a smart play in full-PPR leagues. Given the way DeSean Jackson torched the Skins last week, Gallup might be the one to watch in DFS because of his matchup with Quinton Dunbar.
Matchups We Hate:
Case Keenum (QB, WAS) - The man gets no respect, even after tallying 380 yards and three scores in his first game as a Redskin. Let's continue that trend by saying not to trust him here whatsoever. The Eagles were clearly focused on stopping the run and their vulnerable secondary was taken by surprise by rookie Terry McLaurin and veteran Keenum. The Cowboys have a tougher defense and won't have that problem.
Tony Pollard (RB, DAL) - This is not about the matchup so much as the opportunity, or lack thereof. Pollard had a chance to impress but instead tallied just 24 yards on 13 rush attempts in Week 1. Elliott is in game shape and will resume his workhorse role, making Pollard nothing more than a handcuff in super-deep leagues.
Terry McLaurin (WR, WAS) - This isn't the rookie WR we thought we'd be talking about after Week 1. McLaurin didn't wait for former teammate Dwayne Haskins to take the reins before making his impact felt. McLaurin saw 143 Air Yards and produced 125 receiving yards in his debut. This secondary is far better though, especially if Byron Jones is able to go in full after seeing limited snaps Week 1 due to a hip injury. McLaurin is a tough start.
Other Matchups:
Adrian Peterson (RB, WAS) - He's baaack. After being a healthy scratch in Week 1, All-Day returns as the starter with Derrius Guice sidelined 4-6 weeks. As is symbolic of his entire 2018 season, Peterson was up and down in his two games against the Cowboys last year, running for 99 yards in Week 7 and 35 yards in Week 12. Game flow will dictate his value, so unless you expect Washington to jump ahead early like they did last week (I don't) then Peterson isn't a must-start. He remains on the radar due to expected volume and TD potential though.
Paul Richardson / Trey Quinn (WR, WAS) - I'm not sure Paul Richardson is worth mentioning but don't play him. If you want a sleeper pick then Quinn can be considered, as he took 97% of the team's offensive snaps and scored a touchdown. He is embedded as the slot receiver, which has some value. The only problem is that Reed's return could eat into his looks.
Blake Jarwin / Jason Witten (TE, DAL) - Both are and will continue to be totally touchdown-dependent for fantasy value. The tight end will not be a prominent part of this passing game.
Jordan Reed / Vernon Davis (TE, WAS) - All signs point to Reed playing in Week 2, which means he will resume his usual role as the pass-catching tight end. If you're the type of person to trust Reed or don't have a better option at TE, then he can be played. This renders Davis mostly useless, as he obviously posts lower numbers when Reed is in the lineup.
Seahawks at Steelers
Matchups We Love:
Ben Roethlisberger (QB, PIT) - Big Ben got off to a terrible start, plain and simple. It's easy to point to the fact Antonio Brown is missing and worry about the offense, but let's give them a mulligan since their opponent was New England. We also know Roethlisberger is a different player at home, averaging more than twice as many touchdowns (2.69 per game) than on the road (1.28 per game) over the past five years. Keep him in your lineup if you normally would.
Chris Carson (RB, SEA) - The snaps went 77% - 26% in Carson's favor over Rashaad Penny in Week 1. That's how it will continue to play out, much like last year. He's a solid RB2 each week and a road contest against the Steel Curtain isn't as fearsome as it used to be.
JuJu Smith-Schuster (WR, PIT) - The toe injury has to be concerning, although it looks as if he will play in Week 2. After a disappointing first game, this could be an unexpected explosion based on the opposing secondary.
DK Metcalf (WR, SEA) - It didn't take long for Metcalf to show what he can do in the pros. His 89-yard game did come against last year's bottom-ranked pass defense but the Steelers were middle-of-the-pack against WRs last year. If his 17.3 aDOT is a sign of things to come, he could be a splash play waiting to happen each week.
Matchups We Hate:
Rashaad Penny (RB, SEA) - I've said it before, I'll say it again: Penny is a thing that's not going to happen. He remains a handcuff only in case of injury to Carson.
Will Dissly (TE, SEA) - The second-year tight end was my personal sleeper that didn't wake up in Week 1, although a knee injury put a premature end to his day. He was a full go in practice but there are too many red flags based on health and low usage from last week that he can't be considered.
Other Matchups:
Russell Wilson (QB, SEA) - Low volume, high efficiency. That's what we've come to expect from Russ and that's what he provided in the season opener with 196 yards and two TD on 20 pass attempts. It's always tough to gauge where he ranks on a weekly basis because of the volatility of this passing game. His high floor keeps him in the QB1 conversation always but know that there's potential from a blowup game from him if this turns into a shootout, although I don't really expect that to be the case.
James Conner (RB, PIT) - To a large extent, what happened last week both to Conner and Seattle's run defense can be thrown out. The Steelers were down big all game so there was no chance to get the running game going. Joe Mixon getting hurt made Cincy pass-dependent and made Seattle's run defense look better than it is. All told, this matchup is mostly a wash so expect Conner to have good but not great numbers and hope he can score and stay involved as a receiver.
Donte Moncrief / James Washington (WR, PIT) - The Moncrief haters are ready to bring out their pitchforks and cast him aside after one game in a new system. The believers (count me as one) will give him a little more time. This matchup could give him a chance to improve his 30% catch rate, as he gets in sync with his new QB.
Washington had a bigger impact but really didn't do anything different than last year. He's being used the same way - as a pure deep threat to stretch the field. He saw the third-highest Air Yards total last week at 169 but only turned in 51 yards, catching two of six targets. He's a pure boom-bust play.
Tyler Lockett (WR, SEA) - His back was bothering him earlier in the week but he returned to practice Thursday and should be good for Sunday's game. He does have a tough WR/CB faceoff with Mike Hilton but must still be in all fantasy lineups because of his connection with Russell Wilson.
Vance McDonald (TE, PIT) - He ran 35 routes and saw four targets, turning them into two catches for 40 yards. For someone who was drafted as a fantasy starter this preseason, we expect more. He has the upside but volume isn't yet guaranteed as this offense tries to establish its identity.
Cardinals at Ravens
Matchups We Love:
Lamar Jackson (QB, BAL) - This isn't as simple as it sounds. Jackson was the headliner of Week 1 with his five-TD outburst but we know that came against a shell of a Dolphins team. The Cards do a good job pressuring the QB, tying for fifth in sacks last year with 49. This won't affect Jackson, who can escape pressure easily and earn fantasy points with his legs. The secondary is still without Patrick Peterson and Robert Alford, so there could be more big plays waiting to happen as well. Jackson is a top-10 quarterback but he won't go for five scores again. Or will he?
Mark Ingram (RB, BAL) - If you loved what Ingram did last week, you might love it even more this time. Ingram was taken out of the second half against Miami because of the scoreboard. Even if Baltimore has this game in hand, it won't be by nearly the same margin. Arizona allowed more fantasy points to RBs than anyone last year, so fire up Ingram with great confidence again.
Willie Snead (WR, BAL) - The most unexciting Ravens receiver is the safest bet this week. Snead caught two of three targets, including an egregious drop on an easy pass, but did score a touchdown (who didn't?). He will serve as the top target among wideouts and has the best matchup here. Slot receiver Danny Amendola just roasted the Cardinals; Snead won't do quite the same but he's a smart value play nonetheless.
Matchups We Hate:
Kyler Murray (QB, ARI) - The Air Raid showed signs of life late against Detroit but it took a furious comeback and OT for him to compile 308 yards and his first two NFL touchdowns. Expect a harder time versus the Baltimore Ravens and possibly more turnovers. Until he starts to use his speed to his advantage, he shouldn't be a fantasy starter.
David Johnson (RB, ARI) - His 2019 is off to a much better start already, as he racked up 137 yards and a TD under new coach Kliff Kingsbury. This defense should put him to the test, however, as Baltimore allowed the third-fewest rushing and receiving yards to running backs last year. Playing on the road doesn't help either. His projected usage keeps him in fantasy lineups, but expect a rough day and hope for the best.
Cardinals receivers (WR, ARI) - The spread offense can be great for fantasy production but doesn't favor any one receiver. Add in the fact that Michael Crabtree is expected to be active and Damiere Byrd unexpectedly saw 78 snaps last week and you have five WRs who will be sharing the field. This poses a problem on any given Sunday but especially when facing a top-tier defense.
Charles Clay (TE, ARI) - I can't think of a single good reason why I would even need to convince anyone not to play Charles Clay or any tight end in this system.
Mark Andrews (TE, BAL) - If you didn't start him Week 1, shame on you. If you don't start him Week 2, I can't completely blame you. The Cardinals were second-toughest against opposing tight ends last year, giving up three TD all year and an average of 37 yards per game. He is definitely a consideration but not an automatic start just yet.
Other Matchups:
Gus Edwards / Justice Hill (RB, BAL) - Edwards got more carries than most people expected but that was mainly due to game script. His usage will go down and Hill's will go up slightly. Neither one has standalone value as long as Ingram is running strong, even in this choice matchup.
Marquise Brown / Miles Boykin (WR, BAL) - One scored a touchdown, the other went absolutely insane. Both rookie receivers made a huge impact in a laugher of a game but it was Willie Snead and Seth Roberts combining for 102 offensive snaps while Boykin and Brown saw 32 combined. There is the chance Brown takes one to the house again or that Boykin gets a red-zone look but it is far from guaranteed. Flex at your own risk.
Click here to read about the late games in part two.
More Start/Sit Advice