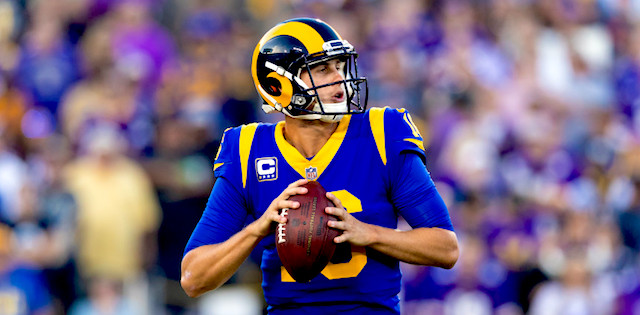 Welcome to our Week 2 matchups analysis and starts/sits column for fantasy football. We'll be covering every matchup from every game on Sunday to help you make the best decisions for your fantasy lineups. We'll also update this as injury reports come in, so be sure to check back often.
This article will cover all of the 4:00 games on Sunday afternoon and the Sunday Night Football matchup. Be sure to also read our early-slate analysis in Part One of this article, brought to you by Pierre Camus this week.
Check back here each week to get advice for your toughest start/sit decisions and take a look at our consensus rankings each week. Let's get to it.
Editor's Note: Get any full-season NFL Premium Pass for 50% off. Our exclusive In-Season Lineup Tools, Lineup Optimizer and over 150 days of Premium DFS Research.
Sign Up Now!
Matchups Analysis - 4:05 PM ET Games
Kansas City Chiefs at Oakland Raiders
Matchups We Love:
Patrick Mahomes (QB, KC)
I don't feel like this requires too much of an explanation. Patrick Mahomes just torched what is supposed to be a pretty good Jaguars Defense for 378 yards and three touchdowns on the road this past Sunday, and was very efficient in doing so (75.7 completion percentage). With some quarterbacks, I'd exercise cautious optimism following a performance like that. Mahomes has officially been doing this for over a year now.
Derek Carr (QB, OAK)
Speaking of efficiency, Derek Carr completed 22 of 26 passes in Monday night's victory over Denver. He's not regarded as a top option among fantasy QBs, but neither is Gardner Minshew, the rookie who just casually came on in relief of the injured Nick Foles to throw for 275 yards and two touchdowns against the Chiefs in Week 1. The Chiefs have demonstrated since early last season that they are perfectly content to play suspect defense because they know you can't outscore them no matter what. I'm expecting a shootout here, and so is Vegas. Carr is a high-upside streaming option for anyone not totally sold on their initial starting QB, and he could pay dividends in DFS as well.
Travis Kelce (TE, KC)
Travis Kelce didn't have his best game ever in Week 1, but in the land of tight ends, volume reigns supreme. Kelce was second on the team with eight targets, he just happened to only catch three of them. Two went for more than 40 yards. He's still your boy in Week 2.
Matchups We Hate:
None
Other Matchups:
Damien Williams/LeSean McCoy (RB, KC)
Damien Williams out-snapped LeSean McCoy 45-20 in Week 1, and got 19 total touches to McCoy's 11. McCoy was markedly more impressive on the ground, averaging 8.1 yards per attempt on 10 carries. Williams was the passing-game standout, hauling in all six of his targets for 39 yards. Williams also turned in the lone touchdown between the two. I'm nervous if I have either one, but if any offense can sustain two fantasy-viable RBs, it's the Chiefs. I view both as flex plays for Week 2, and I'd lean toward Williams's role in the passing game for slightly higher value.
Sammy Watkins (WR, KC)
I genuinely want Sammy Watkins to succeed, and I genuinely hope 2019 is the year everything finally comes together for him. But until he displays some semblance of consistency, I refuse to view him as the guy who just caught nine passes for 198 yards and three touchdowns in Week 1. Tyreek Hill is out with a bizarre injury, making this the best chance Watkins has ever had to succeed and shine in the NFL. You're obviously starting him after last week's performance and with Hill out, but I will wait until he puts together more than one great game before giving him a vote of full confidence.
Mecole Hardman/Demarcus Robinson (WR, KC)
Mecole Hardman and Demarcus Robinson combined for three targets in Week 1. Robinson made the lone reception for zero yards. There is obvious upside to be unearthed even in the depth players on this offense, but let's wait to see which one of these wideouts emerges as a fantasy option in Hill's absence before considering Hardman or Robinson in starting lineups.
Josh Jacobs (RB, OAK)
Josh Jacobs didn't have the most efficient Monday night debut, averaging under four yards per carry on 23 attempts. He also only saw one target in the passing game. These little facts tend to get lost in the shuffle when hidden behind two touchdowns, which is why I'm afraid fantasy owners might be blinded by the best-case scenario regarding Jacobs in Week 2. Keep in mind that the Raiders' Week 1 matchup was a game they dominated defensively for three quarters, and were thus able to feed Jacobs on the ground all night. Oakland's defense is not going to stifle the Chiefs, which means Jacobs probably isn't seeing 23 carries in Week 2. He'll need a little more efficiency, and ideally an uptick in passing game usage. The Chiefs did permit Leonard Fournette to gain 5.08 yards per attempt in Week 1, so there's that to hang your hat on. Consider Jacobs an RB2 with a stranglehold on his team's rushing workload.
Darren Waller (TE, OAK)
After hauling in seven of eight targets for 70 yards in Week 1, Darren Waller immediately finds himself on the fantasy radar. He's filling the role that Jared Cook occupied in 2018, and we all know how that went for Cook. Naturally, you're exercising some cautious optimism here. It is only one game, after all. But if I'm browsing the waiver wire for Week 2, Waller joins the above-mentioned Hockenson as my top TE targets to add.
Tyrell Williams (WR, OAK)
If I were to anoint a Winner of the Week, I'd give the award to Tyrell Williams for Week 1. The Raiders had every reason to come out on Monday night still reeling from the circus that had just left town to go play for the Patriots, and instead they stuck it to the Broncos on national television for three and a half hours. Williams was one of the key reasons why, as he stepped up at receiver with 105 yards on six catches (seven targets). In Week 2, he'll face a secondary that just permitted guys like D.J. Chark and Chris Conley to burn them. I like Williams as a flex with upside in this matchup.
Chicago Bears at Denver Broncos
Matchups We Love:
None
Matchups We Hate:
Mitch Trubisky (QB, CHI)
You weren't considering starting Mitch Trubisky, of course. A road game in Denver is among the worst possible scenarios for a quarterback that failed to lead a touchdown drive in the previous week. I expect a more run-heavy approach for Chicago in Week 2, with minimal production from Trubisky in the short and intermediate passing game.
Joe Flacco (QB, DEN)
There are a handful of quarterbacks who deserve to be in your fantasy lineup even if they're facing the Bears Defense. Joe Flacco is not one of them.
David Montgomery (RB, CHI)
Here's the issue you're probably facing with David Montgomery after one week. The Bears treated him like some kind of motorcycle club prospect against the Packers, allowing Tarik Cohen and Mike Davis significantly more playing time for no apparent reason. Cohen is understandable as the shifty pass-catching back, but Davis is perplexing. He didn't look good or produce when he was in the game, while Montgomery appeared to be getting into something of a rhythm. And now, depending on what other flex and RB options you have, you're forced to ask yourself whether you trust that this situation won't repeat itself in Week 2. You would think Matt Nagy would have his offense as a whole more prepared after the Week 1 showing, with an emphasis on not giving Mitch Trubisky 45 chances to throw an incomplete pass. I just can't get on board with Montgomery as anything higher than a flex play in this matchup after his Week 1 snap count. I like Montgomery, I just hate the Bears.
Mike Davis (RB, CHI)
The most logical course of action for the Bears would be to actually give Montgomery a chance in Week 2, which would in turn render Mike Davis a total non-factor in fantasy. Even if he continues to out-snap the rookie, Davis didn't do anything to earn our faith against the Packers in Week 1.
Royce Freeman/Phillip Lindsay (RB, DEN)
You're probably noticing a theme here. These are two exceptional defenses squaring up in a game without exceptional quarterback play. Everything rolls downhill from there. Royce Freeman and Phillip Lindsay saw a nearly even split in carries for Week 1, with Lindsay getting an expected nod in the passing game. I'll give a slight edge to Lindsay here due to that pass-catching role, but he's a low-end flex for me in Week 2 against the Bears.
Other Matchups:
Allen Robinson (WR, CHI)
Allen Robinson was the one offensive player for Chicago who looked like he had played football before in last Thursday's kickoff to the NFL season. His 13 targets were tied for the third-most of any player in the league in Week 1, and he turned in a solid fantasy day with seven catches for 102 yards. I don't like his team, and I'm not crazy about the matchup in Denver even after the Broncos gave up a big day to Tyrell Williams, but volume alone keeps Robinson in WR2 territory for Week 2.
Tarik Cohen (RB, CHI)
Tarik Cohen saw 10 targets in Week 1, second only to Christian McCaffrey among running backs. He hauled in eight of them for 49 yards. The Bears lined Cohen up all over the field in their home opener, indicating he's probably a good bet to serve a "utility backfielder" role going forward. You'll take the volume here as a PPR flex option most weeks, though his upside for Week 2 might be capped on the road against a tough Broncos Defense.
Courtland Sutton/Daesean Hamilton/Emmanuel Sanders (WR, DEN)
If you have to roll with any of these guys, I feel most comfortable with Courtland Sutton. He and Emmanuel Sanders combined for 12 catches on 15 targets for 206 yards and a touchdown in Week 1, making both of them volume-based fantasy plays. I'm still looking elsewhere if I can help it with Khalil Mack and a capable Bears secondary coming to town.
New Orleans Saints at Los Angeles Rams
Matchups We Love:
Jared Goff (QB, LAR)
Jared Goff's home/road splits from 2018 are telling. He completed 68.3% of his passes at home for 2,237 yards and 22 touchdowns. He was barely average in away games, completing just over 60% of his passes for 1,951 yards, 10 touchdowns, and nine interceptions. He didn't look great in Week 1, but that was against a capable Panthers Defense on the other side of the country. In Week 2 he gets the Saints Defense at home in a game that figures to be high-scoring. The concern here is a shaky offensive line, but the creativity of Sean McVay's offense and Goff's multitude of receiving weapons should allow him to get rid of the ball quickly and avoid too much trouble in the pocket.
Brandin Cooks/Robert Woods/Cooper Kupp (WR, LAR)
Right off the bat, you love the target shares of Cooper Kupp (10) and Robert Woods (13) in Week 1. No other player saw more than four, and that includes Brandin Cooks. I don't expect Cooks to take too much of a backseat to his positional teammates in a Week 2 contest that will feature more passing from Goff. Kupp has the best opportunity for a high-floor PPR outing if he operates primarily out of the slot. Cooks and Woods will line up on the outside against a secondary that was just torched by DeAndre Hopkins in Week 1. All three can be viewed as fantasy starters for Week 2.
Alvin Kamara (RB, NO)
Alvin Kamara hauled in seven of eight targets for 72 yards, adding 97 yards on 13 rushing attempts in Week 1. The Saints will likely take every available measure to keep the Rams offense off the field, so expect a heavier dose of Kamara on the ground with his usual involvement in the passing game. Christian McCaffrey racked up over 200 all-purpose yards in Week 1 with the same usage formula against this defense.
Michael Thomas (WR, NO)
The Saints will try to keep Michael Thomas away from Aqib Talib if they can help it. Either way, Thomas is a vacuum for targets and one of the most consistently elite wide receivers in the NFL. He's looking at another double-digit target share in a game with all the ingredients for a shootout.
Matchups We Hate:
None
Other Matchups:
Drew Brees (QB, NO)
I would have Drew Brees among the matchups we love based solely on the shootout potential if not for the road venue and the defense he's going up against. As I mentioned above, I expect a Kamara-heavy game plan early, which could limit Brees's downfield opportunities against a talented Rams secondary. The Saints offensive line should be up to the challenge of limiting the mayhem Aaron Donald is able to cause, and Brees should have more time in the pocket than most quarterbacks facing the Rams. Brees is a fantasy starter for Week 2.
Tre'Quan Smith/Ted Ginn Jr. (WR,NO)
If Thomas eludes the Talib matchup, Ted Ginn inherits it. Ginn turned in an outstanding Week 1 performance, hauling in all seven of his targets for 101 yards. Week 2 will be uphill sledding if he's pitted against Talib for most of the day. Tre'Quan Smith is a decent candidate for some PPR work out of the slot, especially if the Rams defensive line is able to disrupt the pocket and force Brees to settle for the intermediate passing game. Smith only saw two targets against the Texans in Week 1, however (though he did score a touchdown), and those short-yardage passes could just as easily go to Kamara. There's upside for Smith here, but I don't know that it's enough to consider starting him in season-long formats. I'm inclined to avoid Ginn as well.
Latavius Murray (RB, NO)
Latavius Murray scored the Saints' only rushing touchdown of Week 1, and it's worth noting it wasn't some goal-line vulture, but rather a 30-yard scamper to the endzone. That said, he only rushed six times, and gained just 13 yards on his non-scoring carries. He's a touchdown-dependent fantasy option at the moment, as the volume isn't there to justify starting him for any other reason.
Jared Cook (TE, NO)
Jared Cook was targeted three times in his Saints debut, hauling in just two of them. That's not what you were hoping for if you drafted Cook as your starting tight end after his impressive 2018 campaign. He could be in line for more volume in Week 2 if the Rams secondary can keep the Saints' receiving corps in check, and you might be forced to start him anyway if you don't have another option. If for some reason Darren Waller or T.J. Hockenson are still available in your league, I'd grab one of them over Cook for Week 2.
Todd Gurley/Malcolm Brown (RB, LAR)
The good news on the Todd Gurley front is that he out-snapped Malcolm Brown by a wide margin in Week 1. He also rushed for 97 yards on 14 carries. The bad news is Brown still got 11 carries and scored both of the Rams' rushing touchdowns. After an offseason full of questions, we mercifully have an answer on Gurley's fantasy value. He's a must-start in all lineups, but he might become more of an efficiency play than a volume workhorse. As for Brown, he's not going to score two touchdowns every week, and his lack of involvement in the passing game (zero targets) makes him risky as a fantasy starter. Darrell Henderson played just two snaps for the Rams in Week 1.
Tyler Higbee/Gerald Everett (TE, LAR)
Tyler Higbee reeled in all four of his targets in Week 1, but they only amounted to 20 yards. He'd be a total afterthought at tight end if not for his short touchdown catch late in the game. He out-snapped Gerald Everett 39-30, and Everett only saw one target all game. Until further notice, both are off the fantasy radar.
Matchups Analysis - Sunday Night, 8:20 PM ET
Philadelphia Eagles at Atlanta Falcons
Matchups We Love:
Carson Wentz (QB, PHI)
This is one of the more difficult games to forecast. The Falcons looked awful in just about every way against the Vikings in Week 1, but Kirk Cousins only attempted 10 passes all game. That doesn't exactly tell us a whole lot about what to expect from Atlanta's pass defense. With that in mind, consider this a vote of confidence in Carson Wentz as opposed to an indictment against Atlanta. Wentz had to dig himself out of an early hole against the Redskins in Week 1, and he looked excellent in doing so. Wentz completed over 70% of his passes for 313 yards and three touchdowns, spreading the ball out quite nicely along the way. He's got an endless supply of weapons and this game could turn into a shootout.
Alshon Jeffery/DeSean Jackson (WR, PHI)
Normally, the knock on DeSean Jackson is that he's a big-play threat and not much else. If Wentz is going to look his way nine times a game like he did in Week 1, that's not going to be the case in 2019. Jackson led the Eagles in targets, receptions, yardage, and touchdowns against Washington. That boom-or-bust reputation is still there in the back of your mind until he displays consistency, but you have to like him as a flex play with upside for Week 2. Wentz also sought out Alshon Jeffery often enough in Week 1 to give him a look on Sunday night. Jeffery hauled in five of his six targets for 49 yards and a touchdown, with a second score being ruled as a rushing touchdown due to catching the ball behind the line of scrimmage. Jeffery can be started with confidence in Week 2.
Zach Ertz (TE, PHI)
The last matchup we love in this game is Zach Ertz, whose seven targets in Week 1 are probably a floor. Ertz caught five of them for 54 yards. Volume hasn't been a problem for the Eagles tight end in quite some time, and he's a surefire starter for Week 2.
Matchups We Hate:
Devonta Freeman (RB, ATL)
Devonta Freeman rushed eight times for 19 yards in Week 1 against the Vikings. He'll now face an Eagles Defense that held Derrius Guice to 18 yards on 10 carries. I like the Falcons to look better overall in Week 2, but I'm leaning more toward their passing attack than I am on Freeman. You probably have to start him unless you really loaded up on running backs at your draft, but you should do so with modest expectations.
Other Matchups:
Jordan Howard/Darren Sproles/Miles Sanders (RB, PHI)
The way Dalvin Cook just bullied Atlanta's run defense, I'm inclined to expect the Eagles to have similar success on the ground. The problem is I have no idea which back to count on. Miles Sanders played the most snaps and saw the most carries, but he wasn't effective. Darren Sproles carried the ball nine times for 47 yards, which isn't typical of his normal workload. In his five-plus years with Philly, he has averaged just over five carries per game. Jordan Howard was also more effective than Sanders, but even he only saw six carries on the day. None of the three were heavily utilized in the passing game. If I have to pick one, I'm going with Sanders, whose day would've been salvaged by a touchdown if the score had not been nullified by a ludicrous holding penalty. Still, his overall efficiency in Week 1 doesn't have me jumping for joy about starting him on Sunday night.
Austin Hooper (TE, ATL)
Austin Hooper led the Falcons in receptions in Week 1, and trailed only Julio Jones in targets. His final line for the day was nine catches for 77 yards. That's an exceptional PPR day out of a mid-tier tight end. He has a rough matchup for Week 2 if he's pitted against Malcolm Jenkins for most of the night. I like him as a volume-based starter at tight end, but I'm not expecting another 100% catch rate or a lofty yardage total.
Julio Jones/Calvin Ridley/Mohamed Sanu (WR, ATL)
Julio Jones and Calvin Ridley each scored a touchdown in Week 1, salvaging one of the more embarrassing performances by any offense to kick off the season. Jones was targeted a customary 11 times, hauling in six of those for 31 yards. Ridley brought in four of six targets for 64 yards. Jones is a locked-in starter with high-volume expectations, and Ridley belongs in fantasy lineups as a low-end WR2 or high-end flex. Mohamed Sanu caught five passes on six targets for 57 yards in Week 1, which would've amounted to a decent PPR outing in deep leagues. He's still on the outside looking in, as this offense very clearly runs through Jones as the primary option, with Hooper and Ridley rounding out the top three.
Matt Ryan (QB, ATL)
After the way the Redskins (of all teams) torched Philly through the air in the first half last Sunday, I'm inclined to believe Matt Ryan can do the same in Week 2. He's certainly got a deadlier set of weapons than Case Keenum. That said, none of Atlanta's starting offensive linemen graded out higher than a 65 in Week 1, and now they're going to have Fletcher Cox and Brandon Graham wreaking havoc in the trenches all day. I like Ryan based on the sheer number of passes I expect him to attempt, and it is a home game for Atlanta. But I envision the Eagles rendering Atlanta's offense one-dimensional in much the same way Minnesota did in Week 1.
Click here to read about the late games in part one.
More Start/Sit Advice