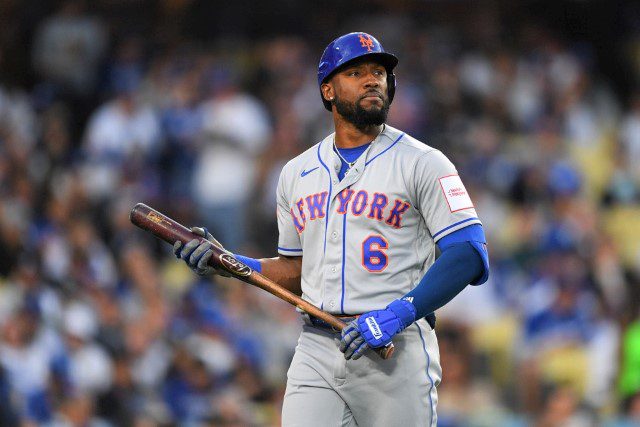 Welcome back to The Cut List. This is our weekly article looking at players who fantasy managers might be considering cutting from their teams and struggling players who need a closer look. We'll look at players who are worthy of a drop, players who are worth monitoring for replacing, and someone on the hot seat who is worth holding on to... for now.
The season is rattling on and we're about at the quarter mark for 2023. Early enough not to panic about a struggling star but enough games have passed that we can begin to worry that cold starts are more than that. Every player's circumstances are different so we can't take a blanket approach to them and instead need to look deeper into each player of concern.
Those of you experienced Cut List readers will know I'm a strong advocate for not making knee-jerk reactions. A bad week or two shouldn't be a reason to push the panic button and dump someone, especially as we're still quite early in the season. As the year continues to progress, there will be stronger cases to drop underperforming players. All stats and rostered rates (taken from Yahoo!) reflect when this piece was written.
Worth Dropping and Replacing?
Clay Holmes - RP, New York Yankees - 81% rostered
Holmes came into the 2023 season with question marks about his ability to remain as the Yankees closer throughout the whole year. The questions were raised following Holmes showing signs of vulnerability last year, which may be a surprise if we look at his 2022 numbers.
By the end of June 2022, Holmes had an 0.49 ERA (36.2 IP) but the struggles soon started and between the beginning of July and the time Holmes hit the IL in mid-August, he'd put up an 8.03 ERA (12.1 IP) with four blown saves. Following Holmes' return in late August, he put up a 3.07 ERA over the rest of the season. It's fair to say the year had its ups and downs.
This year, a look at his numbers tells us that Holmes hasn't been particularly good. In 15.1 IP, he has a 1-2 W-L record, 4.11 ERA, 1.50 WHIP, 21 Ks, and four saves. But Holmes also has two blown saves despite only allowing earned runs in four of his 11 appearances and his last save came on April 12. The problem for Holmes is he's no longer the Yankees' closer.
Holmes has struggled for control throughout this season with his 8.7% BB% ranking in the 35th percentile and only four of his outings have seen Holmes retire three batters without allowing a walk or a hit. Last weekend, we saw Holmes used in the eighth inning with Ian Hamilton getting his first career save in the Majors.
Following that decision, Aaron Boone all but confirmed Holmes is out as the closer and the Yankees will move forward with a mixture of guys getting saves.
In today's Clubhouse Report, @M_Marakovits speaks with Ian Hamilton and Aaron Boone regarding the closer role and what to expect going forward. pic.twitter.com/mUGAGKQRsX

— YES Network (@YESNetwork) May 7, 2023
The Yankees' first save situation since last weekend came on Friday night in a somewhat crazy game with the Rays. Hamilton relieved Gerrit Cole to start the sixth inning in a tie game. Michael King had the seventh and then the eighth inning after the Yankees took a 5-3 lead. That's when it unraveled.
King gave up a three-run homer and was relieved by Holmes in the eighth, who got two outs to end the inning, giving up a hit and striking out one. After the Yankees took the lead in the bottom of the eighth, Wandy Peralta came in to secure the save in the ninth, which also gave Holmes his first win of the season.
Then yesterday, we got another glimpse into how this thing could pan out. With the Yankees up by three runs, Ron Marinaccio came on to pitch the seventh inning. He recorded one out and left the game with two men on base.
Holmes came on and got Josh Lowe to strike out before giving up a two-run single to Randy Arozarena. Holmes then allowed another hit before finally ending the inning. Holmes came out to pitch the eighth inning, giving up one single before Peralta again came in for the ninth and to nail down the save.
Peralta is the only lefty in the Yankees bullpen so it's difficult to envisage him being used exclusively as a closer, but he has now picked up back-to-back saves. Holmes is clearly still a key piece in the Yankees bullpen but Boone will likely continue using matchups later in games.
Verdict: While I certainly think Holmes will pick up more saves this season, in shallower leagues, he isn't really a viable option unless your league also counts holds. I'd still roster him in deeper leagues especially if I am in need of saves but right now, the Yankees bullpen has more question marks than most.
Michael Conforto - OF, San Francisco Giants - 30% rostered
After missing the 2022 season due to a shoulder injury, expectations weren't high for Conforto this year. Signing with the Giants wasn't exactly the ideal landing spot for his fantasy value. But, he's still only 30 years old and had 132 career homers in 757 MLB games before this year so has always had a bit of pop.
Unfortunately, he's struggled so far this year. Conforto is hitting .191/.316/.365 with six homers, 13 RBI, 21 runs, and one stolen base (35 games). He's currently ranked 83rd among outfielders in fantasy (according to Yahoo!) and despite his expected numbers being better than his actual numbers, as you can see below, they're still not good.
Conforto has maintained his excellent walk rate and his 14.0% BB% is actually a career-high but it appears as though it's the physical element that's lacking. The other good news is Conforto is still able to make hard contact when he does connect but after missing the entire 2022 season, it might take some more time before Conforto is back to something resembling his former self.
Verdict: I'll be keeping a close eye on Conforto this season and if (as I suspect he will) he shows significant signs of improvement as the season goes on, he'll be someone I'll be taking a punt on next year. He's shown value in OBP leagues and has some power still so I'd likely hold him if I'm in need of homers. But in standard shallower leagues, there is likely a better option out on your waivers.
Vaughn Grissom - 2B/SS, Atlanta Braves - 24% rostered
Grissom was hyped up in drafts and was expected to beat out competition from Braden Shewmake to be the Braves' starting shortstop. But the Braves decided not to start the season with either of them on the roster, instead going with Orlando Arcia as the starting shortstop.
And Arcia played well, got hurt and we saw Grissom called up to the Braves after hitting .366/.458/.585 in ten games at Triple-A. Grissom played 19 games for the Braves, hitting .277/.314/.308 with no homers, seven RBI, five runs, and no stolen bases. Shewmake also got called up by the Braves but despite barely featuring, has remained on the roster with Grissom being demoted following Arcia's return.
The fact that the Braves opted to keep Shewmake and demote Grissom, despite Shewmake barely playing and being an inferior hitter, makes me believe they want Grissom playing every day to improve his defense rather than sitting on the bench for days at a time in the Majors.
It could be a case that they have seen all they need from Shewmake and don't feel like he needs more developing at Triple-A, while Grissom does. But it'll likely take another injury or two before we see Grissom with the Braves again soon.
Verdict: I still believe Grissom can be an above-average hitter in the Majors but needs an opportunity to prove that, and that doesn't appear to be coming any time soon. He's still a hold dynasty and if you have deep benches or Minor League spots in redraft leagues, stashing Grissom makes sense. But otherwise, he can be dropped.
Hold For Now
Eugenio Suarez - 3B, Seattle Mariners - 76% rostered
Suárez has been a curious case this year. After back-to-back seasons of hitting 31 homers, so far he has three home runs, 19 RBI, 14 runs, and one stolen base with a .218/.314/.313 slash line (39 games). Given Suárez had a .218 batting average over the previous two years, his average this year is about what we'd expect it to be.
But the power is what has been lacking and his slugging percentage is well down on the .444 SLG he put up across the 2021 and 2022 seasons. He's also only on a 162-game pace of 12 home runs so there are clearly so justifiable concerns about his power (the lack of it).
Suárez does have a .385 xSLG so above his actual mark but still down on his last two seasons and career .460 SLG. It also only ranks in the 37th percentile so a far cry from what we were expecting. To try and ascertain where the issue is and whether or not it's something Suárez can turn around, as always, I took a deeper look.
There's good news and bad news. The good news is, there isn't a significant cause for his struggles so no reason to believe his power won't return. The bad news is, there's nothing in his numbers to suggest he'll become the pre-2023 version of himself.
To give you an idea of what I mean, take a look at the below table, comparing some of his numbers from 2021, 2022, and 2023.
| | | | | | | |
| --- | --- | --- | --- | --- | --- | --- |
| Year | PA | xSLG | Barrel% | GB% | FB% | Launch Angle |
| 2021 | 574 | .455 | 15.0% | 36.3% | 46.6% | 18.3 |
| 2022 | 629 | .454 | 14.8% | 34.1% | 45.7% | 19.9 |
| 2023 | 169 | .385 | 9.2% | 41.8% | 35.7% | 15.5 |
As mentioned, the problem is trying to find out why Suárez's numbers are the way they are. He's seeing slightly more fastballs than the last two years and his numbers have always been better against fastballs than offspeed and breaking pitches. He's seeing more pitches in the zone while not swinging and missing more than normal.
All I can put this down to is a smaller sample that'll even out over the course of a season which means Suárez will have a considerably better few months than he's had so far. It's not like he's a historically slow starter as his March/April 108 wRC+ in his career is the third-best monthly rank.
There is something of note among Suárez's numbers and that's how he seems to be really working to get out of this little funk. I've watched a few Mariners games and Suárez certainly seems to be battling more in some at-bats which will explain why he has a 16.7% BB% this month while his .185 BABIP in May suggests he's being rewarded with bad luck.
All we can go with is Suárez's track record and that is something to be optimistic about. It's likely Suárez will fail to reach 30 homers for the first time over a full season since 2017 but I'm still optimistic we see 25 homers and providing he remains hitting in the key spots of the lineup, those runs and RBI should pick up as well.
Seiya Suzuki - OF, Chicago Cubs - 70% rostered
I had high hopes for Suzuki this year. It didn't begin well with Suzuki missing the start of the season due to an oblique strain and after 27 games, he's hitting .268/.357/.381 with one homer, 11 RBI, nine runs, and no stolen bases. The solitary home run is a worry and the lack of RBI and runs for someone hitting fourth or fifth is problematic.
And the reality is, everything Suzuki's doing is good (or above average), except the power. That's certainly what his Statcast profile shows us. I've also included Suzuki's xwOBA below as it does offer hope that he is just turning the corner and beginning to get back to what he's capable of.
All in all, Suzuki hasn't quite performed to the levels we expected and he's shown last year that he's capable of. But he's still been about league average or better, as evidenced by his 98 wRC+ and a lot of the hit metrics. He just needs to find his power swing.
After a missed Spring and late start to the season due to his oblique injury, I'm prepared to be a bit more patient with Suzuki since he hasn't been awful so if these little shoots of growth we've seen lately do continue to trend up, Suzuki should still be able to have a solid fantasy season.
Jon Gray - SP, Texas Rangers - 53% rostered
Gray entered this week with a 4.40 ERA and when I first glanced at his underlying numbers following last weekend's article, I was prepared to say you should look to trade him for anything you can get or just dump him. That was down to his 5.35 xFIP, 5.59 SIERA, and dismal 14.5% K%.
Gray's velocity had been down a bit from last year but not to the point there was a significant concern. But it was clear that Gray just wasn't right. And while I ordinarily don't let one outing change my mind, Monday's start against the Mariners did catch my eye to the point I was willing to give Gray more time.
Against the Mariners, Gray completed seven innings, striking out a season-high eight batters while allowing just one run on four hits and no walks. And it wasn't the results that fascinated me, it was his pitch mix and one pitch in particular. First, let's look at Gray's pitch usage per game this season.
Gray threw a season-high 41.6% of sliders and given it has a .188 xBA against it this year, that makes total sense. Gray's slider has a 122 Stuff+ rating, which is tied as the 11th best among the 59 qualified pitchers with a slider, leaning on it more is probably the best route forward. Next, let's look at that velocity I mentioned.
Not only did Gray's fastball velocity average a season-high 95.7 MPH (and much nearer last year's average of 95.9 MPH), Gray's slider averaged 87.5 MPH. That was 3.3 MPH more than his season average and it induced ten whiffs on 15 swings (from 37 total sliders thrown).
I wanted to see what Gray would do on Saturday. Would he follow suit and lean on the slider more? And would Gray be able to maintain the increased velocity on his slider and get as many whiffs on it against the lowly Athletics?
Gray threw 37% fastballs and 36% sliders so not as extreme as last Monday's outing but certainly more in line with it than earlier in the season. And his fastball velocity averaged 95.6 MPH while his slider averaged 87.0 MPH. Not quite the same as Monday but close enough to make me believe this could be a thing moving forward.
And the result of all this? Gray threw eight shutout innings, allowing three hits and two walks while striking out five. Just like that, Gray now has a 3-1 W-L record, 3.15 ERA, 1.14 WHIP, and 32 Ks (45.2 IP).
I'm not saying we're completely out of the woods yet but if you did hold on to Gray until this point, there's certainly no reason to drop him now. If the increased slider usage holds along with the improved velocity, Gray should find his way back onto more rosters.
On the Hot Seat
Starling Marte - OF, New York Mets - 90% rostered
Before I delve into Marte's numbers, I want to go through a little bit of how the Cut List works. Don't worry, it's all relevant.
I get a bunch of names from various sources of players who are struggling, being dropped, being requested, etc. I then look at their numbers and decipher who is most worthwhile covering and working out what part of the article they will feature in. When it came to looking at Marte's numbers, I thought "Well, at least he's still stealing bases."
Once I have worked out the week's format, I then begin digging. Looking for news on players, going into their metrics, underlying numbers, splits, game logs, trends, and playing time. Anything that has a number affixed to the player, I'll look at it. which leads me to Marte and what pushed me into this ramble.
Marte has a .226/.294/.282 line with one homer, eight RBI, 11 runs, and nine steals (34 games). As I mentioned, the nine steals are nice. That's a 162-game pace of 43 steals, close to his career-high of 47 (in 2021 and 2016). Why that's so surprising to me is Marte has done that despite the significantly diminished speed.
The above shows Marte's average sprint speed each year (according to Statcast). You expect players to slow down as they enter their mid-30s but Marte's sprint speed now only ranking in the 38th percentile is a pretty big drop. So the fact he's tallied nine steals is somewhat impressive.
The reason I am putting emphasis on the speed and stolen bases is that has been Marte's main fantasy asset and being able to provide solid numbers across the other categories with plus speed is why you draft Marte. All other numbers are down and if Marte is slowing down, can you rely on him to keep stealing at the rate he has been doing so?
After stealing a base in three consecutive games in mid-April, Marte has gone 2-for-2 in stolen base attempts over the last 19 games. And if the steals tail off, there isn't much left. Now what of the other numbers? Well, unfortunately, they're not looking good either.
You can point to his expected numbers being better than his actual numbers. But his .246 xBA, .381 xSLG, and .308 xwOBA (.262 wOBA) are all bad and his quality of contact isn't any better as evidenced by his Statcast profile below.
All of Marte's swing and contact numbers are about right. He's swinging at around the same number of pitches outside the zone but more pitches in the zone. And he's making slightly more contact with pitches inside the zone. He's just not making good contact with them.
Marte's hitting fewer ground balls and fewer line drives, with more flyballs. But flyballs without much power aren't going to help and that's exactly what we've been seeing. All of that has led to Marte dropping down from second to sixth in the Mets lineup too.
There isn't even the crumb of comfort that Marte started slowly and has been picking up lately. One month ago, he sat on a .295/.404/.455 slash line and since then, Marte has hit .188/.226/.188.
You have to expect the Mets will improve offensively and Marte is a veteran hitter with a career .288/.344/.448 slash line so it's fair to believe he'll improve too. That can only be based on his track record as nothing in his numbers suggest that will be the case. And at 34 years old, can he perform like he has in the past?
In deeper leagues, I'm willing to give Marte more time to turn his season around that's the same for most leagues. But in shallow leagues, there are normally outfielders that are rosterable on waivers and ones who can fill in category needs for your team. Marte might be the weakest outfielder on your team and in that case, is a potential drop.
Reddit Requests
As in previous years, we're keen to hear who you want us to analyze. If there is anyone who you want to include here on next week's Cut List, drop their names on the Reddit thread and there's a good chance they will feature. Alternatively, you can reach out to me on Twitter (@Baseball_Jimbo) and we'll endeavor to cover as many requests as we can each week.
We didn't manage to top 200 comments on Reddit last Sunday, but still had over 190 so rather than the normal three names in this section, I've included five again. And given some of the big names being requested, it's clear there's a broad level of concern among some early-round picks.
Max Scherzer - SP, New York Mets - 99% rostered
Talk about a pain in the neck. Both physically and metaphorically. The most high-profile player on this week's Cut List probably needs the least amount of analysis. Simply put, he's hurt and the Mets don't seem to know what to do about it or how to deal with things so fantasy managers are stuck.
Scherzer's struggled this year, with a 2-2 W-L record, 5.56 ERA, 1.41 WHIP, and 20 Ks (22.2 IP). He's made only five starts this year due to the suspension for having sticky hands and this ongoing injury debacle. Scherzer attempted to play catch on Wednesday but cut it short due to his neck spasming.
Max Scherzer tried to play catch just now but it didn't last long or go well. His neck is still "in spasm," as he put it. But he feels better today than he did yesterday.

"It hasn't fully let go yet," he said.

The Mets plan to slot him in during the Nationals series.

— Tim Healey (@timbhealey) May 10, 2023
That meant he couldn't start Friday. He hoped he could start Saturday but it's now likely he starts tonight's game following a 35-pitch bullpen session he completed on Friday. Are you still following along? Well done if you are as I don't know what is going on with Scherzer of the Mets.
If he does pitch tonight, are we sure he won't experience some sort of shoulder or neck issue that curtails his start? Do you really want to risk benching someone you would have likely drafted as an SP1? And if you're looking to me for an answer, I simply don't have one.
Much has been made of Scherzer's diminished velocity and his drop in spin rate during his last start. But if he's hurt and has been pitching with a troublesome neck and/or shoulder, that will likely explain them. Until we hear Scherzer is 100% healthy, there's not much point trying to ascertain why he's struggled.
You're not going to drop Scherzer and you probably won't enjoy starting him so if I had Scherzer on my team, I'd probably stick him on my bench until he's made a couple of starts and shown signs that he's at least competent and somewhat healthy before I start rolling the dice with him again.
If you really don't want to deal with this, trading Scherzer now won't get much in return so your best bet is to wait and hope he can put together a couple of good starts. But in that case, would you really want to trade him away?
Jazz Chisholm Jr. - 2B/OF, Miami Marlins - 97% rostered
On the surface, it appears as though Chisholm Jr. is having a disappointing season with his .229/.291/.403 slash line. But, he also has seven homers, 16 RBI, 16 runs, and 14 stolen bases (39 games). He's on a 162-game pace of 29 homers, 66 RBI, 66 runs, and 58 stolen bases. I doubt many fantasy managers will bemoan those numbers.
The concerns coming into the season were how transitioning to the outfield would impact him and if Chisholm Jr. can stay healthy given he only played 184 games over the previous two seasons. Both of the concerns haven't been issues yet. His below Statcast profile shows how well he's adjusted to center field and he's only missed one game.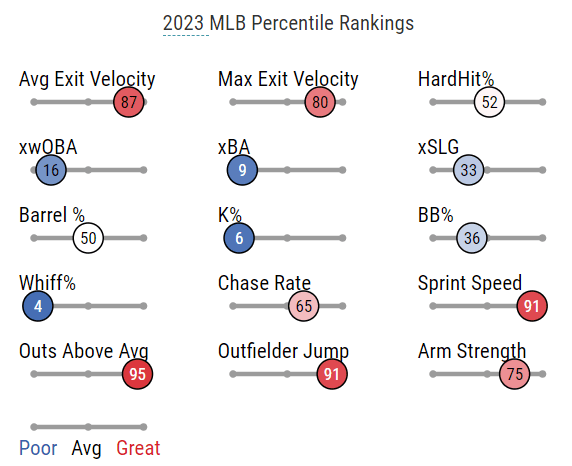 The Marlins are tied for 28th in runs scored this season (138) and that was also going to be a detrimental factor for Chisholm Jr.'s fantasy value. However, his power and speed are making up for it and he currently ranks as the 90th-best player in fantasy (10th second baseman and 28th outfielder) so certainly not droppable.
There is a case in points leagues that Chisholm Jr. isn't worth rostering and given his 32.7% K% and 7.5% BB% but that's very much subjective and dependent on how your league's points are weighted.
We've seen enough of Chisholm Jr. to be confident this is who he is as a hitter so basing your projections on what he's done so far is fair and should give you a better idea of how many points to expect from the remainder of this season. If there are better options available to you, then a swap might be in order.
Chisholm Jr. was removed from Saturday's game after colliding with the outfield wall and injuring his foot. X-rays have come back negative and it's being treated as a contusion so hopefully not something that'll lead to any missed time.
Alex Bregman - 3B, Houston Astros - 96% rostered
This one feels like déjà vu. Last year, I recall being asked about Bregman due to a slow start and after checking his numbers, felt like he was a buy-low candidate rather than someone worth dropping. This year is exactly the same. Despite my belief that he is often overvalued in drafts due to his 2019 season, Bregman is still better than he has been so far.
After 39 games, Bregman is hitting .203/.322/.324 with four homers, 16 RBI, 20 runs and no stolen bases. That's left him ranked 39th among third basemen on Yahoo! and that's a far cry from his ADP (~72). So why on Earth do I think Bregman is a buy-low candidate?
Firstly, let's look at his expect numbers compared to his actual numbers.
| | | | | |
| --- | --- | --- | --- | --- |
| Stat | BA | SLG | wOBA | HR |
| Actual | .202 | .324 | .298 | 4 |
| Expected | .248 | .423 | .350 | 4.4 |
| Difference | -.046 | -.099 | -.052 | -0.4 |
Nothing is elite of course but his xBA (47th percentile), xSLG (55th percentile), and xwOBA (72nd percentile) are all marks of a more than serviceable third baseman in fantasy. The second reason for labeling Bregman as a buy-low option is due to last year.
I'm not going to pretend Bregman's .259/.366/.454 with 23 homers, 93 RBI, 93 runs, and one stolen base was outstanding but it was still enough to rank him as the eighth-best fantasy third basemen on Yahoo!. Bregman was hitting .225/.341/.399 with five homers, 22 RBI, 20 runs, and no steals after 40 games last season.
I know last year's offseason was disruptive to all players but is it unreasonable to believe Bregman can repeat what he did last year? Given Jose Altuve is expected to return in the coming weeks, an uptick in Bregman's counting stats should follow.
And although they aren't counted in standard leagues, Bregman's 9.8% K% (97th percentile) and 14.4% BB% (92nd percentile) tell me he's still got a great command of the strike zone and isn't trying to push things to improve his average. If Bregman can do in 2023 what he did in 2022, he'll be a top-10 third baseman for the rest of the year.
Andres Gimenez - 2B/SS, Cleveland Guardians - 90% rostered
Giménez had a break-out 2022 campaign, hitting .297/.371/.466 with 17 homers, 69 RBI, 66 runs, and 20 stolen bases (146 games). That was enough to finish as the fifth-best second baseman on Yahoo! and he entered this season being drafted as a top-80 player (the sixth second baseman being taken). He has not performed as one.
After 37 games, Giménez is hitting .231/.299/.366 with three homers, nine RBI, 22 runs and six steals. To give you an idea of how poor the Guardians' offense has been this year, Giménez has scored 16% of their runs despite hitting almost exclusively in the bottom half of the lineup.
Without trying to labor the point I make every week, we're still early enough in the season for one big day to really turn around a player's numbers. Giménez's 3-for-4 performance on Friday saw his average jump 17 points from .214 to .231.
Despite Giménez's numbers being underwhelming, he is on a 162-game pace of 13 homers, 39 RBI, 96 runs, and 26 steals. That speed and the runs are certainly nothing to be sniffed at and only four second basemen have tallied at least 22 runs and six steals so far. That's about where the pros end.
The one big concern I have with Giménez moving forward is the risk of him being platooned. Normally, for a left-handed hitter (LHH), that isn't a big deal but the problem is, Giménez has reverse splits, meaning he hits left-handed pitching (LHP) better than right-handed pitching (RHP).
The below table shows Giménez's splits last year and so far in 2023.
| | | | | | | | | |
| --- | --- | --- | --- | --- | --- | --- | --- | --- |
| Split | PA | AVG | OBP | SLG | K% | BB% | wOBA | wRC+ |
| Vs RHP 2022 | 429 | .286 | .362 | .460 | 21.2% | 6.3% | .357 | 135 |
| Vs LHP 2022 | 128 | .336 | .400 | .487 | 16.4% | 5.5% | .389 | 158 |
| Vs RHP 2023 | 97 | .189 | .247 | .311 | 22.7% | 5.2% | .245 | 50 |
| Vs LHP 2023 | 51 | .318 | .400 | .477 | 9.8% | 3.9% | .387 | 149 |
Obviously, despite his numbers being better against LHP last year, Giménez was still a very good hitter against RHP. But this year, his numbers across both splits are down and he's been close to unplayable against righties. I'm not saying he's destined for a platoon role and the only time he's sat out this month was against a LHP.
He needs to start performing against righties to be fantasy viable even if he doesn't start sitting against them. I'm not prepared to dump Giménez just yet but there isn't much supporting the decision to keep him rostered and in shallow leagues, there may be a better option on waivers.
Given what Giménez did last year and the fact the Guardians' offense shouldn't be this bad for much longer, I expect Giménez's fantasy value to start increasing. I'm just not prepared to bank on it and the drop hammer could fall upon Giménez in the coming weeks if there are no signs of improvement.
If you want more information on Giménez before making a decision, Eric Samulski (@SamskiNYC) covered him in his article earlier this week which you can read by clicking here. Eric is a lot smarter than me so I suggest you give it a read before pulling the trigger on deciding what to do with Giménez.
Brandon Lowe - 2B, Tampa Bay Rays - 88% rostered
Lowe was possibly the most commonly requested player last year. After his 39-homer season in 2021, last year Lowe was plagued by injury and inefficiency. This year, he's been healthy but still not particularly inefficient. After 35 games, Lowe is hitting .185/.287/.403 with seven homers, 20 RBI, 21 runs and one stolen base.
Lowe only had 18 steals in 395 MLB games entering this season so wasn't someone you drafted for stolen bases. And his career .245 batting average is pretty meh. But you drafted him for power, RBI, and runs, all of which he's delivered. Among second basemen, Lowe is tied-fifth in home runs, tied-eighth in RBI, and tied-11th in runs.
Lowe has been as cold as they come in May, hitting just .061/.162/.091 so far this month and if we go back to April 22 (three weeks ago), he's hitting just .094/.171/.203 since then. The recent struggles and the fact he won't face many lefties this season has fantasy managers worried he isn't a viable second-base option anymore.
But, I can offer some reassurance. During his 2021 season, Lowe had cold periods and in fact, hit .182/.301/.364 in April and .196/.312/.380 in May. He had multiple weeks of hitting sub-.200 and stretches of ten games where he barely hit over .100. Over the course of a season, those streaks go unnoticed.
If you're worried about Lowe not playing every day due to the Rays' reluctance of having him face lefties, I wouldn't worry about it. Below are his numbers against LHP from that 2021 season and so far this year.
| | | | | | | | | |
| --- | --- | --- | --- | --- | --- | --- | --- | --- |
| Split | PA | HR | AVG | OBP | SLG | K% | ISO | wRC+ |
| Vs RHP 2021 | 427 | 29 | .270 | .372 | .581 | 24.1% | .311 | 161 |
| Vs LHP 2021 | 188 | 10 | .198 | .261 | .401 | 34.0% | .203 | 83 |
| Vs RHP 2023 | 123 | 7 | .185 | .285 | .426 | 29.3% | .241 | 100 |
| Vs LHP 2023 | 13 | 0 | .182 | .308 | .182 | 30.8% | .000 | 56 |
There's little reason to have Lowe face many lefties and his numbers against them suggest it isn't a huge detriment to his fantasy value. For now, he's healthy, hitting in the heart of the lineup that's scored more runs than any other team and at a position of relative weakness in fantasy. I see no reason to drop Lowe right now.
Download Our Free News & Alerts Mobile App
Like what you see? Download our updated fantasy baseball app for
iPhone
and
Android
with 24x7 player news, injury alerts, sleepers, prospects & more. All free!
More Fantasy Baseball Advice