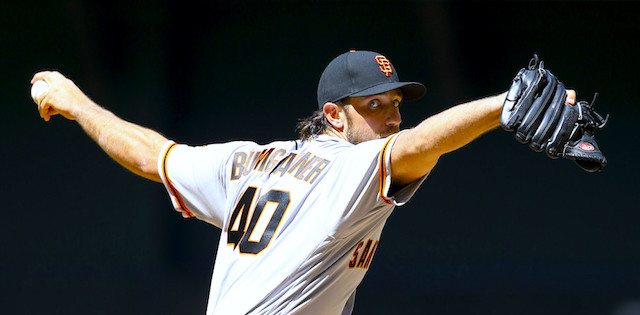 It's a stocked junkyard full of veteran left-handers in this edition of starting pitcher busts. Highlighted in articles depicting their incredible value and abilities over the last few years, the players on this list have suffered a free fall from the upper ranks of talent since then. After seeing a rapid transformation in quality from these pitchers, it's advisable to be out a year early rather than a year late on these hurlers before things get worse.
With Father Time looming over these players' careers, they will have to adapt to their diminishing skillset, and adjust to the way hitters attack them if they want to regain their past success. Drops in velocity, erratic control, and tossing virtual melons are just a few of the factors that hurt these former aces in 2018.
With their prime years in the rearview mirror, it's time to take a look down the long road of displeasure.
Featured Promo: Get your 2023 MLB Premium Pass for 50% off. Exclusive access to our preseason Draft Kit, #1 accuracy rankings, #1 ATC projections, Team Sync platform, Live Draft Assistant, 15 in-season lineup tools, customized rankings and much more!
Sign Up Now!
Madison Bumgarner's fantasy stock has crashed harder than his dirt bike in April of 2017. Tossing 129.2 innings last year, he went 6-7 with a 3.26 ERA, 1.24 WHIP and 109 strikeouts with the San Francisco Giants. While his ERA and WHIP aren't off-putting, his deteriorating strikeout rate is distressing.
Bumgarner had a 19.8 K% in 2018, the first time it dipped below 20% since his rookie season in 2010. His K% has drastically dropped in consecutive years, as it sat at a healthy 27.5% in 2016 before his bike accident. His fastball eroded down to 88.1 MPH, and he fell well below the league average in SwStr% (9.2). Bumgarner is a smart, crafty pitcher so he can still find ways to get outs, but his dependability in the strikeout column has faded away.
Although MadBum had a satisfying ERA last year, it wasn't all rosy beneath the surface. He had a 4.42 SIERA, 3.99 FIP, and a 4.32 xFIP, meaning he actually should have had an ERA almost a full run higher. The Giants ballpark helped him in that regard.
Bumgarner will turn in 30 in August, but he hasn't been close to the same pitcher since the dirt bike accident. It'll be difficult for him to recover his strikeout rate with his diminishing fastball velocity, and wins will also be elusive on a sub-par Giants team. His WHIP and ERA can still keep at a respectable pace, but paying for him as an SP2 is a mistake given the high upside strikeout arms that are in his ADP neighborhood.
It may be no coincidence that Dallas Keuchel hasn't found a home yet in 2019. Despite proving to be a durable arm with 204.2 IP a year ago, Keuchel went 12-11 with a 3.74 ERA, 1.31 WHIP, while accumulating just 153 strikeouts. Statistically speaking, it wasn't an ideal contract year for the recently turned 31-year-old.
Keuchel's K% dropped to 17.5% after it sat over 20% during the last three seasons. He's proven to be successful with below-average fastball velocity across his career, but his complimentary pitches didn't live up to their success from previous campaigns. His 34.4% whiff rate on his breaking balls was the lowest since he got called up to the bigs in 2012. Batters also hit .260 on these pitches, after averaging only .159 on these offerings since 2014.
Keuchel's elusiveness with his pitches has also vanished after he produced his career-worst numbers in chase rate (28.8%) and chase contact (66.4%). Across his big-league tenure, these figures sat at an average of 30.6% and 60.7% respectively. Evaporating with his craftiness was his always dominant GB%, as it also fell more than five ticks below his career rate in 2018 to just 54.9%.
With no contract appearing to be close in sight, it seems inevitable that Keuchel will have a late start to his season. Unless Houston brings back the lefty, he'll have to build a relationship with his new backstop as well as his new coaching staff, which is easier said than done. Keuchel will be a leg behind his opponents when he does find a team, and with his deteriorating skills and strikeout rate, this will be even more disadvantageous for him.
Jose Quintana has asserted himself as an inning-eater arm over his career. Making 32 starts for the sixth consecutive year, he had the potential to eclipse 200 frames once again, but his ineffectiveness limited his innings to just 174.1. He racked up 158 strikeouts with a 4.03 ERA, and a 1.32 WHIP in his first full year on the North side of Chicago.
Quintana's BB% has increased every season over the last four years topping out at an uninspiring 9.2% a year ago, over 1.5% higher than his 2017 mark. Not only was he handing out the free passes at an alarming rate, but he was serving up the long ball on a silver platter. Giving up 1.29 HR/9 last year, hitters punished all of his pitches despite keeping his ground ball rate (44.7%) right on his career pace (44.8%).
Quintana has only thrown a K-per-inning one time over his seven big league seasons, and his 21.4% K-rate from 2018 was just slightly above his 21.0% career-rate. He's likely to remain in this region for strikeout ability, and if his innings stay limited  in 2019, he's unlikely to make a drastic impact in this category for your fantasy squad.
As a top-20 starting pitcher selection before the start of 2018, things could have been a lot worse for Quintana last year. His 4.43 FIP and 4.39 SIERA suggest that he was fortunate to come away with the ERA that he did last year. Quintana has a superb track record health-wise, but we can't overvalue his quantity over quality.
Like his teammate mentioned above, Jon Lester has maintained a strong ability to take the hill every five days. Making 32 starts in 2018, he has now made at least 31 starts every year since 2007. He posted a much better roto line than his teammate generating an 18-6 record with a 3.32 ERA, 1.31 WHIP while tossing 149 K over 181.2 IP. A couple of these numbers are solid, but this may be the final time we see rates this proficient.
Although Lester's 3.32 ERA was satisfying, his underlying metrics were unappealing as he posted an ugly 4.39 FIP and a 4.57 SIERA in 2018. He saw his line drive rate reach a new high at 30.3% while his ground ball rate fell well beneath his 45.8% career rate down to 40.0% in 2018.
The punch-outs are also dissipating from the recently turned 35-year-old's game. Lester's whiff rate tumbled down nearly 5% from 2017, down to 20.5% in 2018, and his four-seamer once again decreased in velocity down to an average of 91.0 MPH. He was also unable to get hitters to chase pitches as often, resulting in a seven-year low in walk rate with an 8.4% BB% in 2018.
Lester somehow managed an 80.3% strand rate which is sure to regress in 2019, especially if he upholds his 1.24 HR/9 from his last two seasons combined. Age is starting to set in with the 6'4" pitcher, and there's a lot of miles on that left arm which is bound to catch up with him even more than it already has. The glory days are over with Lester, and it would be wise to toss this hot potato as far as you can before it's too late.
More Fantasy Baseball Busts and Avoids