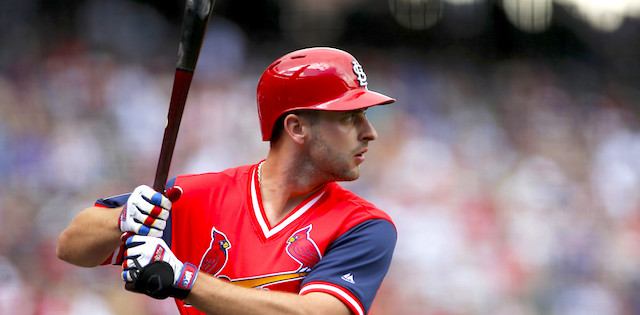 Here at RotoBaller, we've been producing fantasy baseball analysis all offseason. As part of that, our awesome MLB team has written up detailed 2019 fantasy baseball outlooks for 400+ players. These player outlooks include RotoBaller's analysis on how we expect player to perform in 2019, where to target them in 2019 drafts, and supporting stats to back up the analysis. Typically, we only include these outlooks for premium subscribers, but we have a special treat for you.
Over the next few weeks we'll be releasing some exclusive player outlooks for each position. Our editors have hand-picked these specific MLB players for your draft prep enjoyment. Normally only available to Premium subscribers, the five outlooks below are meant to give you a taste of the in-depth analysis you receive with our industry-leading 2019 Draft Guide.
Today we are looking at some middle-round shortstops who need to be considered. Do we think they are draft targets, or players to avoid? Are their ADPs overvalued or undervalued? Will they make significant fantasy contributions and be one of your key draft sleepers? Read on to see our take. Be sure to subscribe as well, and read all 400+ of our 2019 player outlooks available exclusively in our 2019 Draft Guide.
Featured Promo: Get any full-season MLB and DFS Premium Pass for 50% off. Exclusive access to our Team Sync platform, Premium articles, daily Matchup Rating projections, 15 lineup tools, DFS cheat sheets, Research Stations, Lineup Optimizers and much more!
Go Premium, Win More!
Orioles second baseman/shortstop Jonathan Villar should provide solid speed with serviceable pop and average that won't weigh down fantasy owners in 2019. The 2016 breakout had posted an uninspiring .261/.315/.377 triple slash with six homers and 14 steals across 279 plate appearances for Milwaukee before being dealt to Baltimore. Then Villar did the unthinkable -- he inspired Buck Showalter to actually steal bases!
Villar would go 21-of-24 on swipe attempts over 236 PAs for the O's while chipping in eight homers and 52 R+RBI alongside a .258/.336/.392 slash line. The average held steady, but he started taking more walks (generating more steal opportunities) and slapping the ball with some authority. The switch-hitting speedster should bat second or third (Cedric Mullins manned the leadoff spot in September) and rack up the PAs, though his R+RBI tally will underwhelm given the lineup around him.
Still, fantasy owners hunting speed should consider Villar around his ADP of 105 since he was one of just four players notch 35 or more steals in '18 and isn't a total drain on other categories a la Billy Hamilton. Our staff rankings largely agree with drafters and place Villar at 117, but likely put additional weight on the unplayable floor we've seen from him alongside the potential.
Elvis Andrus was one of 2017's more surprising 20 HR hitters, so fantasy owners probably weren't too surprised to see his total regress to six last year. His HR/FB slipped from his career-best of 11.6% in 2017 to 5.8% last season, a rate that just won't produce much power when paired with a 31.1 percent fly-ball rate. Andrus also set career-worsts in IFFB% (12.6%) and LD% (19%) last season that dragged his overall batting line to .256/.308/.367, a far cry from the .297/.337/.471 he posted in 2017.
His loss of steals (25 SB in 2017, five last season) is even more concerning as it calls into question his continued fantasy viability. A rebound is possible, but 30-year-old middle infielders aren't exactly known for bounce-back seasons. Andrus currently projects for a favorable lineup spot, but he could turn into an empty roster spot if he ends up hitting toward the bottom of the Rangers lineup.
We currently have Andrus ranked as the 127th player off of the board, but this writer feels that owners would be better-served chasing upside or a safer floor with that pick. It might be difficult for Andrus to recover from his 2018 performance.
Marcus Semien's 89 R, 70 RBI, and 14 SB in 2018 landed him top-10 among shortstops in each of these categories. That's correct, 2018 Marcus Semien was a fringe top-10 fantasy SS. Owners should look past his mediocre slash of .255/.318/.388 in 2018 to understand that he receives massive benefits from the A's lineup. If Semien is slotted in at the leadoff spot, he will reap the benefits of batting in front of great run-producers Matt Chapman, Khris Davis, and Matt Olson.
In 2018, Semien batted first or second for a total of 104 games in which he crossed the plate 65 times and batted in 45 runs. This is an elite spot as the A's were fourth in runs scored in 2018 and are poised to have another productive offensive year. However, his spot in the lineup is not concrete, which will affect his counting stat opportunities if he hits in the lower half of the lineup. At the very least, you can count on Semien to be a steady provider as he has posted double-digit home runs and stolen bases in each of his past four seasons.
Semien's current ADP of 202 puts him outside the top-20 for shortstops, which is too low for the consistency and upside he provides. Take advantage of the SB totals he'll add and draft him as a high-end backup SS in shallow leagues and a solid starter in deeper leagues.
Paul DeJong - SS, St. Louis Cardinals
St. Louis Cardinals shortstop Paul DeJong couldn't maintain his power surge in his first full campaign at the big-league level but did show he can hit enough to force his way into the lineup every day. His season was sidetracked early on after he fractured his hand in May. As a result, he was sidelined for the entirety of June before returning to hit 11 home runs in the second half of the season.
Now with 933 major-plate experiences under his belt, expectations for DeJong's production should be relatively clear. He'll be a strong source of power -- he finished eighth among shortstops with at least 300 plate appearances in ISO -- and both runs and RBI. Though his 25% strikeout rate means his batting average is likely to lag, DeJong has shown the ability to draw walks throughout both his minor and major-league career.
That should be enough to get him consistent at-bats in the middle of the Cardinals' lineup, a good place to remain to rack up counting stats. Early ADP has DeJong tabbed as the 20th shortstop, pushing him outside the top 175 overall picks, which appears to be a reasonable asking price given his limitations as a three-category contributor.
Amed Rosario finished last year as the 174th ranked fantasy player (15th round value) without accounting for position (.256/9/76/51/24). RotoBaller ranks him as the 194th best player, though his ADP is 141. Rosario will be 23 years old all of next season. He has previously been ranked as a top-ten prospect by almost every prospect source, though that wasn't for his hit-tool alone. That pedigree, combined with last season's performance and improvement in the second half suggests that he should be at least as good as last year.
Further, it suggests he has some upside as he has not yet tapped his power potential. In just 63 games after the break, he posted a line of .268/5/43/28/18. On the season, he significantly cut his strikeout rate and had 26 doubles and nine triples, suggesting more power is possible. With the additions of Robinson Cano and Wilson Ramos, Rosario is projected to bat in the bottom third of the lineup, which will limit his ABs and run production. This will be a downgrade from 2018 when he saw 254 ABs as the leadoff hitter.
Still, an average above .270 with 15 homers and 30 steals with decent run production is not out of the question. The speed and power potential give him solid upside while the stolen bases set a nice floor. I imagine RotoBaller's rankers will be elevating their ranking for Rosario, and he can safely be targeted around 140th overall.
More Fantasy Baseball Analysis