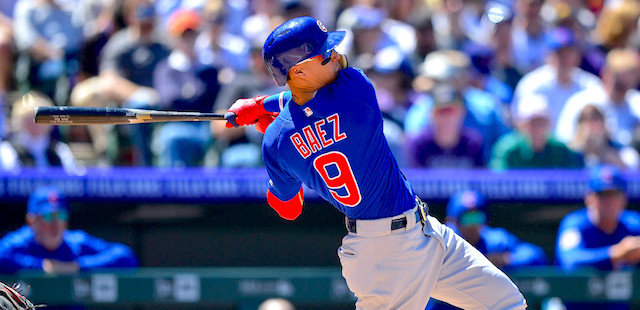 With the MLB regular season winding down, we begin to close in on the final stretch of your fantasy baseball championship run. We've collected some of the brightest baseball minds here at Rotoballer to deliver you our rest-of-season rankings analysis to help you secure your league title. Now that fantasy football is nearly in full swing, take advantage of distracted managers in your league by staying active on the waiver wire and staying on top of trending hitters.
It's been an interesting year at second base in 2019, as it's been arguably the weakest position in fantasy - besides catcher, of course - but still contains plenty of talent, some old and some new. The old guard of Altuve, Baez, and others remain from last year, but the real story is the ascension of the young bucks littering the tiers, ascending to higher and higher levels.
It looks as if guys like Gleyber Torres, Keston Hiura, Yoan Moncada, and Lourdes Gurriel Jr. are going to have something to say about strengthening the fantasy keystone going forward.
Editor's Note: Our incredible team of writers received five total writing awards and 13 award nominations by the Fantasy Sports Writers Association, tops in the industry! Congrats to all the award winners and nominees including Best MLB Series, NFL Series, NBA Writer, PGA Writer and Player Notes writer of the year. Be sure to follow their analysis, rankings and advice all year long, and win big with RotoBaller!
Read More!
Updated 2B Ranks - 5x5 Mixed Leagues (September)
In case you missed it, our very own "Big Pick Nick" Mariano was recently named the #1 overall most accurate industry expert ranker for the 2018 season. You can see his secret sauce below! 
Rankings Analysis - Top Tiers
Tier One
It's lonely at the top, with Chicago Cub Javier Baez occupying the penthouse all by himself, even though he no longer plays second base. While not as monstrous as 2018's cartoon numbers, Baez still crushes in five categories with 29 home runs, 85 RBI, and 87 runs scored. The only disappointing aspect of Baez's season is in the stolen base department, as he's only swiped 10 bags entering September after stealing 21 bases last year.
Tier Two
Finally healthy after having lingering knee pain following offseason surgery, Jose Altuve appears to have regained his MVP stroke and has been one of the hottest hitters in baseball since the All-Star break. In 196 plate appearances since July 12, Altuve has 14 home runs, 35 RBI, and 46 runs scored while slashing .356/.410/.684 with 187 wRC+. Anyone who sold Altuve low in the early summer is surely kicking themselves now.
No sophomore slump for Yankee Gleyber Torres, as the 22-year-old has continued to grow into his power, now with 33 home runs on the year after hitting 24 bombs last year. But Torres has really been on a tear in the month of August, with 14 home runs, 21 RBI, and 21 runs scored in his last 101 plate appearances.
Raise your hand if you thought D.J. LeMahieu would be in contention to win a batting title in his first year away from Colorado. Ok, good. Now that we've identified all the liars, we can get down to business. LeMahieu has been spectacular in his first year in the Big Apple, slashing .335/.382/.537 while setting career highs with 23 HR, 89 RBI, and 93 runs scored. And that's with a month to go in the season!
Wow, Houston Astro Yuli Gurriel is having one of the most under-the-radar years in fantasy, his superb production being buried beneath the avalanche of Astro superstars. But believe it or not, the tri-eligible Gurriel is currently #34(!) on Yahoo's Player Rater. How? By hitting 27 home runs, with 95 RBI, 76 runs scored and four stolen bases, while slashing .308/.350/.553 in 535 plate-appearances, that's how.
Tier Three
I hated, hated, hated Orioles shortstop Jonathon Villar coming into this season and now I have him as our #59-overall player, the highest of our experts. And why not? His .277 AVG is his highest in three seasons, and he has 20 home runs, 61 RBI, 88 runs scored and 29 stolen bases. As players continue to run less and less, Villars's combination of speed and power becomes even deadlier now that his average is back to a respectable level. Want to guess how many players have at least 20 home runs and 30 stolen bases this year? Trick question...It's just Ronald Acuna Jr.
Talk about a successful rookie season for Milwaukee Brewer Keston Hiura. Actually, no one is talking about it because Hiura is being overshadowed by a Peter Alonso-shaped eclipse. Which is a crying shame considering that through 69 games Hiura is slashing .304/.373/.578 with 16 HR, 43 RBI, 44 runs scored and nine stolen bases. Not to get all crazy with "on-pace for" numbers but Hiura's numbers extrapolated out to 162 games are:
37 HR  101 RBI  103 Runs  21 SB
No one is saying that Hiura will automatically put up that hypothetical line over a full season in 2020 but when a barely 23-year-old puts up those numbers over almost half a season, then the fantasy world should pay more attention.
Forget about brass monkey, let's talk about Max Muncy. That funky Mun-cy. Besides just continuing to hit for plus-power over the course of almost two seasons now, Los Angeles Dodger Max Muncy's most impressive feat this year may be improving his defense enough to keep his bat in the lineup every day, going from a below-average defender to having a top-five UZR score among qualified second baseman. And that bat has been fantastic in the lineup of the National League-leading Dodgers, now with 33 HR, 87 RBI, and 89 runs scored in 534 plate-appearances. Although, there is now some caution in the air, as Muncy was hit on the wrist by a pitch on August 29. X-rays have come back negative but for now, Muncy is considered day-to-day.
Rankings Analysis - Middle Tiers
Tier Four
Looks like I'm the high man on White Sox second baseman Yoan Moncada and I'll tell you that I'm as surprised as you because I've never been very bullish on the 24-year-old ever fixing all that swing-and-miss in his game. But Moncada has dropped his K-rate by five-points this season, and while playing in only 104 games due to injury has put up the type of numbers that should place him with the other elite young stars of the game. In only 438 plate-appearances, Moncada has 22 HR, 63 RBI, 67 runs scored and seven stolen bases, with a .297 AVG. Since returning for the injured list on August 22, Moncada has two home runs, two RBI, and three runs scored in seven games.
With news that Adalberto Mondesi will be activated on Sunday, all the owners who have kept his premium speed stashed can now rejoice. While Mondesi has been instructed not to dive either in the field or on the basepaths, it shouldn't hamper his stolen base potential given that he seems to be just as adept as sliding legs-first as he is head-first. Mondesi has 31 stolen bases this year in 82 games and will return with 25 games left to play, which would put him at getting around 8-9 stolen bases for the rest of the year if he comes back thieving at about the same pace. And why wouldn't he want to make up for lost time on a non-contending Royal's team? In fact, in much of the exact same team situation as last year, Mondesi stole 14 bases in his last 25 games. In a season that has been so bereft of theft, that many bags this time of the year - in either roto or category playoffs - can be a championship-winning maneuver.
Tier Five
I want to believe that 22-year-old Luis Urias will be a good hitter. I've read the scouting reports of the hit-tool, I've seen the fantastic numbers from Triple-A this year - .315/.398/.600 over 339 plate-appearances. But I think we're getting spoiled by the insane numbers being put up right out of the gate by players like Ronald Acuna Jr., Juan Soto, and Urias's teammate Fernado Tatis Jr. That's not how it's supposed to go, people in their low-20's are generally going to struggle against major league pitching. Remember when Rafael Devers was a bust last year? For dynasty and for 2020 redrafts, I'm probably going to love him as a perfect buy-low, post-hype prospect because Urias has proved that he's a great hitter at every level he been at while facing much older competition. And great hitters eventually figure out how to hit. But that's probably not going to happen this year, with Urias slashing only .186/.314/.279 through his first 153 plate appearances. During fantasy playoff season and with players like Jon Berti, Jason Kipnis, and Kevin Newman available in around 25% of all Yahoo leagues, I find little reason to keep chancing that Urias will have a breakthrough in this last month.
Bringing our Gurriel coverage to a close, it's a shame that the younger (and once thought less-talented) brother, Toronto rookie Lourdes Gurriel Jr. has been limited to only 79 games due to injury because Gurriel the Younger was in the midst of a breakout season. In less than half of a season, Gurriel has 19 HR, 47 RBI, 50 runs scored and six stolen bases. Just marinate on that for a minute. Gurriel is now expected to begin a rehab assignment early next week putting him on track to return the second week of September. 20 or so games of the powerful little brother could be the boon that makes many a championship run a reality.
Tier Six
Much of what I said earlier about the value of a returning Mondesi, applied in a lesser sense to Seattle Mariner Dee Gordon before he returned from injury on August 10. A returning speedster in a depressed stolen base environment could be a big difference-maker down the stretch, said pro-Gordon stashers. Reasonable argument considering Gordon's flashy history on the basepaths, like in 2017 when he averaged 0.38 stolen bases-per-game, swiping a total of 60 in 158 games. But this Dee isn't that Dee, as Gordon dropped to 0.21 SB/G in 2018, stealing 30 in 141 games, staying at about the same pace prior to injury in 2019. And since returning, Gordon is accumulating stolen bases at an even slower pace, picking up three bags in 17 games for a rate of 0.18 SB/G. With only a 71 wRC+ since returning and not giving much in any other category, Riley and I may want to adjust our rankings of Gordon way down if Sweet Dee isn't going to finish this season running.
Rankings Analysis - Lower Tiers
Tiers Seven And Eight
This is the last time I put Texas Ranger  Rougned Odor on any list unless I'm trying to rank the best punchers of Jose Bautista's face, because Odor has straight-up stunk in 2019. A known streaky hitter, Odor is showing no real sign of saving his numbers this year by putting together an extended hot streak as he did for a few months in 2018, posting better than a 180 wRC+ from the middle of June to the beginning of August. But Odor then cratered again at the end of last season and has dropped even further in 2019, running a .192 AVG in 119 games with a career-high 31.4% K-rate. Hitless in his last 33 plate-appearances, Ranger manager Chris Woodward has publicly stated that Odor's job could be in jeopardy if he doesn't improve his approach in the month of September.
More Fantasy Baseball Rankings Analysis