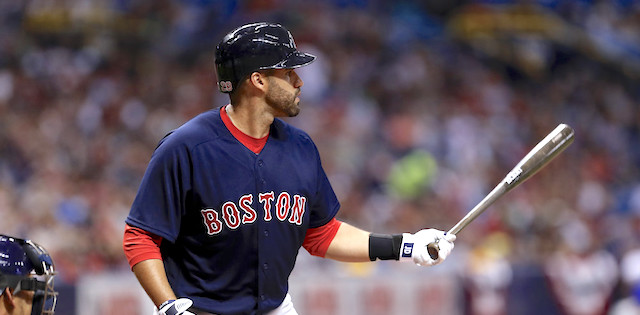 If you so much as mention the acronym "RBI" in the wrong baseball circles these days, you run the risk of being ridiculed. Because RBI is such an opportunity-driven statistic, it is no longer viewed as an accurate measurement of a player's overall value.
J.T. Realmuto didn't have any control over the on-base percentages of the players hitting before him in a dreadful 2018 Marlins lineup. By the same token, J.D. Martinez is not responsible for the fact that he got to hit behind exceptional players like Mookie Betts and Andrew Benintendi. All either player can control is what he does with the opportunities presented to him, and the player on the better team is usually going to have more of those chances.
Of course, the RBI has not gone completely extinct yet, as it is still utilized for fantasy baseball purposes. Unless you play in a league that heavily emphasizes sabermetrics, you're still going to be hunting for runs batted in during your draft and throughout the season. As such, you're naturally going to factor in RBI opportunities as you construct and manage your roster.
Featured Promo: Want a free RotoBaller Premium Pass? Check out these sports betting promo offers from the top sportsbooks! All new sign-ups get a free bonus offer on their first deposit, and a free year of RotoBaller's Premium Pass for all sports ($450 value)!
Sign Up Now!
RBI Leaders for 2019
With both opportunity and hitting ability in mind, I've come up with a list of the 10 players I believe will lead the MLB in RBI for the 2019 season. Join me as we discuss the list in descending order and get ready for a few potential surprises along the way. Note: Many of these predictions are based on how I would personally construct a given team's batting order. In those instances, I will explain my reasoning.
It might surprise you to see the Indians leadoff hitter make the cut for this list, but as I alluded to above, I'm envisioning a change in Cleveland's batting order for 2019. Carlos Santana is back in the fold at Progressive Field, and you might recall the Tribe nearly winning the World Series with the walk-happy first baseman hitting leadoff in 2016.
Only four players in the league have a walks-to-strikeouts ratio above 1.00 over the last two seasons, and two of them play for the Indians: Santana and Jose Ramirez. I'm intrigued by the prospect of these two uncompromising hitters occupying the top two spots in Cleveland's lineup, and it's well within the realm of possibility that it happens. If so, Francisco Lindor is a natural bet to return to the three-hole.
Since taking over as Cleveland's primary leadoff hitter in 2017, Lindor has walloped 71 homers and driven in 181 runs. In 2018 alone, 501 of his 745 plate appearances came with the bases empty. He hit 32 doubles and 29 home runs in those PAs. The Indians are already looking at a drastically different lineup in 2019 than they've had the last two years, and Lindor's power surge would play well with more chances to drive in his teammates. So, our first prediction is two-fold: Lindor will transition back to the third spot in the order, and he will capitalize on the increased RBI opportunities in 2019. (I'm also making this call based on the assumption he misses minimal time due to the calf injury that stands to sideline him for most or all of Spring Training.)
While we're in Ohio, let's discuss arguably the most anonymous player in recent memory to collect 34 home runs and 104 RBI in a season, Cincinnati's Eugenio Suarez.
Since 2016, Suarez has seen a steady climb in several fantasy-relevant categories. Here are his numbers over the last three seasons:
2016 - .248/.317/.411, 21 HR, 70 RBI
2017 - .260/.367/.461, 26 HR, 82 RBI
2018 - .283/.366/.526, 34 HR, 104 RBI
If his 2019 numbers improve in the same increments as his showings over the last three seasons, we're talking about a hands-down MVP winner. I'm not willing to go that far on Suarez, but I do think he can replicate his 2018 season in what should still be a sneaky good Cincinnati lineup.
The Reds have some options as to how their batting order unfolds, but I'd like to see Suarez settle in as the everyday cleanup hitter behind Joey Votto and Scooter Gennett. Votto could be inducted into Cooperstown on his OBP numbers alone, and Gennett has markedly improved as a hitter over the last three years as well. In the long-ball-friendly confines of Great American Ball Park, Suarez could easily be staring down back-to-back 100-RBI seasons.
Kicking off a trio of first basemen (spoiler alert) is one of the more criminally underrated hitters in the game, Atlanta's Freddie Freeman. All Freeman has done over the last three seasons is slash a cool .306/.396/.549 with 85 home runs and 260 RBI. He's also never had Josh Donaldson or a full season of Ronald Acuna preceding him in the Braves batting order.
What I like most about Freeman is he can hit for power, but he doesn't need to blast homers to drive in runs. His highest RBI totals are 109 (2013) and 98 (2018), and he only hit 23 home runs in either season. He hasn't become overly fly-ball-happy; his 31.3-percent fly ball rate in 2018 ranked 105th highest among qualified hitters and was the lowest of his career. His line drive rate of 32.3 percent, however, was the highest in baseball and the highest of his career.
In this brave new world of launch angles and an evident lack of concern over striking out, it's refreshing to see Freeman stay the course as an elite pure hitter. Home runs are great, but I'm partial to guys who will routinely give you something else productive when they don't hit one. Sign me up for 100-plus RBI off the bat of Freeman as the Braves three-hitter, even if he doesn't eclipse 30 homers.
There's no telling how Gabe Kapler will ultimately decide to deploy his nuclear arsenal of offensive weapons in 2019, but the one player who seems to have a pretty clear-cut place in the batting order is Rhys Hoskins at the cleanup spot. Bryce Harper could bat anywhere in the top three slots, while Jean Segura, Andrew McCutchen, and Cesar Hernandez are all candidates to occupy the top two. Then there's J.T. Realmuto, who could presumably bat anywhere from second through fifth, but I digress.
All of Hoskins' aforementioned teammates posted OBPs of .340 or better in 2018, so regardless of who winds up hitting before him, he is going to have an exorbitant number of multi-RBI opportunities. Pitchers will be walking on broken glass through the top-third of the order, and their punishment for failure will be Hoskins and his 50.2-percent career fly ball rate. He's a tailor-made cleanup machine in this offense.
Hoskins slugged 34 homers and drove in 96 runs last year in a Phillies lineup nowhere near as lethal from top to bottom as the 2019 model figures to be. The only thing that worries me about his RBI total this season is the possibility that Harper clears the bases 40 times right in front of him. And don't worry, we will get to that in a minute.
Allow me to present you with a comprehensive list of the players with more runs batted in since Paul Goldschmidt's first full season (2012) than Goldschmidt himself: Edwin Encarnacion and Nelson Cruz.
That didn't take long, did it?
And now for a list of Goldschmidt's best teammates during his time in Arizona: Justin Upton and Jean Segura for one season each, J.D. Martinez for less than half a season, oft-injured A.J. Pollock, David Peralta, and Jake Lamb. At his best, Pollock is a force to be reckoned with, Peralta is underrated, and Lamb did put together two very solid back-to-back seasons in 2016-17 before missing most of last year. But by and large, Goldschmidt very much carried the Diamondbacks offensively during his tenure there.
Now he'll suit up in St. Louis where, depending on his spot in the Cardinals batting order, he'll get to hit behind on-base machine Matt Carpenter at the very least. Show me Goldschmidt and his lifetime .930 OPS in this lineup and I'll show you 100-plus RBI for the fourth time in his career.
Has there ever been a more unheralded home run champion than Khris Davis? Maybe it's because he's a designated hitter, maybe it's because he plays in Oakland; but I'd be willing to bet if you asked 100 people, "Who is the only player in MLB to hit at least 40 home runs in each of the last three seasons?" Davis would not be the most popular answer.
In any case, he is the correct answer, and whether he gets recognized for it or not, he's in line to push 100 runs across the plate for the fourth consecutive season as well.
I wonder about the loss of Jed Lowrie and his .357 OBP (last two seasons combined) from the top-third of Oakland's lineup, but I'm counting on some combination of Stephen Piscotty, Matt Chapman and Robbie Grossman to fill that void. The Athletics ranked fourth in baseball in runs scored for 2018, and I'm not convinced Lowrie's departure alone puts a significant dent in their total this year.
Davis admittedly goes against the grain of my tendency to avoid home-run-or-bust players, but if he's going to consistently blast 40 balls over the fence, it'd be foolish not to consider him a top RBI candidate for 2019.
With Giancarlo Stanton donning the most recognizable uniform in American sports and Christian Yelich slugging his way to an NL MVP, Marcell Ozuna understandably drifted into the background as the forgotten member of The Great Marlins Outfielder Exodus of 2017-18. For this reason, it's easy to forget that he's only one year removed from a 2017 campaign in which he smacked 37 big flies and drove in 124 runs.
Ozuna's numbers took a sizable dip during his first year in St. Louis, as he hit 23 home runs with 88 RBI and a .280/.325/.433 slash line in 148 games. It's possible that he never reaches that 37-homer summit again, and perhaps his .924 OPS from 2017 will also forever be a career high. That said, in a revitalized 2019 Cardinals lineup, the opportunity for 100-plus RBI has returned to Ozuna's range of outcomes.
The 2018 Cardinals won 88 games despite an obvious missing piece in the heart of their order. That void has been addressed with the acquisition of the aforementioned Paul Goldschmidt, and Ozuna figures to be the guy with the privilege of hitting behind him in 2019. Assuming he does, in fact, follow Goldschmidt and Matt Carpenter in the order, Ozuna joins Freddie Freeman on this list as a candidate to post an elite RBI total even without exorbitant home run numbers.
3. Bryce Harper (OF, PHI)
We spent most of last season living in some strange parallel universe where 34 home runs, 103 runs, and 100 RBI was a "down year" for Bryce Harper. Maybe the bar has just been set unreasonably high for the new face of the Phillies franchise, but if 2018 was a sub-par year for Harper, I feel bad for the pitchers in the NL East going forward.
There's been no shortage of fanfare over Harper's career numbers at Citizens Bank Park (14 HR, .930 OPS across 208 PAs), but we shouldn't allow that to distract us from the fact that he's going to have an insane number of RBI opportunities no matter what park he's in. We already touched on his supporting cast in the Hoskins segment, but allow me to drive home the point that Harper will be hitting behind some combination of McCutchen, Segura, Realmuto and Hernandez in the new-look Phillies lineup.
A fair counter-argument here is that Harper played with equally impressive (if not better) talent at the top of the order during his time in Washington, and still only managed one 100-RBI season as a National. That said, count me among those who believe his best days are ahead of him, starting with a career high in RBI for 2019.
Coming in at number two is Rockies third baseman Nolan Arenado, and I feel comfortable filing this away under "Things I'm probably not going to be wrong about in 2019." In order to find the last time Arenado didn't hit at least 37 home runs with at least 110 RBI, we have to go all the way back to 2014, a season in which he only played 111 games.
From 2015-18, Arenado ranks third in the league in home runs and has the RBI crown all to himself. The Rockies have one of the more self-explanatory top halves of the order in baseball, and Arenado is a safe bet to retain his customary position in the three-hole behind Charlie Blackmon and Daniel Murphy. Blackmon and Murphy come into 2019 with OBPs of .379 and .370, respectively, over the last three seasons.
With 81 games at Coors Field, Arenado is a near lock to exploit those high OBPs to the tune of a fifth straight 100-RBI season.
1. J.D. Martinez (OF, BOS)
Finally we arrive at last year's RBI monarch, Red Sox slugger J.D. Martinez. Martinez is my favorite kind of hitter in that he doesn't have to sacrifice in other areas to access his elite home-run power. He's just as capable of winning a batting title as he is a home run crown, and he can spray the ball to all fields.
Over the last five seasons (2014-18), Martinez has slashed .307/.371/.586 while averaging 34.2 HR and 96 RBI per year. In three of those seasons, he played in 123 or fewer games. We were treated to the full scope of his abilities as an all-around hitter in 2017 when he mashed 45 bombs and drove in 104 runs with the Tigers and Diamondbacks. In 2018 he found a permanent home in the heart of Boston's order, where he treated Fenway Park as his own personal playground.
Having witnessed his transformation into one of the best right-handed hitters in the game and taking into account the talent he has preceding him in the Red Sox lineup, I can't in good conscience pick anyone else to lead the league in RBI. In fact, with the possible exception of Arenado, Martinez is the one player in baseball for whom I genuinely believe 100 RBI is a floor.
More 2019 Fantasy Baseball Advice