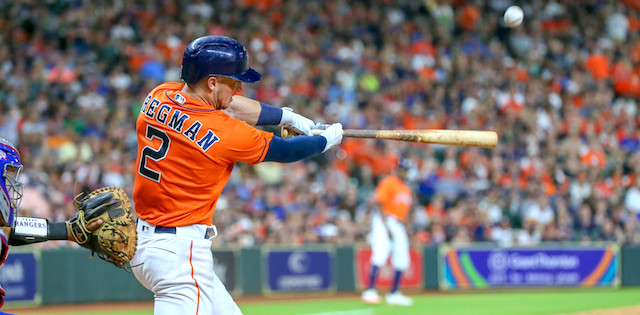 Welcome back RotoBallers! We only have one month left, so we have to take advantage of every slate on OwnersBox!
This week's RotoBaller contest has a $500 cash prize pool - for new users it's completely free to enter with code MLB10! All new OwnersBox users also get a free year of RotoBaller Premium access - just email us and let us know one you're registered.
In case you're not yet familiar, OwnersBox, is a fantastic new weekly fantasy sports platform that offers plenty of game setups to fulfill your desire to draft throughout the season. Over at OwnersBox, you can participate in snake drafts - and for the first time ever you can also select tournament-style salary cap contests. The contests are at least one week long, and some even longer.
In this article, I will be providing you with my weekly fantasy baseball lineup picks on OwnersBox for this contest which runs for one week (Friday September 10th through Thursday September 16th). Read my picks below, and then join us in this tournament as we battle it out for the cash prizes!
RotoBaller Weekly Contest!
OwnersBox is hooking up RotoBaller readers to celebrate the launch of their new salary-cap style contests, so be sure to take advantage of these promo offers!
Join this week's freeroll on OwnersBox - the contest is completely free to enter for new users with code MLB10, and there's a $500 cash guaranteed prize pool
The winner also gets a free year of RotoBaller's Premium Pass ($350 value)
All new users who make a deposit get up to a $500 deposit match bonus and a free RotoBaller premium pass!
You can enter up until Friday, September 3rd at 7 pm ET, and the week-long contest runs through September 9th.
OwnersBox Pitcher Picks
On OwnersBox, you select two Pitchers, and need three games from these two pitchers. Any game you go over after the third, best ball mode is activated - meaning the lowest score is dropped. So a good approach is obviously looking for affordable two-start pitchers for the week with at least three solid matchups in mind.
Robbie Ray, TOR ($33,000) - at BAL, v TBR
Among all pitchers with at least 20 IP over the last month, Robbie Ray owns the fourth lowest xFIP (2.33), and the HIGHEST K% in the league (40.5%). At the moment he is matchup-proof. He just saw the Orioles less than two weeks ago and struck out 10 over seven innings while collecting a Win. He's faced the Rays four times already this season and boasts a 2.00 ERA, 0.74 WHIP, and 33 strikeouts over 27 IP against the Division leaders.
Tyler Mahle, CIN ($26,400) - at STL, at PIT
If you own Mahle in season long leagues, or have rostered him in DFS, you are fully aware of his Home/Road splits. I have a motto I use in our premium slack channel... Road Mahle > Everyone, Home Mahle < Everyone. Among pitchers with at least 50 away IP this season, Mahle boasts the second lowest ERA (1.90). His ERA at home for the season currently sits at 6.09. It is truly remarkable. Look at these splits:

This week we get TWO starts from Road Mahle, and in two great parks for him and both offenses own a wRC+ under 100 against RHP L14.
OwnersBox Infielder Picks
The Infield is my favorite position on Ownersbox. You only need 28 games from the five players. Simple math tells you if you average six games per infielder, you are already at the two lowest scores dropped from the lot. That way you can utilize five-game studs as long as you pair them eventually with a seven-game player also to maintain that 30 total games. The Outfield is much more difficult to take advantage this way, so don't waste the opportunity with your infielders!
Alex Bregman, HOU ($22,400) - 7 Games
The Rays and Astros have arguably the best schedules for this week, although both are obviously priced way up. Alex Bregman is the best FP/$ hitter from the two teams. He gets three home games against the Angels followed by a four game series down the road against the Rangers. Over his 47 PA since returning from injury Bregman is hitting .357 with a 157 wRC+. Most importantly is his 51.3 FB%, meaning the power streak is about to arrive.
Bobby Dalbec, BOS ($15,600) - 6 Games
If you would have told me that at any 30 day period of the 2021 season that Bobby Dalbec would be the best hitter on the Red Sox, as a Red Sox fan I would have been very disturbed. But here we are! Now we can't really fault the rest of the lineup as the team has had up to 10 players on the Covid list recently, and Bobby D has truly been on fire. Over the last month he boasts a monstrous 248 wRC+, .530 ISO, and 1.348 OPS. After a tough three-game series against the White Sox, he should thoroughly enjoy a three game series against the Mariners pitching staff.
OwnersBox Outfielder Picks
As I mentioned previously, filling the three Outfield slots is more difficult than the five Infielders on OwnersBox. You need 17 games from the three hitters, so that means you mostly want to stay away from five-game hitters. I try to get at least one seven-gamer if possible and aim for at least 19 total games for two lowest score drops.
Lourdes Gurriel Jr., TOR ($18,200) - 7 Games
This one is less surprising than Bobby Dalbec leading the Red Sox, but still pretty surprising to see Lourdes Gurriel Jr. as the Blue Jays best hitter over the last month. During that span he is hitting .351 with a .234 ISO and 167 wRC+. The Blue Jays get four games against the Orioles this week (two being a double header though, and assuming Gurriel only sees one of those). Against the O's this season, Gurriel boasts a 211 wRC+, .333 ISO, and 1.158 OPS.
David Peralta, ARI ($15,600) - 6 Games
There is nothing exciting about David Peralta, but he is very cheap and has been hitting pretty well of late. Over the L30 he is hitting .324. He starts the week with three games at Seattle, who own the sixth-highest xFIP in the league over the L14. Prices are very tight this week, get off my back.
*7 Game Filler - D.J. Peters, TEX ($16,800)
Sample Lineup
Download Our Free News & Alerts Mobile App
Like what you see? Download our updated fantasy baseball app for
iPhone
and
Android
with 24x7 player news, injury alerts, sleepers, prospects & more. All free!
More Weekly DFS Analysis