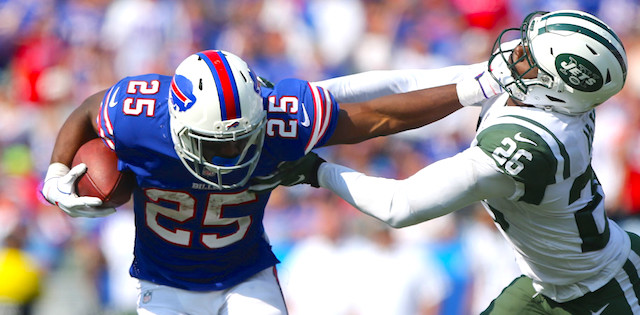 What's up RotoBallers? Welcome to Power Pivots, where we are always in search of players that might go overlooked in DraftKings tournaments. It's a bittersweet feeling to say we are gearing up for Week 13 of the NFL season. When we click into the "teen" weeks, it's a stark reminder that the season is heading into the home stretch. On the bright side of things, we should have an excellent feel for the lay of the DFS land by this point.
This is shaping up to be an interesting week. With the hustle and bustle of Thanksgiving behind us, we have a nice DraftKings main slate with 13 games to choose from. There will be some difficult decisions to make on this slate, as two of our favorite offenses to target carry very real blowout concerns. The Rams and Chiefs have been a DFS blessing this season, but both teams are large, double-digit favorites in Week 13, which is always a bit scary from a fantasy perspective. Let's dig in and see what type of options we can find this week!
All ownership projections in this article are courtesy of the awesome folks at UFCollective. They provide the most accurate ownership projections that I have found in the DFS industry and now offer their content directly to the public. It is a premium product that is worth every penny and available here. They offer NFL, NBA, and MLB content for both DraftKings and FanDuel. You can follow them on Twitter @UFCollective.
Editor's Note: Get any full-season NFL Premium Pass for 50% off. Our exclusive In-Season Lineup Tools, Lineup Optimizer and over 150 days of Premium DFS Research.
Sign Up Now!
Week 13 NFL DFS Power Pivots for DraftKings GPPs

As I mention every week, ownership considerations should come at the end of your weekly research process. Ownership projections change throughout the week, and I highly recommend that you refer back to this column before finalizing your lineups. I will update ownership projections and add injury notes with additional strategy thoughts on Saturdays.
QB CHALK: Patrick Mahomes ($7,600)
Projected DraftKings Ownership: 19% *UPDATED: 14%
POWER PIVOT: Kirk Cousins ($5,500)
Projected DraftKings Ownership: 3% *UPDATED: 5%
Early projections for Week 13 place Kansas City's rising star Patrick Mahomes at the top of the ownership heap. The second-year stud has been fantastic this year and without a doubt offers the best floor on this slate. However, we must be willing to pay for that safety, as Mahomes has far and away the largest price tag at the QB position. Along with his massive salary, we have to be concerned about the KC offense taking its foot off the gas against the lowly Oakland Raiders.
I have to admit; I was pretty shocked when I first saw Kirk Cousins' Week 13 price tag. At just $5,500 this week, Cousins offers a massive $2,100 discount from Mahomes, and it marks just the third time this season that he's had a sub-$6k DK price tag. I imagine that his DK salary is depressed due to the Minnesota offense and Cousins being rather quiet over the last month. While he's not as safe as Mahomes from a "guaranteed points" perspective, the volume should be there for Cousins this week against the New England Patriots. Both of these teams rank inside the top-10 in plays per game and play at an uptempo pace. The Vikings QB has topped 40 pass attempts six times this season, with two games of 50 or more attempts, for a total of the third most pass attempts in the NFL.
New England's pass defense grades out as middle of the road statistically, ranking 18th in DVOA. Despite looking okay on paper, the Patriots defense has had lapses when tested by solid QBs and have allowed opposing QBs to throw three or more TDs in three games this season.
I will be extremely surprised if Cousins' projected ownership hasn't spiked dramatically by the time I do the Saturday updates to this article. He offers tremendous value on this slate and could realistically have 40-plus pass attempts with a legit shot at over 300 passing yards and two to three TDs. All this with a minuscule projected ownership share. I'm all-in on Cousins as I write this, but we will continue to monitor his ownership throughout the week.
SATURDAY UPDATE: Patrick Mahomes has been passed by Carolina's Cam Newton ($6,600) in ownership projections. Jameis Winston ($6,000), the other QB in the Car/TB matchup, is also expected be be popular. Both are great options in a game that has a huge Over/Under of 54 points. Cousins has crept up to a 5% ownership projection and I'm still semi-shocked that he's not being talked about more at just $5,500.
RB CHALK: Carlos Hyde ($3,300)
Projected DraftKings Ownership: 19% *UPDATED: 14%

POWER PIVOT: LeSean McCoy ($4,900)
Projected DraftKings Ownership: 2% *UPDATED: 3%
Todd Gurley is back on the main slate this week and actually carries the highest projected ownership at 27%, but I wanted to highlight Jacksonville RB Carlos Hyde who will be filling in for the suspended Leonard Fournette, as I expect DFS players to flock toward him, making Hyde the chalk in Week 13. You can't argue with Hyde's $3,300 price tag, because it does open up so much in lineup construction. However, I'm always interested in a chance to gain leverage in large-field GPPs and a "Hyde fade" is an intriguing move from a game theory standpoint this week as there are a lot of unknown variables that come with him. How will the carries be split between Hyde and T.J. Yeldon? How will the benching of Blake Bortles for Cody Kessler impact the Jags offense? Not to mention the fact that the Jags opponent, the Indianapolis Colts, has been solid against the run.
Shady's back...back again! Shady's back...tell a friend! Let's go old school at RB this week and give Buffalo's LeSean McCoy some love. Shady has been stuck in the mud for most of this season, playing with a Bills offense that's had issues at QB since Week 1. Rookie QB Josh Allen returned from injury last week and should be able to play well enough to force defenses to at least respect the threat of a pass, something that's not always been the case with the likes of Nathan Peterman and Derek Anderson at QB for Buffalo.
Speaking of defenses, McCoy draws a juicy matchup this week against a Miami Dolphins defense that has struggled mightily against the run this year. Miami is allowing just over 30 DraftKings points per game to opposing RBs this season. The Dolphins rank 26th in yards allowed per carry and opposing teams have attacked this weakness, as RBs average around 30 total touches against Miami. McCoy might not see 30 touches, but we should be able to pencil him for 18-20 carries and three to five targets in a great matchup. This game should stay close throughout, and Vegas has the Bills as just four-point underdogs.
McCoy's stats certainly aren't pretty this year and have no doubt been hampered by the ugly QB carousel the Bills have struggled with. Despite not have stats that pop off the page, he does still pass the eye test, and game film confirms that he is running hard and still possesses his legendary burst. McCoy has been one of the league's most dangerous players for years and stopping open-field runners has been a huge Achilles heel issue for Miami this season. McCoy's floor is scary, but at ownership that will be next to nothing, going over 100 yards with one or two TDs is doable and would be a huge jolt for those DFS players that are brave enough to click on Shady's name this week.
SATURDAY UPDATE: This is obviously the position all fantasy football players are interested in this week with the HUGE news out of Kansas City. Following the release of a video showing Kareem Hunt assaulting a woman, the Chiefs took shockingly swift action and released Hunt on Friday. This unexpected shakeup in the KC backfield has thrust Chiefs RB Spencer Ware ($4,000) into almost must-play territory. What to do with Ware will be the most important decision that DFS players will face on this Week 13 slate. All the signs point to Ware succeeding in this spot. He is a very capable player that will handle KC's carries almost exclusively. The matchup against the lowly Oakland Raiders doesn't get must better and the Chiefs are huge favorites in this one. A case could be made for fading Ware in large tournaments like the Milly Maker, but I don't think this is a play that we should overthink. I'm locking in Ware, but if I toss in a few contrarian GPP lineups without him, I will be paying all the way up at RB to secure as many guaranteed points against Ware lineups as possible.
WR CHALK: Tyreek Hill ($9,100)
Projected DraftKings Ownership: 24% *UPDATED: 23%
POWER PIVOT: Adam Thielen ($8,000)
Projected DraftKings Ownership: 9% *UPDATED: 14%
I'm never going to say that playing Tyreek Hill is a bad play, as he's just too explosive to cross off our list completely. I do have some concerns with Hill this week. He has been dramatically priced up on DraftKings and his $9,100 salary is the highest at the WR position by $900, as well as being a season-high for Hill. I would understand it if the Chiefs were playing the Rams again this week, but KC is a massive 15 point favorite against the Raiders and could very well have this game in hand by halftime. Now, Hill could certainly put up a huge score this week, but it's not the ideal game environment for a WR that is $9,100 and projected to be chalk.
Instead of going to Hill, who is priced up, I'm more interested in going to Minnesota's Adam Thielen, who is priced down. Thielen will cost you $8k this week, which is a decent discount on a player whose average salary has been $8,500 since Week 6. While Hill and the Chiefs might be shutting things down early, Thielen and the Vikes should be throwing the entire game as six-point underdogs against New England.
Usage is what leads me to Thielen in this spot. The dude sees volume, volume, volume. Thielen averages the third most targets in the NFL at 11.3 per game. He has made the most of these opportunities, racking up over 100 receiving yards an unbelievable NINE TIMES this year, which as we know carries a nice little three-point bonus on DraftKings.
While New England's overall pass defense is mediocre, their secondary is comprised of a couple of very good pieces and a couple of very bad pieces. Stephon Gilmore and Jason McCourty are New England's strongest defenders. Gilmore should be tangled up with Minnesota's other stud WR Stefon Diggs for most of the day, leaving Thielen to face a combination of McCourty and Jonathan Jones out of the slot. McCourty is a solid defender, but Jones has struggled and grades out as PFF's #67-ranked CB this season. Thielen will have a big advantage when facing him.
As you can see by my selection of Cousins as our QB pivot, I'm probably higher than most on the Minnesota offense this week. I'll be rolling out plenty of Cousins/Thielen stacks in GPPs, as I believe we are getting a lot of bang for our buck with them. The matchup isn't to die for, but it's definitely beatable...throw in what should be a very positive game script, reasonable ownership, and a huge number of guaranteed targets and I really like what Thielen brings to the table in Week 13.
SATURDAY UPDATE: Hill has been surpassed by L.A.'s Robert Woods ($6,900) in ownership projections. After being just lukewarm on Hill in my original write-up, I've come around a bit on him due to a combination of the new RB situation and the news that Sammy Watkins will be out for KC. Thielen has gained steam throughout the week and I still love his matchup, game script, and floor against the Pats. The announcement that Desean Jackson will be out Sunday brings Bucs WRs Adam Humphries ($4,200) and Chris Godwin ($3,900) squarely into play for me in what has the potential to be a shootout against Carolina. Jackson's absence is one less mouth to feed in a Bucs offense that can be difficult to predict target volume. I like Kenny Golladay's $6.7k price tag...he should be a volume monster for a Detroit team that will likely be playing catchup against the Rams.
TE CHALK: Eric Ebron ($4,200)
Projected DraftKings Ownership: 13% *UPDATED: 10%
POWER PIVOT: Greg Olsen ($4,100)
Projected DraftKings Ownership: 8% *UPDATED: 8%
Travis Kelce actually leads early ownership projections at 15%, but I feel that we know what we are getting with Kelce. If you can afford his salary, more power to you, but most of us are usually looking to save salary at the TE position. That desire to save salary will have a ton of folks looking at Indy's Eric "TD Maker" Ebron at $4,200. Ebron is a legit option now that Jack Doyle has been placed on IR, but he will also be EXTREMELY popular. I expect his ownership projection to grow throughout the week.
This article is called Power Pivots for a reason...so while Ebron seems like an auto-play option to a lot of folks, it's my job to find an alternative that can help you to gain leverage on the field. I'm really liking what I see in Carolina's Greg Olsen, who at basically the same price as Ebron, will garner less than half the ownership.
Olsen is another "cagey veteran" to make this week's article. Though he's got some mileage on the tires, Olsen is still capable of putting up good numbers. His chances at a big fantasy day are increased exponentially this week thanks to a matchup with the Tampa Bay Buccaneers. We've learned to circle the Bucs when we see them on the schedule this year because they are a team that creates fantasy goodness on both sides of the ball. This week is no different, as this game carries a massive Over/Under of 54.5 points with a tight 3.5-point spread.
Tampa Bay has struggled in most defensive areas this season, as evidenced by ranking 30th in DVOA against the pass. They have especially struggled to stop TEs and have allowed more yards to TEs than any other team in the league, as well as giving up five touchdowns to the position.
Olsen has been quiet over the past couple of weeks with Christian McCaffery HULK SMASHING opponents, but this is the perfect "get right" spot for Olsen. He's already toasted the Bucs for a 6/76/1 line in Week 9 and has an excellent chance to produce similar results this week.
SATURDAY UPDATE: Another Chief that is expected to be extremely popular is TE Travis Kelce ($7,000). He's a great play if you can afford him. I'm surprised that Ebron's projected ownership isn't higher and I honestly anticipated that we would need to fade him due to extremely high ownership, but if current projections hold, I will be firing Ebron up. He's averaging a shade over 10 targets per game when Jack Doyle isn't in the lineup and should be in line for all the work he can handle once again. TB's Cameron Brate is a solid salary saver at $3.7k that carries a redzone role in the Bucs offense. Those of you wanting to dive deep can give Denver's Matt LaCosse ($2,500) a look.
D/ST CHALK: Kansas City Chiefs ($2,500)
Projected DraftKings Ownership: 11% *UPDATED: 12%
POWER PIVOT: Green Bay ($2,800)
Projected DraftKings Ownership: 6% *UPDATED: 8%
We are seeing a lot of love for the Kansas City Chiefs across the board this week, and it's totally understandable, thanks to their matchup against a Raiders team that isn't even pretending to try at this point.
While KC is a fine play this week, I'm always willing to go against the grain at the hugely volatile DEF/ST slot. While it will cost us a few extra hundred bucks in salary, I'm willing to spend up in order to grab the Green Bay Packers at half the projected ownership of the Chiefs.
Things set up well for the Pack in Week 13; they are massive two-touchdown home favorites against a struggling Arizona Cardinals team. The Cardinals have an intriguing young core of offensive players and may one day be an excellent unit, but that day is not here yet. The Cardinals offense has been a nightmare in 2018. They rank dead last in yards per carry, yards per pass, total yards per game, and points per game.
This should be a game environment that allows the Green Bay defense to pin its ears back and attack rookie QB Josh Rosen. Look for the Cardinals to trail throughout and for Green Bay to force Rosen into some costly turnovers.
SATURDAY UPDATE: The Chiefs are even popular on the defensive side of the ball this week. Once again, they are a tremendous play and great value against Oakland this week. I'm still digging Green Bay against Josh Rosen and the Cardinals. There's a case that can be made for several defenses this week. Both Denver ($2,700) and Indy ($2,600) will be facing backup QBs that are making their first starts of the season. The Bears ($3,300) and Seahawks ($3,400) are interesting contrarian options for those that can afford to pay up a bit at DEF/ST.
More Weekly DFS Analysis