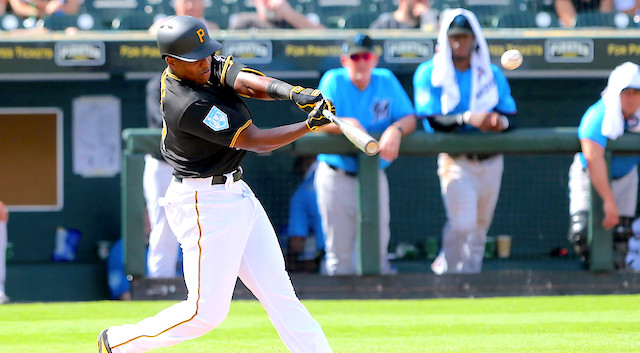 There are many factors and ideas that go into conducting a draft strategy. Are you going to draft pitching early? Are you going to punt steals and focus on home runs and RBI? Which players are you going to reach on and which will you let fall and hope to catch in later rounds?
The one goal of all managers every year though is to find which rookie is going to break out into a fantasy stud. Who will be the next Juan Soto or Mike Yastrzemski — a rookie that shot out of nowhere to become a fantasy golden ticket? But for every manager that hits it big with Soto, there are many more who get burned by a high-end prospect like Jo Adell who struggles in his first year. Drafting rookies is a gamble, but when it pays off it can be the difference between missing the playoffs and celebrating a league championship victory.
So buckle up as we get into Part 1 of our division-by-division look at which prospects managers should keep an eye on in 2021.
Featured Promo: Want a free RotoBaller Premium Pass? Check out these sports betting promo offers from the top sportsbooks! All new sign-ups get a free bonus offer on their first deposit, and a free year of RotoBaller's Premium Pass for all sports ($450 value)!
Sign Up Now!
Chicago Cubs: Adbert Alzolay, RHP (ADP 353)
Highest Level: MLB
2020 stats: 1-1, 2.95 ERA, 1.172 WHIP, 33.3 K%, 14.9 BB%, 21.1 IP
With the Cubs losing three starters from their rotation this offseason, Alzolay has a great shot at sticking in the starting five in Chicago this year. Over six appearances (including four starts) he improved on his strikeout rate from 2019 while also watching his launch angle drop from 17.9 degrees to 9.9 and his barrel rate fall from 10.8 percent to 4.5 percent.
The improvements from Alzolay could be as a result of the development of his sinker and slider, which he did not utilize in 2019. This also likely has a hand in the slight uptick in his swinging strike rate to 10.9 percent and the decrease in his contact rate from 77.2 percent to 74.9 percent.
Alzolay has shown strikeout upside throughout his minor league career. Outside of 2016 and 2018, he has maintained strikeout rates around 23 percent, and in his last season in the minors in 2019 he posted a 31.1 percent strikeout rate over 16 starts between High-A and Triple-A. If there's one concern with Alzolay, it's his walk rate, which had steadily increased in the minors from 5.6 percent in 2016 to 10.9 percent in 2019. Over 33.2 innings in the majors, he sports a 15 percent rate. He'll be a guy that fantasy managers should keep an eye on during Spring Training, and if he shows improvement on his command he could end up being one of the top pitching prospects in fantasy this year.
Cincinnati Reds: Jose Garcia, SS (ADP 615)
Highest Level: MLB
2020 stats: 24 G, .194/.206/.194, 38.2 K%, 1.5 BB%
It was a rough debut for the Reds' No. 6 prospect to say the least, as he finished with zero extra-base hits and struck out 26 times in 68 plate appearances. Garcia's 19.5 percent swinging strike rate was significantly higher from his 13.8 percent and 11.9 percent rates in 2018 and 2019, and his 7.7 degree launch angle didn't help matters either. His .208 xBA and .284 xSLG suggest that he might have been slightly unlucky at the plate, but those marks still aren't by any means great numbers. All that being said though, those struggles are to be expected out of a 22-year-old who had only reached High-A in 2019 and likely would have remained in the minors last year if the season hadn't been canceled.
So yeah not a great start for Garcia, but not every rookie takes off like Acuna or Soto in their first year. Garcia has shown off 15-plus stolen base potential in the minors, as well as the potential to reach double-digit home runs. He's still displayed free-swinging tendencies in the minors though with a 20.1 percent strikeout rate and 4.5 percent walk rate across two seasons, but even if he just matched those numbers this year that would be an improvement. There's a good chance that he'll start the season in the minors, but if he shows signs of improvement there and earns a mid-season call-up he could be one of the better middle-infield prospects to add off the waiver wire.
Milwaukee Brewers: Tyrone Taylor, OF (ADP 739)
Highest Level: MLB
2020 stats: 22 G, .237/.293/.500, 19.5 K%, 4.9 BB%
It's been a long journey through the minors for Taylor, but there's light at the end of the tunnel now for the 27-year-old. Early in his minor league career Taylor's speed appeared to be his biggest asset, but over his last couple years in the minors he's developed some solid power. In 2018, he slugged 20 homers with 13 steals, and he had hit 14 homers with five steals in 2019 before he was called up to make his debut. He's only played in 37 games in the majors as he has had to fight for playing time between Christian Yelich, Lorenzo Cain, Avisail Garcia and Ryan Braun over that span. But in his limited playing time he has managed to slash .271/.340/.521 with a 17 percent strikeout rate and 5.7 percent walk rate.
It looks like he'll probably make the Opening Day roster right now as a bench player, but don't sleep on him as many of his advanced metrics show that not only is he on the rise, but he actually should have performed slightly better than his 2020 line showed. His 87.3 mph exit velocity, 14.1 degree launch angle, 13.3 percent barrel rate and 43.3 percent hard-hit rate all showed improvement from 2019.
On top of that his .250 BABIP (nearly 50 points lower than his career mark in the minors) suggests a certain amount of unluckiness at the plate, which is backed up by his .267 xBA and .542 xSLG. It's still going to be difficult for him to find playing time to start the year, but if a spot opens up for him to start regularly in the outfield managers should snag him off the waiver wire.
Pittsburgh Pirates: Ke'Bryan Hayes, 3B (ADP 137)
Highest Level: MLB
2020 stats: 24 G, .376/.442/.682, 21.1 K%, 9.5 BB%
Hayes is the first guy in this week's list that is actually being drafted regularly in standard leagues, and it makes sense seeing as he's the highest-ranked prospect out of the group. He's also currently the first Pirate being drafted in fantasy. So even if you don't follow prospects much you've probably heard of him, but we'll still do a quick recap. Much like with Taylor, speed was Hayes' big asset early on, but he has started to develop more power over the last few years. He finished with a career-high 10 home runs in 2019 to go along with 13 steals between Low-A and Triple-A, but this past season he saw a tremendous surge in power. Out of his 32 hits in 2020, 14 of them went for extra-bases as he slugged five homers in 24 games for a .682 slugging percentage.
All that being said though, managers should take a small step back and reexamine his performance last year and where he should be drafted. First and foremost, Hayes got very lucky at the plate. After never posting a HR/FB rate over 8.5 percent in the minors, Hayes recorded a 25 percent rate last season to go along with a bloated .450 BABIP. On the plus side though, his .300 xBA and .497 xSLG are still very good numbers. So don't expect 30 home runs out of Hayes this year, but something in the 15 to 20 range definitely seems attainable along with double-digit steals and a high average.
St. Louis Cardinals: Dylan Carlson, OF (ADP 146)
Highest Level: MLB
2020 stats: 35 G, .200/.252/.364, 29.4 K%, 6.7 BB%
Another prospect being drafted in standard leagues, Carlson looks like he will be in the outfield for the Cardinals on Opening Day. That chance has definitely been earned by Carlson despite a lackluster debut in 2020. As he advanced from one level to another in the minors, Carlson also saw his stat line increase as he faced tougher competition. This all culminated with a career-year in 2019, where he slashed .292/.372/.542 with 26 home runs and 20 steals between Double-A and Triple-A. The speed was a dramatic increase as he shattered his previous career-best of eight, and while the home run total was a sharp increase as well, it at least followed a year-to-year rise from three homers in 2016 to seven in 2017 to 11 in 2018.
Carlson is yet another guy on this list who suffered from some bad luck last season, with a .260 BABIP that was nearly 50 points lower than his career mark in the minors. His .246 xBA and .443 xSLG show that his stat line should have likely been better than it was, and while his 29.4 percent strikeout rate was higher than any mark he had in the minors, his 11.4 percent swinging-strike rate was nearly identical to his rate from each of the last three years. So if managers anticipate a dip in the strikeout rate, a rise in his average and slugging percentage, combined with the potential of a 20 homer-20 steal performance, Carlson is probably the most exciting prospect on this list for managers that want to take a shot on him.
Download Our Free News & Alerts Mobile App
Like what you see? Download our updated fantasy baseball app for iPhone and Android with 24x7 player news, injury alerts, sleepers, prospects & more. All free!


More 2021 Fantasy Baseball Advice