Maybe the day-in, day-out grind of playing fantasy baseball props is getting to you. It's a hard life. But Monkey Knife Fight is here for you, creating the Star Shootout to give you even more options when it comes to picking props.
Consider this a streamlining of the process. Maybe you don't have a strong opinion on whether this middling player will reach base multiple times today or how many strikeouts this random starting pitcher will accumulate.
The Star Shootout connects some of the biggest names in the game for head-to-head Rapid Fire matchups as well as more combinations for picking overs and unders.
Here are some Star Shootout angles to consider for Friday night's MLB schedule.
Editor's Note: Our friends at Monkey Knife Fight have released the best, most fun, fastest growing DFS props game! It's super simple to play and win real money. Just choose your MLB, NBA, NHL or PGA game, and make your picks! Get a 100% instant deposit bonus up to $50 using promo code: BALLER. That's $50 for free - don't miss out!
STAR SHOOTOUT
OVER/UNDERS
Mike Trout UNDER 1.5 HITS + WALKS – As great as Trout is, and he has a .442 on-base percentage both on the road and against right-handed starters, he runs into a tough matchup, facing Indians starting pitcher Mike Clevinger, who has been incredibly dominant at home this season, allowing a .221 on-base percentage. In his past 15 games, Trout has multiple hits plus walks in just five of those games.
Mike Clevinger OVER 6.5 STRIKEOUTS – Although he has been limited to just nine starts this season, Clevinger has been very effective when healthy. He has at least seven strikeouts in seven of nine games including three of his four home starts and, as noted above, he's been overpowering at home. So, even though the Angels have the lowest road strikeout rate in baseball (17.5%), it's still worth looking at Clevinger, who has averaged 10 strikeouts per home start.
Jason Vargas UNDER 5.5 STRIKEOUTS – Making his first start for the Phillies, the veteran left-hander has never been particularly overpowering and has recorded at least six strikeouts in just five of 18 starts this season. The opposition, the Chicago White Sox, does not make a lot of contact (26.3% road strikeout rate) but it's not enough to like Vargas for six or more strikeouts.
Eduardo Rodriguez UNDER 5.5 STRIKEOUTS – The Red Sox starter just tilts towards the under here. He's averaging 5.4 strikeouts per road start, has recorded at least six strikeouts in five of 11 road starts, and has managed five strikeouts in both of his home starts against the Yankees this season.
Wade Miley OVER 5.5 STRIKEOUTS – In general, this might seem like a high number for Miley to achieve because he's not a big strikeout pitcher, but he's been outstanding at home this season, with 8.1 K/9 leading to 5.6 strikeouts per home start and at least six strikeouts in five of nine home starts. Miley also has at least six strikeouts in five of his past eight starts and goes up against a Mariners team that has a higher than average strikeout rate (23.9%).
RAPID FIRE
Lance Lynn -1.5 strikeouts vs. James Paxton – This matchup should be close because Lynn is averaging 6.6 strikeouts per home start, but gets the benefit of facing the Detroit Tigers, who have the second-highest road strikeout rate (26.6%) in the American League. Paxton is averaging 6.1 strikeouts per home start but faces the Boston Red Sox, who are closer to the other end of the spectrum (21.2%).
J.D. Martinez -0.5 total bases vs. Danny Santana – While Santana doesn't have the track record of name recognition of Martinez, the Rangers slugger has been great this season, posting a .949 OPS. He has an entirely respectable .495 slugging percentage against left-handed starters (and faces Tigers rookie Tyler Alexander, who is making his fourth career start). On the other hand, Martinez is an established star slugger who murders left-handed pitching, to the tune of a .713 slugging percentage against southpaw starters this season and he goes up against Yankees ace James Paxton.
Mookie Betts +0.5 runs + RBI vs. George Springer – It's easy to like Mookie as an underdog because he scores so many runs, and his runs plus RBI per plate appearance on the road (.340) is ahead of Springer's (.302) rate at home.
Jose Altuve +0.5 hits + walks vs. Mike Trout – After a relatively slow start, Altuve is rounding into form, posting a .448 on-base percentage in his past 25 games. He's at home against the Mariners, who have Yusei Kikuchi on the mound, while Trout (as noted above) has a difficult road game at Cleveland with Mike Clevinger on the bump.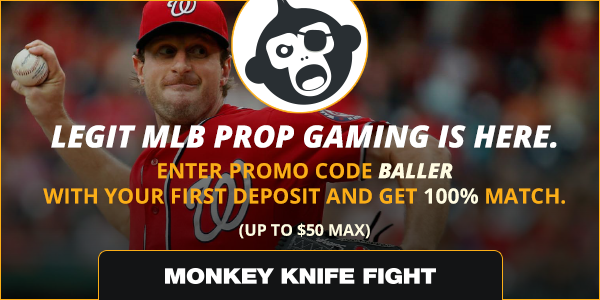 More 2019 Fantasy Baseball Advice