It's Memorial Day in the United States, which means a lot of afternoon baseball on the schedule.
There are two premier pitching matchups today. The Cubs' Cole Hamels goes against Gerrit Cole in Houston and Mets ace Jacob deGrom faces Dodgers ace Clayton Kershaw in Los Angeles.
Many other games have pitchers that could be more vulnerable, but those are a couple of games in which the starters could really have an impact.
Here are some more angles to consider before making your Monday MLB picks.
Editor's Note: Our friends at Monkey Knife Fight have released the best, most fun, fastest growing DFS props game! It's super simple to play and win real money. Just choose your MLB, NBA, NHL or PGA game, and make your picks! Get a 100% instant deposit bonus up to $50 using promo code: BALLER. That's $50 for free - don't miss out!
MIAMI-WASHINGTON
OVER/UNDERS
Curtis Granderson OVER 0.5 TOTAL BASES – This is such a low number that it actually makes sense to take the over with Granderson because he's averaging 1.42 total bases in games that he starts and while going up against Max Scherzer moves the needle against Grandy, it's still reasonable to expect one hit out of him.
DETROIT-BALTIMORE
RAPID FIRE
Trey Mancini +0.5 Total Bases vs. Nick Castellanos – As good as Castellanos is, he's averaging 1.82 total bases per game and Mancini has been better for Baltimore, putting up 2.20 total bases per game this season.
SAN DIEGO-N.Y. YANKEES
OVER/UNDERS
Gleyber Torres OVER 1.5 TOTAL BASES – A rising star for the Yankees, Torres has averaged 2.12 total bases per game and while Padres pitcher Matt Strahm is a good one, a home date at Yankee Stadium should keep the over in play.
TORONTO-TAMPA BAY
OVER/UNDERS
Aaron Sanchez OVER 4.5 STRIKEOUTS – As long as he doesn't develop a blister or some other ailment that forces him out of a start early, Sanchez should cover this number. He has 8.7 K/9 this season, so as long as he goes five-plus the over is the play here.
PITTSBURGH-CINCINNATI
HOME RUN DERBY – Yasiel Puig, Nick Senzel and Josh Bell
Take three players on the chance to record more than 0.5 home runs. Luis Castillo is the Reds' ace and a tough match-up in the first game of the doubleheader, but Bell is crushing the ball, so he's worth including. Otherwise, Puig and Senzel offer a couple of decent options in the Reds lineup against Pirates starter Nick Kingham.
CHICAGO CUBS-HOUSTON
OVER/UNDERS
Javier Baez OVER 1.5 TOTAL BASES – It's a tough matchup on the road against Astros ace Gerrit Cole, but Baez is averaging 2.46 total bases per game so give him a shot to pick up a couple of total bases in this game.
KANSAS CITY-CHICAGO WHITE SOX
RAPID FIRE
Jose Abreu -0.5 total bases vs. Tim Anderson – While Anderson has been really good, and is still hitting .337, he's battling a wrist injury and Abreu is averaging more total bases per game (2.06 vs. 1.96).
ARIZONA-COLORADO
OVER/UNDERS
Jon Gray OVER 5.5 STRIKEOUTS – He's always been able to strike guys out and is averaging 9.8 K/9 this season, but he's been especially good lately, with 32 strikeouts in the past four games.
CLEVELAND-BOSTON
RAPID FIRE
Mookie Betts +0.5 runs + RBI vs. J.D. Martinez – Since a slow start, Betts has been performing at his customary level and he's averaging 1.29 runs plus RBI per game, which is a little better than Martinez's average of 1.21 per game, so getting the extra half on this category is a big boost.
L.A. ANGELS-OAKLAND
OVER/UNDERS
Chris Bassitt OVER 4.5 STRIKEOUTS – In six starts for the A's this season, Bassitt has 44 strikeouts in 36 1/3 innings, and has at least six strikeouts in all six of those starts. Can he get more than five against the Angels? Of course.
MILWAUKEE-MINNESOTA
RAPID FIRE
Christian Yelich –0.5 total bases vs. C.J. Cron – As well as Cron has played this season, averaging 1.96 total bases per game, Yelich is elite, putting up 2.66 total bases per game and while Yelich is much better at home than on the road, Cron is also better on the road, so advantage to the MVP.
N.Y. METS-L.A. DODGERS
RAPID FIRE
Jacob deGrom -1.5 strikeouts vs. Clayton Kershaw – Although Kershaw has been effective this season, his strikeout rate is down to 8.6 K/9, which puts him in an underdog role against deGrom who averages 11.6 K/9. They're not likely to go nine innings, but an advantage of three strikeouts per nine innings is more than enough to tilt the balance in deGrom's favor.
TEXAS-SEATTLE
RAPID FIRE
Lance Lynn OVER 5.5 STRIKEOUTS – Even when he struggles, Lynn can find a way to miss bats, and he's whiffed 24 in 21 innings over his past three starts. If he can carry that average for one more game, it's an easy cover.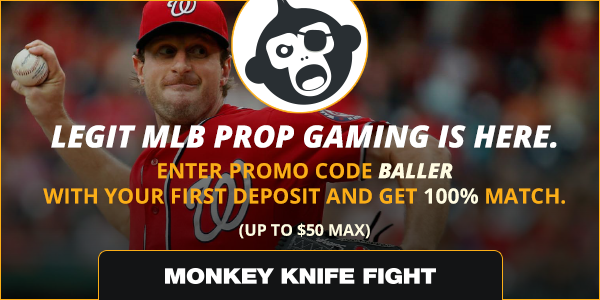 More 2019 Fantasy Baseball Advice