Tuesday brings a full Major League Baseball schedule, and there are a bunch of intriguing match-ups that offer potential value for making daily fantasy prop picks on Monkey Knife Fight.
A few observations through the first six weeks of the season:
Christian Yelich has picked up where he left off last season, hitting 16 home runs and driving in 38 in 38 games.
Mookie Betts was hitting .200 through the first 19 games of the season, but he's hitting .367 since, so it appears that he's back on the beam after possibly wobbling early in the 2019 campaign.
George Springer may be the hottest hitter in baseball, going 12-for-23 (.522 AVG) with three home runs in the past five games.
With those pitching considerations in mind, here are some angles to consider before making your MLB picks Tuesday.
Editor's Note: Our friends at Monkey Knife Fight have released the best, most fun, fastest growing DFS props game! It's super simple to play and win real money. Just choose your MLB, NBA, NHL or PGA game, and make your picks! Get a 100% instant deposit bonus up to $50 using promo code: BALLER. That's $50 for free - don't miss out!
CLEVELAND-CHICAGO WHITE SOX
RAPID FIRE
Francisco Lindor -0.5 runs + RBI vs. Jose Ramirez – What a difference a year makes. Last season, Ramirez was one of the most productive hitters in baseball, but he's struggling this season, hitting .193 with a .584 OPS, and that's enough to move towards Lindor, particularly because the Indians are matched up against White Sox starter Manny Banuelos, who has shown some promise, but has also been rocked in his past two starts, including last week against the Indians when he allowed five earned runs in 4 1/3 innings.
BALTIMORE-N.Y. YANKEES
RAPID FIRE
Andrew Cashner +2.5 strikeouts vs. J.A. Happ – After a slow start, Cashner is coming around and has a strikeout rate of 7.0 per nine innings. Happ has a higher ceiling, but his strikeout rate has collapsed from 9.8 K/9 last season to 7.1 K/9 this season. That margin is ever so small and good enough reason to like Casher when he's getting an extra 2.5 strikeouts as the underdog.
MILWAUKEE-PHILADELPHIA
RAPID FIRE
Christian Yelich -0.5 runs + RBI vs. Bryce Harper – Yelich continues to rake, which makes him a tough match-up for Harper, who is slumping and has recorded an RBI in just two of the past 12 games, a stretch during which he's hitting .159 with a .561 OPS.
CHICAGO CUBS-CINCINNATI
OVER/UNDERS
Joey Votto UNDER 1.5 HITS + WALKS – The Reds veteran star first baseman has struggled this season, posting a career-low .325 OPS, and has reached base one time or less in four of the past five games.
N.Y. METS-WASHINGTON
OVER/UNDERS
Michael Conforto OVER 1.5 TOTAL BASES – The Mets right fielder is a consistent threat, with a .519 slugging percentage, and gets a favorable match-up against Nats starter Jeremy Hellickson, who has a 5.52 ERA and 1.61 WHIP in 31 innings.
HOUSTON-DETROIT
OVER/UNDERS
George Springer OVER 1.5 TOTAL BASES – The Astros right fielder is mashing right now and has at least two total bases in eight of the past 10 games, a stretch during which he's hitting .475 with a .975 slugging percentage. He also gets to face Tigers starting pitcher Ryan Carpenter, who gave up eight hits and two home runs in five innings during his first Major League start of the season.
TAMPA BAY-MIAMI
RAPID FIRE
Caleb Smith +0.5 strikeouts vs. Charlie Morton – Two of the best strikeout pitchers in baseball this season, Smith is averaging 11.8 K/9 and Morton sits at 11.4 K/9, which is close enough to like Smith getting the extra half strikeout as the underdog.
COLORADO-BOSTON
OVER/UNDERS
Mookie Betts OVER 1.5 HITS + WALKS – Although he got off to a slow start this season, Betts has returned to form and has multiple hits plus walks in 14 of his past 16 games, posting a .487 on-base percentage in that time.
ST. LOUIS-ATLANTA
OVER/UNDER
Mike Foltynewicz UNDER 4.5 STRIKEOUTS – The Braves hurler has had a tough time in his first three starts since coming off the injured list, managing a strikeout rate of 5.4 K/9 this year after recording 9.9 K/9 last season.
L.A. ANGELS-MINNESOTA
OVER/UNDERS
Jorge Polanco OVER 1.5 TOTAL BASES – The Twins shortstop is having a monster season, which includes hitting .327 with a 1.013 OPS and is averaging 2.45 total bases per game. Mix in the Angels going with opener Cam Bedrosian and this should move in Polanco's direction.
TEXAS-KANSAS CITY
OVER/UNDERS
Whit Merrifield OVER 1.5 HITS + WALKS – Even though Merrifield has reached base three times in 16 plate appearances over the past four games, he's worth grabbing in this case because the Royals are going up against Rangers starter Shelby Miller, who has an astronomical 1.92 WHIP through seven starts this season.
PITTSBURGH-ARIZONA
RAPID FIRE
Gregory Polanco +0.5 total bases vs. Adam Frazier – Polanco has been productive after a late start to the season and has a .533 slugging percentage since coming off the IL. He's also averaging 2.13 total bases per game, compared to Frazier, who is averaging 1.46 per game. Definitely take the 'dog who is already more productive.
TORONTO-SAN FRANCISCO
OVER/UNDERS
Eric Sogard OVER 1.5 HITS + WALKS – Rocking a .402 on-base percentage since jumping into the Blue Jays' lineup, the 32-year-old journeyman infielder has been surprisingly productive, even with a current four-game stretch in which he reached base twice in 16 plate appearances.
OAKLAND-SEATTLE
OVER/UNDERS
Brett Anderson UNDER 3.5 STRIKEOUTS – This might seem like an awfully low number, but the veteran lefty is averaging 4.6 K/9 and has gone over that threshold in three of his eight starts this season and has yet to record more than four strikeouts in a start this season.
SAN DIEGO-L.A. DODGERS
OVER/UNDER
Clayton Kershaw UNDER 6.5 STRIKEOUTS – As well as Kershaw has been pitching, with a WHIP of 0.98, his strikeout rate has dropped to 8.5 K/9 this season and has 10 strikeouts, total, in his past couple of starts.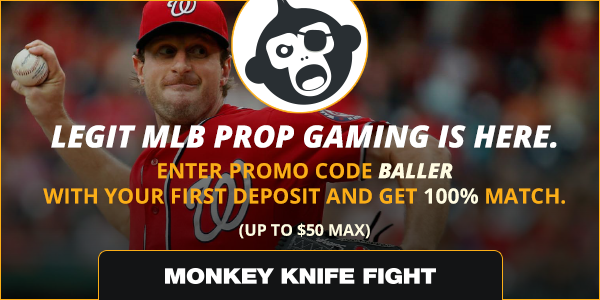 More 2019 Fantasy Baseball Advice