Monday's Major League Baseball schedule is not quite full, but nine games still offers many opportunities to find value while playing props on Monkey Knife Fight.
Today, it looks like there could be some value to be found when looking at veterans performers, whether it's Cardinals first baseman Paul Goldschmidt, Braves third baseman Josh Donaldson, Astros starting pitcher Justin Verlander, or even Giants starting pitcher Jeff Samardzija.
The match-ups matter, of course, but so too do the numbers and these guys have been productive early in the 2019 season.
Here are some angles to take into account before making your picks for Monday's baseball action.
Editor's Note: Our friends at Monkey Knife Fight have released the best, most fun, fastest growing DFS props game! It's super simple to play and win real money. Just choose your MLB, NBA, NHL or PGA game, and make your picks! Get a 100% instant deposit bonus up to $50 using promo code: BALLER. That's $50 for free - don't miss out!
ST. LOUIS-WASHINGTON
OVER/UNDERS
Paul Goldschmidt OVER 1.5 HITS + WALKS – The Cardinals first baseman has averaged 1.63 hits plus walks per game this season, and while left-hander Patrick Corbin is a quality starting pitcher for the Nationals, Goldschmidt also fares better against lefties (1.014 OPS vs. LHP compared to .902 OPS vs. RHP) in his career.
SAN DIEGO-WASHINGTON
RAPID FIRE
Matt Strahm +5.5 strikeouts vs. Max Scherzer – This is a gamble, because Scherzer has the stuff to go for double digit strikeouts, but he's a little bit banged up and Strahm has been relatively effective, even if not big on strikeout numbers.
CINCINNATI-N.Y. METS
OVER/UNDER
Joey Votto UNDER 1.5 HITS + WALKS – It's been an unusually tough start to the season for the Reds first baseman, who is averaging 1.22 hits plus walks per game, and Mets starting pitcher Zack Wheeler has had three quality starts in a row.
OAKLAND-BOSTON
OVER/UNDERS
Mookie Betts OVER 1.5 HITS + WALKS – Early in the season, Betts was legitimately struggling but he's starting to rake, and has multiple hits and walks in eight of the past nine games.
SAN DIEGO-ATLANTA
OVER/UNDERS
Josh Donaldson OVER 1.5 TOTAL BASES – Starting to heat up, the Braves third baseman has an extra-base hit in five of the past seven games, and one extra-base hit would put him over on this number.
COLORADO-MILWAUKEE
OVER/UNDERS
Charlie Blackmon OVER 1.5 TOTAL BASES – The Rockies outfielder has averaged 2.07 total bases per game this season and has elevated his production lately, with a 1.156 OPS in his past 11 games.
HOUSTON-MINNESOTA
OVER/UNDERS
Justin Verlander OVER 7.5 STRIKEOUTS – This isn't a sure thing, because it's a big number to cover, but the Astros ace has recorded at least eight strikeouts in three straight starts, including eight against Minnesota last week.
Jose Altuve OVER 1.5 HITS + WALKS – Mired in a recent slump, Altuve is 1-for-15 in the past five games, dropping his average of hits and walks just below the 1.5 number. Here's thinking that he's due for better results.
BALTIMORE-WHITE SOX
RAPID FIRE
Tim Anderson -0.5 runs + RBI vs. Jonathan Villar – Anderson, the White Sox shortstop, has been outrageous early in this season, hitting .385 and averaging 1.64 runs plus RBI per game this season.
TAMPA BAY-KANSAS CITY
RAPID FIRE
Whit Merrifield +0.5 total bases vs. Avisail Garcia – As productive has Garcia has been at times this season, Merrifield is averaging 2.04 total bases per game, compared to 1.75 per game for Garcia, so getting the extra half base as an underdog makes this nearly an automatic selection.
L.A. DODGERS-SAN FRANCISCO
OVER/UNDERS
Jeff Samardzija OVER 3.5 STRIKEOUTS – While Shark had a miserable season in 2018, he's off to a decent start this year with a 3.00 ERA and 3.80 FIP in five starts and, at the very least, has recorded at least four strikeouts in each of his past four starts.
Hit all of these for a 17x payout: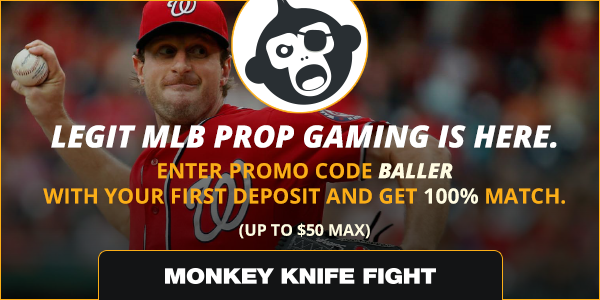 More 2019 Fantasy Baseball Advice