Monday is Boston Marathon Day, which means that the Red Sox will be playing early, hosting the Baltimore Orioles at 11:05 ET.
Aside from early day baseball, the big story of the day may be the Dodgers' ace returning from injury.
Clayton Kershaw is set to return to the Dodgers rotation, having missed the first few weeks of the 2019 season due to shoulder trouble.
He has missed time pretty regularly in recent seasons, making 74 starts over the past three years, after starting at least 30 games in six of the previous seven seasons, and last season was a sign of some cracks in Kershaw's dominance. His 1.04 WHIP and 2.73 ERA were his highest marks since 2010, and his 8.6 strikeouts per nine innings was his lowest rate since his rookie season of 2008.
Coming back from injury, then, should Kershaw still be considered an elite pitcher? That's the question that hangs over his start against Cincinnati, facing a Reds team having early success against lefties this season, with 31 total bases in 45 at-bats against southpaws.
Maybe not an easy way back for Kershaw but, given his track record, it's still easy to like Kershaw's chances so long as he's healthy.
Here are some more angles to consider for Monday's baseball action.
Editor's Note: Our friends at Monkey Knife Fight have released the best, most fun, fastest growing DFS props game! It's super simple to play and win real money. Just choose your MLB, NBA, NHL or PGA game, and make your picks! Get a 100% instant deposit bonus up to $50 using promo code: BALLER. That's $50 for free - don't miss out!
BALTIMORE-BOSTON
OVER/UNDERS
Dwight Smith Jr. +0.5 runs + RBI vs. J.D. Martinez – Smith has been a nice contributor early in the season for the Orioles, scoring 11 runs and adding six RBI in 15 games, which matches up favorably with Martinez, who has 18 runs plus RBI in 16 games.
METS-PHILADELPHIA
OVER/UNDERS
Bryce Harper UNDER 1.5 RUNS + RBI – Not only does Harper have 17 combined runs plus RBI in 15 games, but he gets a match-up against Noah Syndergaard.
Robinson Cano UNDER 1.5 RUNS + RBI – With a dozen combined runs + RBI in 14 games, Cano is well under the point at which one could expect two runs plus RBI and going up against Phillies starting pitcher Aaron Nola doesn't make that any easier.
CUBS-MIAMI
OVER/UNDERS
Yu Darvish UNDER 6.5 STRIKEOUTS – Darvish certainly has the strikeout potential and the Marlins would seem to be a prime victim, but he has 10 strikeouts in 12 innings so far this season, and that makes it seem a tad aggressive to suddenly expect him to hang seven Ks on the Marlins.
TORONTO-MINNESOTA
OVER/UNDERS
Matt Shoemaker OVER 3.5 STRIKEOUTS – Considering that Shoemaker has struck out 19 in 19 2/3 innings through three starts with the Blue Jays, expecting four at Minnesota isn't a reach.
ST. LOUIS-MILWAUKEE
OVER/UNDERS
Christian Yelich OVER 1.5 RUNS + RBI – He's slumped in the past couple of games, but still has 29 combined runs plus RBI in 16 games, and a match-up against Cardinals rookie Dakota Hudson should still present a fair opportunity to get it right.
L.A. ANGELS-TEXAS
OVER/UNDER
Shelby Miller UNDER 4.5 STRIKEOUTS – Considering that Miller has lasted 5 2/3 innings in two starts, it's hard to forecast him for at least five strikeouts in a game right now.
KANSAS CITY-WHITE SOX
OVER/UNDERS
Whit Merrifield OVER 1.5 RUNS + RBI – Although 21 combined runs plus RBI in 15 games would lean towards the under, going up against Ervin Santana, who got rocked in his first start of the season, is a decent opportunity to hit the over.
CLEVELAND-SEATTLE
RAPID FIRE
Mitch Haniger -0.5 runs + RBI vs. Jose Ramirez – Not only is Ramirez hitting just .140, so he's barely contributing to the Tribe's offense, but Haniger has produced 33 runs plus RBI in 18 games.
COLORADO-SAN DIEGO
OVER/UNDERS
Mark Reynolds UNDER 2.5 TOTAL BASES – While Reynolds does have a history of success against lefthanders, it's asking a lot for him to get three total bases in San Diego when he had 31 total bases in 82 plate appearances against southpaws last season, followed by five in 15 plate appearances against lefthanders this season.
CINCINNATI-L.A. DODGERS
OVER/UNDERS
Clayton Kershaw OVER 5.5 STRIKEOUTS – After striking out 12 in 10 1/3 innings over a couple of minor-league rehab starts, the Dodgers' ace is ready to make his first major-league start of the season.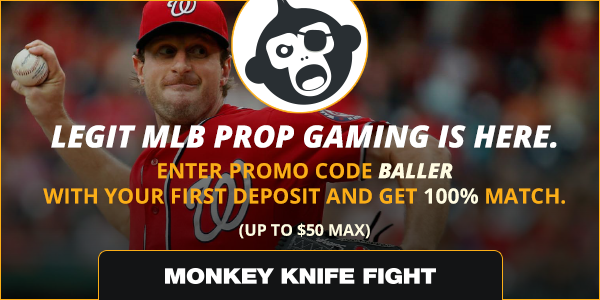 More 2019 Fantasy Baseball Advice