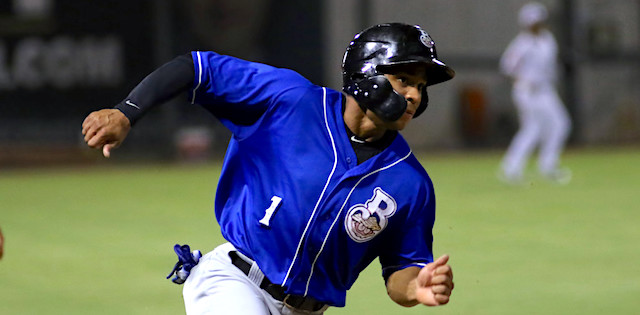 Today, we're continuing our look at the Top 10 dynasty prospects in each organization with an eye to discovering which organizations are best positioned to succeed with their player development when games resume. Make sure to check out all of our prospect content, including Top 50 for 2020 and Top 250 for Dynasty Leagues.
One important question to ask is: How will a long layoff affect prospects? One has to assume the more advanced prospects prior to the work stoppage will be at an advantage, while the more "toolsy but raw" types could be hurt with the lack of repetition and in-game action; throwing or hitting in simulated environments just doesn't match up to the real thing. Many prospects will have to work jobs during the pandemic just to make ends meet, so players who signed for large bonuses will have an advantage. Other prospects that lack strong discipline and commitment to their craft could struggle to stay in shape.
We won't really know what the layoff impact will have on baseball in general until things start ramping up. But we do know that a strong prospect pool will continue to be an important element for a successful baseball franchise.
Featured Promo: Get any full-season MLB and DFS Premium Pass for 50% off. Exclusive access to our Team Sync platform, Premium articles, daily Matchup Rating projections, 15 lineup tools, DFS cheat sheets, Research Stations, Lineup Optimizers and much more!
Sign Up Now!
Milwaukee Brewers Top 10 Prospects: Quick synopsis 
The Brewers have one of the weaker Minor League systems in baseball, but there are a few prospects of note. The club also added some intriguing arms during the 2019 amateur draft.
Dynasty Prospect Rank: 133
2020 LEVEL: A+
MLB ETA: 2022
Just 20 years old, Turang has shown an advanced bat for his age. He should eventually hit for a good average but he'll likely never be a big home run hitter. However, his bat could still generate a ton of extra-base hits thanks to his good bat speed. He also has speed on the bases and could nab 20-30 bases per year as a big leaguer. Trea Turner (with less home run pop) is a decent comp for Turang's future.
2. Tristen Lutz, OF
Dynasty Prospect Rank: 201
2020 LEVEL:  AA
MLB ETA: 2021
The 21-year-old Lutz has a chance to develop into a power-hitting right fielder. He has 20+ home run potential, and the power may have to carry him because he strikes out a fair bit. He doesn't project to hit for a high average, and he's not going to be a big base stealer.
3. Aaron Ashby, LHP
Dynasty Prospect Rank: 214
2020 LEVEL: AA
MLB ETA: 2021
Ashby has a good chance to develop into a No. 4 starter at the MLB level thanks to his four-pitch repertoire, which includes three offerings that could develop into above-average pitches. His inconsistent command and control limit his effectiveness at times but, when he's on, he's shown the ability to miss bats.
4. Carlos Rodriguez, OF
Dynasty Prospect Rank: 218
2020 LEVEL: SS-A
MLB ETA: 2023
Players like Rodriguez tend to get overlooked in this era of boom-or-bust baseball, but I'm a fan. Just 19 years old, he's already shown the ability to produce a high average and has hit more than .300 at three different stops in the lower Minors. He makes a ton of contact -- almost to a fault -- as he doesn't walk much because he can hit just about any pitch thrown at him. The biggest knock against Rodriguez is his lack of pop, but if he can add some good weight and muscle to his frame, he should be able to produce at least gap power as he already produces respectable line-drive rates.
Dynasty Prospect Rank: 228
2020 LEVEL: AAA
MLB ETA: 2020
Rasmussen was a promising amateur hurler but two Tommy John surgeries took some of the shine off his potential. He still has a plus fastball and a promising slider, which were on display when he zoomed through three different Minor League levels in 2019. He's been working as a starter, but his future is likely in the bullpen due to his lack of durability and below-average third offering.
6. Eduardo Garcia, SS
2020 LEVEL: Rookie
MLB ETA: 2024
Signed for more than $1 million in 2018, Garcia's first pro season was derailed after just 10 games due to a broken ankle. His best skills are on the defensive side of the game which has little value in fantasy baseball, but he's shown a solid approach at the plate, too. He has a chance to hit for a solid average with decent pop.
2020 LEVEL: A+
MLB ETA: 2022
Small is a pitcher with three average offerings and good control with a shot at developing into a No. 4 starter. His changeup has a chance to generate the most swing-and-misses, while the breaking ball needs the most work to become a consistent big league weapon. He also has some deception in his delivery and solid command/control.
2020 LEVEL: AA
MLB ETA: 2021
Feliciano has too much swing-and-miss to his game, but while he may never hit for a high average, he has a chance to have offensive value due to his above-average pop. His defensive skills all but assure he'll stick behind the plate on a long-term basis.
9. Antoine Kelly, LHP
2020 LEVEL: A-
MLB ETA: 2023
Selected in the second round of the 2019 Draft out of junior college, Kelly is one of the hardest throwing southpaws around and can tickle triple digits. On the downside, he's close to being a one-pitch pitcher, although his slider shows flashes of above-average potential. At just 20 years old, youth is on his side, but the lack of a deep repertoire and iffy control suggests that he could be headed for the bullpen.
2020 LEVEL: AAA
MLB ETA: 2020
The fifth overall pick in the 2016 Draft, Ray has failed to translate his promising tools into baseball skills. In four seasons, he's never hit above .240 because of his sky-high strikeout rates. On the plus side, he still has the potential to develop into a 20-20 (HR-SB) player while playing good outfield defense.
More Prospect Analysis